April 25 , 2017. EN. Lanin , Cleveland , Poas , Sabancaya .
April 25 , 2017.
Lanin , Chile :
A total of 144 seismic events were recorded, 142 of which were classified as long-term events (LP), mainly associated with the dynamics of fluids transported through volcanic channels and / or as a result of glacial mass movements. The highest energy event was M1.7, with reduced displacement values (RDC) of 22.7 cm2. Similarly, two events of the tectonic volcano (VT) type associated with the fracturing of a rigid material are recorded, the largest of these events present a local magnitude (M1) equal to 2.4 and is located 5.6 km North of the main crater, to a depth of nearly 2 km.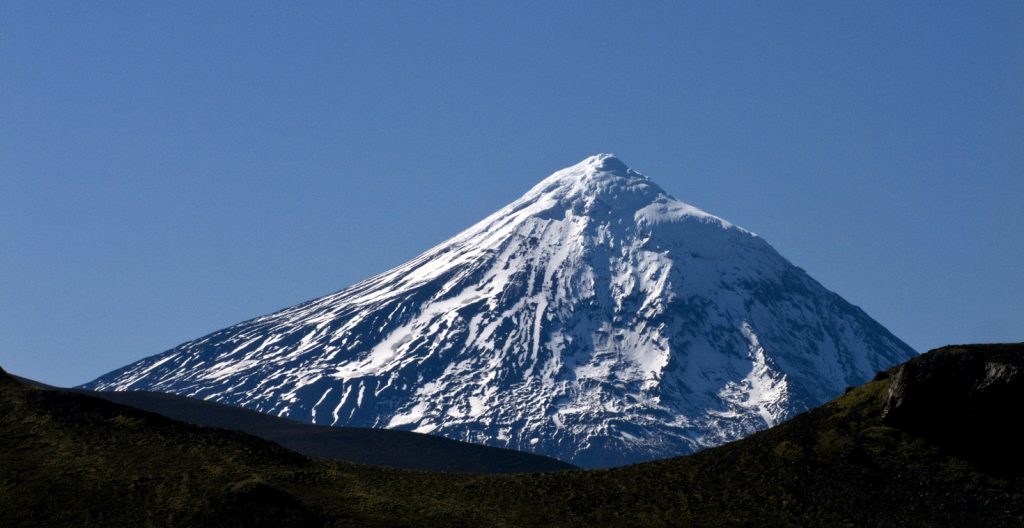 On April 8 at 1: 15-1: 55 GMT a long period seismic events (LP) occurred, having characteristics similar to those that occurred in the months of February and March, although with much less energy , with a total of 29 events of local magnitudes (ML) equal to or less than M1,2 and small reduced displacements (RDC) of 2.5 cm2 .
The images provided by the IP cameras installed around the volcano showed no surface changes.
No emissions of sulfur dioxide (S02) into the atmosphere in the volcano sector have been reported, according to data published by the Ozone Monitoring Instrument (IMO) Sulfur dioxide group (http: / / /so2.gsfc.nasa.gov/) and NESDIS (http://satepsanoine.nesdis.noaa.gov).
No thermal alerts were reported in the area associated with the volcano according to data processed by infrared, means of observation of the volcanic activity Mirova (http://www.mirovaweb.it/) and MODVOLC (http: // Modis.higp.hawaii.edu/).
The recording of the seismic event swarm of LP suggests a change in the internal dynamics of the volcano, without evolving towards an instability of the volcanic system. However, it is possible that the current process can evolve into unstable states, so its volcanic alert level remains at:
YELLOW LEVEL: changes in the behavior of volcanic activity – probable time for an eruption: weeks / months.
Source : Sernageomin .
Cleveland , Alaska :
AVO/USGS Volcanic Activity Notice
Current Volcano Alert Level: WATCH
Previous Volcano Alert Level: ADVISORY
Current Aviation Color Code: ORANGE
Previous Aviation Color Code: YELLOW
Issued: Monday, April 24, 2017, 11:43 AM AKDT
Source: Alaska Volcano Observatory
Location: N 52 deg 49 min W 169 deg 56 min
Elevation: 5676 ft (1730 m)
Area: Aleutians
Volcanic Activity Summary:
Recent satellite images show a new lava dome has been extruded in the summit crater of Cleveland. The dome began growing sometime after the most recent explosion on March 31. Slightly elevated surface temperatures have been observed in satellite images for the past couple of weeks. The first visual indication of new dome growth was observed in satellite images on April 15 with the presence of a small (less than 10-meter-diameter) mound deep in the March 31 crater. By April 23, this mound had grown to 45 meters in diameter. Dome growth has occurred with no obvious detectable seismicity. The presence of a growing lava dome in the summit crater of Cleveland prompts AVO to raise the Aviation Color Code to ORANGE and the Volcano Alert Level to WATCH.

  Aerial view into Cleveland's summit crater with lava dome and central vent. 25 juillet 2016 16 h 49
Recent Observations:
[Volcanic cloud height] N/A
[Other volcanic cloud information] N/A
[Lava flow/dome] Growth of 45-meter-diameter lava dome in summit crater.
Remarks:
Cleveland volcano is not monitored with a full real-time seismic network and this inhibits AVO's ability to detect unrest that may lead to future activity. We are able to detect explosive activity using infrasound and limited seismic instruments on the island.
Source : AVO
Photo :  Lopez, Taryn
Poas , Costa Rica :
Activity report of the Volcano Poas, April 24, 2017, updated at 11:00
There have been a number of small phreatic eruptions interspersed with a tremor of varying amplitudes, weak to moderate over the last 24 hours. After the larger eruption on 22 April at 22:12 (local time), there were a number of discrete LP and VT events in the seismograms. The largest eruption in the last 24 hours started at 9:25 pm local time (April 23) and lasted about 3 minutes. It is likely that this eruption consisted of the emission of water, fine particles, gases and aerosols from the main crater lake. All of these eruptions have been identified by the seismic network, which is still experiencing communication problems due to the April 22 eruption.
During the day, the plume was dispersed mainly to the west and southwest.
Under the present conditions of the Poas volcano, it is possible to wait more short – term for more eruptions. The OVSICORI-A remains vigilant on volcanic activity and will publish periodic reports on the evolution of its behavior and at each important changes
Source : Ovsicori
Sabancaya , Peru :
On average, 36 explosions per day were recorded, with a maximum displacement value of 116 cm2. Earthquakes associated with rising magma (hybrid earthquakes) have decreased; However, events associated with fluid movement (long period earthquakes) continue to be reported in a significant number, such as Tremor's activity (continuous vibration).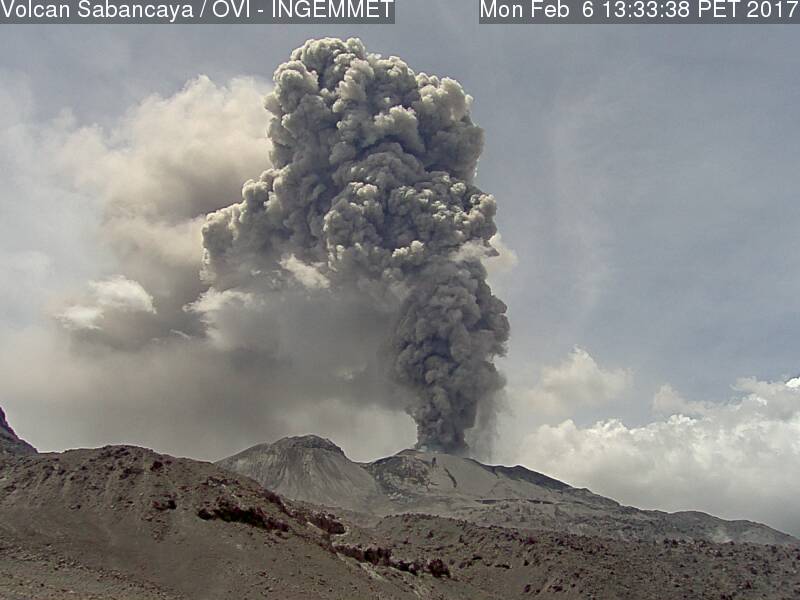 • Eruptive ash and gas columns reached ~ 3000 meters above the crater, spreading over a distance of more than 40 km to the north, northwest and west.
• The volcanic gas (SO2) stream reached a maximum of 1398 tonnes / day on 22 April.
• 9 thermal anomalies were detected with values between 1 MW and 41 MW of VRP (radiated volcanic power).
On the whole the volcanic activity has a behavior similar to the previous week. It is expected to continue in the coming days.
Source : IGP
Photo : Archive