April 22 , 2017. EN. Fuego , Nevado De Chillan , Popocatepetl , Poas .
April 22 , 2017.
Fuego , Guatemala :
Increased activity of the FUEGO volcano.
Activity type: Vulcanian
Morphology: Stratovolcan composite
Geographical location: latitude 14 ° 28'54˝ N; 90 ° 52'54˝ longitude W.
Altitude: 3,763msnm.
The Fuego volcano over the past few hours has shown an increase in energy of its explosions, as seen in the seismic record obtained by station GR3. The volcano observatory reports an average of 5 to 7 explosions per hour with low to moderate characteristics generating columns of ash reaching a height of about 4,600 to 4,900 m (15,092 to 16,076 feet) More than 20 kilometers to the northeast and east. Incandescent pulses at a height of 150-300 meters above the crater generate drops of volcanic materials of different sizes, reaching distances greater than 200 m and low to moderate avalanches on the crater's outline.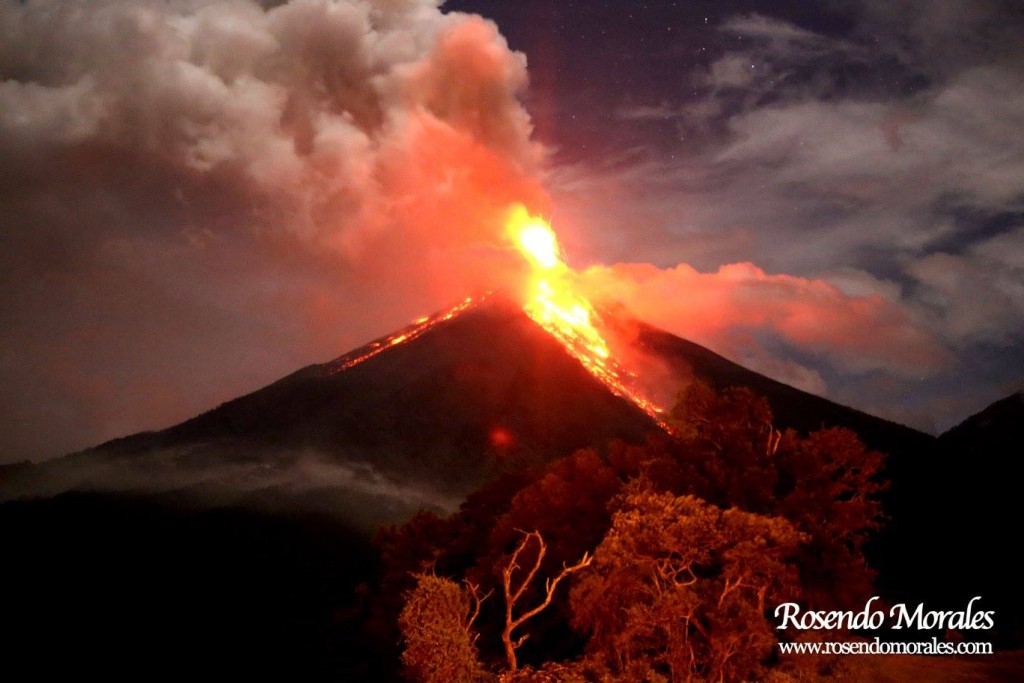 Explosions are accompanied by low and moderate rumblings, which have weak to moderate shock waves, causing vibrations in the roofs of houses near the volcano. It is reported sounds similar to train locomotives with intervals of 10 minutes.
According to the observations of the seismic activity, the energy of the explosions continues, with the possibility that in the next hours lava flows will be generated and a new strombolian eruptive phase will develop.
Source : Insivumeh
Photo : Rosendo Morales .
Nevados de Chillan, Chile :

During this period, 1613 seismic events, of which fifty-five (55) were classified as volcano-tectonic (VT) events, processes related to the fracturing of a rigid material, with a maximum local magnitude (ML) of M 2.3 have been recorded. The highest energy earthquake was located 2.9 km west (0) of the active crater, at a depth of 1.6 km. Similarly, 1558 earthquakes associated with fluid dynamics within the volcano were recorded, 1450 of which were considered long-term (LP) events with a maximum offset value (RDC) of 76.2 cm2. In addition, one hundred and one (101) earthquake-type tremor, with maximum displacement values ​​of 12.2 cm2 and dominant frequencies between 1 and 3 Hz, was recorded. seven (7 ), called tornillos (tO), in relation to the movements of magmatic and / or hydrothermal fluids in volcanic conduits with high characteristics of high impedances, the strongest manifestations of which have reached shift values ​​of 8.4 cm2.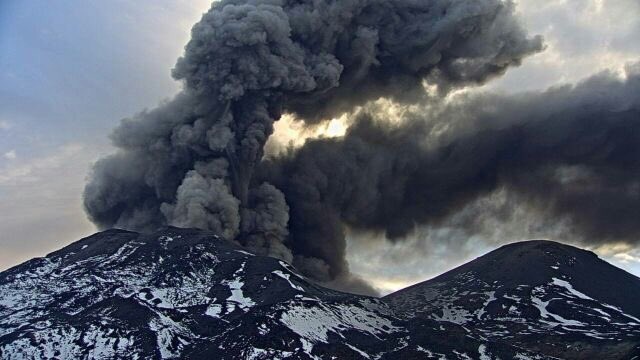 From 1 to 12 April there were a total of fifty-six (56) intermittent explosions, marking a new explosive phase of the volcanic complex.
The images obtained by the cameras installed near the volcanic complex showed explosions around the currently active craters with maximum heights of 3000 m
According to data obtained from four GNSS stations measuring the surface deformation of the volcano, observed changes have a tendency less than 0.3 cm / month movements. The lengths of control lines that cross the active craters show variations less than 0.4 cm / month, suggesting that there are no significant changes in the active volcano. The data provided by two electronic inclinometers also suggest no significant inflation process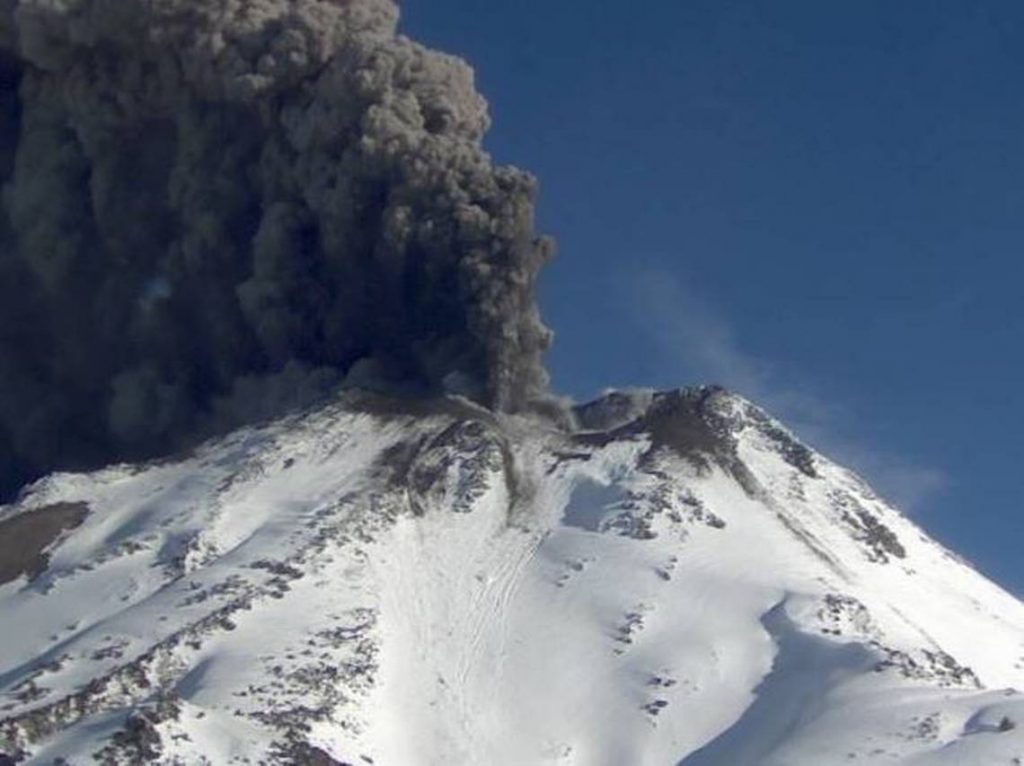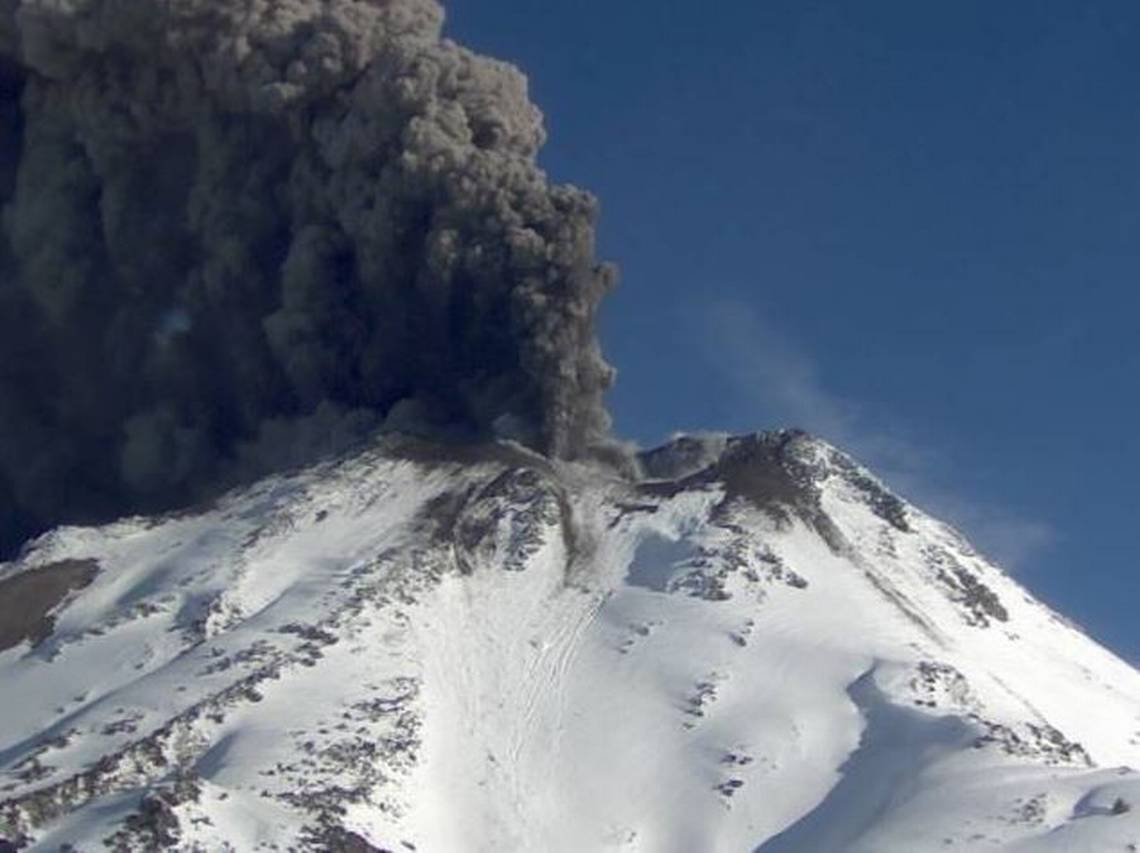 No emissions of sulfur dioxide (SO2) into the air in the volcano sector have been reported, according to data published by the Ozone Monitoring Instrument (IMO) Sulfur dioxide group (http: / / /so2.gsfc.nasa.gov/) and the National Environment Data and Satellite Service (NESDIS) (http://satepsanoine.nesdis.noaa.gov).
– No thermal alerts were reported in the volcano region based on the data processed by the infrared observation of volcanic activity (Mirova) (http://www.mirovaweb.it/) and MODVOLC (http: //modis.higp.hawaii.edu/).
The above parameters suggest the activity of a magmatic body that is apparently remounted towards the surface, generating a process of greater interaction with the surface hydrothermal system, resulting in a succession of explosions. Consequently, at the present stage, the appearance of new explosions of similar size, or even greater than those recorded, is possible. Therefore, the technical volcanic alert remains at the level:
YELLOW LEVEL: changes in the behavior of volcanic activity – probable time for an éruption: weeks / months.
Source : Sernageomin
Photos : Sernageomin
Popocatepetl , Mexico :
21 April 11.30 (16.30 GMT April 21)
During the last 24 hours, using seismic recordings of the Popocatepetl volcano monitoring system, 77 low-intensity exhalations, accompanied by water vapor, gases and small amounts of ash, were identified.
In addition, three explosions were recorded yesterday at 3:58 pm and 9:02 pm and at 3:18 am today, these blasts were invisible at the time of the occurrence. Furthermore, at 00:36 h today, a volcano – tectonic earthquake of preliminary magnitude of M1,2 was recorded.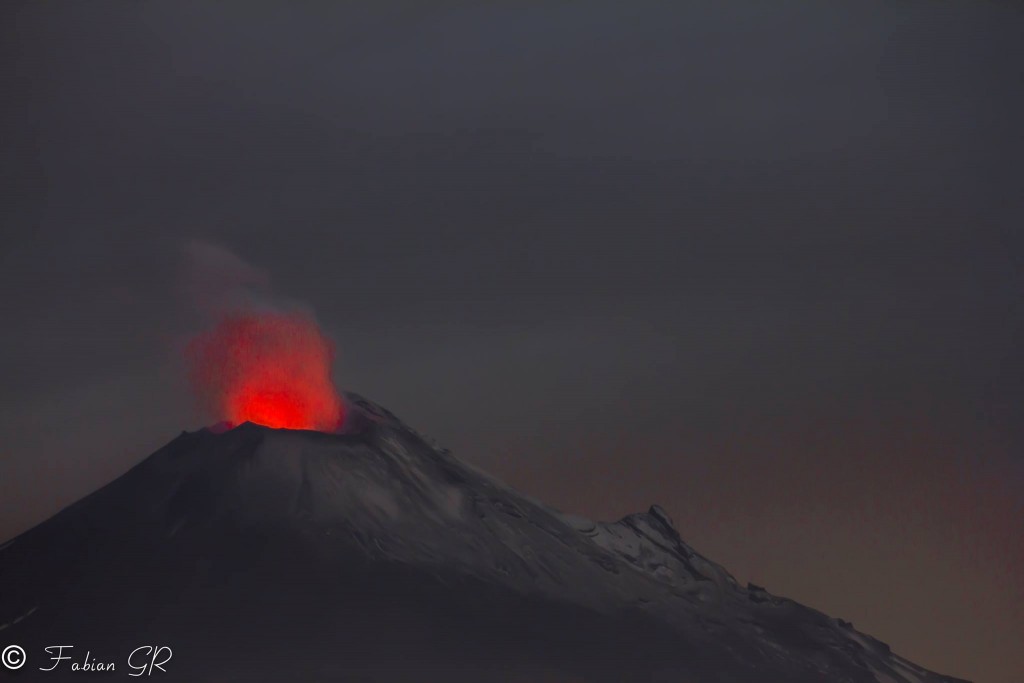 During the night and early morning, a glimmer above the crater was observed.
At the time of this report, the volcano is observed with a slight emission of volcanic gases towards the southwest.
CENAPRED asks not to approach the volcano and in particular the crater.
The volcanic alert semaphore of the Popocatepetl volcano is located in Amarillo Phase 2.
Source : Cenapred .
Photo : Fabian GR
Poas , Costa Rica :
Volcanic activity report of 21 April, 2017, updated at 11: 00h.
With the OVSICORI webcam, a plume rich in water vapor has been observed since yesterday afternoon with a low-energy eruptive activity generating ash and the fall of pyroclasts and incandescent ballistics around ( <100 m) of the new mouth. This activity forms a pyroclastic cone around the degassing and eruptive activity (the site of the old dome, see figure below).
Small explosions began before 7 pm yesterday, increasing around 7 am today and continuing to this day with pyroclastic emissions and ashes, with a strong degassing. At the beginning of this activity, the tremor was moderate, and was then brought to the highest amplitudes between 7h and 8h. The tremor is a little weaker now. The gas flow rose from 1000 T / day on April 13 to 2500 T / d yesterday, today's degassing is visually stronger than yesterday (see figure below). Linear inflation continued and reached a maximum of 8 mm in horizontal and 15 mm in vertical inflation in the last 3 months.
The wind blew to the south-east during the morning and this morning.
A strong odor of sulfur has been reported in Poasito, Cabuyal, Sabana Redonda and San Isidro de Alajuela
Ash falls have been reported to Sabana Redonda.
Source : Ovsicori
Photos : Ovsicori , Emmanuel Herrera .