April 11 , 2017. EN. Etna , Sabancaya , Kambalny , Bulusan .
April 11 , 2017.
Etna , Sicily :
Update on the volcanic activity of Etna, INGV Catania of 10/04/1207 13:00:38 (UTC) – ETNA.
The National Institute of Geophysics and Volcanology, Observatory Etneo, informs that the monitoring networks recorded at 15:00 UTC (13:00 UTC), a new lava flow at the summit of Mount Etna.
INGV-OE staff reported the reactivation of the eruptive mouth in the summit area at the southern base of the New South-East Crater (NCSE) at an altitude of about 3010 m above the level of the sea, from which a small stream of lava has been emitted towards the South.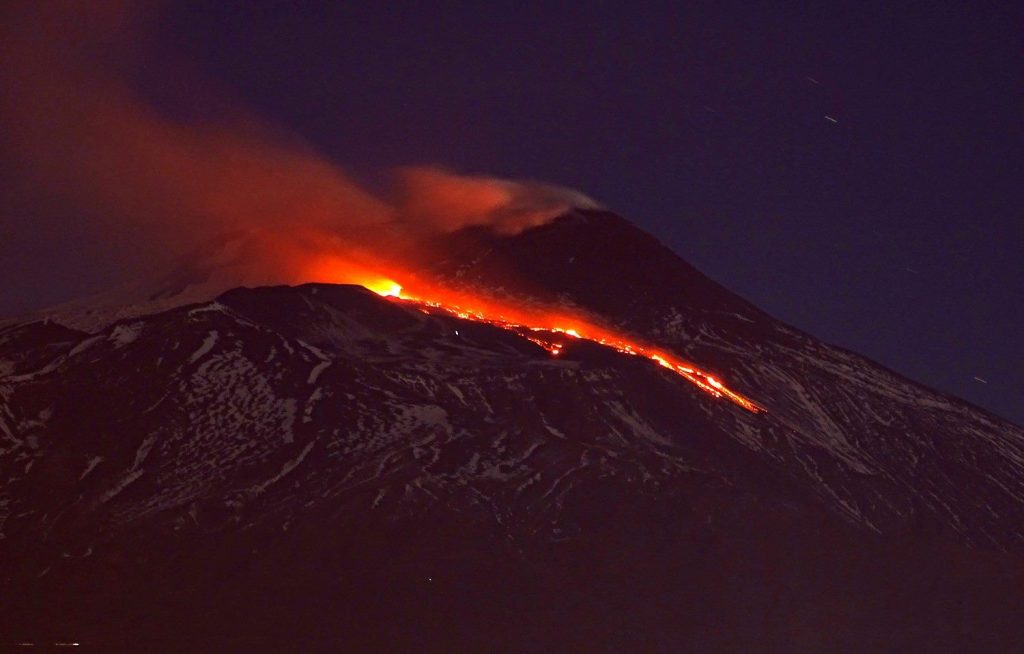 As for the amplitude of the volcanic tremor it is stabilized on high values, with an altitude of the source around 3000 m above sea level.
Updates will follow in the next few hours.
Source : INGV
Photo : B Behncke
Sabancaya , Peru :
• The explosive activity decreased in number, recording an average of 27 explosions / day and a maximum reduced displacement value (DR) of 143 cm2. Although earthquakes associated with magma uplift (hybrids) are decreasing in number and potency, earthquakes associated with magma (long period) movements continue with a significant number.
• The eruptive columns of gas and ashes reached ~ 3200 meters above the crater (08 April) and then spread over 40 km to the northwest and north-east. Falling of ash has been reported on Pinchollo, Maca and Chavay.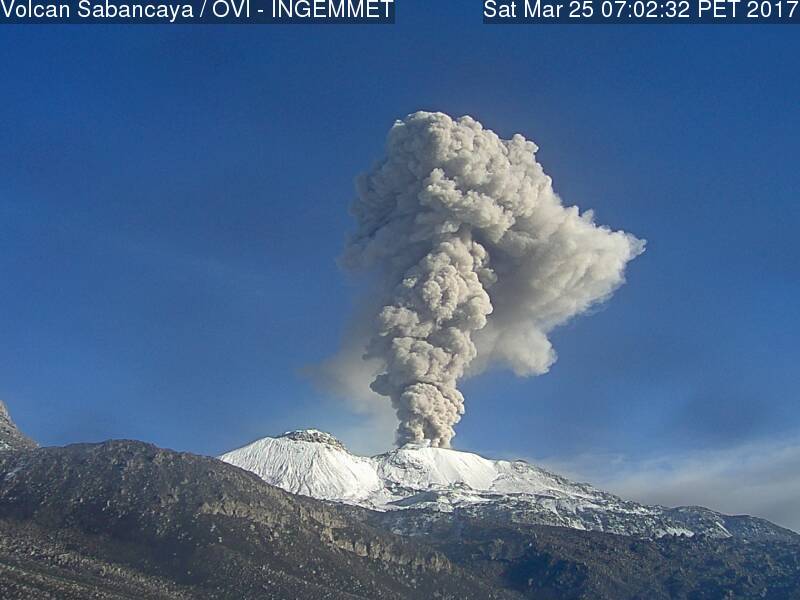 • No significant changes were observed in the deformation of the volcano. Minor variations are recorded in the equipment error range
• The volcanic gas flow (SO2) reached a maximum of 2800 tons / day on 07 April.
• 8 thermal anomalies were detected, with values between 1 MW and 33 MW of radiated volcanic energy.
Overall, volcanic activity remains similar to that observed in the moderate levels of the previous week. This behavior could be maintained in the following days.
Source : IGP
Kambalny , Kamchatka :
VOLCANO OBSERVATORY NOTICE FOR AVIATION (VONA)
Issued: 20170411/0143Z
Volcano: Kambalny (CAVW #300010)
Current Aviation Color Code: ORANGE
Previous Aviation Color Code: orange
Source: KVERT
Notice Number: 2017-56
Volcano Location: N 51 deg 18 min E 156 deg 52 min
Area: Kamchatka, Russia
Summit Elevation: 7071.68 ft (2156 m)
Volcanic Activity Summary:
The explosive eruption of the volcano continues. Satellite data showed an diffuse ash plume about 160 km to the south-east from the volcano. Cloud of the ash in the front of the plume is about for 2.5 km a.s.l.
The explosive eruption of the volcano continues. Ash explosions up to 19,700-26,200 ft (6-8 km) a.s.l. could occur at any time. Ongoing activity could affect international and low-flying aircraft.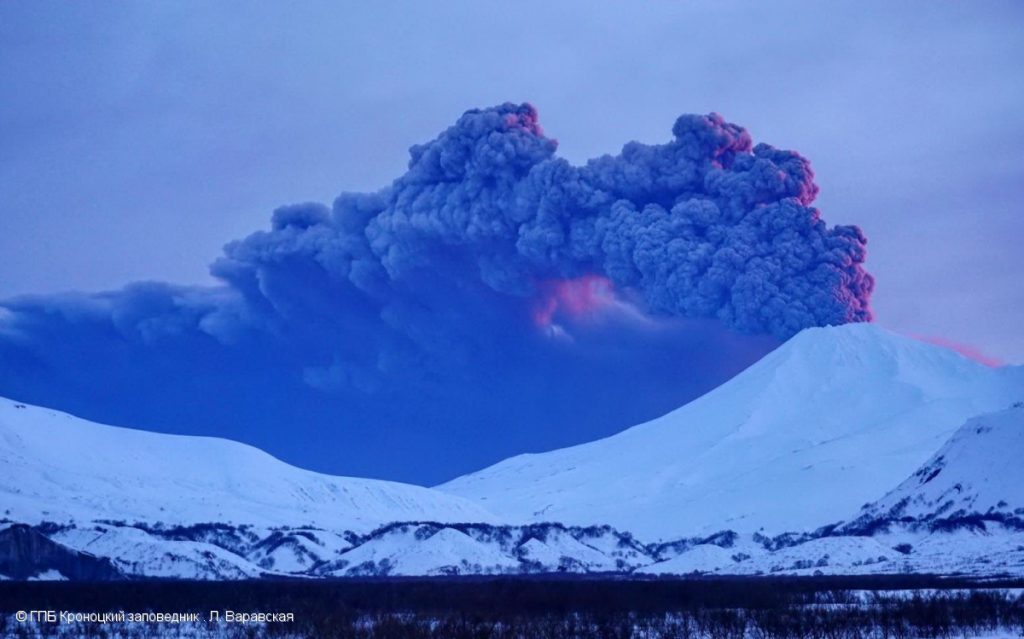 Volcanic cloud height: 8200 ft (2500 m) AMSL Time and method of ash plume/cloud height determination: 20170411/0120Z – Himawary-8
Other volcanic cloud information:
Distance of ash plume/cloud of the volcano: 99 mi (160 km)
Direction of drift of ash plume/cloud of the volcano: SSE / azimuth 164 deg
Time and method of ash plume/cloud determination: 20170411/0120Z – Himawary-8
 
Source : Kvert
Photo : L. Varavskaya, Kronotsky Reserve, Kamchatka
Bulusan , Philippines :
BULUSAN VOLCANO BULLETIN 11 April 2017 8:00 A.M.
Bulusan Volcano's seismic monitoring network recorded twenty-three (23) volcanic earthquakes during the past 24 hours. Weak emission of white steam plumes that rose up to 70 meters and drifted northeast was observed coming from the active vents. Sulfur dioxide (SO2) emission was measured at an average of 11 tonnes per day on March 17, 2017. Precise leveling data obtained on January 29, 2017 – February 03, 2017 indicated deflationary changes since October 2016. This is consistent with data from continuous GPS measurements that indicated short-term deflation of the edifice since January 2017. However, the edifice remains generally inflated with respect to July 2016, based on continuous GPS data.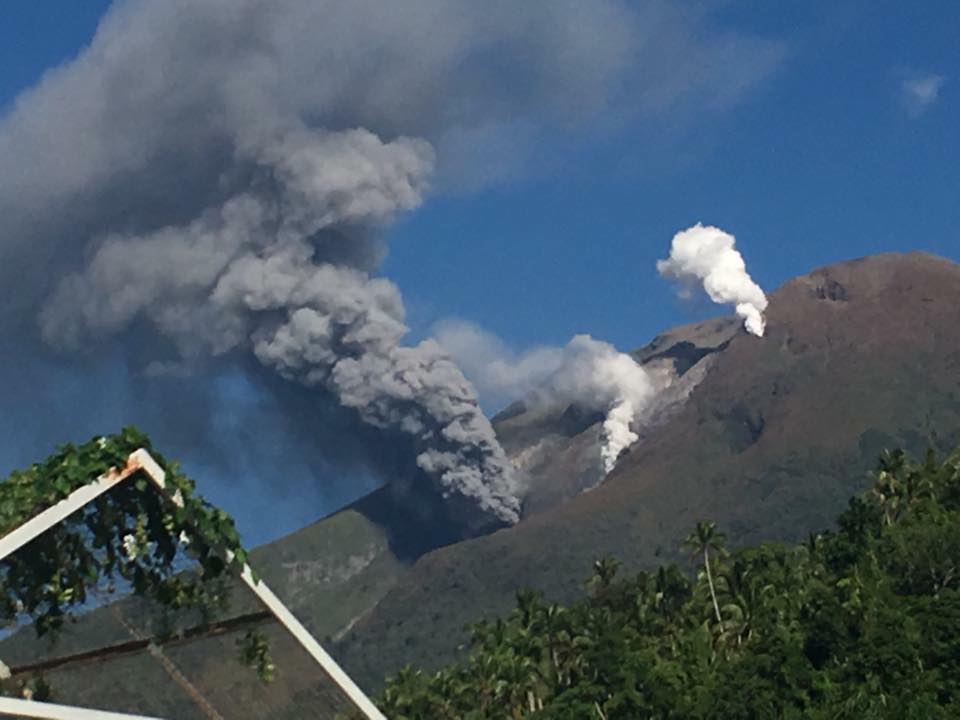 Alert Level 1 (abnormal) status remains in effect over Bulusan Volcano, which means that it is currently in a state of unrest probably driven by hydrothermal processes that could generate steam driven or phreatic eruptions. Local government units and the public are reminded that entry into the 4-kilometer radius Permanent Danger Zone (PDZ) is strictly prohibited and that vigilance in the Extended Danger Zone (EDZ) must be exercised due to the increased possibilities of sudden and hazardous phreatic eruptions.
Source : Phivolcs
Photo : Phivolcs