April 04 , 2017. EN. Ubinas , Sabancaya , White Island , Yellowstone .
April 04 , 2017.
Ubinas , Peru :
At present, Ubinas Volcano has shown a seismic and fumarolic increase in its characteristics, and is tracked and reported by the OVS-IGP through telemetry network stations that send real-time information to Cayma's headquarters.
Summary of activity from 16 to 31 March 2017.
1. Sismovolcanic monitoring:
Hybrid earthquakes, associated with magma uplift, decreased from the number observed in the previous period, reaching one event per day on average against 5 events per day. In addition, the energy of these earthquakes remains low. However, a moderate energy peak on the 20th, with a maximal reduced displacement (DR max) of 10 cm2, indicates the elevation of the magma material towards the surface.
VT type events related to rock fracturing show a slight decrease already observed in the previous period. On average, 33 events were recorded per day with a maximum DR of 2 cm2.
LP events that are related to fluid circulation (water, steam, and gas) maintain a moderate level of activity of approximately 18 LP / day; Energy shows low levels. Similarly, with regard to seismic activity of the Tremor type, which occurs sporadically and has been recorded as short duration events and low energy.
During this period, no explosive events were recorded.
Satellite Surveillance:
Thermal anomalies and SO2: The Mirova system (www.mirovaweb.it) did not detect any thermal anomalies for this period. Similarly, the satellite system « EOS Aura » GSDM-NASA (http://so2.gsfc.nasa.gov/) did not detect any major anomalies during this fortnight.
Visual Surveillance:
At this stage of the analysis (16-31 March), continued to be present a significant cloud cover which prevented to clearly observe the volcano for several days. However, it was possible to distinguish the sporadic expulsion of whitish gases (associated with water vapor), which reached a maximum of 300 meters above the crater. No expulsion of ash was observed.
Conclusions:
In general, the large seismic events of the volcano show a low level of activity. Although the number of hybrid events is decreasing, the internal pressure in the volcanic system (VT-type earthquakes) is still maintained. As a result, there are chances of explosions and / or ash emissions
Source : IGP
Photos : Diariocorreo , Ingemmet .
Sabancaya , Peru :
Recording of explosive activity noted an average of 41 explosions per day with a maximum reduced displacement (DR) of 100 cm2. Earthquakes associated with magma uplift (hybrids) decrease in number and energy, while earthquakes associated with fluid movement (long period) are increasing.

• Eruptive ash and gas columns reached ~ 4 800 m above the crater, spreading more than 40 km to the northwest, north and west. Falling ash has been reported at Pinchollo and Cabanaconde.
• Deformation showed a positive trend change in the vertical component at the station located north-east of the volcano.
• The flow of volcanic gas (SO2) reached a maximum of 2578 tonnes / day on March 27th.
• 3 thermal anomalies were detected, with values between 16 MW and 34 MW of radiated volcanic energy.
Overall volcanic activity has increased over the past week. This behavior could continue in the coming days.
Source : IGP
Photo : Ingemmet
White Island , New Zealand :

VOLCANIC ALERT BULLETIN:  3 April 2017 14.10h
Alert Status:
Volcanic Alert Level 1 (no change)
Aviation Colour Code: Green (no change)
White Island (Whakaari): Volcano remains quiet, moderate gas emissions
Observations during visits to White Island over the last 3-4 months confirm that activity remains at low levels. Activity is confined to the gas rich vents on the western side of the active crater. Hot, clear gas continues to be emitted. Some water has ponded on the floor of the active crater but no permanent lake has reformed. The seismic and acoustic activity generally remain low, and the SO2 gas flux is slowly declining.
The larger hot gas rich vents on the remains of the 2012 lava intrusion are the main source of gas. The temperature of the gas has ranged 250-300 ºC when measured recently. Tour operators reported very minor ash in the gas plume on 20 February; otherwise no changes are apparent. Following larger rainfall events on the island water is ponding on the crater floor, but soon soaks away or is evaporated. Hence no Crater Lake has reformed.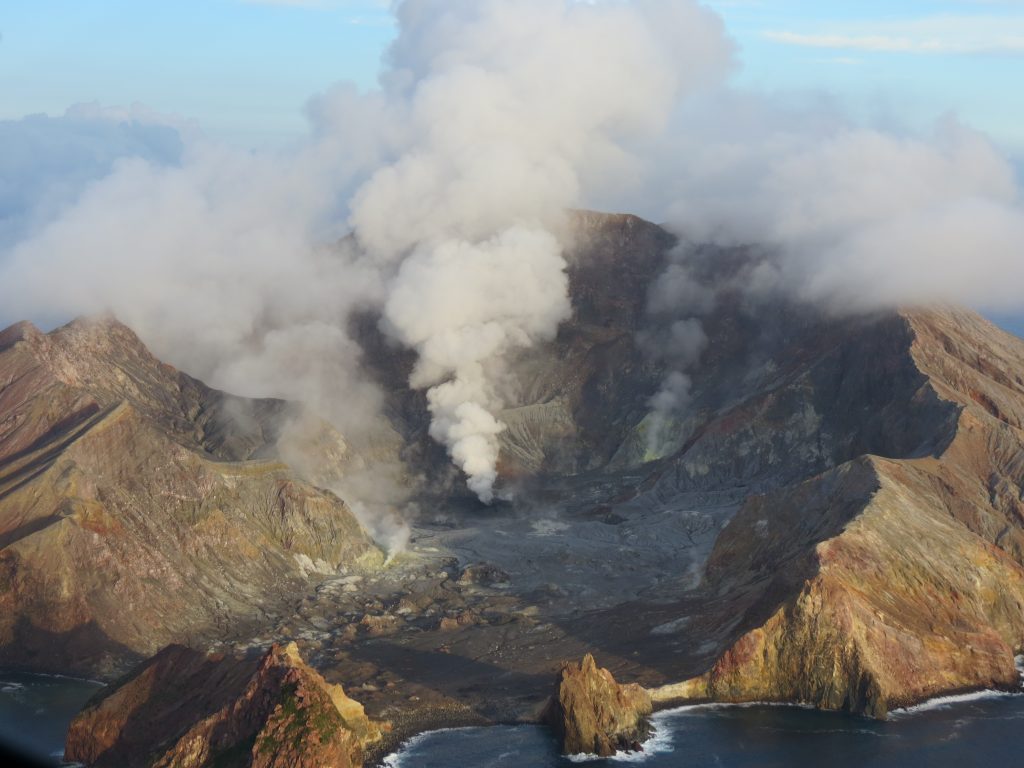 White Island (Whakaari) viewed from the east on 28 March
Seismic activity on the volcano during the last 3-4 months has been at low levels, punctuated occasionally by minor periods of small local earthquakes or weak volcanic tremor. A sequence of very small high frequency events has been apparent since 26 March but is now declining. No acoustic signals (explosions) have been detected.
The largest accessible fumarole, known as F0 has been sampled and we have regularly measured its temperature. This has ranged 170-182 °C over the last few months. SO2 gas flux as measured by the automatic DOAS sensors has declined from around 400 tonnes/day to 200 tonnes/day post January, but remaining above the pre-2011 values (50-100 tonnes/day).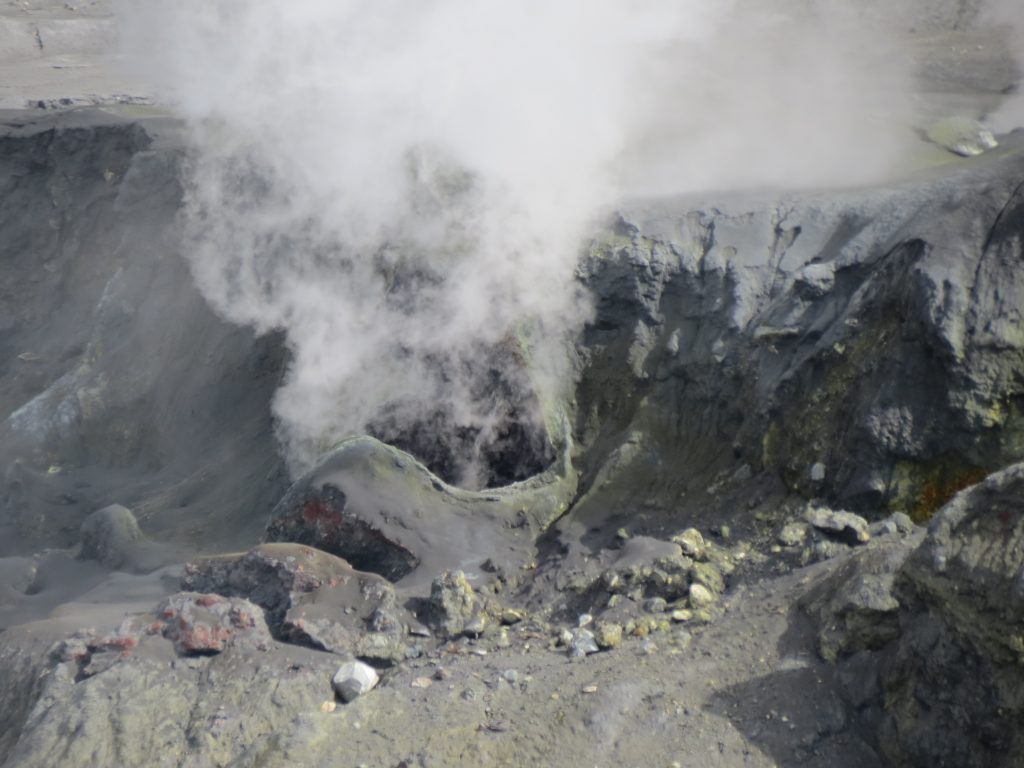 Close up view of the gas vent
We continue to monitor the volcano for possible renewed activity. The Volcanic Alert Level remains at Level 1. The Aviation Colour code remains Green.
Source : Geonet , Art Jolly , Volcanologue en charge.

Yellowstone , United States :
44°25'48 » N 110°40'12 » W,
Summit Elevation 9203 ft (2805 m)
Current Volcano Alert Level: NORMAL
Current Aviation Color Code: GREEN
Seismicity
During March 2017, the University of Utah Seismograph Stations, responsible for the operation and analysis of the Yellowstone Seismic Network, reports 63 earthquakes were located in the Yellowstone National Park (YNP) region. The largest event was a microearthquake of magnitude 2.9 that occurred on March 29, 09:05 PM MDT located 11 miles north of Pahaska Tepee, WY.
March seismicity did not include any swarm activity.
Yellowstone earthquake activity in March remains at low background levels.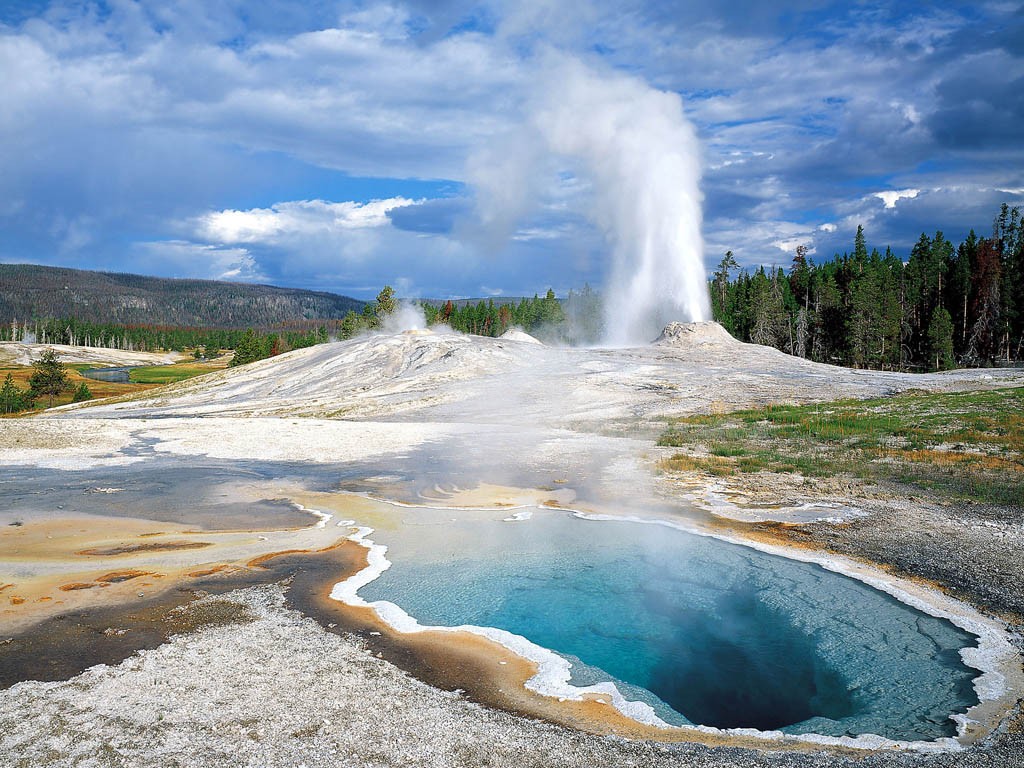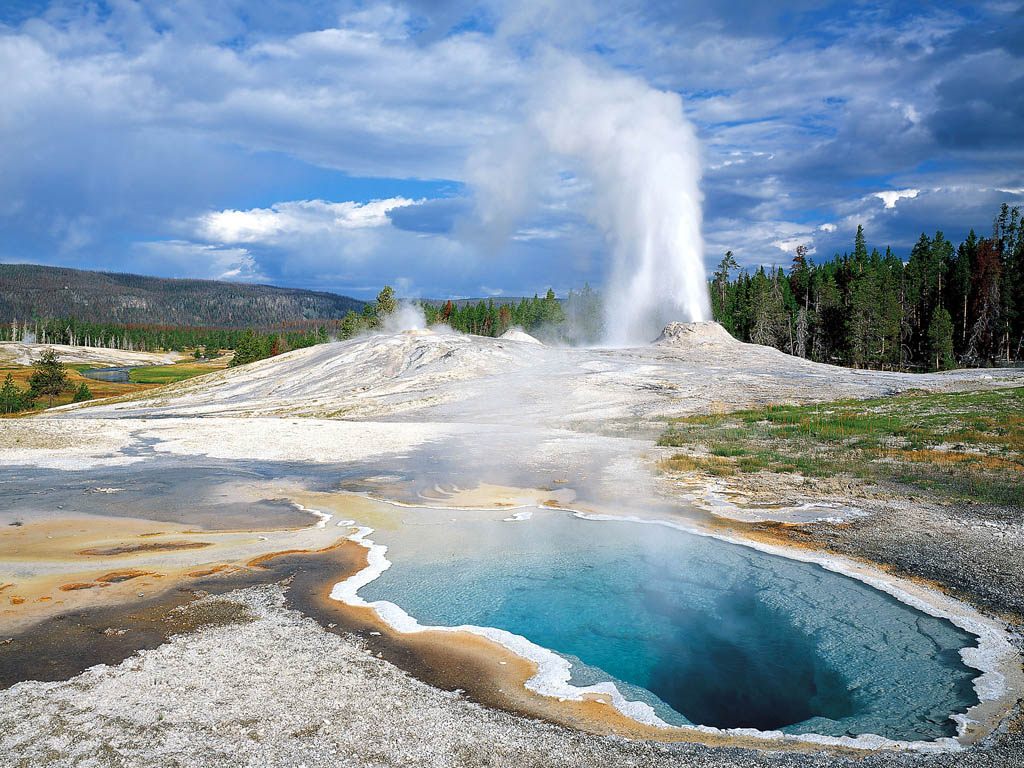 Ground deformation
Uplift centered near the Norris Geyser Basin, which began in late 2015, has now ceased.
Current deformation patterns at Yellowstone remain within historical norms.
An example of GPS data can be found at http://www.unavco.org/instrumentation/networks/status/pbo/data/WLWY (click on Static Plots / Time Series)
The Yellowstone Volcano Observatory (YVO) provides long-term monitoring of volcanic and earthquake activity in the Yellowstone National Park region. Yellowstone is the site of the largest and most diverse collection of natural thermal features in the world and the first National Park. YVO is one of the five USGS Volcano Observatories that monitor volcanoes within the United States for science and public safety.
Source : YVO