February 25 , 2017. EN. Bogoslof , Fuego , Piton de la Fournaise , Mauna Loa .
February 25 , 2017.
Bogoslof , Iles Aléoutiennes , Alaska :
53°55'38 » N 168°2'4″ W, S
Summit Elevation 492 ft (150 m)
Current Volcano Alert Level: WATCH
Current Aviation Color Code: ORANGE
Volcanic unrest at Bogoslof continues. Four explosive eruptions occurred earlier this week between Feb 17and 19, producing volcanic clouds that rose as high as 25,000 – 38,000 ft asl. The most recent explosion at 17:08 AKST on 19 February (02:08 February 20 UTC) was recorded by seismic and infrasound data, and satellite data showed a cloud extending 100 miles (160 km) southeast over Unalaska Island, though no ash fall was reported in populated areas. There have been no signs of volcanic activity over the past several days, and the Aviation Color Code remains ORANGE and the Alert Level WATCH since Tuesday. Recent satellite views show no significant changes to the island, and the vent remains underwater.
Geophysical data network outages and recent changes in the eruptive pattern have made rapid characterization of volcanic activity more difficult. This week's 4 explosions were the most yet in a 2.5 day span and followed nearly 14 days without significant emissions (including strong, possibly non-eruptive seismicity on February 13), which represents a significant departure from the 1-3 day explosive intervals from earlier in the eruption sequence. Furthermore, seismic network outages from nearby Umnak Island have reduced AVO's seismic monitoring capabilities, limiting our ability to rapidly characterize Bogoslof activity.
AVO continues to use infrasound (pressure) sensors from Umnak Island and will rely on seismic data from Unalaska Island to monitor Bogoslof, which will still allow for timely detection of significant activity. In addition, we use satellite imagery to track ash clouds and information from the Worldwide Lightning Location Network to identify volcanic lightning. Although we are able to detect significant explosive activity in real-time, there is typically a lag of tens of minutes until we can characterize the magnitude of the event and the altitude of the volcanic cloud.
In addition to the significant explosive events that we are able to detect, it is likely that lower-level explosive activity is occurring that is below our ability to detect in our data sources. These low-level explosions could pose a hazard in the immediate vicinity of the volcano.
Bogoslof Island is the largest of a cluster of small, low-lying islands making up the emergent summit of a large submarine stratovolcano. The highest point above sea level prior to this eruption was about 100 m (300 ft); however, the volcano is frequently altered by both eruptions and wave erosion and has undergone dramatic changes in historical time. The two main islands currently above sea level are Fire Island and Bogoslof Island, both located about 98 km (61 mi) northwest of Unalaska/Dutch Harbor, 123 km (76 mi) northeast of Nikolski, and 149 km (93 mi) northeast of Akutan. The volcano is situated slightly north (behind) the main Aleutian volcanic front. Bogoslof volcano is within the USFWS Aleutian Maritime Wildlife Refuge and is habitat for marine mammals and seabirds.
At least 8 historical eruptions have been documented at Bogoslof. The most recent prior to 2016 occurred from July 6-24, 1992, and produced episodic steam and ash emissions including an ash cloud up to 26,000 ft (8 km) asl on July 20, followed the next day by extrusion of a new 150 m (500 ft) by 275 m (900 ft) lava dome on the north end of the island. Previous eruptions of the volcano have lasted weeks to months, and have on occasion produced ash fall on Unalaska. Eruptions of the volcano are often characterized by multiple explosive, ash-producing events such as we have seen in 2016, as well as the growth of lava domes.
Source : AVO
Photos : waythomas, chris , Dan Leary
Fuego , Guatemala :
Guatemala 24 February 2017, 23:30 hours (local time)
BEGINNING OF THE ERUPTION OF VOLCAN FUEGO (1402-1409))
Activity type: Vulcanian
Morphology: Stratovolcan composite
Geographical location: 14 ° 28 '54 ˝ Latitude N; 90 ° 52 '54 « Longitude W.
Altitude: 3,763msnm.
Since this morning, he has been informed of the increased activity of the volcano Fuego, recorded by the seismic station FG3, which begins the second eruption of the year. Up to now, an increase in explosions, which produce degassing sounds similar to train engine locomotives and rumblings that are sensitive to distances of more than 10 kilometers from the crater, is observed.
Due to weather conditions there is no visibility, but the winds show a north and northwest direction, so there may be ash falls in the communities located in this area.
Two lava flows have been reported, the first in the Barranca Santa Teresa and the second in Las Lajas, which are fed by an incandescent source that has reached 200 meters above the crater and has generated constant avalanches in the area that could be visible in the coming hours.
Because of the beginning of this new eruptive phase it is recommended to be attentive to the evolution and not to stay in and around the canyons because of the constant threat of a possible descent of pyroclastic flows.
Source : Insivumeh .
Photo : Fuente
Piton de la Fournaise , La Réunion :
The eruption begun on January 31, 2017 at 7:40 pm local time continues. The volcanic tremor (indicator of surface eruptive intensity) has been decreasing very poorly for a few days now (Figure 1).
Figure 1: Evolution of the RSAM (volcanic tremor and eruption intensity indicator) between January 31st and February 24th (16h00 local time) on the seismic station of Château Fort, located on the southern flank of the volcano.
– No seismicity was recorded during the day under the summit of Piton de la Fournaise.
– The inflation of the volcano in its summit area continues. A slight inflation at the base of the cone (bottom of the Enclos ) is now perceptible. On the other hand, outside the Enclos, no deformation is currently observable.
No direct visual observation was made by observatory teams today. The evolution of the surface activity is in small decrease according to the evolution of the eruptive tremor.
Source : OVPF
Photo : O. Lucas Leclin
Mauna Loa , Hawai :
19°28'30 » N 155°36'29 » W,
Summit Elevation 13681 ft (4170 m)
Current Volcano Alert Level: ADVISORY
Current Aviation Color Code: YELLOW
Activity Summary:
Mauna Loa is not erupting. Rates of deformation and seismicity have not changed significantly in the past week and continue to be above long-term background levels. No significant change in summit fumarole temperature was noted over the past week.
Observations:
A few dozen small-magnitude earthquakes occurred beneath the volcano during the past week, primarily in the upper Southwest Rift and at depths less than 5 km (3 miles). A handful of these earthquakes, however, occurred on the west flank of the volcano at slightly greater depths.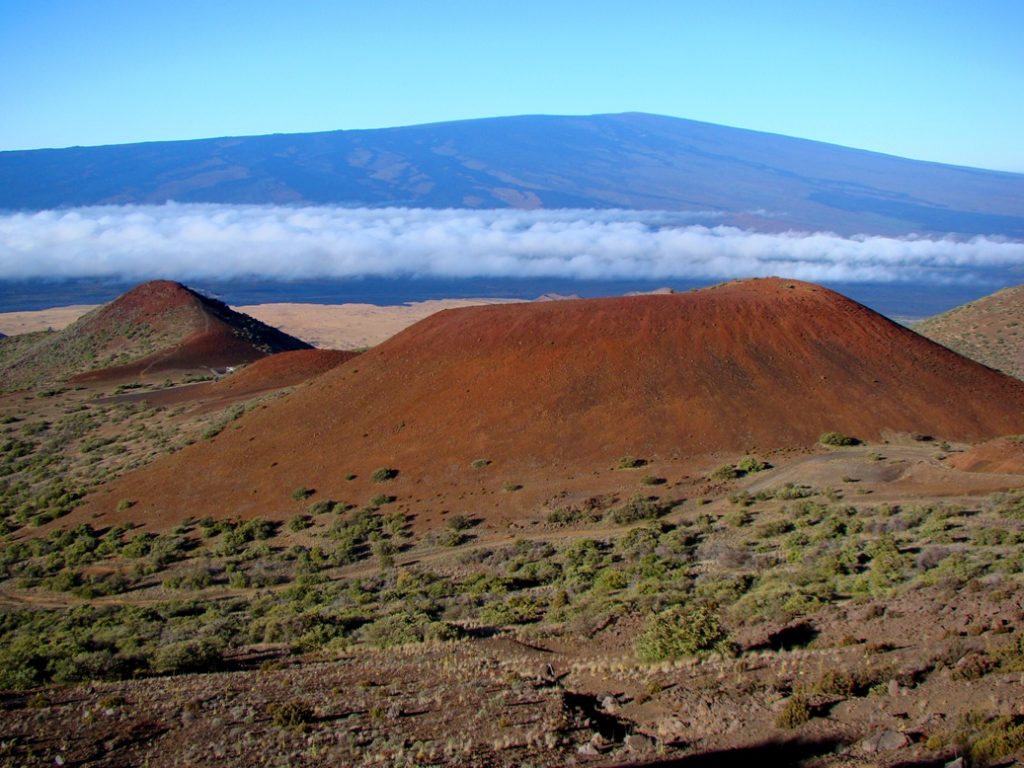 Cinder cones in foreground, Mauna Loa from Mauna Kea Road.

Global Positioning System (GPS) measurements continue to show deformation related to inflation of a magma reservoir beneath the summit and upper Southwest Rift Zone.
Measurements from a continuously-monitored fumarole site within the summit caldera showed an increase in temperature during the first half of January; relatively steady fumarole temperatures were measured over the past week, however. No significant changes in volcanic gas emissions, sulfur dioxide or carbon dioxide were recorded.
.
Source : HVO
Photo : Geotripper Images