February 20 , 2017. EN. Kilauea , Huaynaputina , Bogoslof , Piton de la Fournaise .
February 20 , 2017.
Kilauea , Hawai :
19°25'16 » N 155°17'13 » W,
Summit Elevation 4091 ft (1247 m)
Current Volcano Alert Level: WATCH
Current Aviation Color Code: ORANGE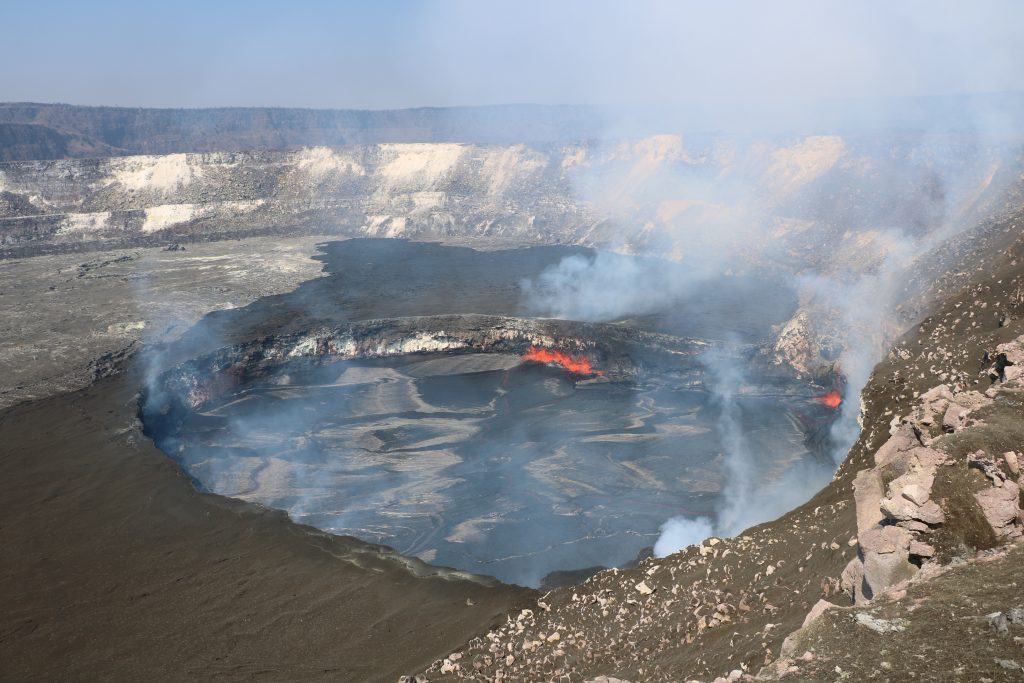 Activity Summary:
Kilauea Volcano continues to erupt at the summit and the Pu'u 'O'o vent on its East Rift Zone. The episode 61g lava flow from Pu'u 'O'o in the East Rift Zone is entering the ocean at Kamokuna. Surface flows remain active near Pu'u 'O'o as well on the coastal plain. These lava flows pose no threat to nearby communities at this time. At the summit, deflationary tilt started last night. The lava lake surface is approximately 23 m (75 ft.) below the floor of Halema'uma'u Crater as of this morning.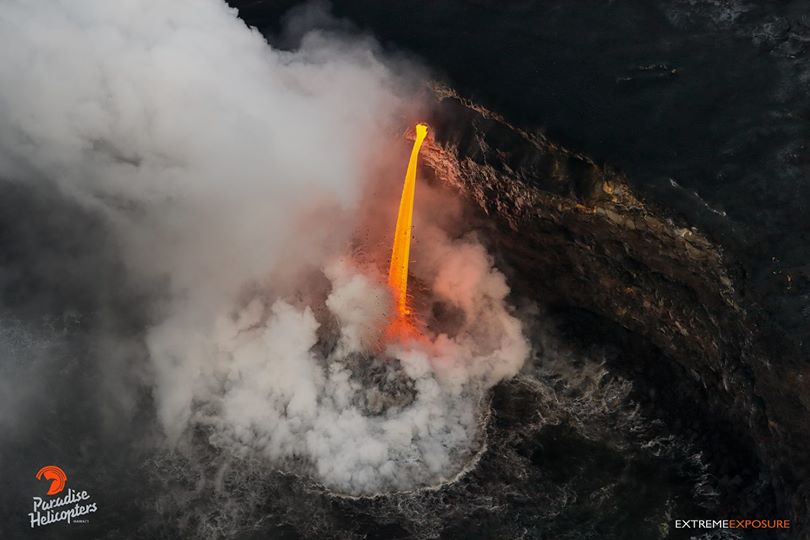 Summit Observations:
Tiltmeters at Kilauea's summit recorded deflationary tilt. The lava lake surface as of this morning is, based on webcam images, approximately 23 m (75 ft.) below the rim of the Overlook Vent.   Seismicity is within normal, background rates with tremor fluctuations associated with lava lake spattering. Average daily summit sulfur dioxide emission rates ranged from 4,600 to 5,800 metric tons/day over the past week.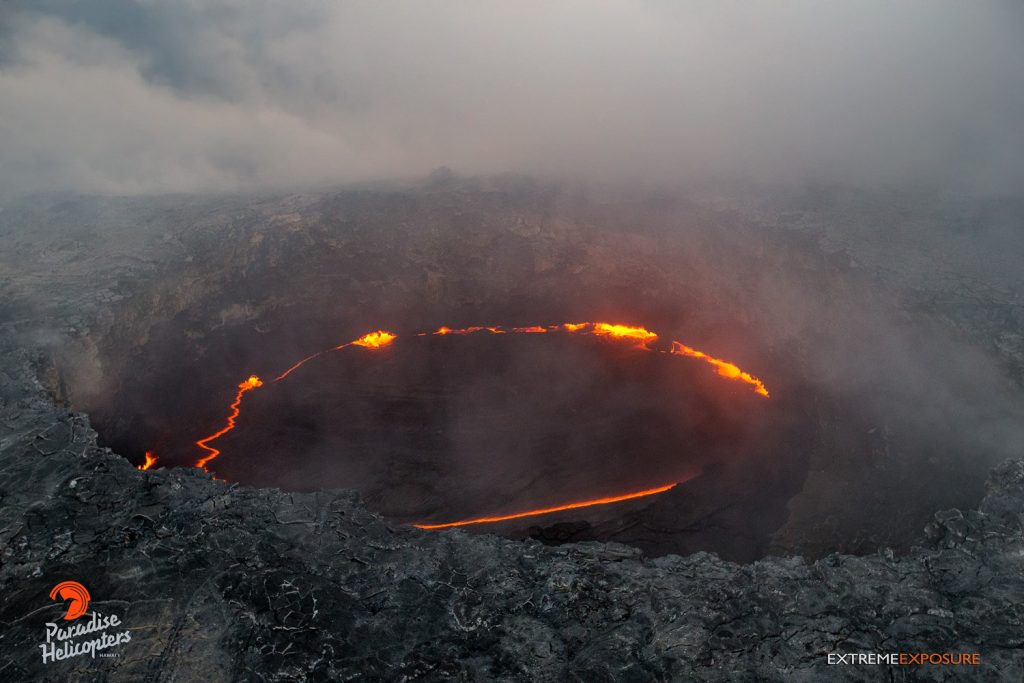 Summit Observations:
Webcam images over the past 24 hours show persistent glow at long-term sources within the crater and from a vent high on the northeast flank of the cone. There were no significant changes in seismicity over the past 24 hours. The tiltmeter is tracking the summit with a gradual deflationary trend. The sulfur dioxide emission rate from all East Rift Zone vents was about 200 metric tons/day when last measured on January 30.
Lava Flow Observations:
The episode 61g flow is still active and entering the ocean at Kamokuna. At Pu'u 'O'o, surface flows are occurring within about 2.4 km (1.5 mi) of the 61g vent and on the coastal plain. These flows pose no threat to nearby communities at this time.
Source : HVO
Photos : HVO , Bruce OMORI
Huaynaputina

, Peru :
The OVS-IGP monitored the seismic activity of the Huaynaputina volcano in 2015. The results show a typical seismicity of fracturing activity (VT type earthquakes) and very rare earthquakes associated with fluid movements (LP type earthquakes). There were also water vapor emission points with a temperature of 76 ° C, located at the bottom of the crater.
Although, in November 2015, the OVS-IGP monitors the Huaynaputina volcano, thanks to telemetric networks on the Ubiñas and Ticsani volcanoes, 30 km away. It has been detected and located earthquakes from the area of ​​Huaynaputina with depths of 3 km to 16 km. With the distance between the stations and the crater, only earthquakes of magnitude greater than 2.0 ML are detected.
The Huaynaputina is an active volcano with a current seismicity in its surroundings. The launching of a new eruptive process would probably have extremely negative consequences and on a large scale. For prevention measures, think about what happened during the last eruption in February 1600, which was the strongest (IEV6) of the Andes in historical times.
Huaynaputina (whose name means « new volcano ») is a relatively inconspicuous volcano that was the source of the largest historical eruption of South America in 1600 CE. The volcano has no prominent topographic expression and lies within a 2.5-km-wide depression formed by edifice collapse and further excavated by glaciers within an older edifice of Tertiary-to-Pleistocene age. Three overlapping ash cones with craters up to 100 m deep were constructed during the 1600 CE eruption on the floor of the ancestral crater, whose outer flanks are heavily mantled by ash deposits from the 1600 eruption. This powerful fissure-fed eruption may have produced nearly 30 cu km of dacitic tephra, including pyroclastic flows and surges that traveled 13 km to the east and SE. Lahars reached the Pacific Ocean, 120 km away. The eruption caused substantial damage to the major cities of Arequipa and Moquengua, and regional economies took 150 years to fully recover.

Source : IGP, GVP
Bogoslof , Aleutians Islands , Alaska :
Current Volcano Alert Level: WARNING
Current Aviation Color Code: RED
Previous Aviation Color Code: ORANGE
Issued: Sunday, February 19, 2017, 6:07 PM AKST
Source: Alaska Volcano Observatory
Notice Number:
Location: N 53 deg 55 min W 168 deg 2 min
Elevation: 492 ft (150 m)
Area: Aleutians
Volcanic Activity Summary:
A significant explosive eruption began at Bogoslof volcano at 02:08 UTC on 20 February (17:08 AKST on 19 February). Seismic and infrasound data show a series of short-lived explosive pulses through 02:45 UTC; seismicity has been quiet since then. Recent satellite images show a cloud as high as 25,000 ft asl. Thus, AVO is raising the Aviation Color Code to RED and Alert level to WARNING for Bogoslof volcano.
Winds are carrying the cloud from Bogoslof to the southeast, towards Unalaska Island.
February 19 Bogoslof eruption plume as seen from Unalaska Island, 53 miles ESE of Bogoslof volcano. Photo taken from helicopter during fieldwork by AVO geologists at 5:22PM, approximately 14 minutes after the start of the eruption.

Following the series of short, explosive eruptions that started at 17:08 AKST this afternoon (02:08 February 20 UTC) and lasted until 17:45 AKST (02:45 February 20 UTC), seismicity and infrasound as detected on neighboring islands has been quiet.
Satellite images following the activity showed a volcanic plume extending about 100 miles (160 km) to the southeast over Unalaska Island and the Pacific Ocean. The plume was visible in images through 19:00 AKST (04:00 February 20 UTC). AVO geologists on Unalaska Island described the cloud has having a white upper portion and a slightly darker lower portion.
Recent Observations:
[Volcanic cloud height] 25,000 ft asl estimated by satellite
[Other volcanic cloud information] Cloud moving towards southeast
Hazard Analysis:
[Ashfall] Trace of ash fallout on Unalaska Island possible.
Remarks:
The SIGMET warning message for aviation, issued by the National Weather Service Alaska Aviation Weather Unit, currently is in effect up to 25,000 ft above sea level. Status of the ash cloud forecast can be found at their website at http://aawu.arh.noaa.gov/
Source : AVO
Photo : Schaefer, Janet
Piton de la Fournaise , La Réunion :
The eruption begun on January 31, 2017 at 7:40 pm local time continues. The volcanic tremor (surface eruptive intensity indicator) remains at a relatively constant intensity level at a level equivalent to that at the onset of the eruption (Figure 1).
Figure 1: Evolution of the RSAM (volcanic tremor and eruption intensity indicator) between January 31st and February 19th (5pm local time) on the seismic station of Château Fort, located on the southern flank of the volcano. (© OVPF / IPGP)
– No seismicity was recorded during the day under the summit of Piton de la Fournaise.
– The trend towards a rebound in inflation in the volcano is becoming clearer. This parameter will be confirmed in the next few days.

The situation is stationary, the eruption continues at a relatively constant and high intensity level. The visible activity remains that of the eruptive cone, the lava moving in an adjacent tunnel.
Source : OVPF
Photo : O Lucas-Leclin