February 10 , 2017. EN. Piton de la Fournaise , Bogoslof , Kilauea , Sabancaya .
February 10 , 2017.
Piton de la Fournaise , La Réunion :
The eruption begun on January 31, 2017 at 7:40 pm local time continues. The volcanic tremor (indicator of surface eruptive intensity) remains at a high intensity level (Figure 1).
Figure 1: Evolution of the RSAM (volcanic tremor and eruption intensity indicator) between January 31st and February 9th (16h local time) on the seismic station of Château Fort, located on the southern flank of the volcano. (© OVPF / IPGP)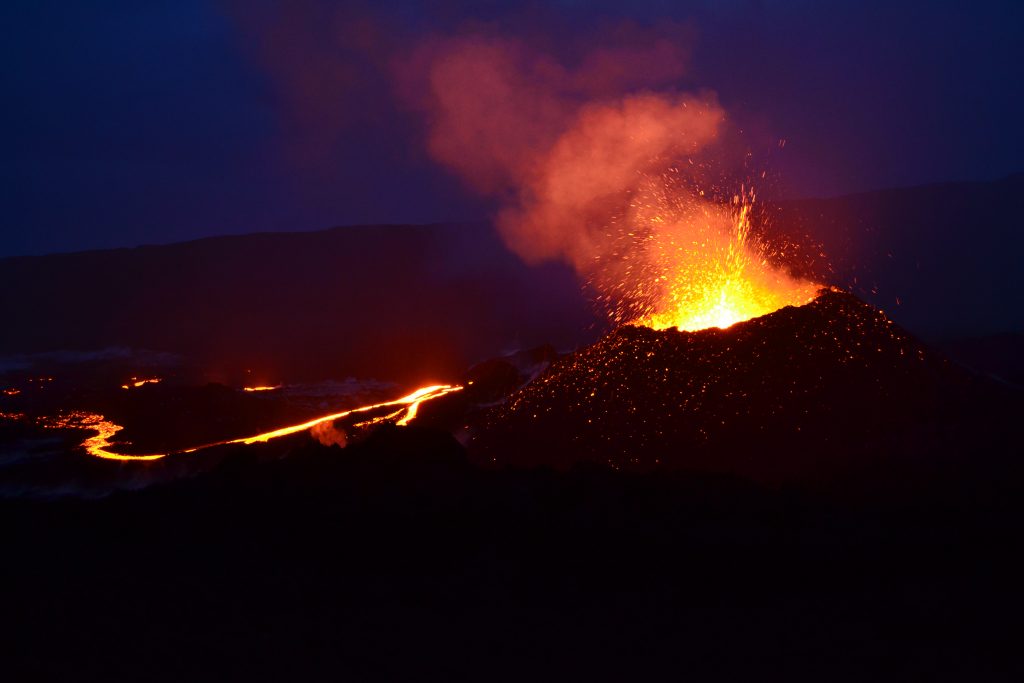 – No seismicity was recorded during the day under the Piton de la Fournaise  .
– The trend of a rebound in the inflation of the building is confirmed over the last 4 days. This tendency suggests that pressurization of the surface reservoir continues and that a deep magmatic supply is maintained.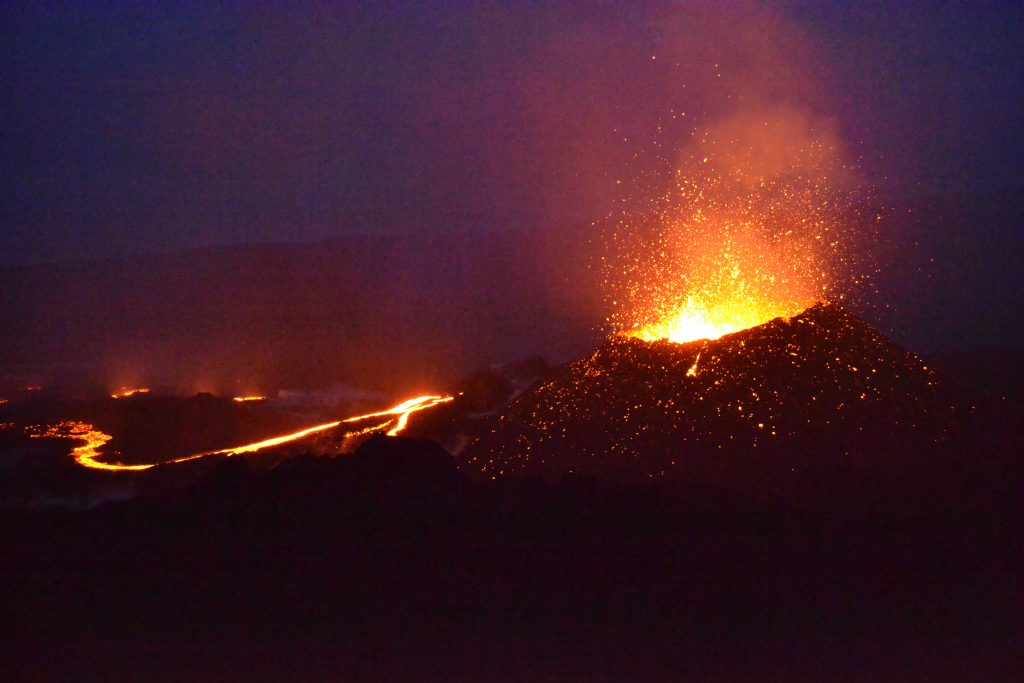 Because of the strong wind gusts on the volcano area, no aerial reconnaissance was carried out this day. The large cloud cover still present on the massif, did not allow the estimate of surface flow.
Source : OVPF
Photos : ©Lionel Chermette et @Louis Marie Alliotte ( Merci à 80 Jours Voyage http://80joursvoyages.com/)
Bogoslof , Aleutians Islands , Alaska :
53°55'38 » N 168°2'4″ W,
Summit Elevation 492 ft (150 m)
Current Volcano Alert Level: WATCH
Current Aviation Color Code: ORANGE

On the right, a COSMO SkyMed Synthetic Aperture Radar (SAR) satellite image from 8 February showing that the vent location at Bogoslof is still underwater. A Sentinel-2 visible image from 2 February is shown on the left for reference. Please note that SAR images have significant geometric distortion, so a direct comparison between features is not straightforward.

The eruption of Bogoslof volcano continues. Clouds obscured views of the volcano by satellite today. No significant volcanic activity has been detected in seismic or infrasound data over the past 24 hours. This morning between 13:30 and 14:30 UTC (04:30 and 05:30 AKST) AVO recorded a series of small, low-frequency earthquakes on stations used to monitor Bogoslof volcano. These earthquakes are not related to volcanic activity and are referred to as tectonic tremor related to the movement of tectonic plates in this region.

Source : AVO
Photo : Schneider, Dave
Kilauea , Hawai :
19°25'16 » N 155°17'13 » W,
Summit Elevation 4091 ft (1247 m)
Current Volcano Alert Level: WATCH
Current Aviation Color Code: ORANGE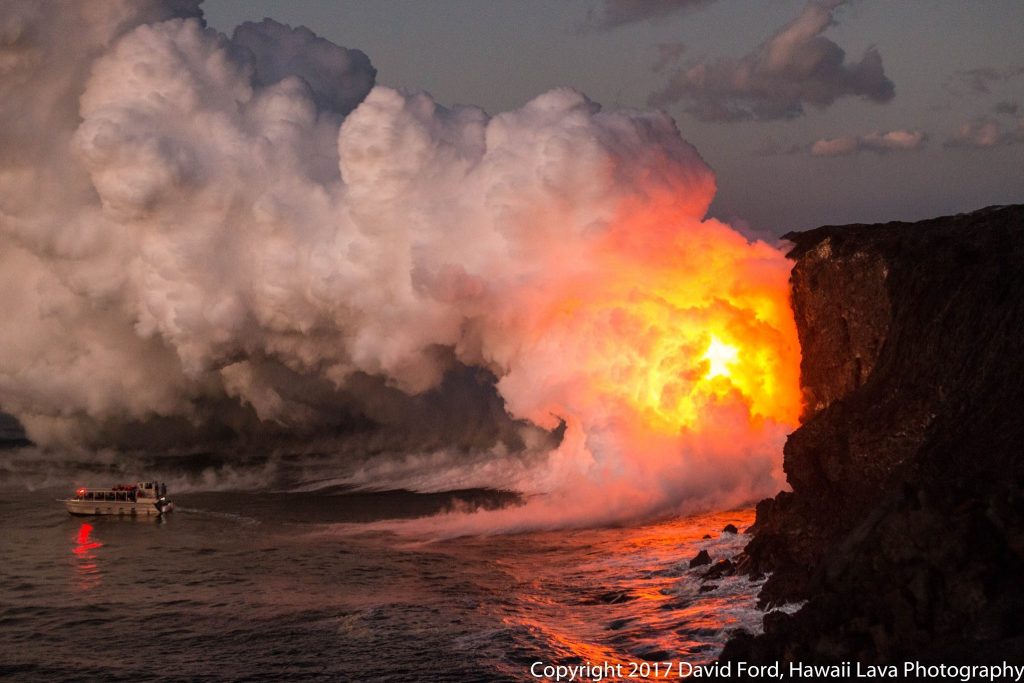 Activity Summary:
Kilauea Volcano continues to erupt at its summit and East Rift Zone. Lava continues to enter the ocean at Kamokuna and surface flows remain active within 2.4 km (1.5 mi) of the vent at Pu'u 'O'o. These lava flows currently pose no threat to nearby communities. At the summit, inflationary tilt started late last night and the lava lake surface is about 29 m (95 ft) below the floor of Halema'uma'u crater this morning.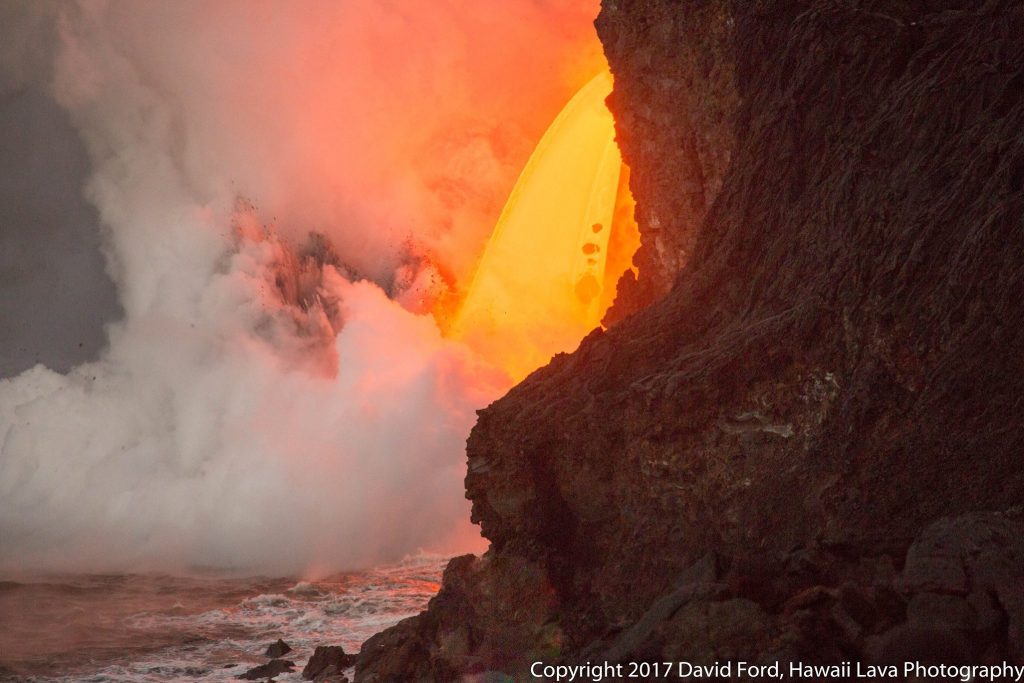 Summit Observations:
Summit tiltmeters recorded the start of the inflation phase of the current DI event at about 10 pm last night. The lava lake surface dropped along with the deflationary tilt during the day yesterday and rose overnight, so the net change from yesterday morning is very slight; it was measured at about 29 m (95 ft) below the floor of Halema'uma'u crater this morning. Seismicity rates were at background levels and tremor values fluctuated in response to changing lava lake circulation, spattering, and rockfalls. Sulfur dioxide emission rates ranged from about 4,600 to 5,800 metric tons/day over the past week, when measurements were possible during trade wind conditions.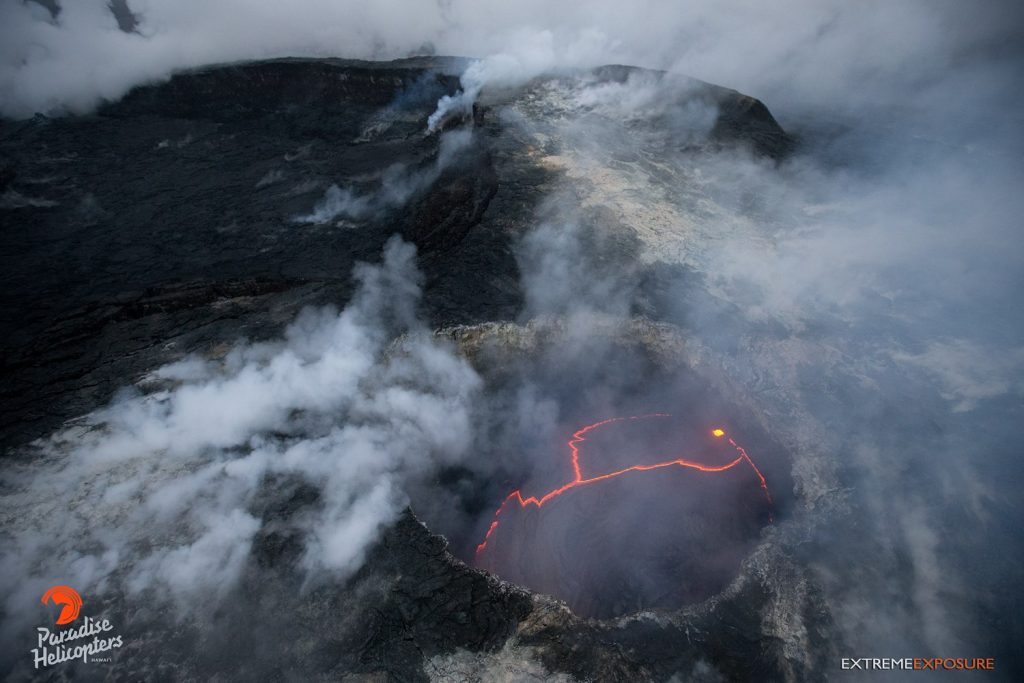 Pu'u 'O'o Observations:
Webcam images show persistent glow in long-term sources within the crater. There was no significant change in tilt or seismicity rates during the past day. The sulfur dioxide emission rate from all East Rift Zone vents was about 200 metric tons/day when last measured on January 30.
Lava Flow Observations:
The episode 61g lava flow remained active and entering the ocean at Kamokuna; all surface flows are occurring within about 2.4 km (1.5 mi) of the 61g vent near Pu'u 'O'o. The episode 61g flows pose no threat to nearby communities at this time.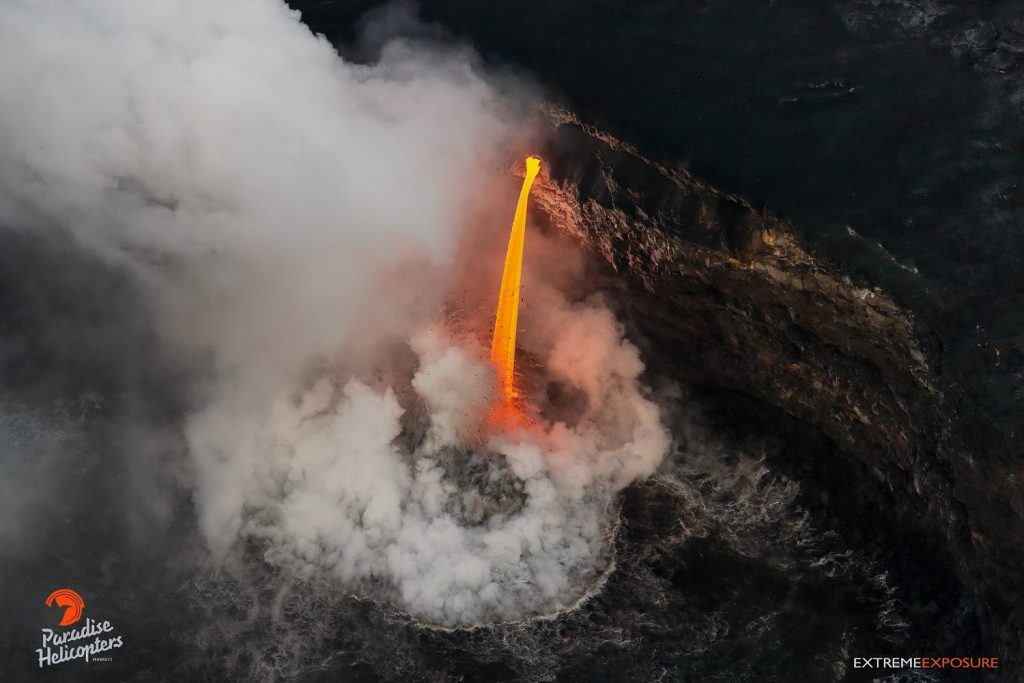 As a strong caution to visitors viewing the ocean entry (where lava meets the sea), there are additional significant hazards besides walking on uneven surfaces and around unstable, extremely steep sea cliffs. Venturing too close to an ocean entry on land or the ocean exposes you to flying debris created by the explosive interaction between lava and water. Also, the new land created is unstable because it is built on unconsolidated lava fragments and sand. This loose material can easily be eroded away by surf, causing the new land to become unsupported and slide into the sea. In several instances, such collapses, once started, have also incorporated parts of the older sea cliff. This occurred most recently on December 31. Further collapse of the sea cliff occurred on February 2. Additionally, the interaction of lava with the ocean creates a corrosive seawater plume laden with hydrochloric acid and fine volcanic particles that can irritate the skin, eyes, and lungs.
Source : HVO
Photos : David Ford , Bruce Omori. ( Gold Medal for both.)
Sabancaya , Peru :
Seismic activity continues to increase on the Sabancaya.
The seismicity associated with the Sabancaya eruptive activity in Arequipa continues to increase and there was an average of 58 explosions per day between January 30 and February 5 with a maximum reduced displacement value of 144 centimeters Squares, reported the Scientific Committee on the monitoring of the massif.
Between 30 January and 05 February, it was recorded a daily average of 58 explosions.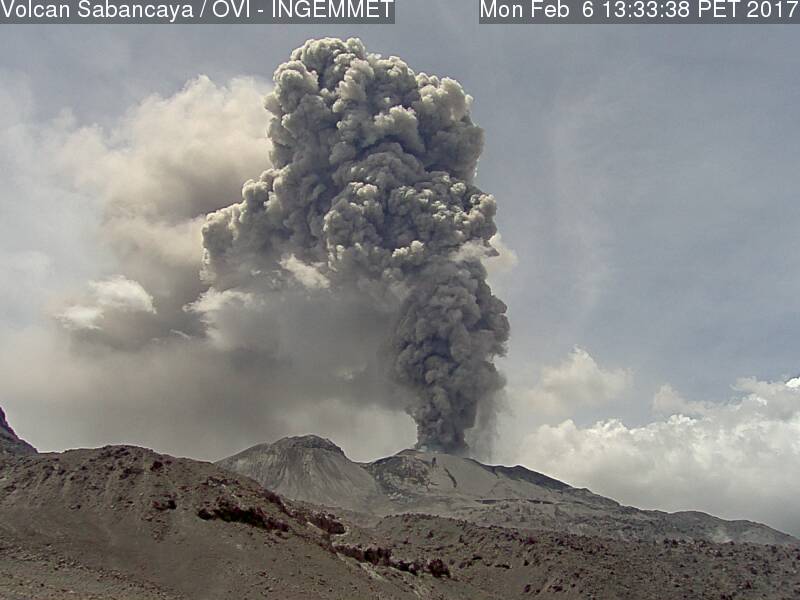 In recent days there has been an increase in LP seismicity, which is associated with fluid movement inside the volcano, the report says.
The eruptive columns of gas and ashes reached about 4000 meters above the edge of the crater (04 February), then spread over more than 40 kilometers to the northwest, north, south and southwest of the volcano .
The tendency of the deformation lies within the margin of error of the instrument, and the volcanic gas flow (SO2) reached a maximum value of 2500 tons per day on 1 February.
It also detected 7 thermal anomalies, with values between 10 and 43 megawatts.
Overall, the activity of the Sabancaya has slightly increased compared to last week.
Sources : IGP , andina.com.pe
Photo : Ingemmet