February 08 , 2017. EN. Etna , Piton de la Fournaise , Planchon-Peteroa , Volcan de Boue Bakou , Cleveland.
February 08 , 2017.
Etna, Sicily :
About the Strombolian activity underway since 20 January 2017 on the crater of Southeast Etna – the news of this activity has spread rapidly, for the enjoyment of many, but as usual it arouses also thoughts and requests of the type « is what can happen something more serious? ».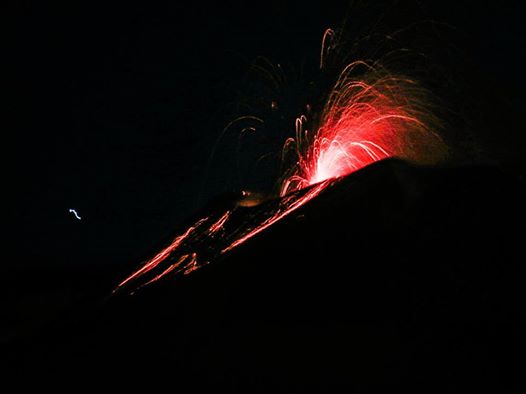 To answer this question: in the life of each of us can happen many things but really many serious things, and among them, Etna is one of the least painful causes. However, for who had forgotten it, Etna is an active volcano, and therefore from time to time erupting, this is normal. It is also characteristic of certain eruptions that can be more or less threatening, even destructive, as is often the case on Mount Etna.
Etna is currently in activity, for precision: since January 20, 2017, there are small strombolian explosions on the crater of the South-East, but it is a very, very modest activity. Technically, it is eruption (each event that carries rocks from the inside of the earth to its surface is an eruption). But it is an eruption until now without lava flow, just explosions that throw fragments of lava up to a few tens of meters above the volcanic mouth.

This activity has nothing to do with earthquakes, and therefore the earthquake risks (of volcanic origin) in our countries remains exactly the same as before, that is to say, very high.
There is currently no evidence of a much larger eruption, either at the top or on the flanks, but on the Etna volcano, scenarios can change rapidly. We are here waiting to see what the volcano decides to do, always hoping that this will be especially beautiful to see.

Source : B. Behncke
Photos : Giuseppe Tonzuso , Boris Behnche
Piton de la Fournaise , La Réunion :
The eruption begun on January 31, 2017 at 7:40 pm local time continues. The volcanic tremor (an indicator of surface eruptive intensity) remains at a high level of intensity comparable to that observed at the beginning of the eruption (Figure 1).
Evolution of RSAM (indicator of volcanic tremor and intensity of eruption) between January 31st and February 7th (4pm local time) on the seismic station of Château Fort, located on the southern flank of the volcano. (© OVPF / IPGP)
– No seismicity was recorded during the day under the Piton de la Fournaise volcano.
– Long-term deformation: following a very slight deflation of the volcano detected over a week (about 5 mm contraction of the cumulated summation zone over a week), a slight inflation of the edifice seems to Day of yesterday. This parameter will be confirmed in the next few days.
Due to poor weather conditions and pre-alert cyclones, no ground or aerial reconnaissance was carried out today by the volcanological observatory. Similarly, no surface flow could be estimated by satellite method.
Source : OVPF
Photo : Olivier Lucas-Leclin
Planchon Peteroa , Chile :
Planchon – Peteroa volcanic complex:
In the second half, it was recorded 465 events related to a rigid material fracturing process called volcano-tectonic (VT) with a local magnitude (Ml) of M 2.5. Most of the time these localized events were recorded under the volcanic edifice, at depths between 4 and 7 km. The largest of these events was located 1.7 km north-northwest (NW) from the main crater to a depth of 4.6 km
For events related to fluid dynamics, seven thousand three hundred and eighty-four (7384) LP-type events were classified, with local magnitudes (ML) below M1.5, shown as greater energy a reduced displacement of (RDC) 12 cm.

Episodes of volcanic tremor (TR) were recorded, also associated with fluid dynamics within the volcano, with reduced displacements (DRC) on average of 0.6 cm2, which is considered to be low, while the dominant frequencies were maintained between 1.0 and 1.5 Hz mainly.
The IP camera images showed the presence of small, whitish low-energy fumaroles, the heights of which do not exceed 100 m above the crater.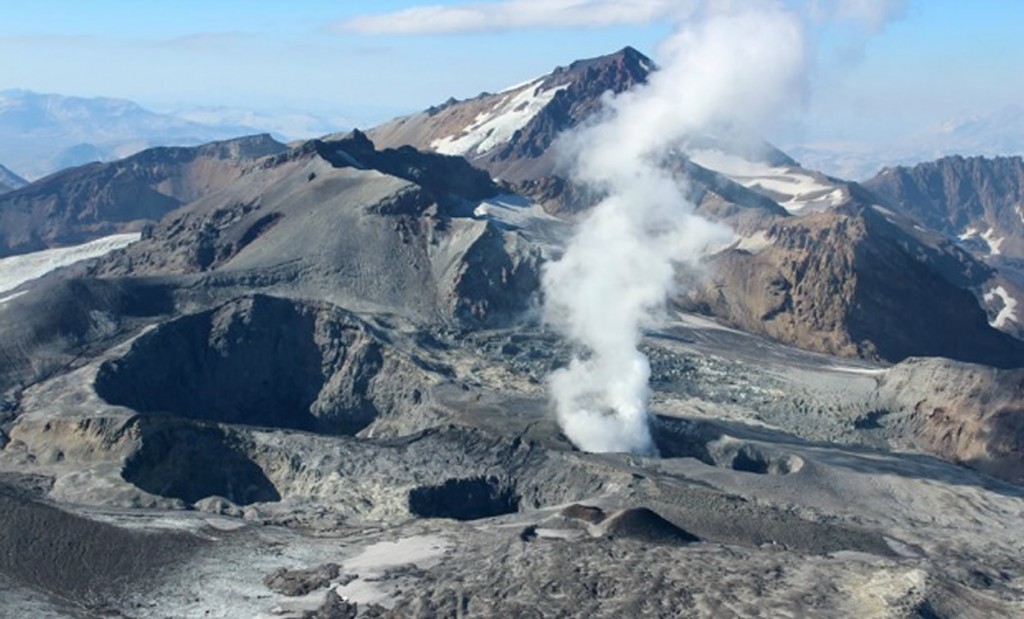 No anomalies were reported in emissions of sulfur dioxide (S02) to the atmosphere in the volcano sector, according to data obtained by Ozone Monitoring Group, OMI Sulfur Dioxide Instrument (http: // so2 .gsfc. Nasa.gov/) and NESDIS (National Environmental Satellite, Data, and Information, http://satepsanone.nesdis.noaa.gov)
No thermal alerts were reported in the area associated with the volcano according to MODIS's MODVOLC (Resolution Imaging Moderate spectroradiometer) data on its website (http://modis.higp.hawaii.edu/) and Mirova Mean InfraRed Observation of Volcanic Activity) on its website (http://www.mirovaweb.it/), two monitoring systems that indicate significant changes in the surface temperature of the earth.
While, in general, the number of earthquakes has remained oscillating, with increases and decreases in seismic activity over the past two months, the above seismicity rates continue above baseline, which indicates the continuity of a dynamic process in the deep magmatic system of the complex, even without affecting the surface hydrothermal system. In this context, there is a possibility of developing a direct interaction between the two systems with the consequent generation of a lower explosive activity in the first case, affecting the zones in the vicinity of active craters and / or emissions of ash of low to moderate size. Area of danger contained within a radius of 1 km around the area of active craters which are recommended to restrict access, the level of volcanic alert remains at YELLOW level
Source : Sernageomin
Mud Volcano , Baku , Azerbaidjan
Mud volcano erupts in suburb of Baku .
6 FEBRUARY 2017. A mud volcano erupted in the suburb of Baku on February 6. The Azerbaijani Emergency Situations Ministry reported that it received information about the eruption of mud volcano in Sangachal settlement, the Garadagh district.
"The incident was reported to the Department of Volcanology of the Azerbaijani National Academy of Sciences. Currently, a group of representatives of the Ministry are working at the site," Spokesman to the Ministry Ogtay Bayramov said.
Mud volcanoes are a fairly widespread geological phenomenon and over a thousand mud volcanoes are known to exist in the world. Eruption of mud volcanoes mainly are accompanied by strong explosions and underground rumble. Gasses come out from the deepest layers of the earth and immediately ignite.
Azerbaijan is the first in the world by the number of mud volcanoes. 350 out of 800 mud volcanoes in the world are located here. Over 130 of these mud volcanoes are located in the country's Caspian Sea section.
Azerbaijan's rich fields of oil and gas condensate such as Lokbatan, Garadagh, Oil Rocks, and Mishovdag were discovered near mud volcanoes. The lava, mud, and liquid spewed by mud volcanoes are used as raw materials for chemical and construction industries, as well as pharmacology.
Cleveland , Alaska :
52°49'20 » N 169°56'42 » W,
Summit Elevation 5676 ft (1730 m)
Current Volcano Alert Level: WATCH
Current Aviation Color Code: ORANGE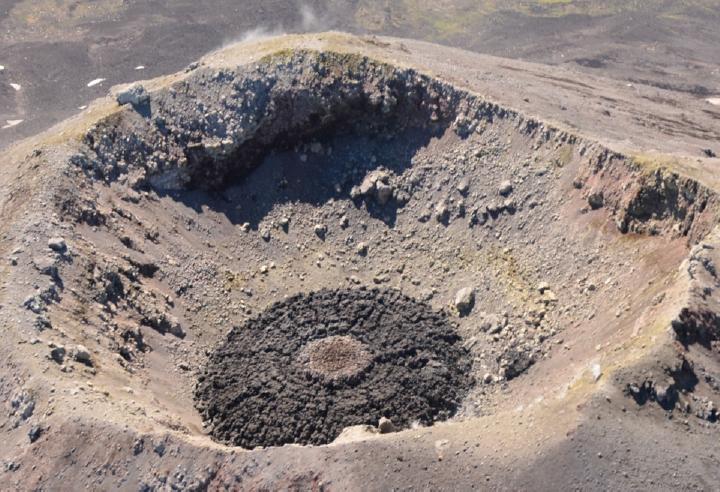 Weakly elevated surface temperatures were observed at the summit of Cleveland in several satellite images over the past day. This is consistent with the presence of a lava dome that began extruding in the summit crater in late January. Web camera views have been obscured by clouds. No significant activity observed in seismic or pressure sensor data during the past 24 hours. The presence of an active lava dome within the summit crater may lead to explosive activity with little to no warning.
Source : AVO
Photo : AVO 2015