February 06 , 2017. EN. Piton de la Fournaise , Sinabung , Sheveluch , Popocatepetl , Turrialba .
February 06 , 2017.
Piton de la Fournaise , La Réunion :
The eruption begun on January 31, 2017 at 7:40 pm local time continues. The volcanic tremor (indicator of surface eruptive intensity) remains at a high level comparable to that seen at the beginning of the eruption (Figure 1).
Figure 1: Evolution of RSAM (volcanic tremor and eruption intensity indicator) between 7:00 am (1:00 am UTC) on January 31 and 4:00 pm (12:00 pm UTC) on February 5th on the seismic station of Château Fort, located on the Southern flank of the volcano. (© OVPF / IPGP)
– No significant deformation was recorded during the day on the terminal cone.
– No seismicity was recorded during the day under the Piton de la Fournaise volcano.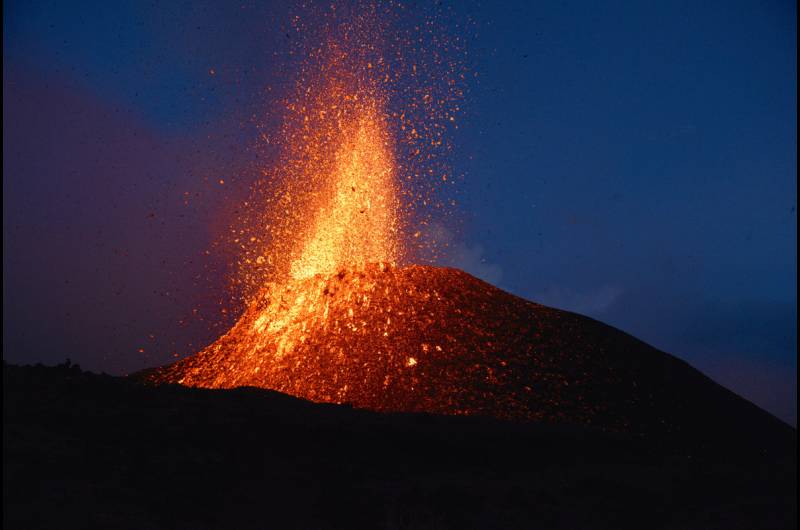 Due to poor weather conditions and pre-alert cyclones, no ground or aerial reconnaissance was carried out today by the volcanological observatory. Similarly, no surface flow could be estimated by satellite method.
Source : OVPF
Photo : Serge Gelabert
Sinabung , Indonesia :
Indonesia's Mount Sinabung in north Sumatra province erupted seven times in the space of a day.
« The eruptions occurred from midnight until 4:50 pm on Sunday, » volcanology agency official Arif Cahyo said.
The ash from the volcano was carried by winds to Berastagi, a tourist town in the Karo highlands south-east of the volcano.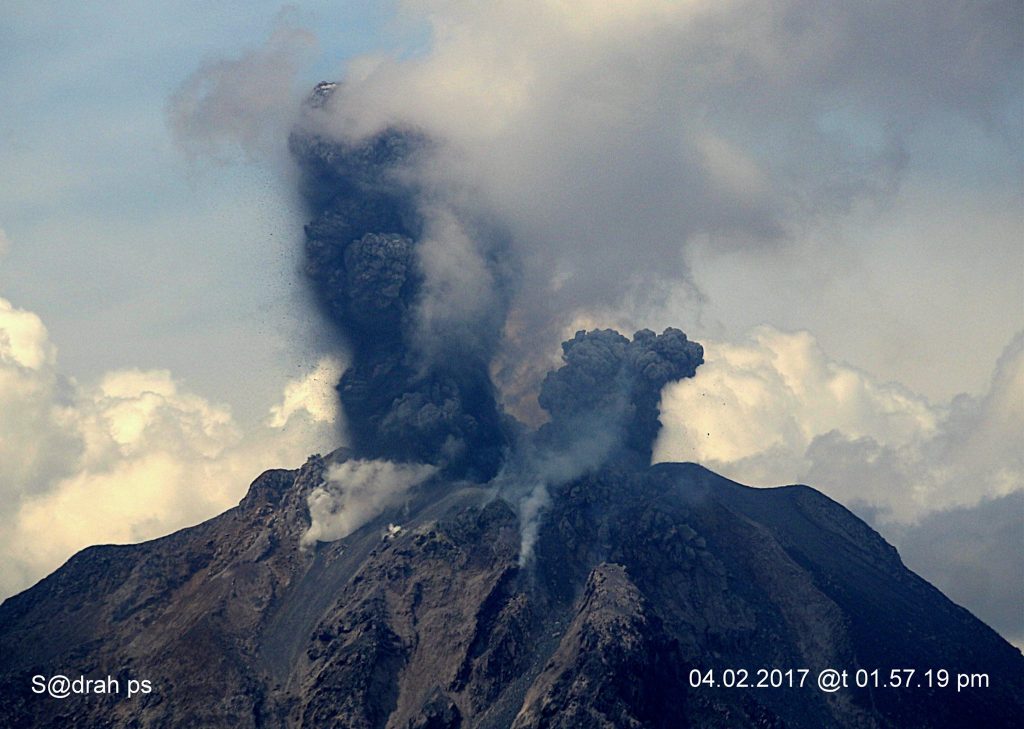 Local officials in Berastagi told locals and tourists to wear masks and eye protectors to avoid being exposed directly to the volcanic ash.
The volcanic activity put the surrounding area on the highest level of alert. Areas within a radius of seven kilometres were closed to villagers, while thousands were displaced by the activity and are still living in temporary shelters.
Martinus Sitepu, head of Karo district disaster mitigation agency, said the volcano ejected material up to 5,000 metres into the air.
Mount Sinabung has been erupting periodically since September 2013.
Source:.sbs.com.au
Photo : Sadrah Peranginangin
Sheveluch , Kamchatka :
56.64 N, 161.32 E;
Elevation 10768 ft (3283 m),
the dome elevation ~8200 ft (2500 m)
Aviation Color Code is ORANGE
According to data by Tokyo VAAC, explosions sent ash up to 20,000 ft a.s.l. Satellite data show an ash plume extend for about 112 km to the north-east from the volcano.
Explosive-extrusive eruption of the volcano continues. Ash explosions up to 26,200-32,800 ft (8-10 km) a.s.l. could occur at any time. Ongoing activity could affect international and low-flying aircraft.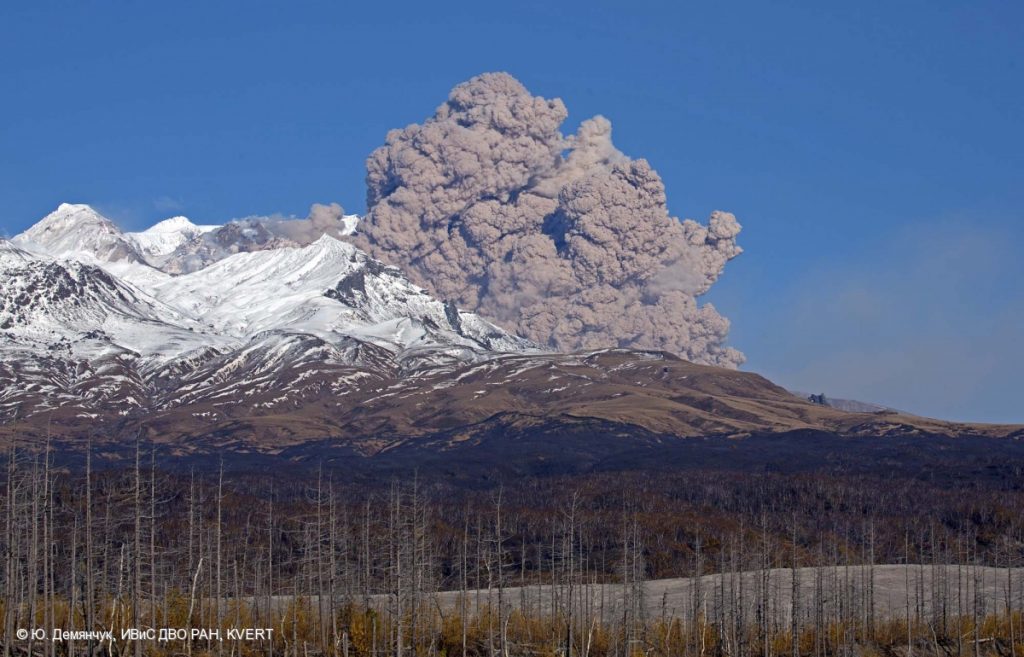 Volcanic cloud height: 19680-22960 ft (6000-7000 m) AMSL Time and method of ash plume/cloud height determination: 20170204/2139Z – Tokyo VAAC
Other volcanic cloud information: Distance of ash plume/cloud of the volcano: 70 mi (112 km)
Direction of drift of ash plume/cloud of the volcano: WNW / azimuth 290 deg
Time and method of ash plume/cloud determination: 20170204/2300Z – Himawary-8
Source : Kvert
Photo : Yu. Demyanchuk, IVS FEB RAS, KVERT
Popocatepetl , Mexico :
5 February 11h00 (1700 GMT February 05)
Over the last 24 hours, according to the monitoring systems of the Popocatepetl volcano, 21 low-intensity exhalations accompanied by steam and gas have been identified. Six volcano-tectonic earthquakes, four yesterday at 15:45, 18:21, 19:10 and 20:02 h with a magnitude of M1,5, M2,2, M1,3 and M1,6 respectively recorded today, and two today at 00:38 and 06: 38 h with a magnitude of M1,5 and M1,1 respectively.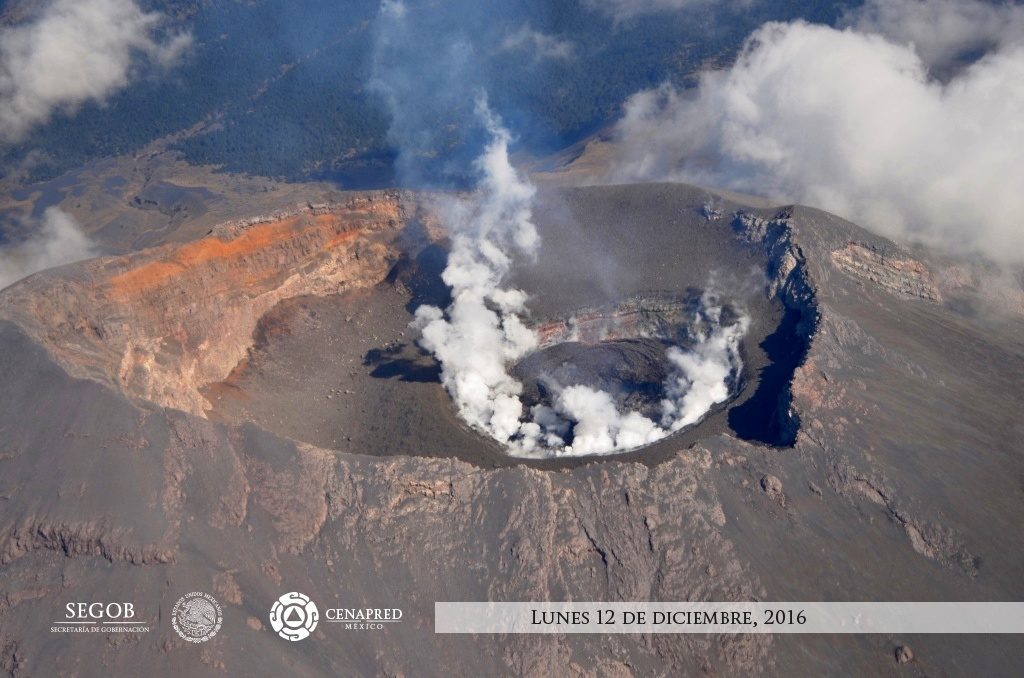 At dawn, a glimmer on the crater was observed.
At the time of this report, the volcano is not observed due to cloud conditions, but during the early hours of the morning may have seen a continuous emission of steam and gas northward.
CENAPRED asked not to approach the volcano and in particular the crater.
The volcanic alert semaphore of Popocatepetl Volcano is located in Amarillo Phase 2.
Source : Cenapred
Photo : Segob
Turrialba , Costa Rica :
Activity report of the Turrialba volcano.
5 February, 11h00
Seismic activity remains similar to that of yesterday, sometimes with low volcanic (LP) volcanic earthquakes and small volcano-tectonic (VT) earthquakes that are recorded. However, the tremor had a decrease in average to low amplitude since yesterday afternoon.
During the day, the weather allowed us to observe for a few minutes the top of the volcano by the cameras of OVSICORI, located on the summits of the Irazu and Turrialba volcanoes, on which a plume composed mainly of gases and aerosols was observed.
According to data from the IMN meteorological station of the Turrialba volcano, the prevailing wind direction during the preparation of this report is in the Southwest with speeds between 13.0 and 41.2 km / h.
During the afternoon yesterday rangers of the Turrialba National Park reported ash falls at Finca La Central near the volcano. In addition, ash falls in Moravia and Barrio Aranjuez, have been reported. Yesterday, there was also a report of smell of sulfur in Sabanilla de Montes de Oca.
In the morning of today, there are no reports of ash falls or smell of sulfur.
Source : Ovsicori