February 02 , 2017. EN. Piton de la Fournaise , Bogoslof , Kilauea , Popocatepetl .
February 02 , 2017.
Piton de la Fournaise , La Réunion :
The eruption begun last night (31/01/2017) at 7:40 pm local time continues.
Following the reconnaissance survey carried out this morning with the assistance of the Air Force Section, the eruptive site could be located precisely. It is located 1.1 km south-east of Château Fort and about 2.5 km east-northeast of Piton de Bert (Figure 1).
Figure 1: Location of the vent eruption ( « Event »), and location of the flow front on 01.02.2017 (7:40 local time; « Front Arm 1 Arm 2 » Two other eruptive fissures have opened. At the beginning of the eruption upstream (on both sides of the point « Mi-Fiss1 and 2 ») and are no longer active (© OVPF / IPGP)
The height of the eruptive vent was estimated to be about ten meters high. Moderate activity was observed at the vent from which escapes lava fountains of 20-30 meters high, and active flows mainly of type aa (Figure 2). The extension of the flows remains limited and is divided into several active arms. At 7:40 local time the active arms had traveled between 600 and 750m away from the eruptive vent (Figures 1 and 2).
Figure 2:  pictures of the eruptive site from 01/02/2017 to 07:40, local time. (© OVPF / IPGP)
Note that two other eruptive cracks opened at the beginning of the eruption but are currently no longer active. They are located further upstream about 600m west of Château Fort. Only a smoldering activity persists on these two small cracks whose activity at the beginning of the eruption has built two small vents.
On-site measurements (sampling of lava and gas in particular) will be carried out today by the teams of the observatory in order to have a more precise quantification of dynamics and flows. The first estimates made by satellite methods via the HOTVOLC platform (OPGC – Clermont Ferrand) show relatively low flows of the order of 3-4 m3 / s, which is probably underestimated due to the presence of cloud cover during the acquisition that night.
Source : OVPF
Bogoslof , Aleutians Islands , Alaska :
53°55'38 » N 168°2'4″ W,
Summit Elevation 492 ft (150 m)
Current Volcano Alert Level: WARNING
Current Aviation Color Code: RED
Elevated unrest continues at Bogoslof volcano. Volcanic emissions have ceased following the eruption that began at 5:20 UTC, January 31 (20:20 AKST, January 30). The eruption was first detected by a series of discrete tremor bursts detected on nearby seismic stations. The onset of these bursts was accompanied by an infrasound signal and a small weak eruption cloud that was seen in satellite data. An escalation of explosive activity at the volcano was detected by high amplitude infrasound signals and increased seismic tremor between 8:40 and 9:30 UTC consistent with continuous emissions at the volcano. At 09:00 UTC, a continuous volcanic plume was seen to extend for a distance of 125 km toward the southeast over Unalaska Island at an altitude of up to 25,000 feet above sea level. Numerous lightning strokes related to eruptive activity were detected during this eruptive phase. Trace amounts of ash fall and a sulfur smell were reported in Dutch Harbor through this morning but have now ended. The higher level ash cloud, up to 25,000 feet, is currently southeast of Unalaska Island and dissipating.
Satellite images from earlier today show significant changes at Bogoslof Island. Whereas previous explosive events in this sequence had issued from a vent in shallow seawater, freshly erupted volcanic rock and ash have formed a barrier that separates the vent from the sea for the first time since the eruptive sequence began. As a result, we infer that this change has resulted in the more ash-rich emissions that occurred during the evening of January 30 to 31 (AKST).
Source : AVO
Photo : waythomas, chris
Kilauea , Hawai :
19°25'16 » N 155°17'13 » W,
Summit Elevation 4091 ft (1247 m)
Current Volcano Alert Level: WATCH
Current Aviation Color Code: ORANGE
Activity Summary:
Kilauea Volcano continues to erupt at its summit and East Rift Zone. Lava continues to enter the ocean at Kamokuna and surface flows remain active within 2.4 km (1.5 mi) of the vent at Pu'u 'O'o. These lava flows currently pose no threat to nearby communities. Deflationary tilt lhas been measured at the summit since around 7 a.m. The lava lake surface was about 18 m (59 ft) below the floor of Halema'uma'u crater when measured early this morning.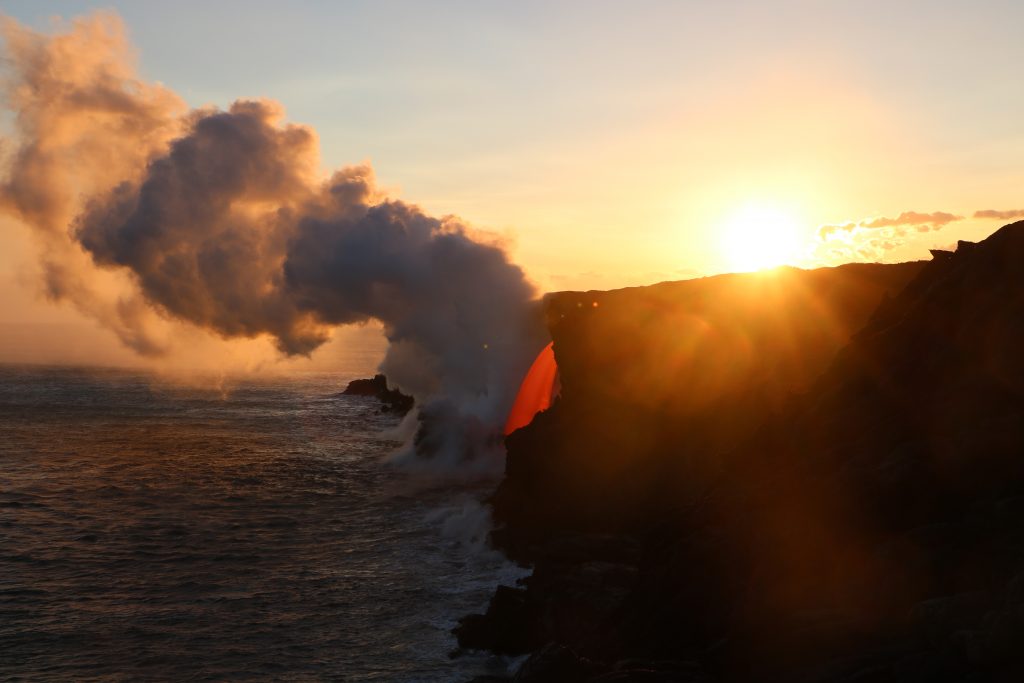 Summit Observations:
Summit tiltmeters have recorded deflationary tilt since around 7 a.m., in what is likely the deflationary phase of the next deflation-inflation (DI) event. The lava lake surface was measured at about 18 m (59 ft) below the floor of Halema'uma'u crater early this morning. A tiltmeter with data that are posted on the Hawaiian Volcano Observatory website was repaired last week, and is again reflecting activity on the volcano. Seismicity rates were at background levels, and as is typical, tremor fluctuated in response to changing lava lake circulation, spattering, and rockfalls. Sulfur dioxide emission rates ranged from about 1,700 to 5,700 metric tons/day over the past week, when measurements were possible during trade wind conditions.
Pu'u 'O'o Observations:
Webcam images show persistent glow in long-term sources within the crater. A small amount of net defaltionary tilt has been measured at nearby tiltmeters over the last day. Seismicity rates are at background levels. The sulfur dioxide emission rate from all East Rift Zone vents was about 200 metric tons/day when last measured on January 30.
Lava Flow Observations:
The episode 61g flow is still active and entering the ocean at Kamokuna. Significant delta development was not observed by HVO scientists over the weekend from ground vantage points. Very steep bathymetry may be inhibiting reformation since the New Year's Eve collapse event. An open stream of lava continues to pour from a height of about 20 m (66 ft) into the ocean from a tube in the sea cliff. Recent helicopter and ground-based thermal measurements confirm an area of high temperature about 5-10 m (16-33 ft) from the edge of the sea cliff. Hot cracks running parallell to the sea cliff around the entry point suggest increased sea cliff instability. Scattered surface flows from a small breakout that occurred on January 22 are still active close to the 61g vent, as are surface flows on a secondary branch of the 61g flow. All surface flows are occurring close to Pu'u 'O'o, within about 2.4 km (1.5 mi) of the 61g vent. The episode 61g flows pose no threat to nearby communities at this time.
Source : HVO
Photos : HVO , Bruce Omori
Popocatepetl , Mexico :
31 January 11:00 (17:00 GMT 31 January)
Over the past 24 hours, through the seismic recordings of the Popocatepetl volcano monitoring system, 25 low-intensity exhalations accompanied by steam and gas have been identified. In addition, yesterday at 18:36 AM a volcano-tectonic earthquake was recorded magnitude M1,4.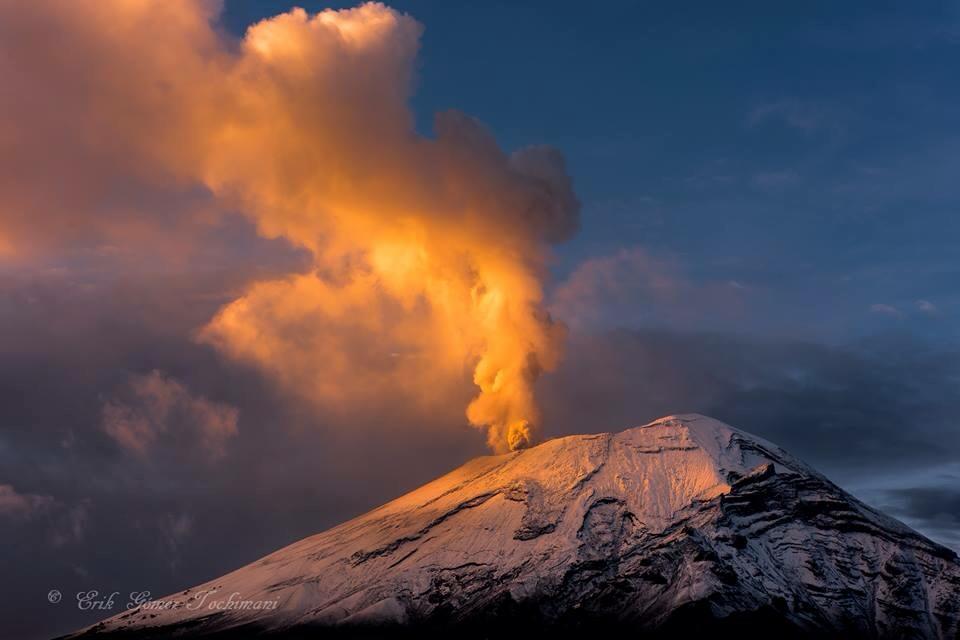 All night long, a glimmer could be seen above the crater.
At the time of this report, continuous steam and gas emissions are observed.
The other monitoring parameters remain unchanged.
CENAPRED asked not to approach the volcano and in particular the crater.
The Semaphore of Volcanic alert of the Popocatepetl volcano is located in Amarillo Phase 2.
Source : Cenapred
Photo : Erik Gomez Tochimani