January 31 , 2017. EN. Bogoslof , Ebeko , Colima , Etna .
January 31 , 2017.
Après de belles aventures, la vie des volcans reprend son cours.
Bogoslof , Aleutians Islands , Alaska :
Niveau d'alerte volcanique actuel: AVERTISSEMENT
Précédent Volcano Alert Level: WATCH
Couleur de l'aviation: RED
Précédent Aviation Color Code: ORANGE
Date d'émission: lundi 30 janvier 2017, 22h25 AKST
Source: Observatoire des volcans d'Alaska
Numéro d'avis: 2017 / A82
Localisation: N 53 deg 55 min W 168 deg 2 min
Altitude: 492 pi (150 m)
Région: Aléoutiennes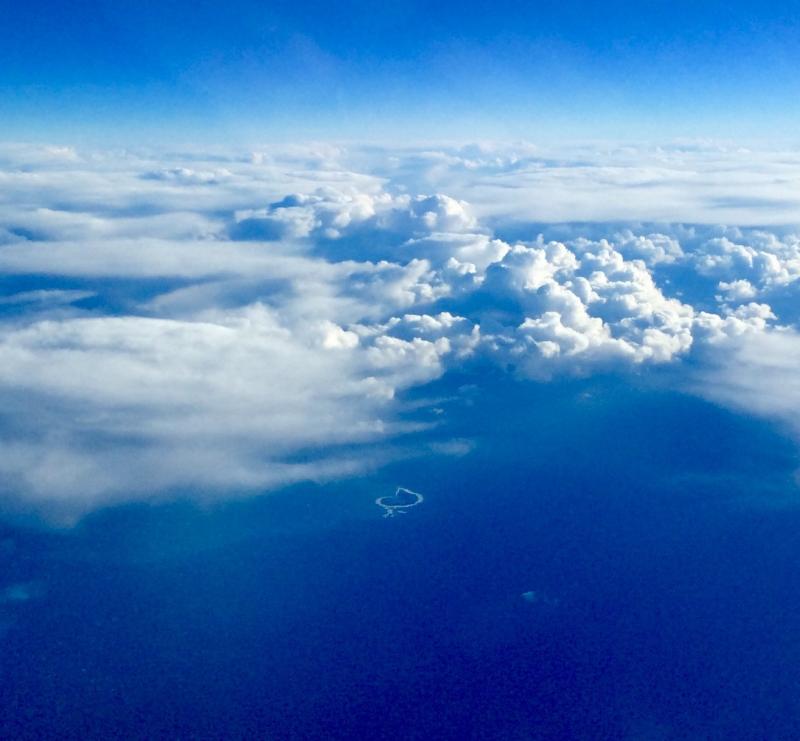 Volcanic Activity Summary: Several short bursts of activity have been detected in seismic data beginning at 5:20 and at 6:08 UTC. An infrasound signal accompanied the first event indicating an explosive emission from Bogoslof. An eruption cloud has been observed in satellite data at 5:30 UTC to an altitude of 20,000 ft above sea level by the National Weather Service. We are evaluating the cloud height as new data comes in and will update if needed.
Bursts of explosive activity that began at 5:20 UTC are continuing and intensifying. More than 10 short-duration explosions have been detected in seismic, infrasound and lightning data. Several discrete volcanic clouds have been observed in satellite data. The intensity of these events are increasing, as is the altitude of the volcanic clouds. Thus, AVO is raising the Aviation Color Code to RED and Alert level to Warning for Bogoslof volcano.
Satellite data through 07:00 UTC shows a volcanic cloud with an estimated altitude of 20,000 ft asl moving towards the east. Activity is ongoing and additional explosive events may occur. A status update will be issued as conditions warrant.
The color code of the aviation is raised to RED and the volcanic alert level to Warning.
Source : AVO
Photo : Deal, Tim
Ebeko , North Kuriles , Kamchatka :
50,69 N, 156,01 E;

Elevation 3792 ft (1156 m)
Aviation Color Code is ORANGE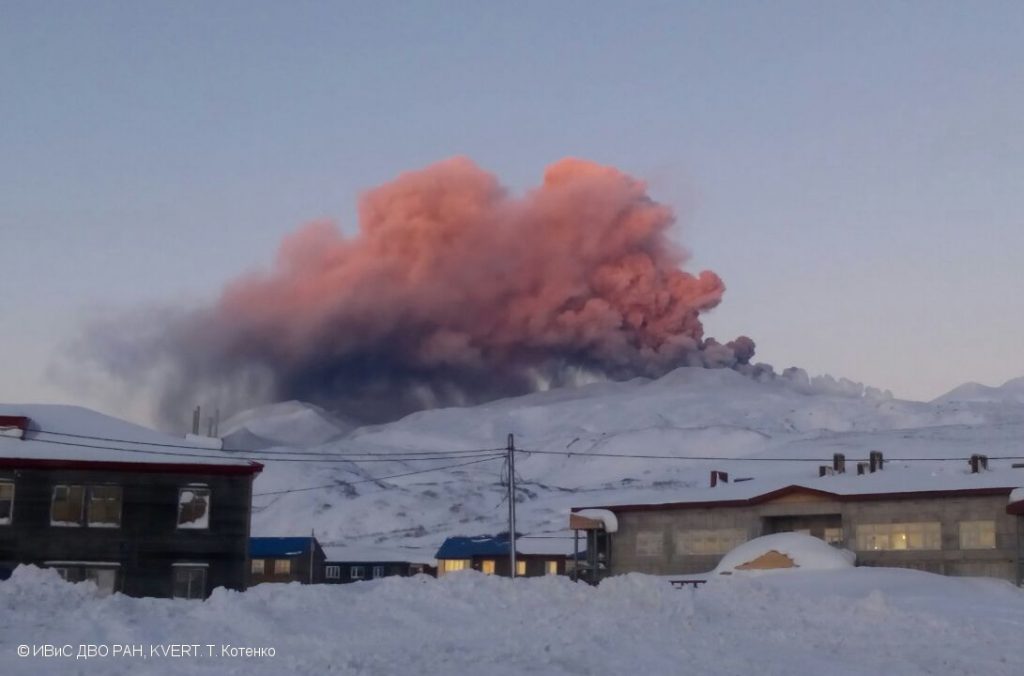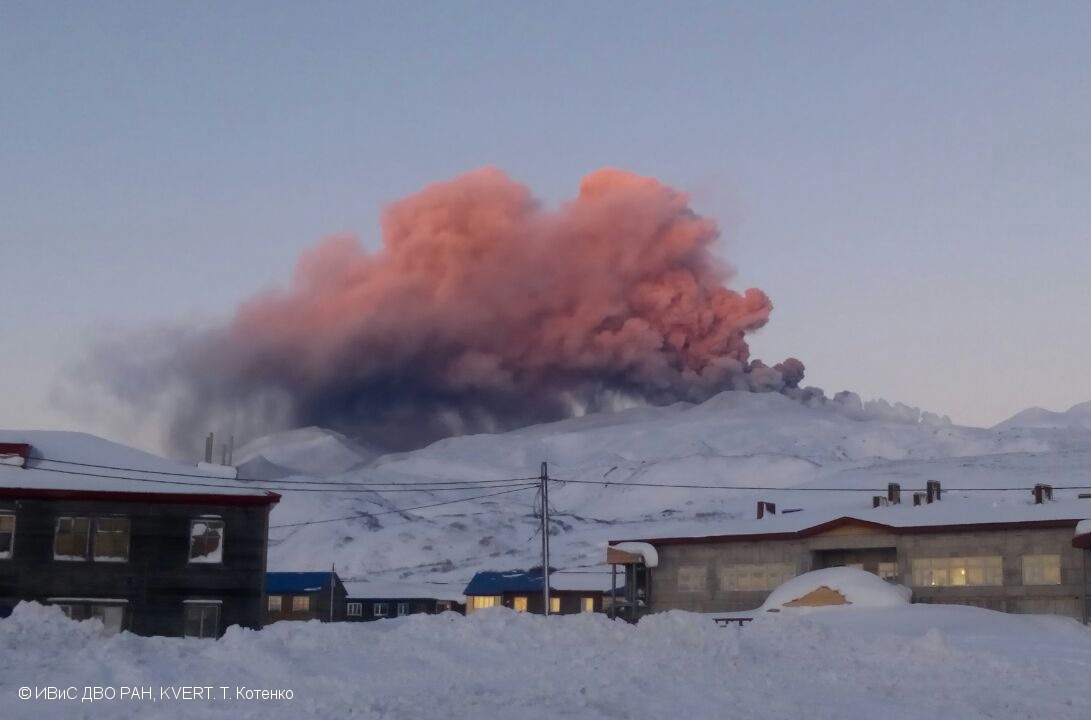 A moderate gas-steam with some amount of ash activity of the volcano continues. Aerosol and gas-steam plumes containing small amount of ash could affect low-flying aircraft and airport of Severo-Kurilsk.
A moderate gas-steam activity of the volcano sometimes with small amount of ash possibly continues. Satellite data by KVERT showed the volcano was quiet or obscured by clouds.
Source : Kvert
Photo : T. Kotenko. IVS FEB RAS, KVERT
Colima , Mexico :
19,514 ° N, 103,62 ° W

Elevation 3850 m
The Unidad Estatal de Protección Civil de Colima reported that at 0027 on 18 January a moderate-to-large explosion at Colima ejected incandescent material as far as 2 km onto the W, SW, SE, and N flanks.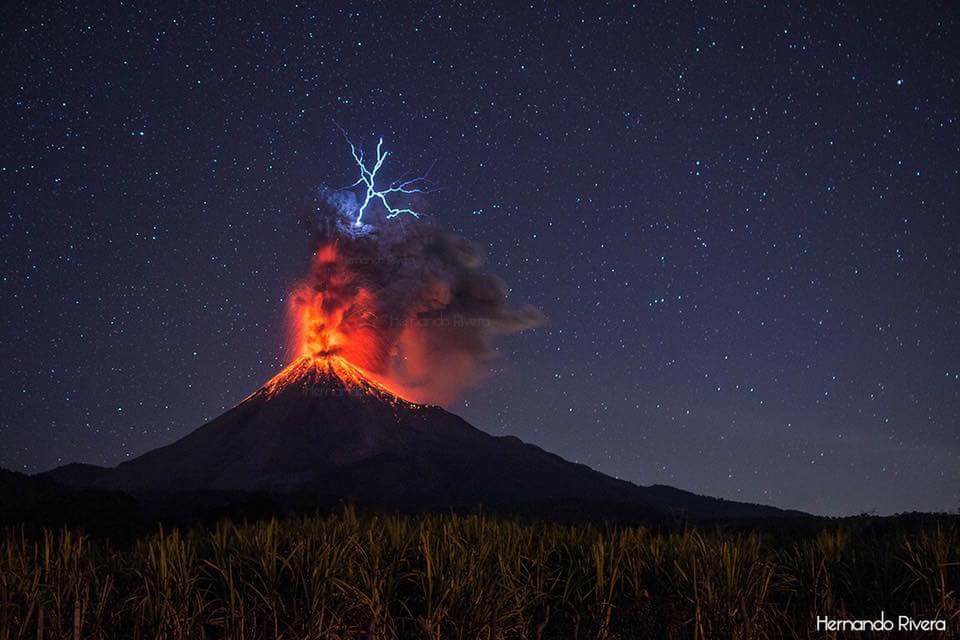 Based on webcam and satellite images, the Mexico City MWO, and pilot observations, the Washington VAAC reported that during 18-24 January ash plumes from Colima rose to altitudes of 4.1-6.7 km (15,000-25,000 ft) a.s.l. and drifted in multiple directions. On 19 January explosions were recorded by the webcam and noted by the Jalisco Civil protection agency; ashfall was also reported in Comala and Cuauhtémoc by the agency. A strong thermal anomaly was identified in satellite images. Remnant ash clouds were centered about 350 km SE on 20 January and about 185 km S on 22 January. A large ash plume rose to an altitude of 10.7 km (35,000 ft) a.s.l. on 23 January and drifted NE.
Source : GVP
Photo : Hernando Rivera
Etna , Sicily :
From the early hours of today, January 30, 2017, an earthquake swarm has been up to now (12:45 LT) about 60 shocks, with a maximum amplitude of M 3.5 (at 10:51 LT ), It affects the area of the Etna volcano, coinciding with its southwest slope. In particular, the focal volume is located between the towns of Ragalna – M. Parmentelli – M. San Leo, in the 10 to 15 km depth range.

The seismic activity, still ongoing, is not accompanied by anomalies in the other geophysical parameters controled .
Etna this morning, 31 January 2017. Strombolian activity at the Southeast Crater is now nearly ash-free ( Boris Behncke)

Among these, in particular, the amplitude of the volcanic tremor remained stationary on low average values, typical of these recent months.
Remains practically unchanged, showing no significant change, the moderate explosive activity of the New South East Crater.
Source : INGV
Photo : B Behncke