January 19 , 2017. EN. Turrialba , Ebeko , Bogoslof , Mauna Loa .
January 19 , 2017.
Turrialba , Costa Rica :
Report of the activity of the Turrialba volcano
January 18, 2017
The volcanic activity of the Turrialba volcano has dropped considerably, the tremor recorded at the seismic stations in the region has also decreased in magnitude and there are only small increments of short duration which may have been accompanied by small explosions of Ash that do not exceed 300 m above the crater.
During the day, we were able to observe, through our webcams, short ash emanations.

The night of January 17, an incandescence was observed in the crater of the Turrialba volcano. This incandescent material is hot material, and does not mean that it is molten material or that « lava comes to the surface ». This material is reflected in the vapor column which constantly leaves the crater and forms the incandescence that we observe.
Throughout the day the wind according to the information of the stations IMM and the model of calculation of dispersion aermod of the chemistry laboratory of the atmosphere (Laqat-one) of the school of chemistry, kept a direction West – Northwest .
Fall ratio of light ash: Three Rivers and Sapote.
Source : Ovsicori
Photo : Archive
Ebeko ,

Paramushir

Island , Russia :
50.686°N, 156.014°E
Elevation 1103 m
Current Aviation Color Code: GREEN
Activity of the volcano decreased significantly. Only a gas-steam emission from the volcano was observing from January 12. Satellite data by KVERT showed the volcano was quiet last weeks. KVERT continues to monitor the volcano.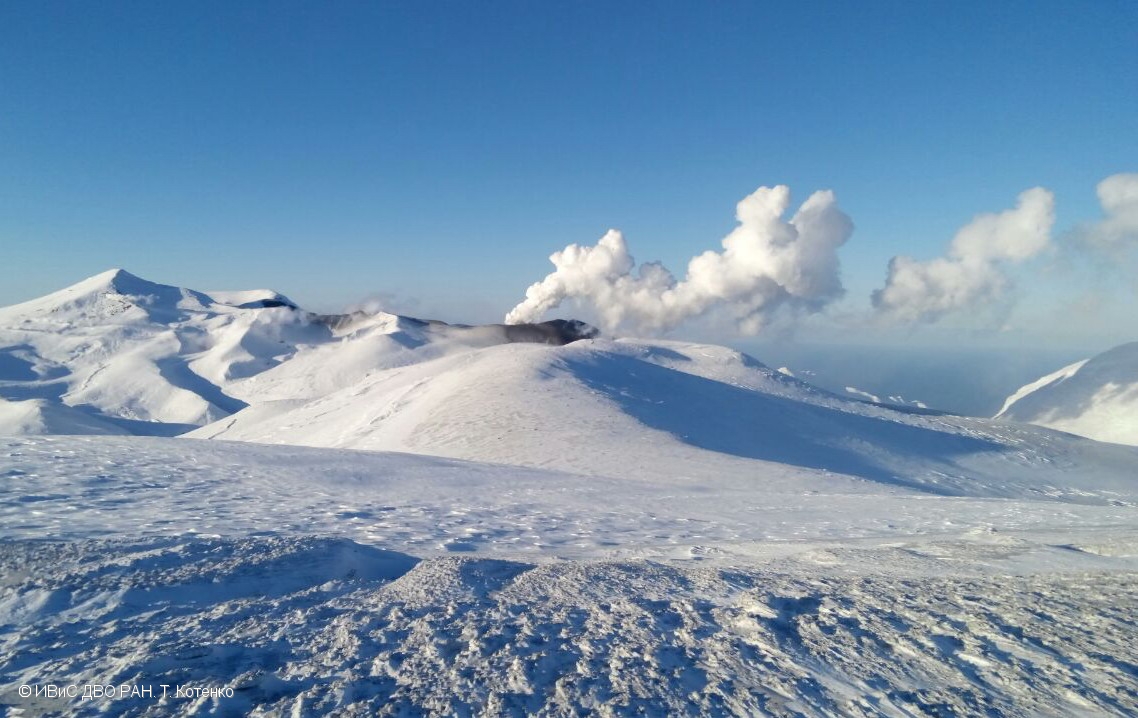 A moderate gas-steam activity of the volcano continues. Ongoing activity could affect low-flying aircrafts.
On 16 January KVERT reported that activity at Ebeko had decreased; satellite images showed quiet conditions during the past few weeks, and only steam-and-gas emissions were observed on 12 January. The Aviation Color Code was lowered to Yellow (the second lowest level on a four-color scale).
Source : Kvert , GVP
Photo : T. Kotenko, IVS FEB RAS
Bogoslof , Aleutians Islands , Alaska :
Current Volcano Alert Level: WARNING
Previous Volcano Alert Level: WATCH
Current Aviation Color Code: RED
Previous Aviation Color Code: ORANGE
Issued: Wednesday, January 18, 2017, 1:59 PM AKST
Source: Alaska Volcano Observatory
Notice Number: 2017/A35
Location: N 53 deg 55 min W 168 deg 2 min
Elevation: 492 ft (150 m)
Area: Aleutians
Volcanic Activity Summary: Explosive eruption of Bogoslof confirmed, starting at approximately 13:20 AKST (22:20 UTC). Ash cloud is at least as high as 31,000 ft asl as noted in pilot reports. Volcanic cloud observed in satellite images generally moving to northeast.
We are raising the Aviation Color Code to RED and the Alert Level to WARNING.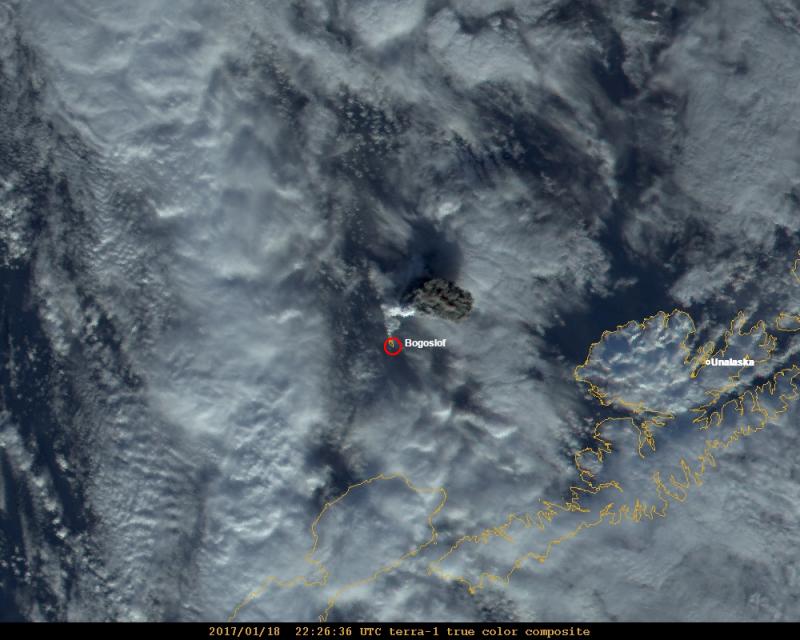 Following an approximately 20-minute-long increase in seismic activity, Bogoslof erupted this afternoon at about 13:20 AKST (22:20 UTC). Pilots reported the cloud reached a height greater than 31,000 ft asl., and prevailing winds carried it northeast over the Bering Sea. This eruption also produced lightning strikes, and infrasound signals detected by sensors in Sand Point and Dillingham.
A satellite image from 13:26 AKST (22:26 UTC), just after this event, showed a dark ash cloud just northeast of Bogoslof. This cloud was darker in color, and presumably more ash-rich, than others we have seen in the eruptive sequence, which began in mid-December 2016. This image also suggests the presence of very hot material (lava) at the surface immediately surrounding the vent – the first such observation during this eruption sequence.
Following the initial explosive eruption, a second, lower-level volcanic cloud is visible in satellite images around 14:00 AKST (23:00 UTC), likely corresponding with an increase in seismic tremor that occurred from 13:40-13:55 AKST (22:40-22:55 UTC). This event was also detected on distant infrasound sensors but did not produce reported lightning. Seismicity remained elevated until 15:45 AKST (00:45 19 January UTC), but no additional eruption clouds have been observed.
The Aviation Color Code remains at RED and the Alert Level remains at WARNING.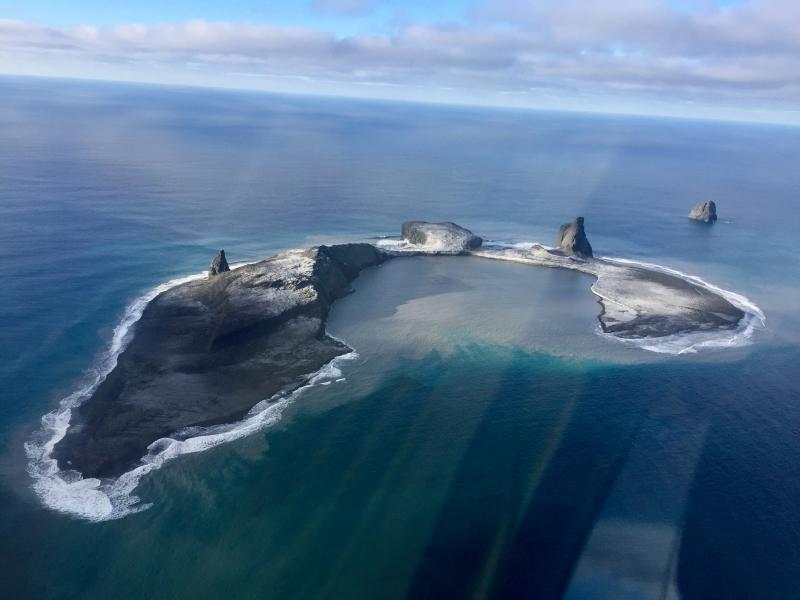 AVO has no ground-based volcano monitoring equipment on Bogoslof volcano. We continue to monitor satellite images, data from distant seismic and infrasound instruments, and information from the Worldwide Lightning Location Network for indications of significant activity.
Recent Observations:
[Volcanic cloud height] at least 31,000 ft asl
Source : AVO
Photo : Schneider, Dave , Leary, Dan.
Mauna Loa , Hawai :
19°28'30 » N 155°36'29 » W,
Summit Elevation 13681 ft (4170 m)
Current Volcano Alert Level: ADVISORY
Current Aviation Color Code: YELLOW
Activity Summary:
Mauna Loa is not erupting. Rates of deformation and seismicity have not changed significantly in the past week and continue slightly above long-term background levels.
During the past week, small-magnitude earthquakes continued, primarily beneath the upper Southwest Rift Zone and Moku'aweoweo caldera at depths less than 5 km (3 miles).
Global Positioning System (GPS) measurements continue to show deformation related to inflation of a magma reservoir beneath the summit and upper Southwest Rift Zone, although rates appear to have slowed over the past month.
Measurements from a continuously-monitored fumarole site within the summit caldera showed relatively steady fumarole temperatures and no significant changes in either sulfur dioxide or carbon dioxide concentrations in volcanic gas emissions.
Source : HVO