January 17 , 2017. EN. Sabancaya , Ambae , Lopevi , Santiaguito , Colima .
January  17 , 2017.
Sabancaya , Peru :
This week, seismic activity was dominated by LP and hybrid earthquakes (combined with magma uplift) with a reduced displacement value (DR) of up to 46 cm2. Also, up to 2 earthquakes of VT type, felt, of magnitude M 3.2 and M 4.2, were recorded within 10 km of the crater. This activity resulted in an average of 84 explosions per day.
The eruptive columns of gas and ashes reached about 3000 meters above the crater, spreading over a large 40 km radius in a southeasterly and southerly direction.
The deformation tendency is within the error range of the instruments.
The volcanic gas flow (SO2) recorded a maximum of 2100 tons / day.
Recommendations:
Keep up-to-date with reports published jointly by OVI and OVS.
Do not approach within 10 km.
If ash falls: cover your nose and mouth with a damp cloth or mask.
Wipe your eyes and cool your throat with pure water.
Avoid wearing contact lenses.
Keep the windows of the housing closed.
Implement measures to prevent and mitigate the increase in activity.
Source : IGP
Ambae , Vanuatu :
15°24'0"S 167°50'0"E
Summit 4908ft (1496m)
Current Vanuatu Volcano Alert Level: Level 2
The Alert Level for Ambae volcano remains at Level 2.
This means that the volcanic activity is in the major unrest stage. At this alert level, the volcanic activity is likely to remain at the same level for a while or decrease but this volcano activity could also increase at any time. The area of risk is within 3km around the volcano.
This is another reminder to all visitors to observe this volcano away from the area of risk to avoid volcanic gases, ashes and any other volcano activity impacts.
All communities, villages, visitors and travel agencies have to seriously consider this information.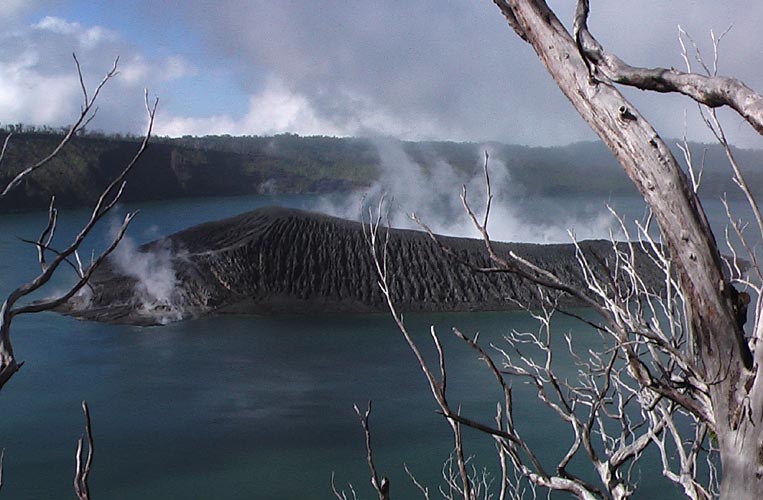 Aoba, also known as Ambae, is a massive 2500 cu km basaltic shield volcano that is the most voluminous volcano of the New Hebrides archipelago. A pronounced NE-SW-trending rift zone dotted with scoria cones gives the 16 x 38 km island an elongated form. A broad pyroclastic cone containing three crater lakes is located at the summit of the Hawaiian-style shield volcano within the youngest of at least two nested calderas, the largest of which is 6 km in diameter. Post-caldera explosive eruptions formed the summit craters of Lake Voui (also spelled Vui) and Lake Manaro Ngoru about 360 years ago. A tuff cone was constructed within Lake Voui about 60 years later. The latest known flank eruption, about 300 years ago, destroyed the population of the Nduindui area near the western coast.

Source : Geohazard , GVP
Photo :  Aoba 2009 (c)C. Weber / v-e-i.de
Lopevi , Vanuatu :
16.30°S 168.21°E
Summit (1 413 m)
Current Vanuatu Volcano Alert Level: Level 2
The Alert Level for Lopevi is lowered to Level 2.
This means that the volcanic activity is in the major unrest stage. At this Alert Level, the volcanic activity could increase or decrease at any time. The area of risk is around the Lopevi Island. Volcanic gas and ashes can also affect surrounding islands that are exposed to trade winds.
Advice to all communities, villages, visitors and travel agencies to seriously consider this information.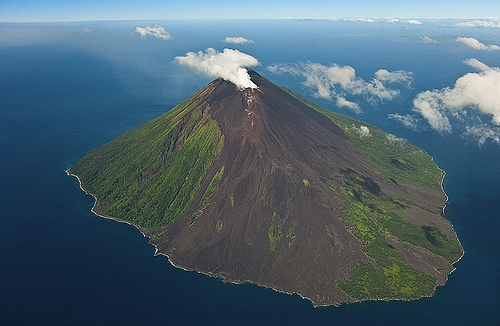 The small 7-km-wide conical island of Lopevi, known locally as Vanei Vollohulu, is one of Vanuatu's most active volcanoes. A small summit crater containing a cinder cone is breached to the NW and tops an older cone that is rimmed by the remnant of a larger crater. The basaltic-to-andesitic volcano has been active during historical time at both summit and flank vents, primarily along a NW-SE-trending fissure that cuts across the island, producing moderate explosive eruptions and lava flows that reached the coast. Historical eruptions at the 1413-m-high volcano date back to the mid-19th century. The island was evacuated following major eruptions in 1939 and 1960. The latter eruption, from a NW-flank fissure vent, produced a pyroclastic flow that swept to the sea and a lava flow that formed a new peninsula on the western coast.

Source : Geohazard , GVP
Photo : Volcanodiscovery
Santiaguito , Guatemala :
Activity type: Pelean
Morphology: complex of dacitic domes
Geographical location: 14 ° 44 '33 ˝ Latitude N; W. Longitude 91 ° 34'13˝
Height: 2,500msnm.
Weather: partly cloudy
Wind: Northeast
Precipitation: 27.4 mm.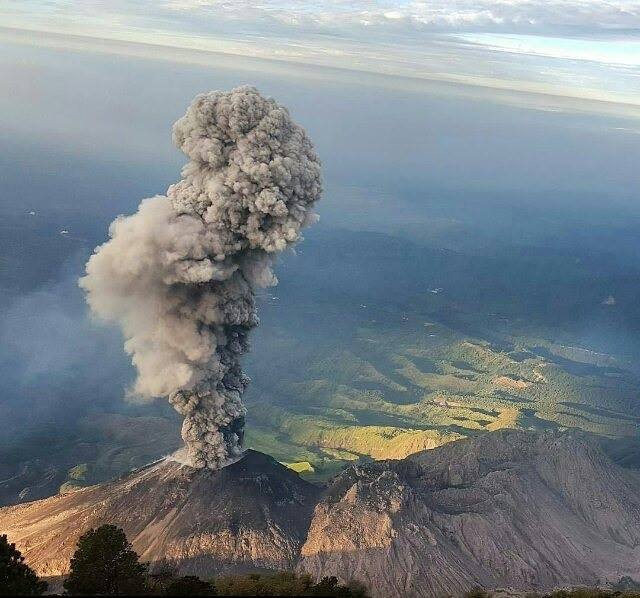 Activity: Maintains a white degassing in the area of the crater, at a height of 2900 meters (9,515 feet). Moderate explosions were reported during the night and early morning, producing gray columns at a height between 3.00 and 3.200 m (9.843 to 10.489 feet), moving southwest.
Source : Insivumeh
Photo : Archive
Colima , Mexico :
At 10.20 this morning (Monday 19), a significant exhalation of the Colima was recorded from civil protection data systems, indicating that the column reached 3,500 m above the upper part of the volvan, generating small landslides in various areas and dispersal of ash on the municipalities of Jalisco and Cuauhtemoc in the state of Colima.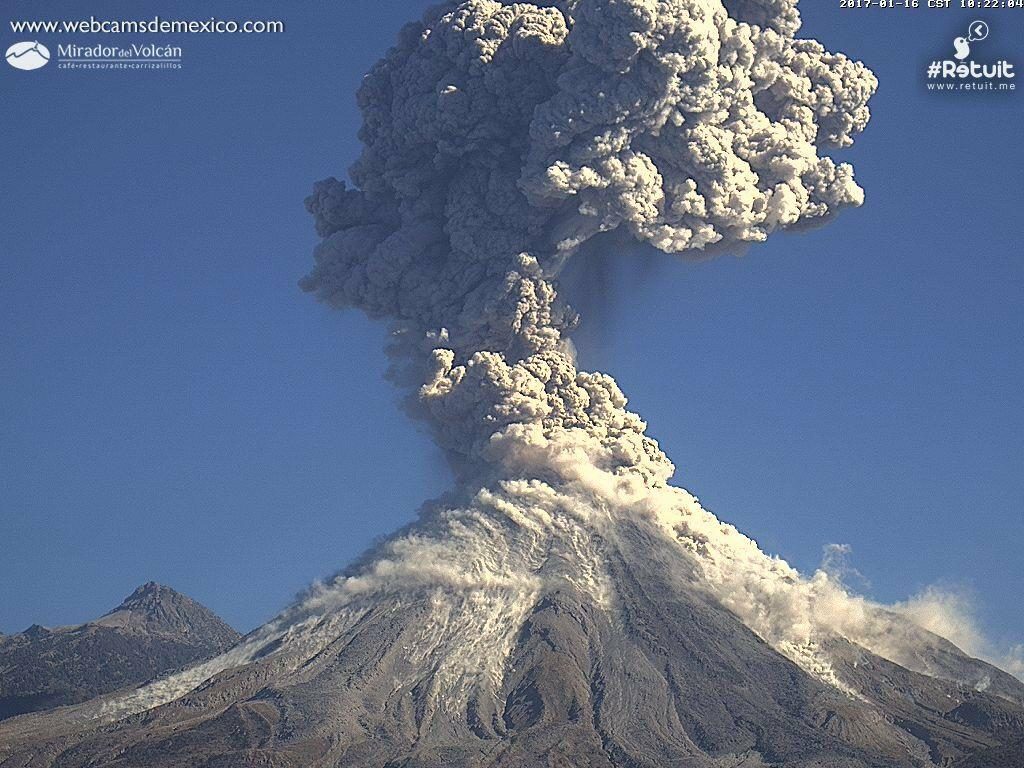 Due to the state of civil protection systems, recommendations prior to the fall of volcanic ash were made and citizens were asked not to stay in the ravines near the volcano.
Until today, the exclusion zone is maintained 8 kilometers from the volcano in the north of Colima and 12 kilometers from the Montegrande Canyon in the municipalities of Cuauhtemoc.
Source : meganoticias.mx / Héctor Villa Ventura
Photo : Webcamdemexico