January 16 , 2016. EN. Cotopaxi , Pacaya , Ebeko , Bogoslof .
January 16 , 2016.
Cotopaxi , Ecuador :
Sunday, 15 January, 2017
SUMMARY OF THE VOLCANIC ACTIVITY
The internal activity of the volcano is weak. During the afternoon of yesterday and today early in the morning, it was possible to see several emissions of water vapor and gas at the level of the crater.
TECHNICAL AND OBSERVATIONS ANNEX
Seismicity: From 11h00 (TL) yesterday until 11h00 (TL) today, 8 events of long period (LP) and 3 volcano tectonic events (VT) have been recorded.
Notes: For most of the time the volcano remained covered, however on the afternoon of yesterday and today early in the morning for some time it was possible to see sporadic emissions of water vapor and gas at the level of the crater.
Gas: 184 tonnes / day of sulfur dioxide were detected, with 2 valid measurements.
Rains and lahars: Rains were recorded overnight in the area, which did not produce lahars, or even muddy water.
GENERAL INFORMATION
This report contains data and observations between 11:00 hours on the day before and 11:00 hours on the day of publication.
In the event of an increase or a change in the behavior of the volcano, a special report will be published.
Source : IGEPN
Photo : José Luis Espinosa Naranjo
Pacaya , Guatemala :
Activity type: Strombolian.
Morphology: Stratovolcan composite
Geographical location: 14 ° 22'50˝ Latitude N; 90 ° 36'00˝ Longitude W.
Height: 2,552msnm.
Weather conditions: Partly Cloudy
Wind: North
Precipitation: 0.0 mm.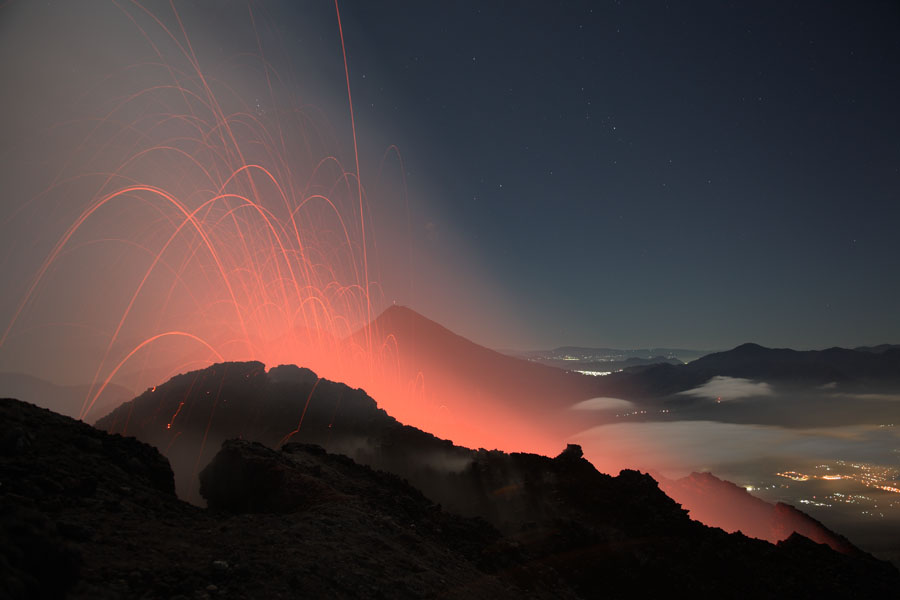 Activity: Presence of white fumaroles rising low on the South crater. No explosions or sensitive sounds in neighboring areas are reported. The seismic station PCG records an internal tremor associated with degassing. At night it is possible to observe the Mackenney crater with incandescence.
Source : Insivumeh
Photo : Archive
Ebeko , Kamchatka :
50.69 N, 156.01 E;
Elevation 3792 ft (1156 m)
Aviation Color Code is ORANGE
A moderate gas-steam activity of the volcano sometimes with small amount of ash possibly continues. Ongoing activity could affect low-flying aircrafts.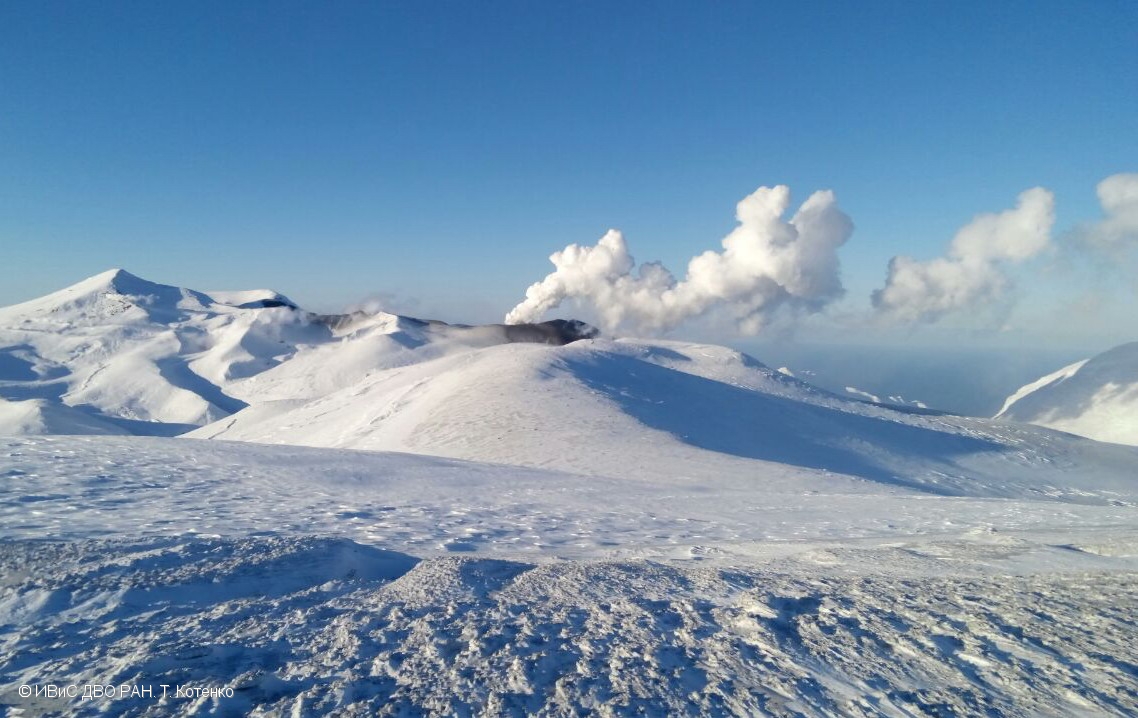 A moderate gas-steam activity of the volcano sometimes with small amount of ash possibly continues. Satellite data by KVERT showed the volcano was quiet or obscured by clouds.
KVERT reported that gas-and-steam plumes sometimes containing minor amounts of ash were emitted from Ebeko during 30 December 2016-6 January 2017. The Aviation Color Code remained at Orange (the second highest level on a four-color scale).
Source : Kvert , GVP.
Photo : T. Kotenko, IVS FEB RAS
Bogoslof, Aleutians Islands , Alaska :
53°55'38 » N 168°2'4″ W,
Summit Elevation 492 ft (150 m)
Current Volcano Alert Level: WATCH
Current Aviation Color Code: ORANGE
Volcanic unrest continues at Bogoslof volcano. Last night beginning about 06:26 UTC (21:26 AKST, Jan. 14) the level of seismicity began increasing and remained at high levels resulting in as many as six explosive eruptive events between 07:16 and 12:50 UTC (22:16 AKST, Jan. 14 and 03:50 AKST, Jan. 15). No volcanic clouds were detected in satellite data, although one lightning strike was recorded at 07:32 UTC (22:32 AKST, Jan. 14) and lightning is commonly associated with robust volcanic clouds. Infrasound sensors located on Umnak Island south of Bogoslof, and in Dillingham, northeast of the volcano, also detected air pressure changes during the eruptive period that were associated with the strongest eruptive pulses.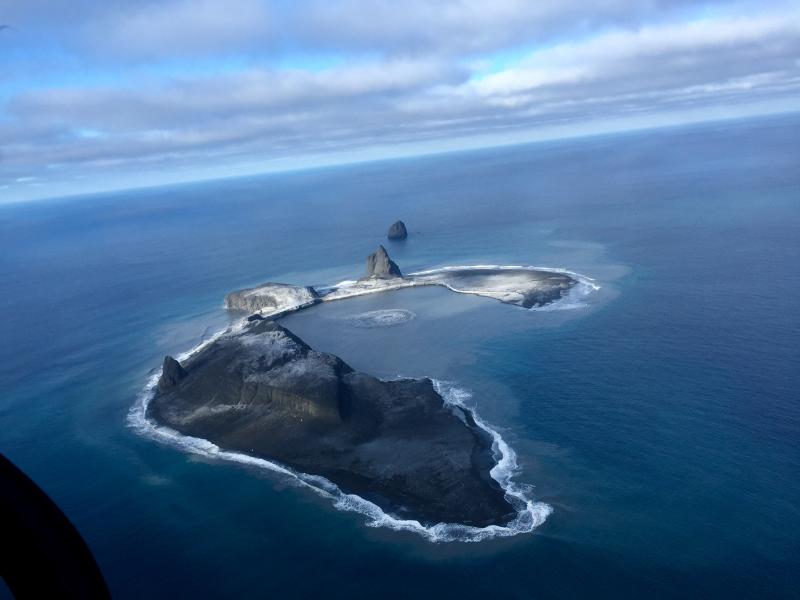 Since the last episode of elevated seismicity from 12:34-12:50 UTC (03:34-03:50 AKST, Jan. 15), seismic unrest has returned to low levels and no additional eruptive events have occurred, and nothing noteworthy has been observed in satellite data. Although the eruptive activity of last evening was relatively energetic, large, high rising volcanic clouds were apparently not generated, and may not have reached much above the height of the local cloud deck, which at the time was about 10,000 feet above sea level.
For the time being, Bogoslof volcano is quiet but given the pattern of eruptive activity over the past month, the volcano likely remains in a restless and unpredictable condition and additional eruptive bursts accompanied by volcanic clouds could occur at any time.
AVO has no ground-based volcano monitoring equipment on Bogoslof volcano. We continue to monitor satellite images, information from the Worldwide Lightning Location Network pertaining to volcanic-cloud lightning, and data from seismic and infrasound instruments on nearby islands for indications of volcanic activity.
Source : AVO