January 14 , 2017. EN. Anak Krakatau , Kilauea , Bogoslof , Fuego .
January 14 , 2017.
Anak Krakatau , Indonesia :
Fishermen, tourists warned to stay away from Mt Anak Krakatau
13 JANUARY 2017. Mount Anak Krakataus volcanic activity is normal but remains on alert status, so the local fishermen and tourists are warned to stay away from the active volcano.
« In the past week, three to four volcanic activities have been reported per day, and yesterday, there were two shallow volcanic activities and a deep tremor. Hence, the fishermen and tourists are warned to stay away, » Abdi Suardi, head of the Mt Anak Krakatau observation post, stated in Hargopancuran village on Friday.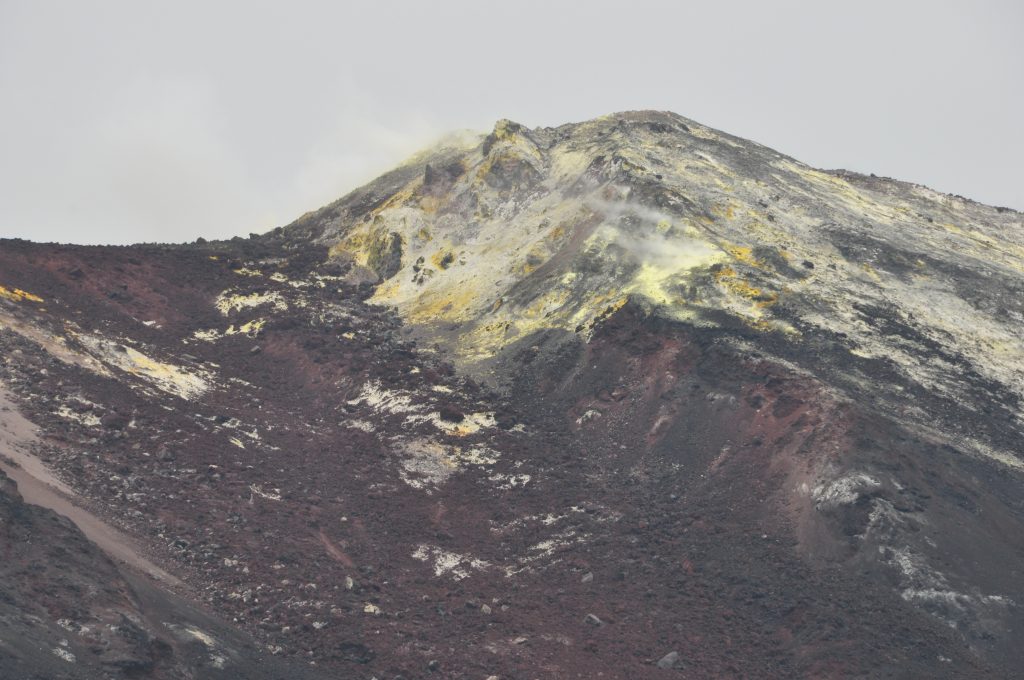 Suardi reiterated that the volcano remained on alert status due to which the people have been advised to not venture into a radius of one kilometer of the mountain, as the condition of this active volcano is difficult to predict.
In connection with this, fishermen and tourists were urged to remain heedful of the warning to stay away from the volcano in Sunda Strait.
Source :  ANTARA NEWS
Photo : Georges Vitton
Kilauea , Hawai :
19°25'16 » N 155°17'13 » W,
Summit Elevation 4091 ft (1247 m)
Current Volcano Alert Level: WATCH
Current Aviation Color Code: ORANGE
Activity Summary:
Kilauea Volcano continues to erupt at its summit and East Rift Zone. The upper section of the 61g flow field remains active near Pu'u 'O'o, and lava continues to enter the ocean at Kamokuna. These lava flows currently pose no threat to nearby communities. This morning the summit lava lake surface in Halema'uma'u Overlook vent was 41.5 m (136 ft) below the adjacent floor of Halemaʻumaʻu crater.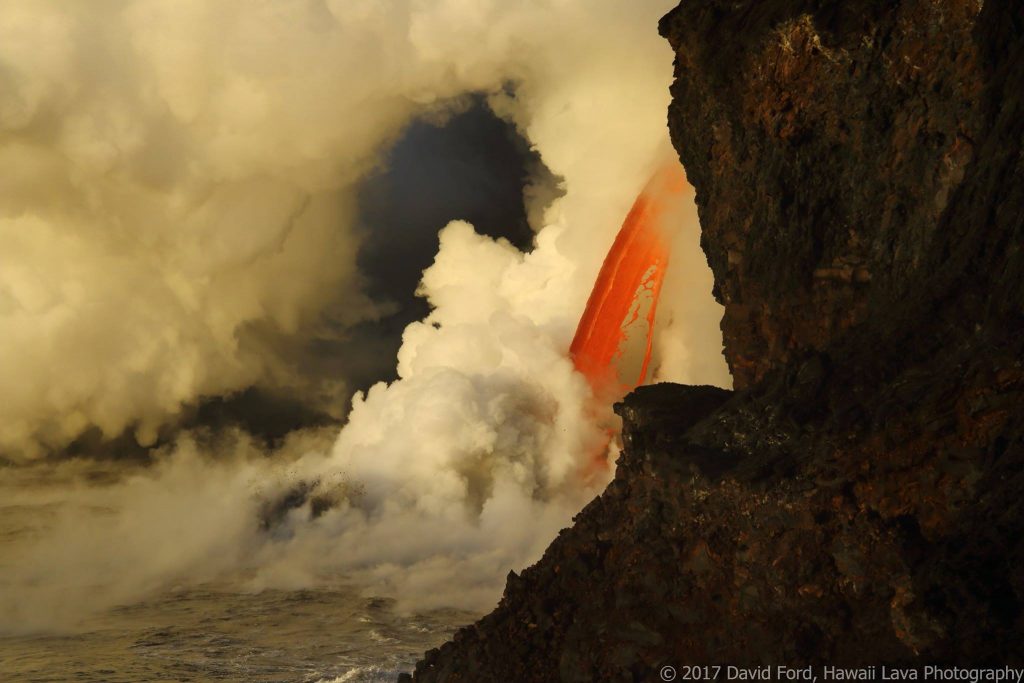 Summit Observations:
Summit tiltmeters continue to record deflationary tilt and the level of the lava lake has dropped overnight to 41.5 m (136 ft) below the floor of Halema'uma'u crater. Earthquake activity continues at low rates with tremor amplitude fluctuating in response to changing lava lake circulation and spattering. During trade wind conditions yesterday, sulfur dioxide emission rates ranged from about 1000 to 4000 metric tons/day.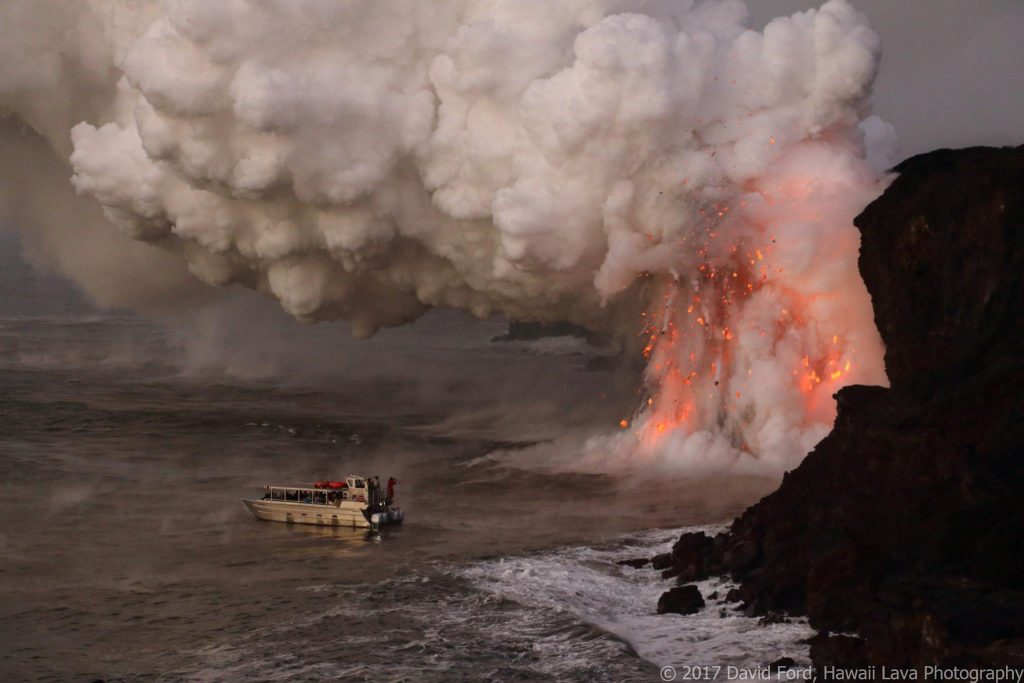 Pu'u 'O'o Observations:
Pu'u 'O'o tiltmeters showed little change in the past 24 hours. Webcam images from Pu'u 'O'o over the past day captured persistent glow at long-established sources within the crater and from a vent high on the northeast flank of the cone. Seismicity remains unchanged. The sulfur dioxide emission rate from all East Rift Zone vents was about 270 metric tons/day when measured late last month.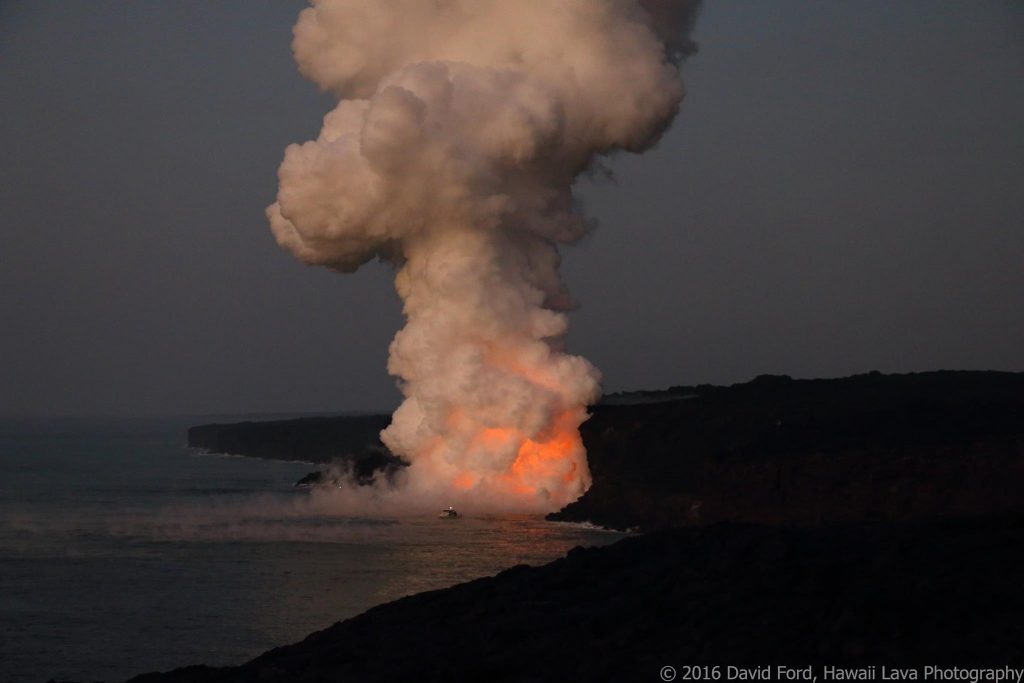 Lava Flow Observations:
The episode 61g flow is still active and entering the ocean at Kamokuna. Following the New Year's eve collapse event, a new delta has not yet begun to form in earnest, possibly because of very steep offshore bathymetry. Active surface lava flows persist near Pu'u 'O'o and are slowly moving east-southeast. As of yesterday, this secondary branch was about 2.4 km or 1.5 mi from the vent . The episode 61g flows pose no threat to nearby communities at this time.
Source : HVO
Photo : David Ford
Bogoslof , Aleutians Islands , Alaska :
53°55'38 » N 168°2'4″ W,
Summit Elevation 492 ft (150 m)
Current Volcano Alert Level: WATCH
Current Aviation Color Code: ORANGE
Volcanic unrest at Bogoslof continues. Since the two eruptive bursts yesterday (Jan. 12) at 20:23 UTC (11:23 AKST) and 21:30 UTC (12:30 AKST) the volcano has been relatively quiet and no additional ash-producing eruptive events have been detected. Volcanic clouds from yesterdays events reached heights of about 18,000 feet above sea level during the first event, and about 14,500 feet above sea level during the second event. Neither of these clouds had associated lightning nor produced detectable air pressure waves.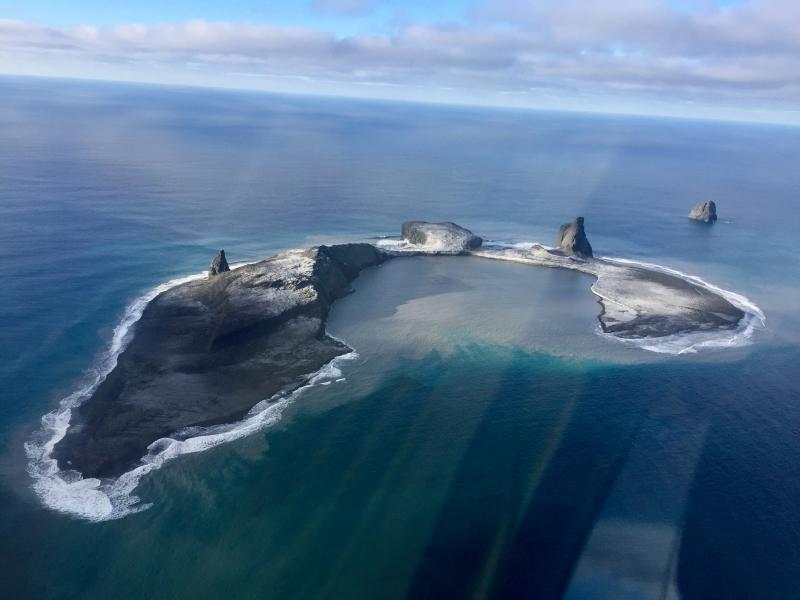 Yesterday's events were the 16th and 17th eruptive events detected by AVO since December 12, and there have been three explosive events since Sunday, January 8. It is uncertain how long submarine eruptions of Bogoslof will continue. Past eruptions have lasted for many months, so it would not be unreasonable for the volcano to remain active for some time. Continued submarine eruptive activity is expected to be similar to the events observed so far, and volcanic clouds reaching flight levels, local fallout of ash, and further explosions causing changes to Bogoslof Island can be expected while the volcano remains active.
Source : AVO
Photo : Leary, Dan
Fuego , Guatemala :
Type of activity: Vulcanienne
Morphology: composite stratovolcan
Geographical location: 14 ° 28'54˝ Latitude N; 90 ° 52'54˝ longitude W.
Height: 3,763msnm.
Weather conditions: Clear
Wind: East 6 km / h
Rainfall: 0 mm.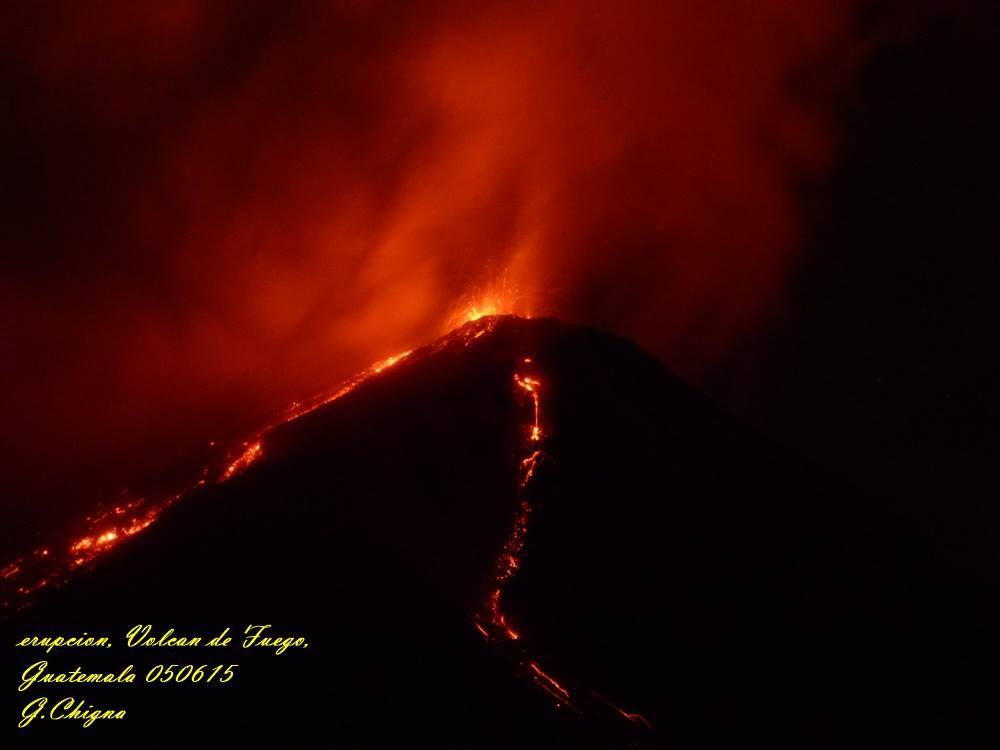 Activity:
Presence of degassing of white, diffuse, low-level fumaroles above the crater to the west and northwest. An average of 26 explosions per day, of which 20 are low and 6 moderate, is reported, generating gray columns at a height of between 4,400 and 4,700 meters (14,436 and 15,420 feet), dispersing some 10 kilometers to the West, Northwest and North, sometimes accompanied by weak rumblings and sounds similar to the train locomotive machine with intervals of less than 1 minute. Incandescence presents pulses at a height of 200 meters above the crater, causing moderate avalanches on the outline of the crater.
Source : Insivumeh
Photo : G Chigna