January 12 , 2017. EN. Piton de la Fournaise , Bogoslof , San Miguel ( Chaparrastique ) , Bulusan .
January 12 , 2017.
Piton de la Fournaise , La Réunion :
After twenty days of inflation (swelling) of the volcano and an increase in superficial volcanic-tectonic seismicity (0 to 2 km deep) under the summit craters, a lull has been observed since early January with:
– a return to a background seismicity of 0 to 1 event per day (Figure 1);
Figure 1: Balance of the superficial volcano-tectonic seismicity at Piton de la Fournaise from 18 September 2016 (end of last eruption) to 08 January 2017. (© OVPF / IPGP)
– a significant slowdown in inflation (Figure 2).
Figure 2: Illustration of the distortion from 01 January 2016 to 08 January 2017 (eruptions of 26-27 May and 11-18 September 2016 are shown in yellow).

Here is shown a baseline (distance between two GPS receivers) crossing the Dolomieu crater from north to south (in black the raw data, in red the smoothed data over a week). A rise is synonymous with elongation and therefore swelling of the volcano; Conversely, a decrease is synonymous with contraction and therefore deflation of the volcano. Note that deformation jumps related to eruptions have been removed in order to highlight long-term trends. (© OVPF / IPGP)
Nevertheless, CO2 concentrations in the soil (deeper process control) at the Volcanic Gite site remain at high levels.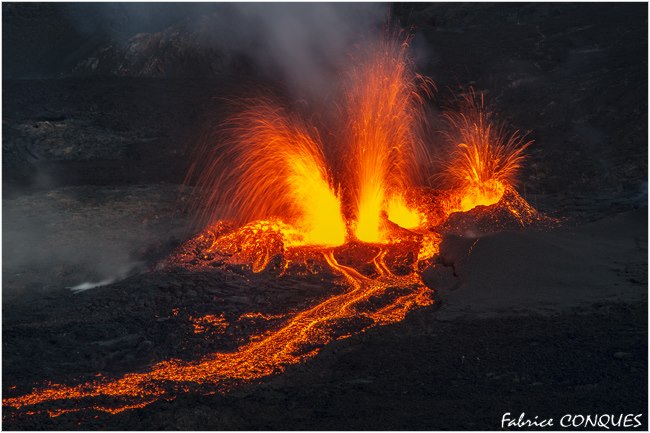 Bilan:
During the second half of December 2016, a phase of magmatic recharge was observed. This magma has accumulated and stored under the central system (at the base of the summit craters) but has not left the reservoir.
The tank still remains under pressure is a new recharge in the coming days / weeks / months could trigger an eruption with few long-term precursors.
Indeed, such a situation was observed twice in 2016 when, following similar inflation phases (swelling), phases of calm followed (45 to 85 days) before leading to eruptions preceded by little (May 2016) see very little (September 2016) long-term precursors (Figure 2).
Source : OVPF
Photo : Patrice Conques.
Bogoslof , Aleutians Islands , Alaska :
53°55'38 » N 168°2'4″ W,
Summit Elevation 492 ft (150 m)
Current Volcano Alert Level: WATCH
Current Aviation Color Code: ORANGE
Volcanic unrest continues at Bogoslof volcano. Over the past day the level of seismicity has fluctuated little, but remains above background and the volcano remains in a restless and unpredictable condition. As a result of the diminished seismicity and lack of evidence for volcanic emissions, AVO lowered the Aviation Color Code to ORANGE and Volcano Alert Level to WATCH earlier today.
 Over the past day the level of seismicity has fluctuated little, but remains above background. No volcanic emissions or unusual activity has been detected over the past day. Photographs obtained yesterday by a passing pilot showed the island covered with dark grey ash and a roughly 300 m diameter submarine explosion crater dominates the east side of Bogoslof Island.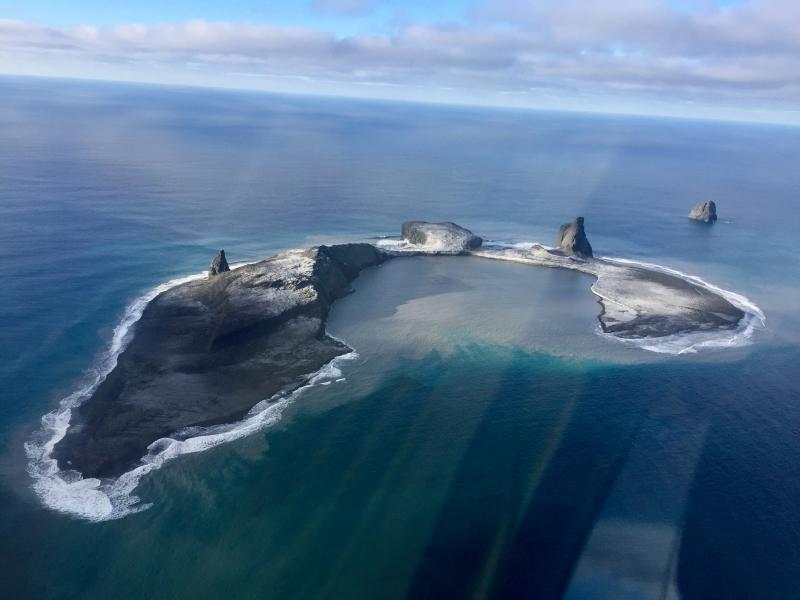 Photo of Bogoslof Island taken by Dan Leary of Maritime Helicopters on 10 January 2017. View is to the northwest and the active vent is likely submarine and in the center of the turbid bay open to the southeast.
While Bogoslof volcano is in its current restless condition, it is possible for explosive activity to resume with little to no warning and volcanic clouds reaching flight levels may again be generated. AVO has no ground-based volcano monitoring equipment on Bogoslof volcano. We continue to monitor satellite images, information from the Worldwide Lightning Location Network pertaining to volcanic-cloud lightning, and data from seismic and infrasound instruments on nearby islands for indications of volcanic activity.
Source : AVO
San Miguel ( Chaparrastique) , El Salvador :
Location: San Miguel Department
Altitude: 2.130 meters above sea level
Type of volcano: Stratovolcano
Activity type: Strombolian – Vulcanian.
Last major eruption: 29 December, 2013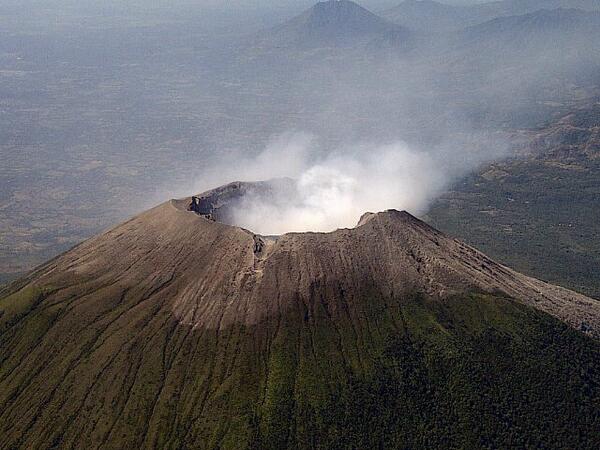 The vibration of the Chaparrastic volcano remained within the normal range of fluctuation, between 63 and 160 RSAM / day units on average. An earthquake of magnitude M1,2 was recorded in the crater region, a few meters deep, associated with fracturing of rocks. The occurrence of micro earthquakes associated with the escape of gases by the movement of magma was reduced compared to the previous month, from one to five events per hour. By their small size none of them was perceived by the population.
Regarding sulfur dioxide (SO2) emissions, these values varied from 93 to 1580 tonnes per day, which are considered to be significant and typical of a volcanic system with an open duct. In conclusion during December, the Chaparrastic Volcano showed a normal level of activity. However, the MARN maintains enhanced surveillance of the volcano in real time.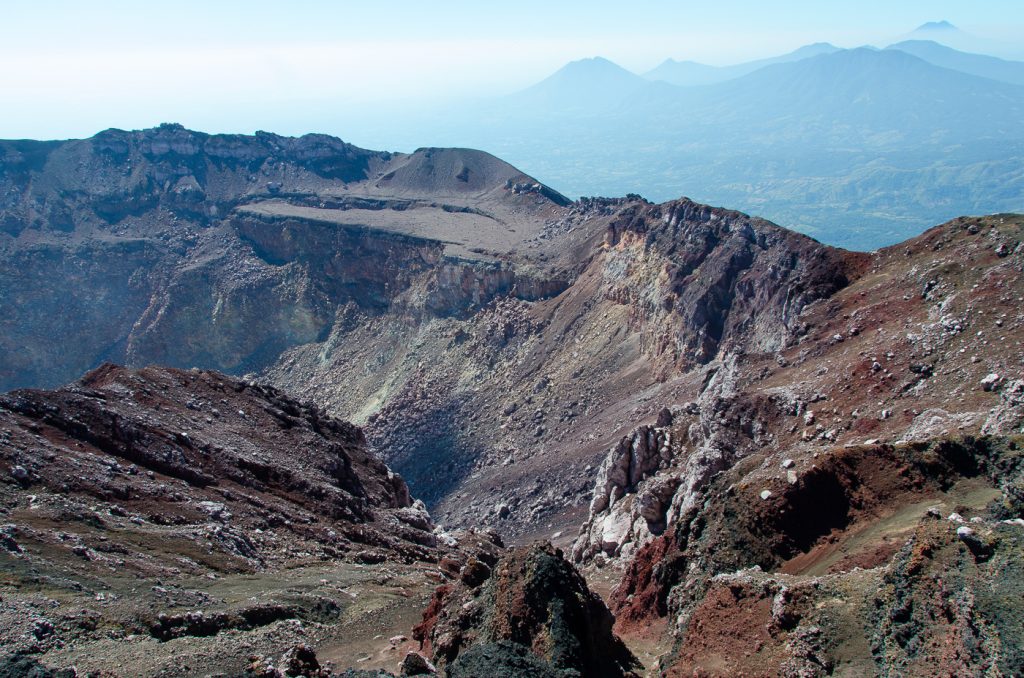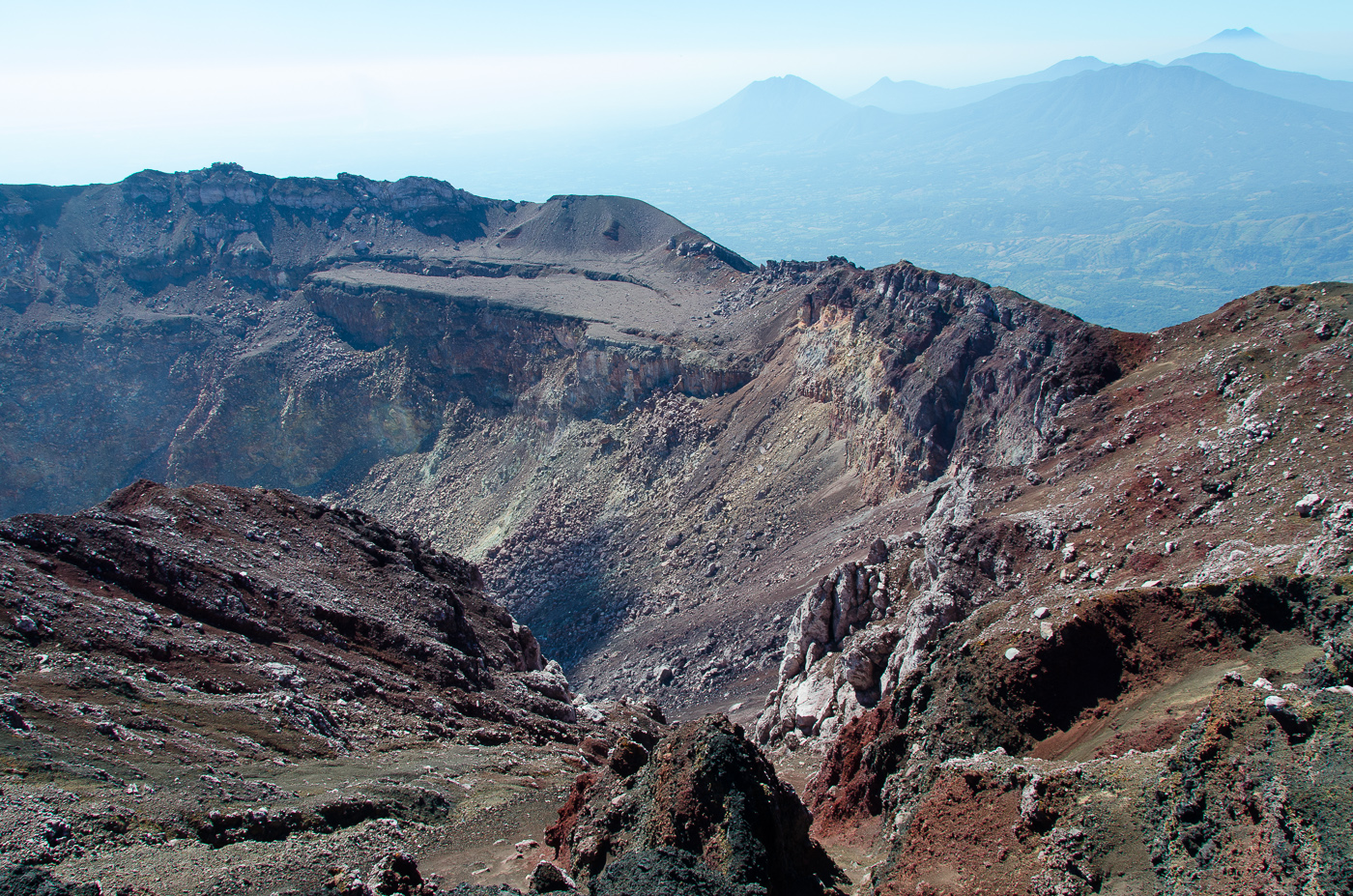 Based on satellite observations, the Washington VAAC reported that on 7 January steam plumes with minor amounts of ash rose from San Miguel to an altitude of 2.6 km (8,500 ft) a.s.l. and drifted 130 km SW. Only steam-and-gas plumes were detected later that day.

Source : Marn , GVP.
Photo : Archive , m faucher .
Bulusan , Philippines :
Bulusan Volcano's seismic monitoring network recorded three (3) volcanic earthquakes during the past 24 hours. Steaming activity could not be observed due to thick clouds covering the summit. Sulfur dioxide (SO2) emission was measured at an average of 37 tonnes/day on January 5, 2016. Precise leveling data obtained on October 17-23, 2016 indicated inflationary changes of the edifice relative to August 2016. However, ground deformation data from continuous GPS measurements as of December 31, 2016 showed slight deflationary trend since November 2016.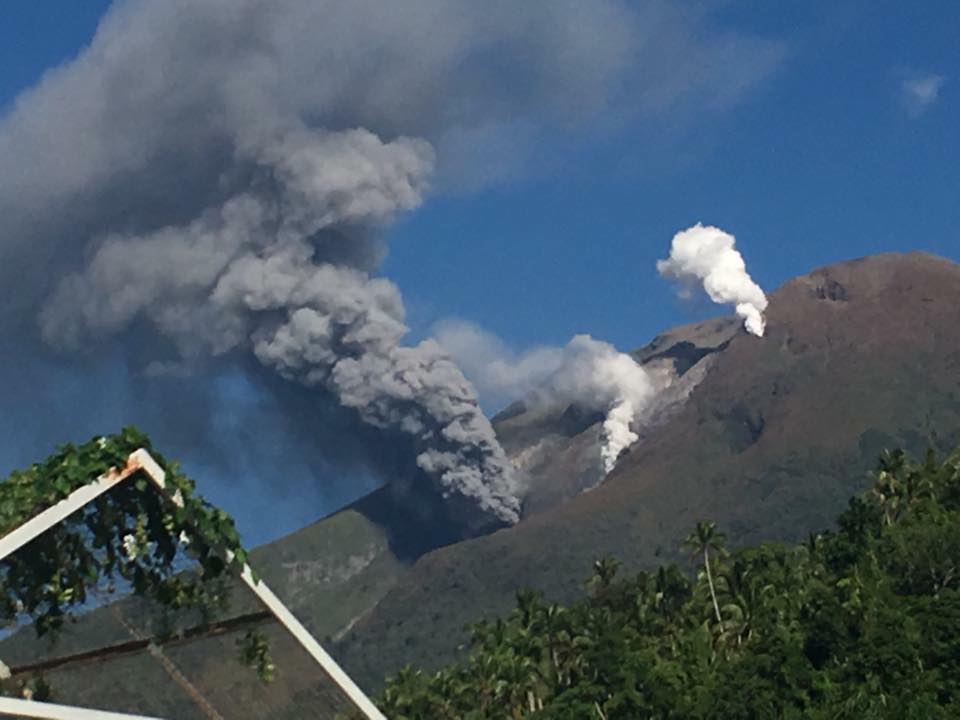 Alert Level 1 (abnormal) remains in effect over Bulusan Volcano. This indicates that hydrothermal processes are underway beneath the volcano that may lead to steam-driven or phreatic eruptions. Local government units and the public are reminded that entry into the 4-kilometer radius Permanent Danger Zone (PDZ) is strictly prohibited and that vigilance in the Extended Danger Zone (EDZ) must be exercised due to the increased possibilities of sudden and hazardous phreatic eruptions.
Source : Phivolcs