January 05 , 2017. EN. Colima , Turrialba , Bogoslof , Fuego , Reventador .
January 05 , 2017.
Colima , Mexico :
19.514°N, 103.62°W
Elevation 3850 m
Morning eruption at Mexico's Colima volcano .
5 JANUARY 2017. Mexico's Colima volcano continued with intense activity, spewing a column of gas and ash during a morning explosion on Tuesday (Jan 3).
The volcano erupted at 7.50am (9.50pm Singapore time) with smoke and ash shooting up from the volcano's crater.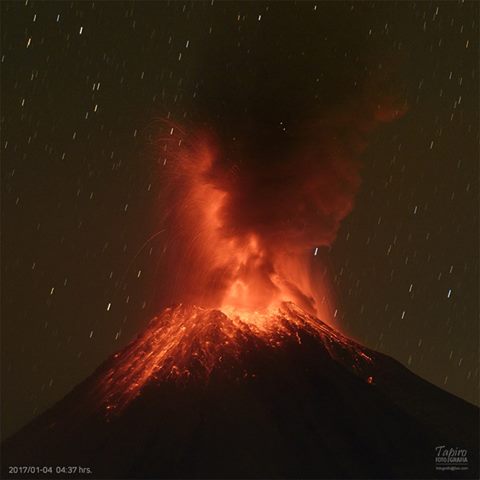 Intense explosion at  night on the Colima, last night at 16:37. Photo taken on January 4, 2017 from the mirador of the Volcano in Carrizalillos with #Nikon 810A.

A large plume of ash and smoke rose some 1,500m above the crater, with winds carrying the ash towards the southeast.
The volcano is located in western Mexico between the states of Colima and Jalisco and is one of the country's most active.
Based on webcam and satellite images, information from the Mexico City MWO, and wind data the Washington VAAC reported that during 28 December 2016-3 January 2017 ash plumes from Colima rose to altitudes of 4.6-7.6 km (15,000-25,000 ft) a.s.l. and drifted as far as 135 km in multiple directions.
Source :  STRAITS TIMES , GVP.
Photo : Tapiro
Turrialba , Costa Rica :
Activity report of the Turrialba volcano: 4 January 2017
During this 4 January 2017, the Turrialba volcano remained constantly active with passive smoke, steam, gas, but especially ash. The columns varied in height from 500 to 1000 meters due to changes in the direction of the wind at the top of the volcano (with speeds between 15 and 45 km / h) with predominant direction towards the west and northwest.
By calculation with the Aemod ash dispersion model, Atmospheric Chemistry Laboratory (LAQAT-A), there is projected a possible ash involvement in Heredia, Carrizal, Guadalupe, Tibás, Moravia, San José, Alajuela, Coronado, Guadalupe, Pavas, Zapote, Santa Ana, Curridabat, San Pedro, Escazú, Santa Ana, Santo Domingo de Heredia.
The volcanic tremor remained with peaks of average amplitude and some emanations were mainly lined with ash.
Ash falls are reported in the towns of the central valley; Such as Barva, Moravia, Santa Barbara, San Francisco de Heredia, Guadalupe, Coronado, Santo Domingo, Tibás, Escazú, Heredia Centro, Pavas, Carrizal, Sabanilla and Alajuela.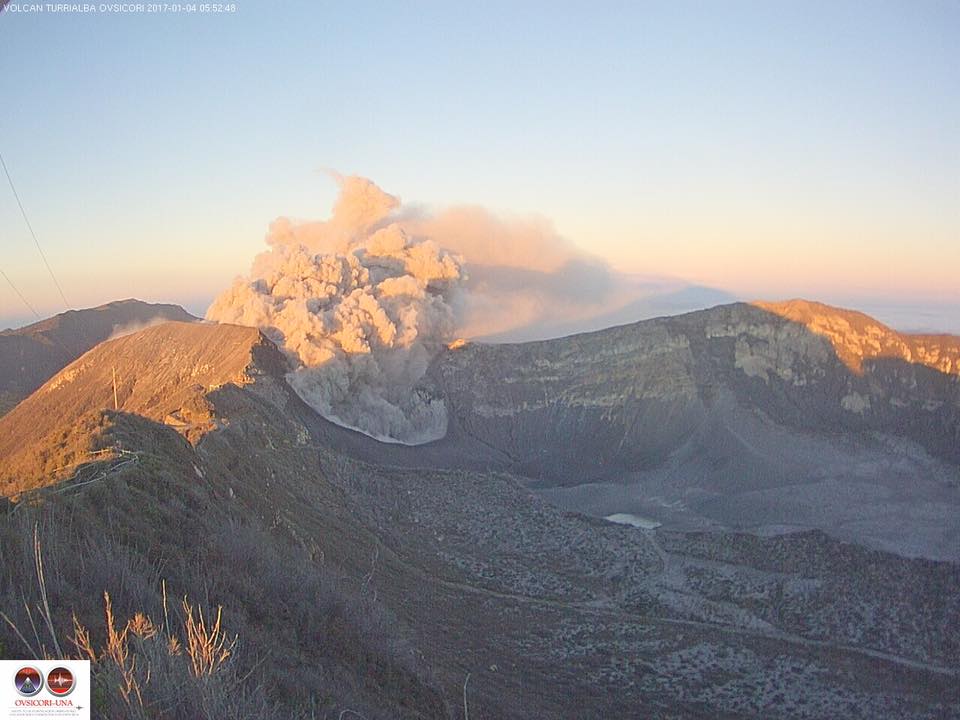 New Year Off to Ashy Start in Costa Rica, Some Flights Cancelled
4 JANUARY 2017. Costa Rica's Turrialba Volcano erupted at 5:50 a.m. today, Wednesday, January 4, sending a large plume of ash and gas westward as strong gusts of wind race out of the east across the country.
Dozens of flights from mid-morning onward have been cancelled or delayed, but only on certain airlines, and the capital's Juan Santamaría International Airport (SJO) is open and functioning normally, said airport officials.
The volcano has been active for the past few days, but this was a the largest of recent eruptions, with ashfall being reported continuously throughout the day by Facebook users from various locales west of the volcano including Coronado, Heredia, Goicoechea, Moravia, Tibás, San José, Escazú, and other sites, said the Volcanology and Seismology Research Institute at the National University (Ovsicori-UNA).
Both incoming and outbound flights on American Airlines, United, Jet Blue, Spirit and Alaska Air were the only ones affected today in this latest dusting of ash, according to the Aeris Holdings website which has a real time list of arrivals and departures for the SJO airport.
Airlines have different guidelines regarding flying in different weather conditions, and so far these are the only ones with reported schedule changes. To be safe, check your flights in and out of SJO while the Turrialba volcano is in on-mode. Ash seems to be here to stay for the meantime in the San José metropolitan area.
Source : Ovsicori , COSTA RICA NEWS
Bogoslof,  Aleutians Islands , Alaska :
53°55'38 » N 168°2'4″ W,
Summit Elevation 492 ft (150 m)
Current Volcano Alert Level: WARNING
Current Aviation Color Code: RED
Unrest continues at Bogoslof Volcano. There has been no new explosive activity since the short duration event at 21:18 AKST last night (6:18 UTC Jan. 4). This event was detected on seismic stations, infrasound (pressure) sensors and by lightning strikes identified by the World Wide Lightning Location Network. The resulting eruption cloud was observed in satellite data and may have reached altitudes of up to 33,000 ft asl. The cloud was tracked heading north over the Bering Sea and has since dissipated. The situation at Bogoslof remains volatile, and explosive activity could resume with little to no warning.

Changes in shoreline location of Bogoslof Island due to explosive eruptive events of Bogoslof volcano in late December 2016 as determined by analysis of Worldview satellite images. The pre-eruption shoreline as seen in an image from July 29, 2011 is shown as a red line. The location of the shoreline from December 22 and 25 are shown in cyan and magenta, respectively. The vent for the eruption is presumably located underwater, just off the northeast portion of the main island. Explosive eruptions were detected in monitoring data on December 20, 21 and 23, 2016

AVO has no ground-based volcano monitoring equipment on Bogoslof volcano. We continue to monitor satellite images, information from the Worldwide Lightning Location Network pertaining to volcanic-cloud lightning, and data from seismic and infrasound instruments on nearby islands for indications of volcanic activity.
Source : AVO
Photo : Angeli, Kim
Fuego , Guatemala :
The increase in explosive activity from Fuego volcano remains unchanged, are reported between 4 and 7 hours by explosions, accompanied by abundant ash that reach up to 5000 meters, and move due to the wind direction 15 km to the south of the volcano. Reports of ash falls in the villages of La Rochela, San Andrés Osuna, Siquinalá and others in this area.
Moderate and heavy explosions are accompanied by rumblings and shock waves, sensitive to 8 kilometers.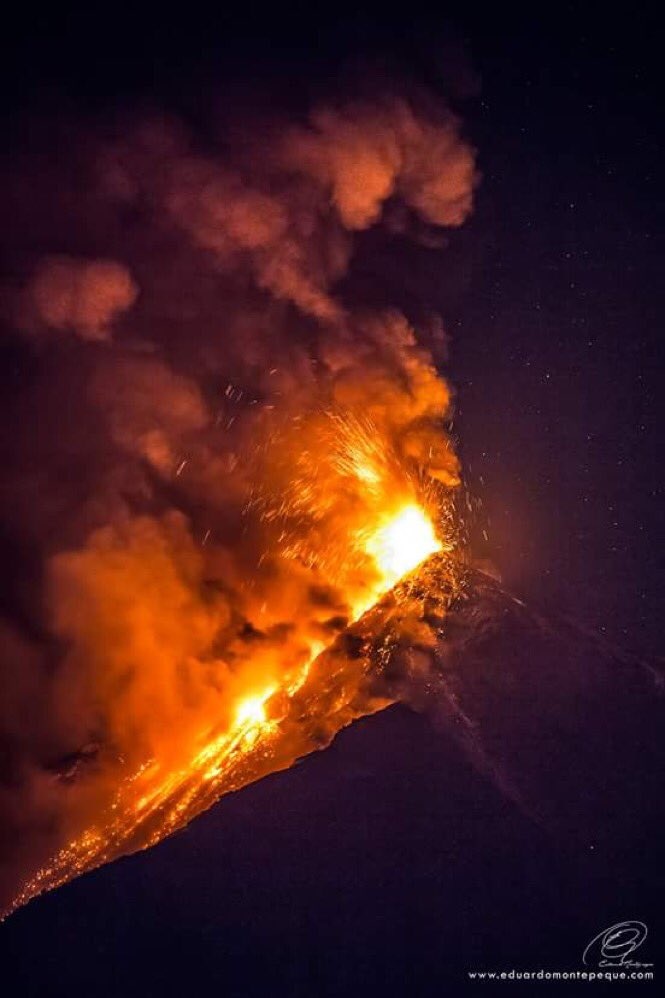 This change of eruptive pattern maintains its tendency to increase in the next hours, so it is recommended to be aware of the evolution of the activity of the volcano Fuego
Therefore, INSIVUMEH recommends:
To CONRED: to take the precautions it deems necessary because of the increased activity of the FUEGO volcano.
In the Directorate General of Civil Aviation: It is recommended to take precautions with air traffic, because the ash column reaches a maximum height of about 4,800 meters (15,748 feet) and moves to the south.

Source : Insivumeh
Photo : Eduardo Montepeque
Reventador , Ecuador :

SUMMARY OF THE VOLCANIC ACTIVITY
The volcano maintains its high activity. Most of the time the volcano was covered and no activity was observed at the surface.
TECHNICAL AND OBSERVATIONS ANNEX
Seismicity: From 11h00 (TL) yesterday until 11h00 (TL) today, 1 episodes of tremor (TRE), 3 episodes of harmonic tremor (EMR), 23 events long period (LP) and 35 explosions EXP) were recorded.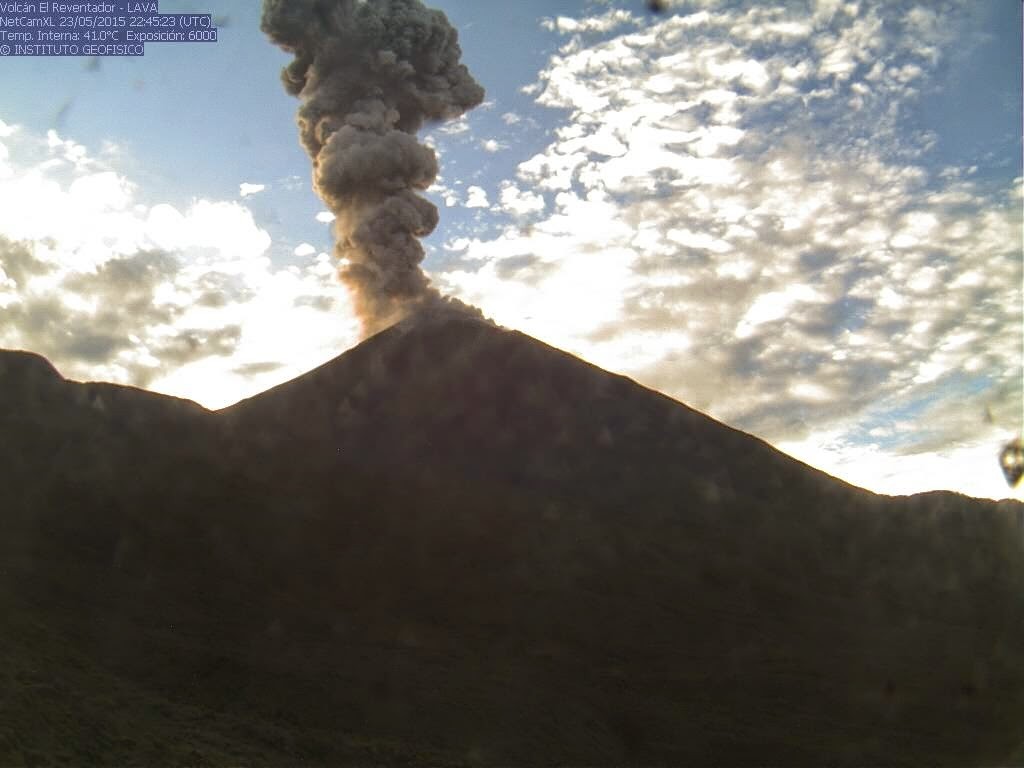 Emission and ash observations: During the night and early today, until now, the volcano has remained covered, there are no observations of surface activity.
Rains and lahars: unregistered rains or lahars.
GENERAL INFORMATION
The present report on a daily basis will be published at 12:00 (TL). In the event of an increase or change in the behavior of the volcano, a special report shall be issued immediately.
Source : IGEPN
Photo : Archives