January 02 , 2017. EN. Kilauea , Bogoslof , Popocatepetl.
02/01/2017.
Kilauea , Hawai :
19°25'16 » N 155°17'13 » W,
Summit Elevation 4091 ft (1247 m)
Current Volcano Alert Level: WATCH
Current Aviation Color Code: ORANGE
Activity Summary:
Kilauea Volcano continues to erupt in two locations. The episode 61g lava flow from Pu'u 'O'o in the East Rift Zone is entering the ocean at Kamokuna. A younger branch of the flow is active near Pu'u 'O'o and advancing slowly eastward. These lava flows pose no threat to nearby communities at this time. The lava lake at Kilauea's summit continues to circulate, with intermittent periods of spattering. Deflationary tilt at the summit is continuing this morning, and the level of the lava lake has dropped to 34 m (112 ft) below the adjacent crater floor. Seismic activity continues at a low rate overall.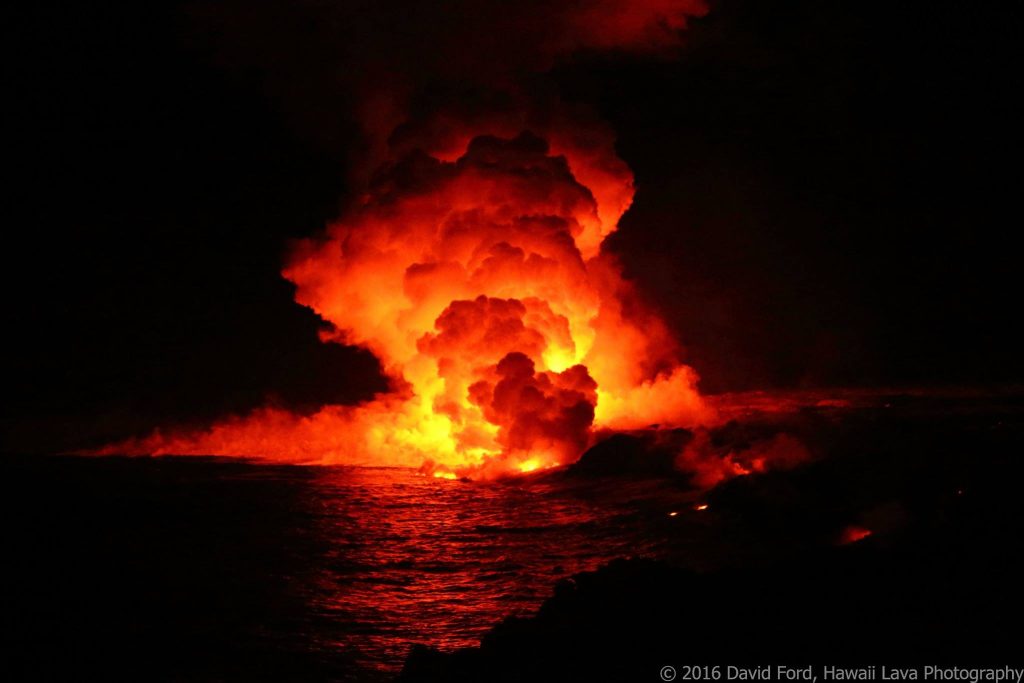 Summit Observations:
The average daily sulfur dioxide emission rate at the summit was between 4,500 and 1,600 metric tons/day during the past week. Summit seismicity has varied with lava lake spattering and non-spattering intervals but activity remains low overall. Tiltmeters at the summit continued to record a deflationary tilt during the past day. The level of the summit lava lake this morning is about 9 m (30 ft) lower than it was yesterday, and it cannot be seen from the Jaggar Museum this morning.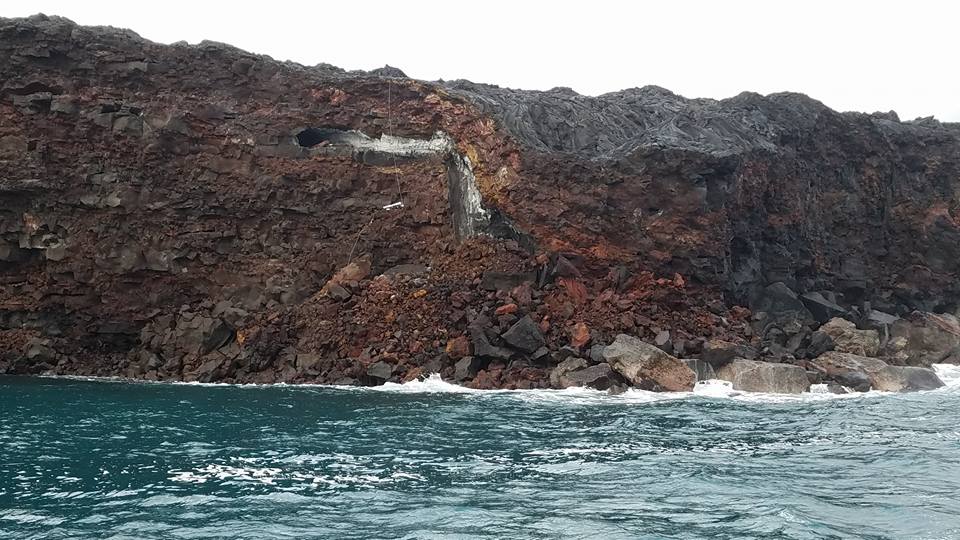 Pu'u 'O'o Observations:
There were no obvious changes at Pu'u 'O'o. Webcam views show persistent glow from sources within the crater and from a vent high on the northeast flank of the cone. The tiltmeter on the northwest flank of the cone recorded a slight deflationary trend in tilt over the past day. The sulfur dioxide emission rate from all East Rift Zone vents was about 260 metric tons/day when last measured on December 27. Seismicity in the Pu'u 'O'o area continues at low levels.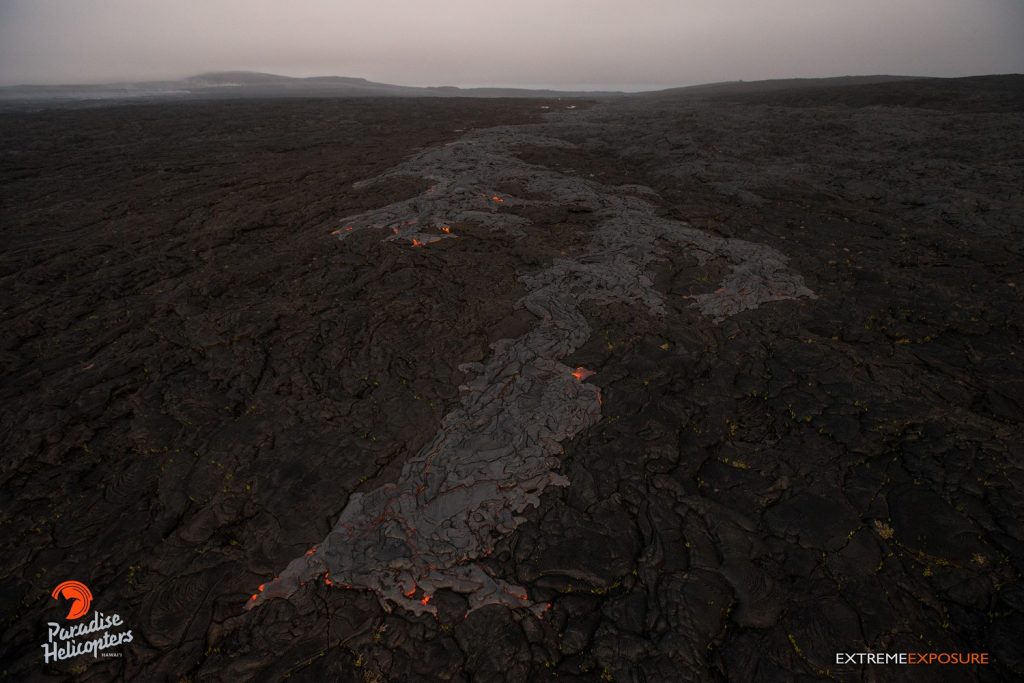 Lava Flow Observations:
The episode 61g flow is still active and entering the ocean at Kamokuna, where activity has been concentrated on the east side of the delta. A large part of the delta collapsed into the ocean yesterday afternoon. In addition, a younger branch of the episode 61g vent remains active east of Pu'u 'O'o and is advancing slowly east at a rate of only a few tens of meters (yards) per day. A small breakout near Pu'u 'O'o, active recently continued, visible on webcams overnight. The episode 61g flow poses no threat to nearby communities at this time.
1 JANUARY 2017. A large section of the 26-acre lava delta formed by the 61g lava flow collapsed into the ocean around 2:45 p.m. on New Year's Eve, launching showers of volcanic rock into the air and creating a flurry of large waves that eroded away a portion of the older sea cliff and viewing area.
As a result, the Kamokuna ocean entry within Hawai'i Volcanoes National Park will remain closed today as park rangers and USGS Hawaiian Volcano Observatory scientists survey the area. Rangers on duty New Year's Day reported that the former viewing area is gone and that loud cracks continue to be heard throughout the unstable area.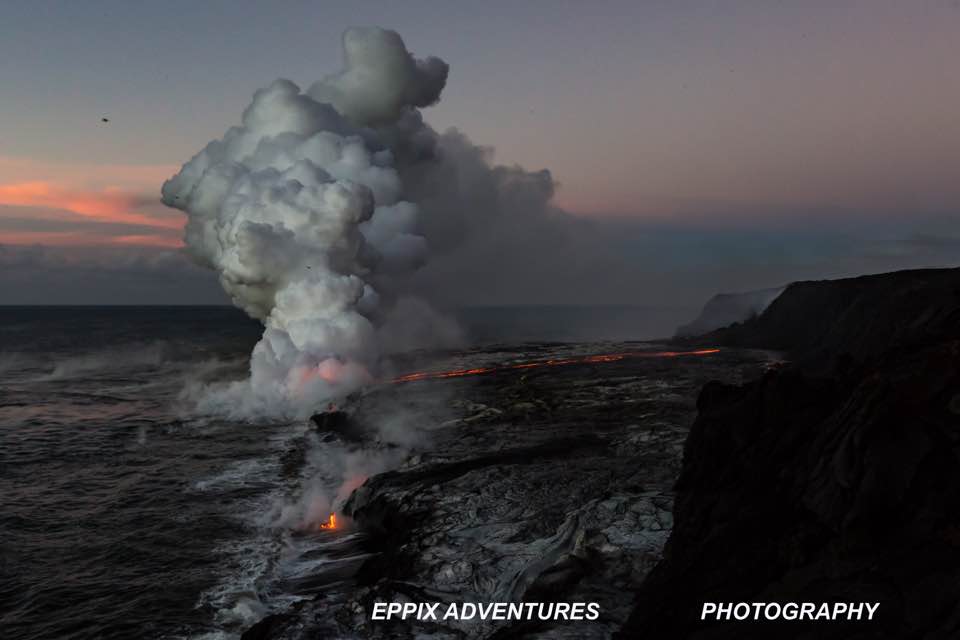 Before and after at the Kamokuna ocean entry. « Before » was taken October 11, 2016. « After » was taken January 1, 2017. Warren Fintz, Eppix Adventures Photography with Sean King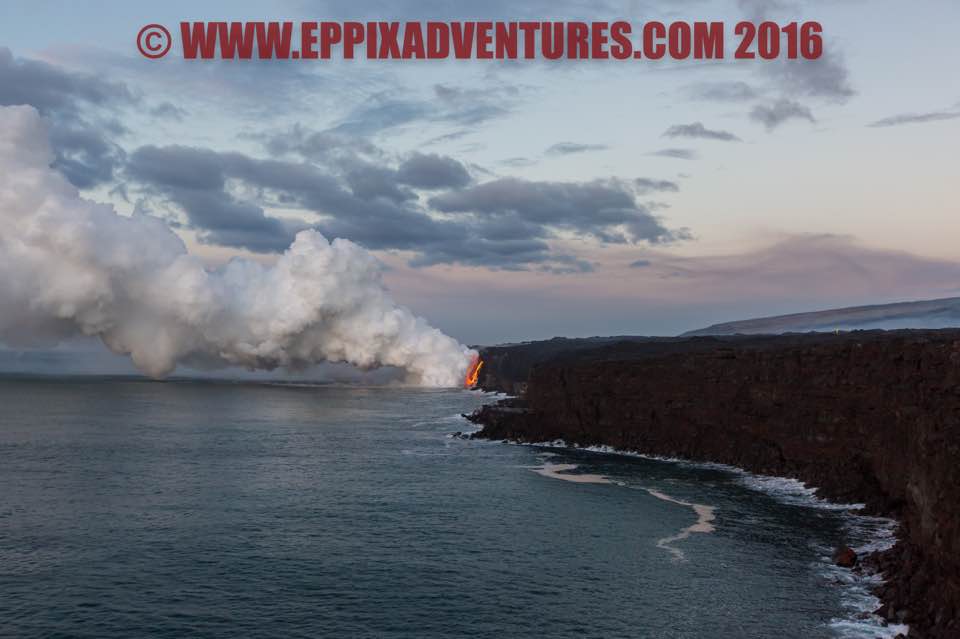 Although park rangers temporarily closed the Kamokuna lava viewing area last night, five visitors ducked beneath the white rope closure line and made a beeline for the coastal cliffs around 7 p.m. on New Year's Eve. Eruption Crew Ranger Travis Delimont and a co-worker had to chase after them before they turned around.
Within 15 minutes, the section of cliff where the visitors were standing crashed into the ocean. "It was a really close brush with death for them," Ranger Delimont said. "Luckily, they finally listened to us and turned around in time." The lava viewing area will remain closed until it is determined safe to reopen. The County of Hawai'i also closed the Kalapana access to the park.

"Fortunately, there were no aircraft or boats reported in the area at the time of the collapse, nor were any visitors on the delta itself, which is closed for public safety," said Park Superintendent Cindy Orlando. "Had anyone been close by on land, water or air, lives would have surely been lost." There is a temporary flight restriction of 1,000 feet above ground level at the Kamokuna ocean entry.
Lava deltas are extremely hazardous volcanic features and are formed when lava enters the ocean and builds new land on loose and unstable substrate. In addition to the threat of collapse, lava entering the ocean produces a highly a corrosive plume of hydrochloric acid and volcanic particles that irritate the lungs, skin and eyes. Visitors are strongly urged to stay out of closed areas and heed all posted warning signs.
Source : HVO , BIG ISLAND NOW.
Photos : David Ford , Bruce Omori , Warren Fintz, Eppix Adventures Photographie avec Sean King , Travis Delimont.
Bogoslof ,  Aleutians Islands , Alaska :
53°55'38 » N 168°2'4″ W,
Summit Elevation 492 ft (150 m)
Current Volcano Alert Level: WATCH
Current Aviation Color Code: ORANGE
Bogoslof volcano remains restless since the last explosive event Friday December 30. Cloudy conditions have obscured satellite views of the volcano over the past day. Seismic stations on neighboring Okmok volcano continue to detect some anomalous, low-level seismic activity that may be from Bogoslof, but the significance of this seismicity remains difficult to determine. Eruptive activity could resume at anytime.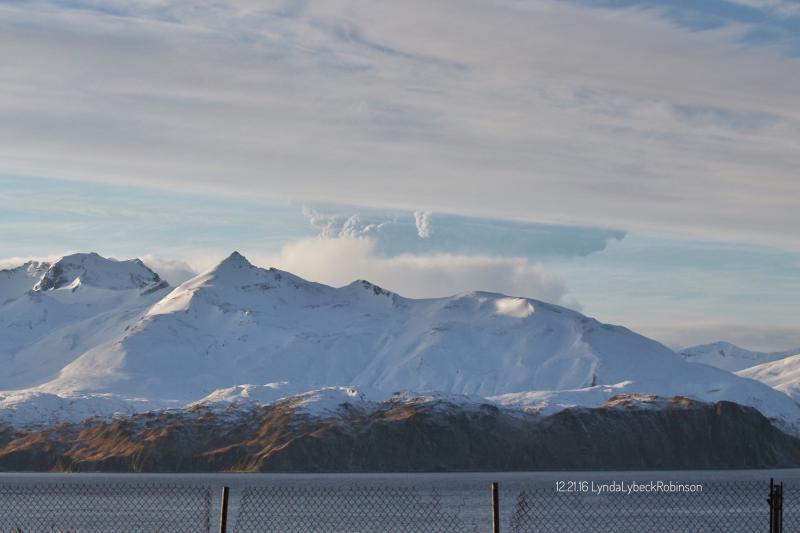 AVO has no ground-based volcano monitoring equipment on Bogoslof volcano. We continue to monitor satellite images, information from the Worldwide Lightning Location Network pertaining to volcanic-cloud lightning, and data from seismic and infrasound instruments on nearby islands for indications of volcanic activity.
Source : AVO
Popocatepetl , Mexico :
1 January 11:00 (17:00 GMT January 01)
Over the past 24 hours, through the seismic recordings of the Popocatepetl volcano monitoring system, 30 low intensity exhalations accompanied by steam and gas have been identified. In addition, it was recorded 24 minutes of harmonic tremor.
All night long, a gleam could be seen above the crater that rose during some of the exhalations.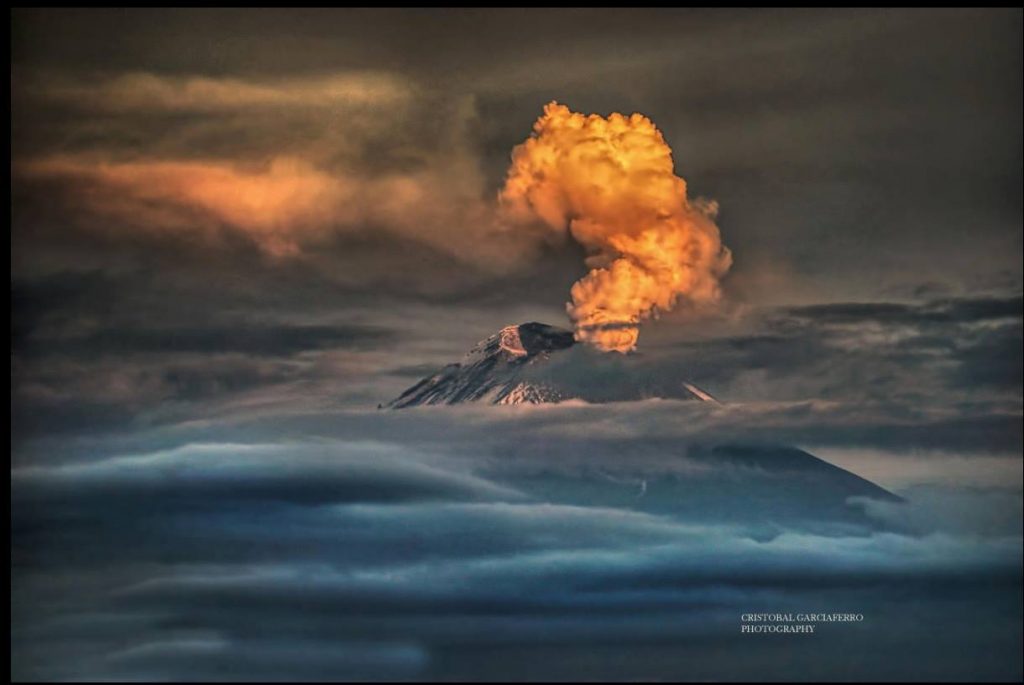 At the time of this report a slight but continuous emission of steam and gas to the east is observed.
The other monitoring parameters remain unchanged.
CENAPRED asks not to approach the volcano and in particular the crater.
The volcanic alert semaphore Popocatepetl is located in Amarillo Phase 2.
Source : Cenapred
Photo : Cristobal Garciaferro