January 01 , 2017. EN. Turrialba , Bogoslof , Klyuchevskoy .
January 01 , 2017.
HAPPY NEW YEAR
Turrialba , Costa Rica :
Explosions and ash spewing forth from Turrialba Volcano, located some 70 Kilometers (43 miles) northeast of San José, increased this week, volcanologists from the University of Costa Rica and the National University reported Friday.
The strongest eruptions began at 11 p.m. on Thursday. Two more followed at 3:35 a.m. and at 8:01 a.m. on Friday.
The second explosion on Friday formed an ash column of approximately 300 meters (985 feet) above the volcano's crater, according to reports from the National University's Volcanological and Seismological Observatory of Costa Rica (OVSICORI).
Mauricio Mora, a volcanologist with the University of Costa Rica's National Seismological Network (RSN), said in a public report that activity at Turrialba between Dec. 15 – 27 was mostly low with very low seismic activity and sporadic and weak ash spewings.
"Starting on December 28, however, we recorded an increase in seismic activity, with volcanic tremors lasting between 4-7 minutes," he said. This spike in the activity resulted in a strong explosion at 23:00 hours that hurled incandescent rocks around the crater, Mora said.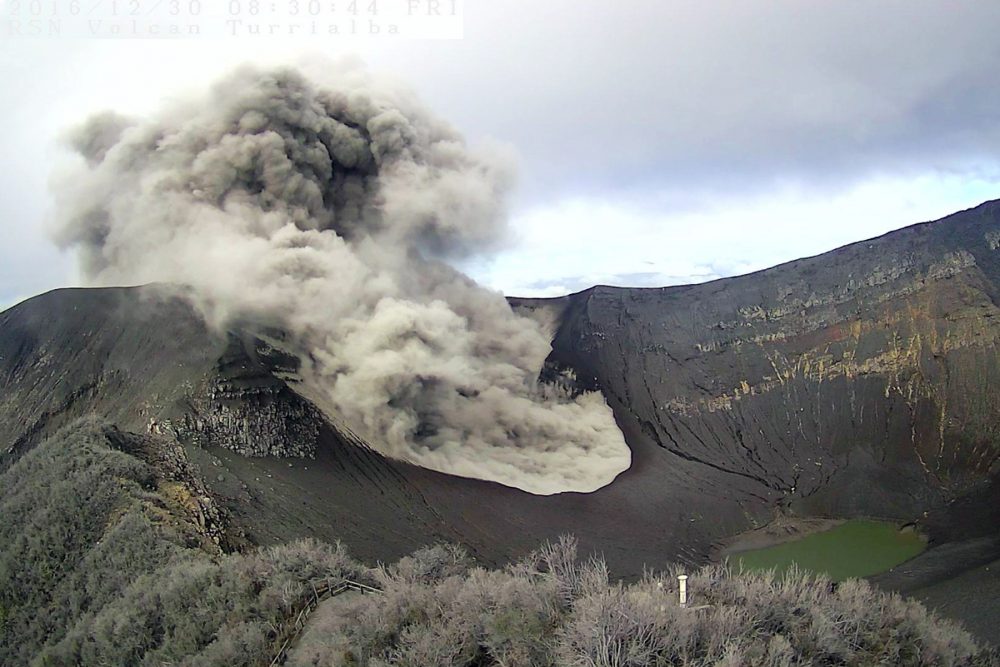 Mora said that ash plumes of up to 500 meters (1,640 ft) formed this week above Turrialba's crater, located in northern Cartago province.
On Friday morning, strong gusts of wind took ashes to several locations across the Central Valley. People reported ashfall in Cartago and San José, and as far away as the province of Heredia.
Messages on OVSICORI and RSN's social media profiles reported ashfall and sulfur odors in several communities in Turrialba and northern Cartago. There are also reports from San José residents in Coronado, Goicoechea, Moravia, Montes de Oca, Curridabat, Zapote, Tibás, Santa Ana and Escazú.
According to the National Meteorological Institute (IMN), the influence over Costa Rica of a cold front located in the northern Caribbean Sea increased the intensity of the trade winds starting Friday evening.
Turrialba has been active since 2014. In September, it started a new eruptive cycle with periodic ash and vapor explosions up to 4,000 meters (13,100 ft) above its crater.
Emergency agencies maintain a security perimeter of two kilometers around the volcano. However, park rangers recently reported that groups of tourists have been entering the restricted area to observe the explosions.
From : Ticotimes
Bogoslof , Aleutians Islands , Alaska :
53°55'38 » N 168°2'4″ W,
Summit Elevation 492 ft (150 m)
Current Volcano Alert Level: WARNING
Current Aviation Color Code: RED
The explosive event that started last night (Dec 30) around 22:30 AKST (07:30 UTC Dec 31) likely lasted less than 30 minutes on the basis of the duration of lightning strikes and seismic data. The resulting volcanic cloud has not been observed above the high regional cloud deck, which remains at about 30,000 ft asl. Winds from the south would have carried the cloud north over the Bering Sea.
Due to the unpredictability of the situation, the Aviation Color Code remains RED and the Volcano Alert Level WARNING.
AVO has no ground-based volcano monitoring equipment on Bogoslof volcano. We continue to monitor satellite images, data from distant seismic and infrasound instruments, and information from the Worldwide Lightning Location Network for indications of significant activity.
Bogoslof volcano exploded last night at 22:30 AKST (07:30 UTC Dec 31). The eruption lasted approximately 45 minutes and was recorded by seismic stations on nearby islands and infrasound (pressure) sensors in Dillingham. Eruptive activity was also detected by the World Wide Lightning Location Network, which identified lightning strikes associated with the resulting volcanic plume. Following a period of brief quiescence, low-level eruptive activity began again at 05:00 AKST (14:00 UTC) as detected by the distant Dillingham infrasound array, and remains ongoing. This activity is weaker than prior explosions, including last night's, but is relatively continuous, indicating persistent unrest. No lightning strikes have been detected coinciding with the current activity, and nothing has been observed in satellite data above the regional cloud layer (25,000 ft asl). Seismic and infrasound data at nearby islands are currently hampered by windy conditions in the region, which limits our ability to detect unrest associated with explosions.
Due to the unpredictability of the situation and potential for resumed explosive activity, the Aviation Color Code remains RED and the Volcano Alert Level WARNING.
From : AVO
Photos : Avo , Wech, Aaron.
Klyuchevskoy , Kamchatka :
56.06 N, 160.64 E;
Elevation 15580 ft (4750 m)
Aviation Color Code is ORANGE
Explosive activity of the volcano summit crater renewed. An ash plume raise up to 5 km a.s.l. and drifting for about 114 km to the southeast from the volcano.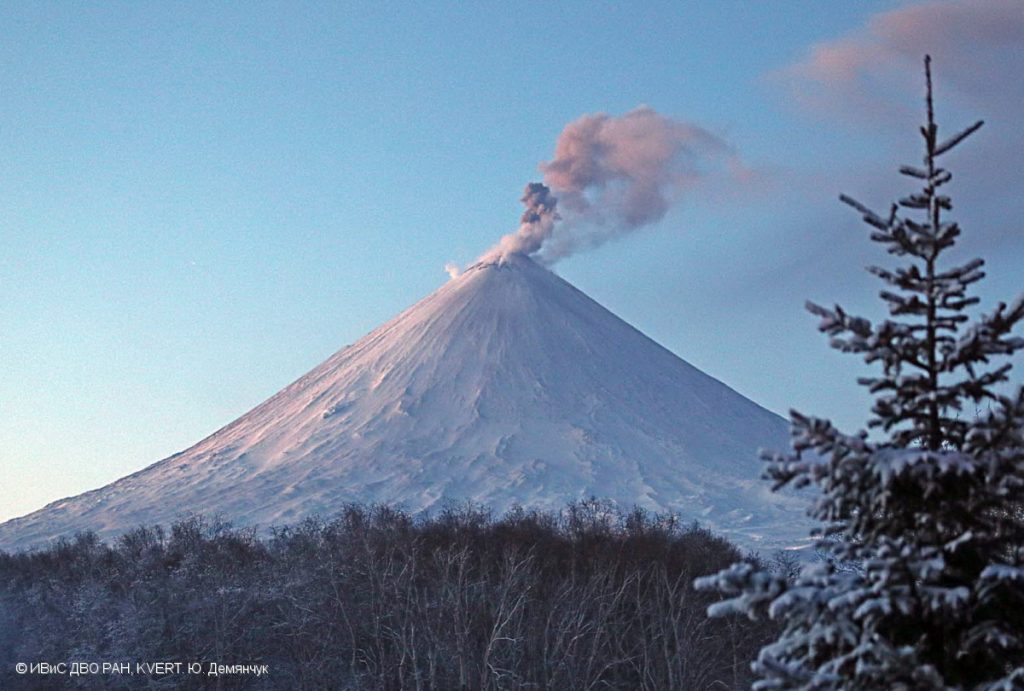 Activity of the volcano continues. Ash explosions up to 22,960-26,240 ft (7-8 km) a.s.l. could occur at any time. Ongoing activity could affect international and low-flying aircraft.
From : Kvert
Photo : Yu. Demyanchuk, IVS FEB RAS, KVERT