December 31, 2016. EN. Bogoslof , Ebeko , Nevado Del Ruiz .
December 31, 2016.
Bogoslof , Aleutians Islands , Alaska :
53°55'38 » N 168°2'4″ W,
Summit Elevation 492 ft (150 m)
Current Volcano Alert Level: WARNING
Current Aviation Color Code: RED
Eruptive activity at Bogoslof continues. Last night at 23:45 AKST (08:45 Dec 30 UTC), another explosion occurred that lasted for about 30 minutes and produced a cloud that rose as high as 20,000 ft asl and drifted northeast as seen in satellite images. Last night's event was first detected by seismic stations on neighboring Umnak Island, and was also seen in more distant infrasound sensors. This event did not produce volcanic lightning. This morning, low-level seismic activity from the volcano was detected brielfy from 04:25 to about 05:00 AKST. The explosive event last night was preceded by as much as four and a half hours of elevated seismic activity from Bogoslof, providing some indication that an explosive eruption was imminent. Other explosions during the eruptive sequence have started more suddenly with either subtle or no preceding increase in seismicity.
Last night's event was the fourth explosion in the past week and eighth such explosion that AVO has detected since December 16. The explosions have occurred every 1-3 days. Given this pattern, the likelihood of another explosion in the next day remains high, and the Aviation Color Code remains at RED and the Volcano Alert Level at WARNING.
Bogoslof is not monitored by a local geophysical network, which limits our ability to forecast and closely track activity at this volcano. AVO is using seismic and infrasound (airwave sensors) on neighboring Umnak and Unalaska Islands to monitor activity. In addition, we are using satellite imagery and information from the Worldwide Lightning Location Network to identify volcanic lightning; lightning strikes in the erupted plume have been detected during the current eruptive sequence.
Bogoslof Island is the largest of a cluster of small, low-lying islands making up the emergent summit of a large submarine stratovolcano. The highest point above sea level prior to this eruption was about 100 m (300 ft); however, the volcano is frequently altered by both eruptions and wave erosion and has undergone dramatic changes in historical time. The two main islands currently above sea level are Fire Island and Bogoslof Island, both located about 98 km (61 mi) northwest of Unalaska/Dutch Harbor, 123 km (76 mi) northeast of Nikolski, and 149 km (93 mi) northeast of Akutan. The volcano is situated slightly north (behind) the main Aleutian volcanic front. Bogoslof volcano is within the USFWS Maritime Wildlife Refuge and is habitat for sea lions birds.
At least 8 historical eruptions have been documented at Bogoslof. The most recent prior to 2016 occurred from July 6-24, 1992, and produced episodic steam and ash emissions including an ash cloud up to 26,000 ft (8 km) asl on July 20, followed the next day by extrusion of a new 150 m (500 ft) by 275 m (900 ft) lava dome on the north end of the island. Previous eruptions of the volcano have lasted weeks to months, and have on occasion produced ash fall on Unalaska. Eruptions of the volcano are often characterized by multiple explosive, ash-producing events such as we have seen in 2016, as well as the growth of lava domes.
Source : AVO
Photos : Harding, Ann , Seese, John , Burton, Bill; Schneider, Dave
Ebeko , Paramushir Island , Russia :
50.69 N, 156.01 E;
Elevation 3792 ft (1156 m)
Aviation Color Code is ORANGE
A moderate gas-steam with some amount of ash activity of the volcano continues. Ash explosions up to 16,400 ft (5 km) a.s.l. could occur at any time. Ongoing activity could affect low-flying aircrafts.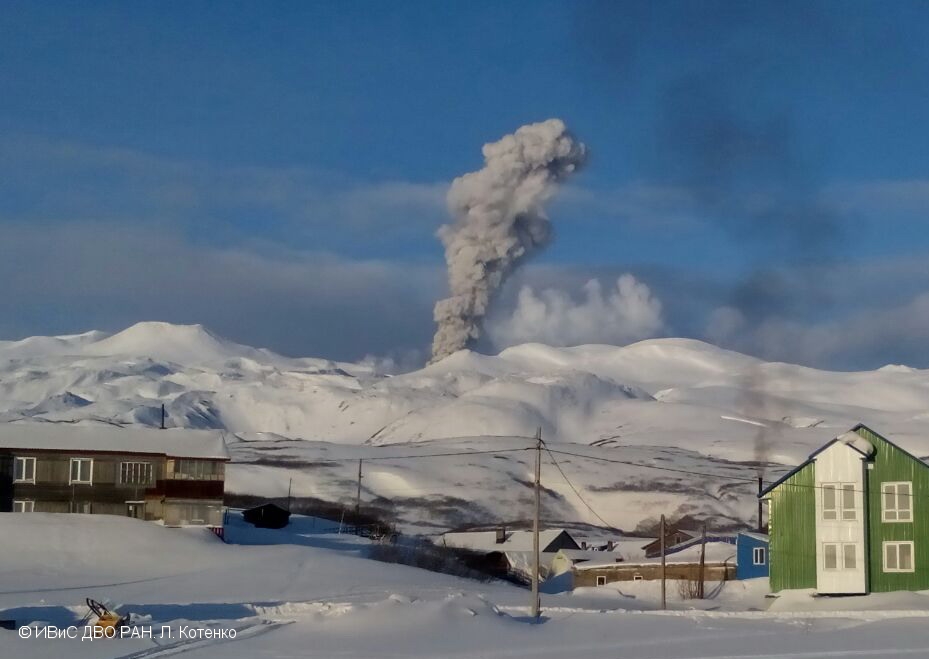 A strong activity of the volcano was observing all week. According to visual data from Severo-Kurilsk (Paramushir Island, Northern Kuriles), explosions sent ash up to 2.5 km a.s.l. on 24-27 December; small ashfalls were noting at Severo-Kurilsk on 23 and 26 December. Satellite data by KVERT showed the volcano was quiet or obscured by clouds.
KVERT reported that, according to observers in Severo-Kurilsk (Paramushir Island) about 7 km E, gas-and-steam plumes containing a small amount of ash rose from Ebeko to an altitude of 1.5 km (4,900 ft) a.s.l. and drifted 8 km N and NE on 17 and 20 December. Minor amounts of ash fell in Severo-Kurilsk during 18-22 December. Ash plumes rose as high as 2 km (6,600 ft) a.s.l. on 27 December. The Aviation Color Code was raised to Orange (the second highest level on a four-color scale).

Source : Kvert , Gvp .
Photo : L. Kotenko, IVS FEB RAS
Nevado Del Ruiz , Colombia :
Weekly activity bulletin of the volcano Nevado del Ruiz, from 20 December to 26 December, 2016
The level of activity continues at: activity level yellow or (III): changes in the behavior of volcanic activity.
As regards the monitoring of the activity of the volcano Nevado del Ruiz, the Colombian Geological Survey reports that:
The various monitoring parameters showed that the volcano continues to exhibit an unstable behavior, demonstrating an increase in the activity of fluids inside the ducts of the volcanic structure. This seismicity is characterized by the appearance of earthquakes with varying levels of energy, long period (LP) and very long period (VLP), multiple tremor pulses and multiple earthquakes of fluid. This type of seismicity was mainly located in the Arenas crater and around the volcano. Some of these seismic signals have been associated with the emission of gases and ash into the atmosphere, as confirmed by the cameras installed in the volcano region and reports from officials of the Natural Park of Los Nevados (Pnnn) . The recording of new seismic signals of this type with higher energy levels which may be associated with the emission of gas and ash is not excluded. It is important to remember that ash processes can occur over several days and sometimes several times a day without involving an individual report for each episode.
Seismic activity related to the fracturing of volcanic rock under the volcano showed a slight increase in the number of earthquakes and seismic energy released compared to the previous week. This seismicity has been located mainly in the southwest, the northern sismogenic sources, the Arenas crater and its surroundings, and to a lesser extent in the northeast and south-eastern areas of the volcano. The depths of the earthquakes varied between 0.6 km and 7.5 km. The occurrence of increased seismic fracture activity was noted on 24 December (14h00-19h00 ), the earthquakes are located in the southwestern region of the Arenas crater at depths between 2, 8 km and 4.2 km. The maximum magnitude recorded during the week was 1.6 ML (local magnitude), corresponding to an earthquake, on December 26 at 10:32 (local time), 5.5 km deep, located at 4, 8 km north of the crater Arenas.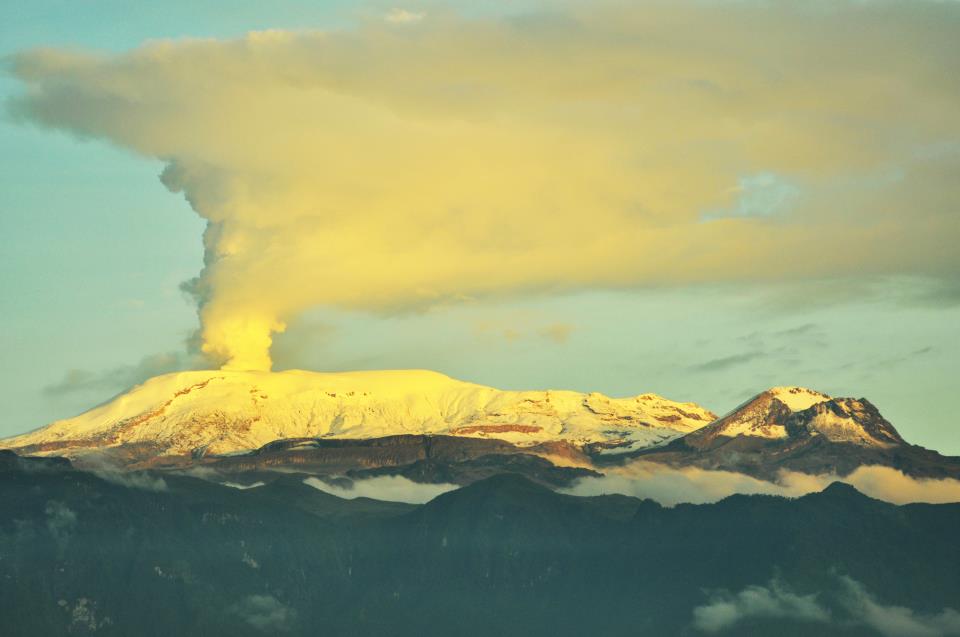 Volcanic deformation, measured from electronic inclinometers, Global Navigation Satellite Systems (GNSS) and satellite images to determine changes in inclination, position and shape of the volcano, continues to record in the last few months, inflation and intermittent inflation / deflation impulses, possibly linked to gas and ash emissions.
The volcano continues to emit significant amounts of water vapor and gases, including sulfur dioxide (SO2), as evidenced by the values obtained by the SCANDOAS stations installed in the volcanic zone and on the satellite image. In the tracking information provided by the Mirova portal a thermal anomaly was identified in the Arenas crater, of low energy, which was recorded on 26 December with a value of 6 MW.
The column of gas, steam and ash from time to time reached a maximum height of 2000 m measured on the top of the volcano on 20 December. The direction of dispersal of the column was in line with the prevailing wind pattern in the area, which fluctuated between the West, South-East, North-West and Northeast.
The volcano Nevado del Ruiz continues to activity level Amarillo.
Source : SGC
Photos : Archives