December 27 , 2016. EN. Bogoslof , Fuego , Popocatepetl , Sabancaya .
December 27 , 2016.
Bogoslof , Aleutians Islands , Alaska :
Current Volcano Alert Level: WARNING
Previous Volcano Alert Level: WATCH
Current Aviation Color Code: RED
Previous Aviation Color Code: ORANGE
Issued: Monday, December 26, 2016, 3:16 PM AKST
Source: Alaska Volcano Observatory
Location: N 53 deg 55 min W 168 deg 2 min
Elevation: 492 ft (150 m)
Area: Aleutians
Volcanic Activity Summary: An ash-producing eruption started at 14:05 AKST (23:05 UTC) today and is continuing as recorded by seismic data on nearby islands, by lightning, and as seen in recent satellite images. Cloud-top temperatures from satellite suggest a cloud height of around 30,000 ft asl. Regional winds are from the west-southwest. We are raising the Aviation Color Code to RED and the Alert Level to WARNING.
Photograph of Bogoslof's December 23, 2016 eruption, showing ash emission, lightning, and the ejection of incandescent lava and fragmental material. Photo taken on the morning of December 23, 2016, by the crew of the US Coast Guard Cutter Alex Haley. Photo used with permission from the USCG.


AVO has no ground-based volcano monitoring equipment on Bogoslof volcano. We continue to monitor satellite images, information from the Worldwide Lightning Location Network pertaining to volcanic-cloud lightning, and data from seismic and infrasound instruments on other islands for indications of volcanic activity. At present, these observations should allow timely detection of additional explosive events.
Source : AVO
Photo : US Coast Guard Alex Haley,
Fuego , Guatemala :
Type of activity: Vulcanian
Morphology: composite stratovolcan
Geographical location: 14 ° 28'54˝ Latitude N; 90 ° 52'54˝ longitude W.
Height: 3,763msnm.
Weather conditions: Clear
Wind: South 0 km / h
Precipitation: 7.3 mm.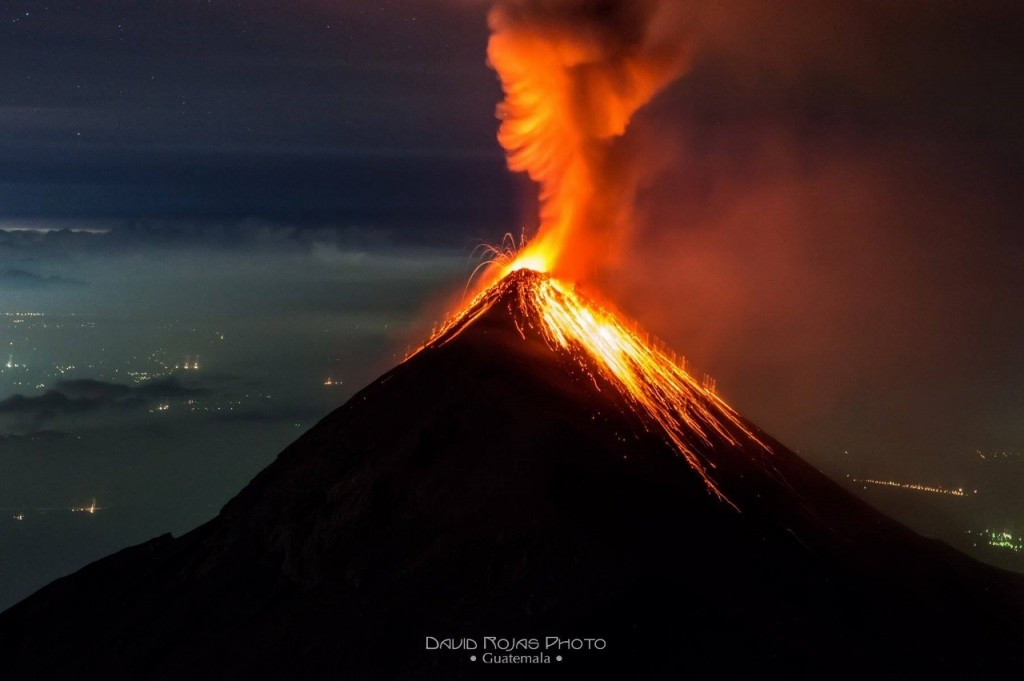 Activity:
Presence of a degassing activity with white fumaroles at an approximate height of 4200 meters (13,780 feet), spreading west and southwest. An average of 8 low explosions generating gray columns at a height of 4,300 to 4,500 meters (14,108 to 14,764 feet) are reported, dispersing about 5/8 kilometers to the west and southwest. These are sometimes accompanied by weak rumblings. It has a faint glow in the central crater.
Source : Insivumeh
Photo : David Rojas
Popocatepetl , Mexico:
26 December 11:00 (1700 GMT 26 December)
In the last 24 hours, through the seismic records of the Popocatepetl volcano monitoring system, 27 exhalations of low intensity accompanied by steam and gas have been identified.
All night long, a glow could be seen above the crater, which increased during some of the exhalations.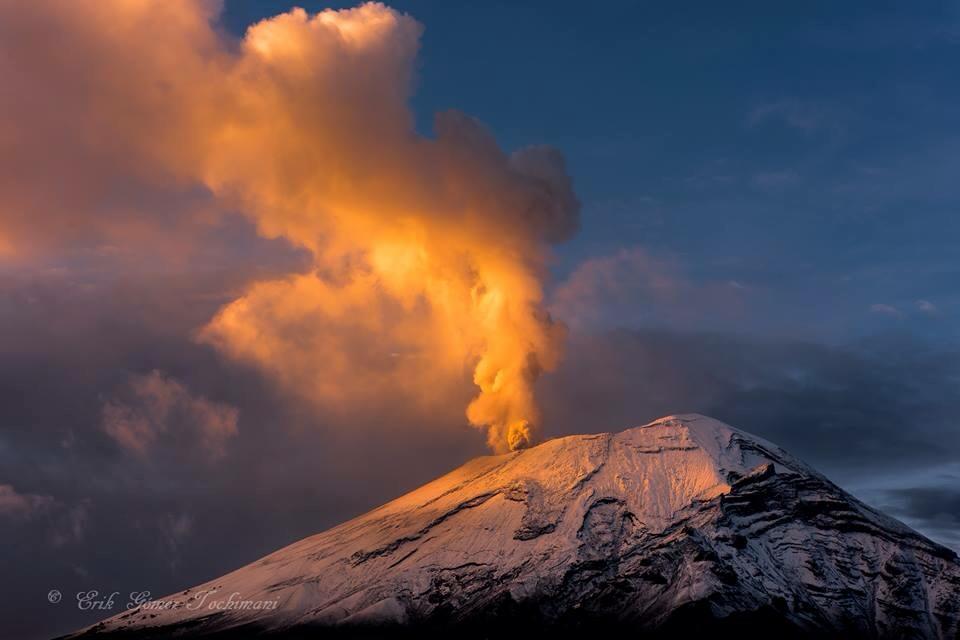 At the time of this report a slight but continuous emission of steam and gas in the south-west direction is observed.
The other monitoring parameters remain unchanged.
CENAPRED asks not to approach the volcano and in particular the crater.
The Volcanic Volcanic Semaphore of Popocatepetl Volcano is located in Amarillo Phase 2.
Source : Cenapred .
Photo : Erik Gomez Tochimani
Sabancaya , Peru :
27 DECEMBER 2016. The Sabancaya volcano, in the Arequipa region of Peru, made a comeback overnight, after a series of explosions sent ash and smoke up into air. The ash and smoke travelled as far as 3,500 metres into the sky, covering a radius of a little over 30 kilometres in distance, according to the country's Volcanic Risk Management Technical-Scientific Committee.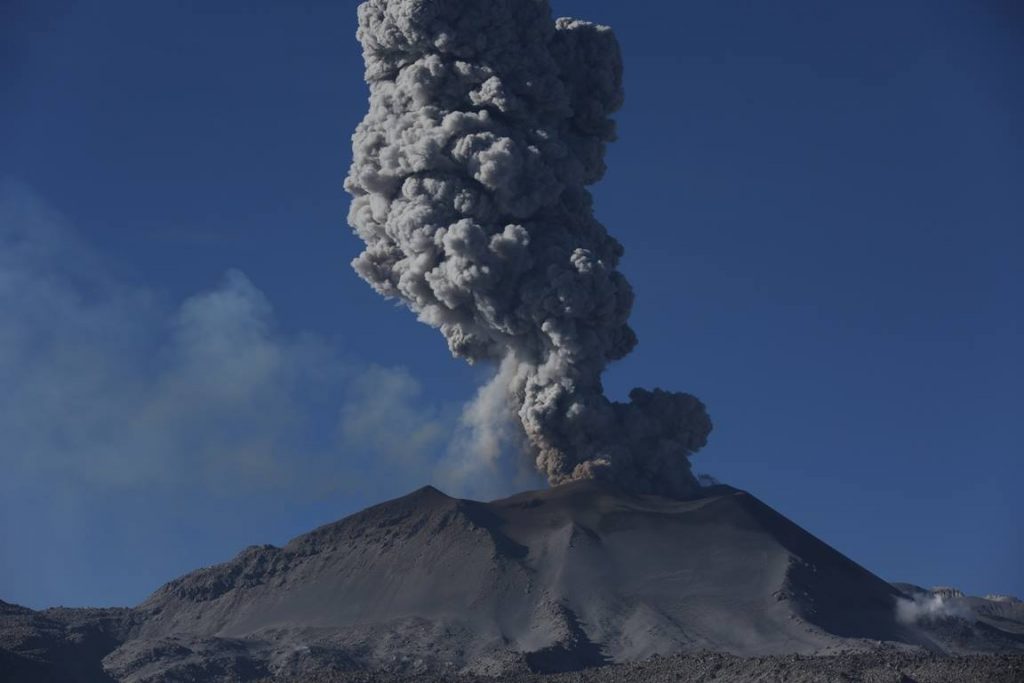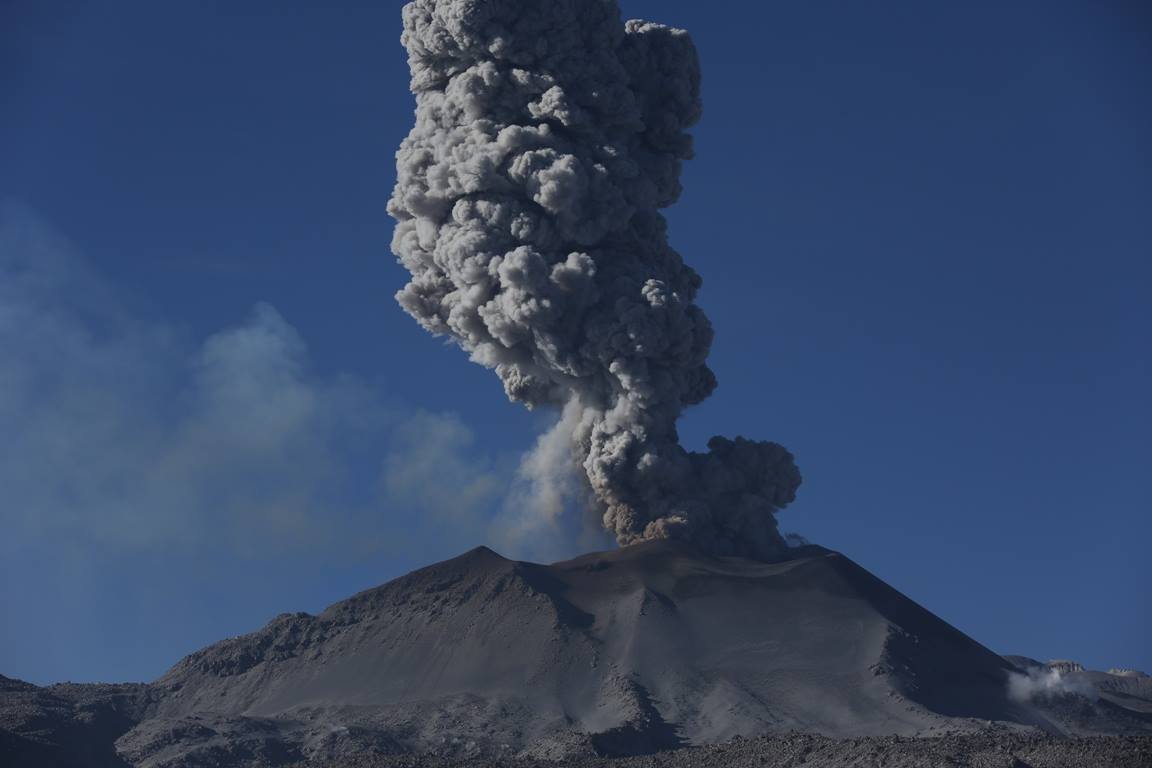 The neighbouring areas of Cabanaconde, Tapay, Lari, Madrigal, Pinchollo, Maca and parts of Achoma were affected. An earlier explosion by the same was registered late last Friday when Sabancaya sent a plume of smoke as far as 2,500 metres into the sky.
Source : TVNZ
Photo : Thorsten Böckel