December 26, 2016. EN. Bogoslof , Kilauea , Tungurahua , Turrialba .
December 26, 2016.
Bogoslof ,

Aleutian Islands

, Alaska :
53°55'38 » N 168°2'4″ W,
Summit Elevation 492 ft (150 m)
Current Volcano Alert Level: WATCH
Current Aviation Color Code: ORANGE
Unrest continues at Bogoslof volcano. Seismicity associated with the ongoing unrest has been periodically visible on nearby island networks in the past 24 hours. No activity was observed in mostly cloudy satellite images or infrasound data in the past 24 hours. The situation at Bogoslof remains volatile and explosive activity could resume with little to no warning.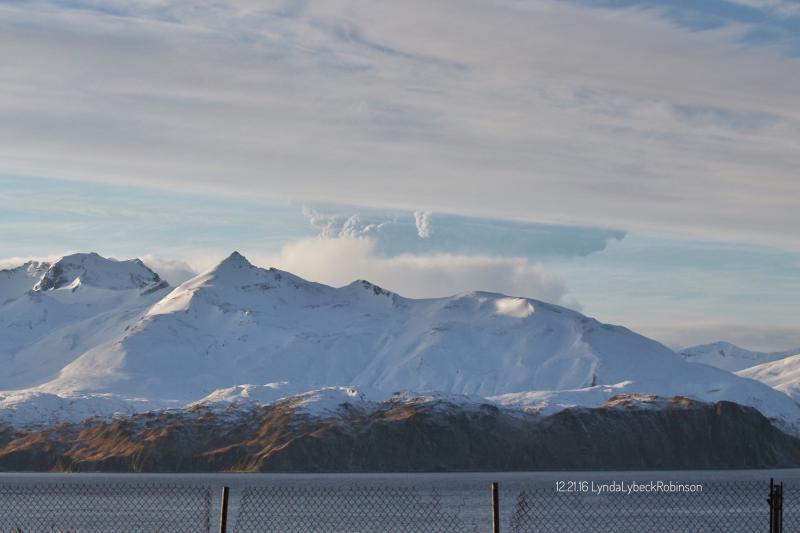 AVO has no ground-based volcano monitoring equipment on Bogoslof volcano. We continue to monitor satellite images, information from the Worldwide Lightning Location Network pertaining to volcanic-cloud lightning, and data from seismic and infrasound instruments on other islands for indications of volcanic activity. At present, these observations should allow timely detection of additional explosive events.
Source : AVO
Photo : Robinson, Lynda
Kilauea , Hawai :
19°25'16 » N 155°17'13 » W,
Summit Elevation 4091 ft (1247 m)
Current Volcano Alert Level: WATCH
Current Aviation Color Code: ORANGE
Activity Summary:
Kilauea Volcano continues to erupt in two locations. The episode 61g lava flow from Pu'u 'O'o in the East Rift Zone is entering the ocean at Kamokuna. A younger branch of the flow is active near Pu'u 'O'o and advancing slowly eastward. These lava flows pose no threat to nearby communities at this time. The lava lake at Kilauea's summit continues to circulate, with intermittent periods of spattering. Summit inflationary tilt has flattened out. Seismic activity continues at a low rate overall.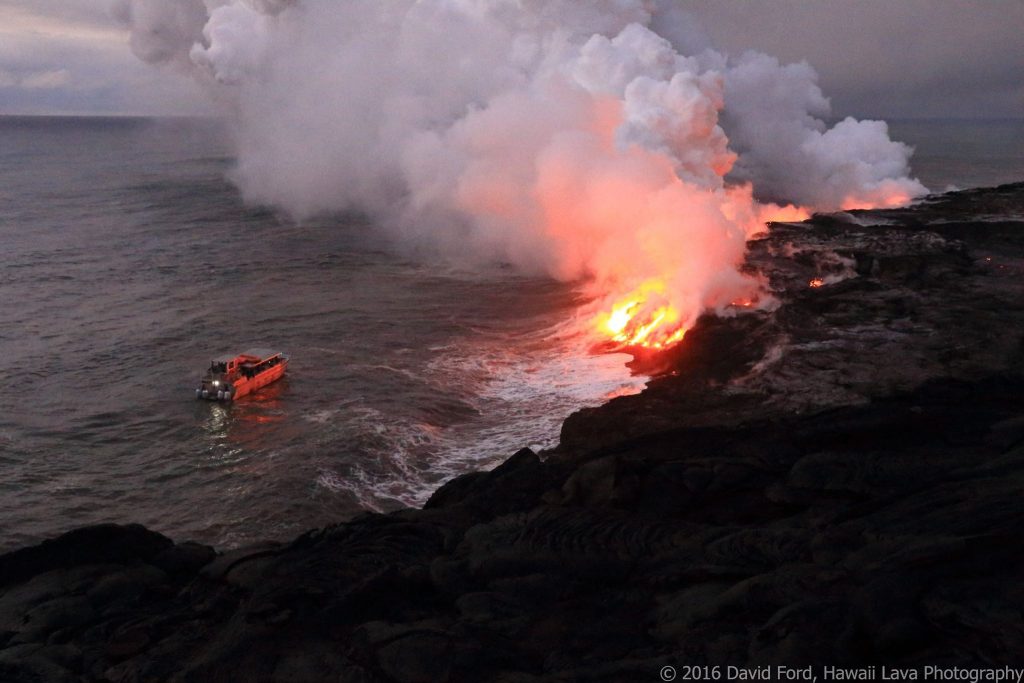 Summit Observations:
The average daily sulfur dioxide emission rate at the summit has averaged about 5,300 metric tons/day since 12/21 when trade winds once again permitted emissions to be measured. Summit seismicity has varied with lava lake spattering and non-spattering intervals, but activity remains low overall. Summit inflationary tilt that began 2/21 flattened out around midnight 12/24. The level of the summit lava lake stood at 19.5 m (64 ft) when it was last measured Friday morning. The lava lake surface activity has been clearly visible from the Jaggar Museum overlook over the past day.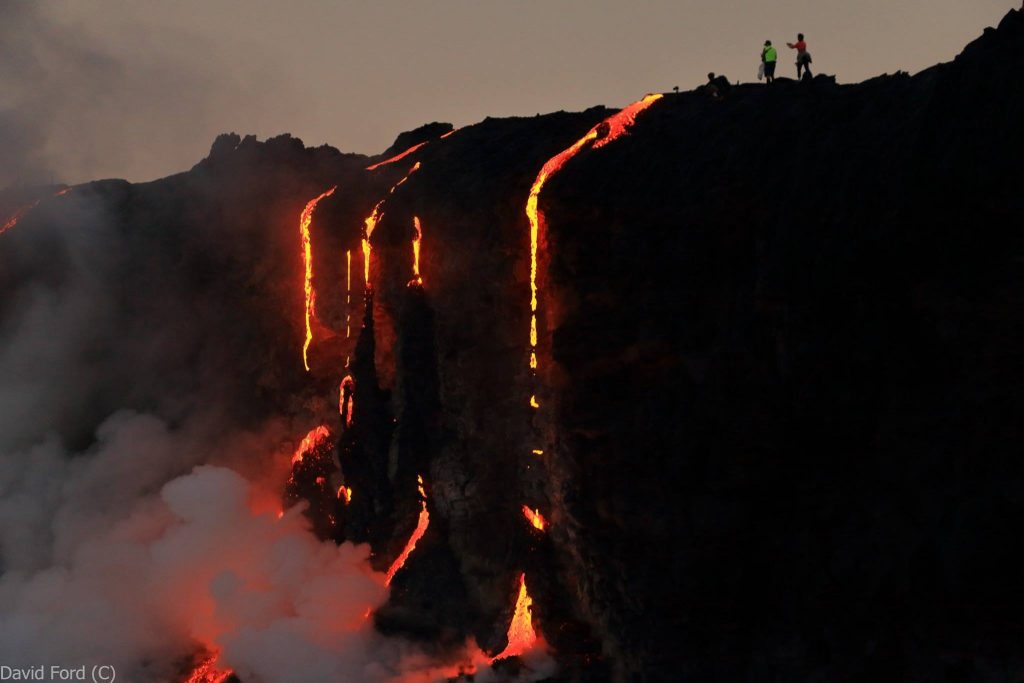 Pu'u 'O'o Observations:
There were no obvious changes at Pu'u 'O'o. Webcam views show persistent glow from sources within the crater and from a vent high on the northeast flank of the cone. The tiltmeter on the northwest flank of the cone recorded insignificant tilt over the past day. The sulfur dioxide emission rate from all East Rift Zone vents was about 220 metric tons/day when last measured on December 20. Seismicity in the Pu'u 'O'o area continues at low levels.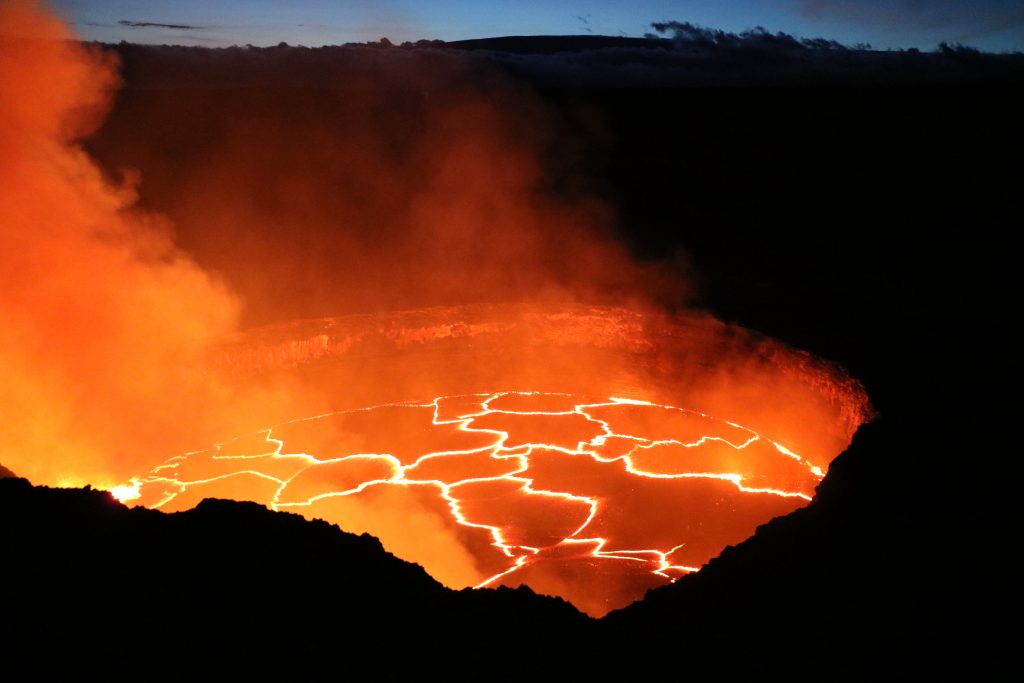 Lava Flow Observations:
The episode 61g flow is still active and entering the ocean at Kamokuna, where activity has been concentrated on the east side of the delta. In addition, a younger branch of the episode 61g vent remains active east of Pu'u 'O'o and is advancing slowly east at a rate of only a few tens of meters (yards) per day. A small breakout near Pu'u 'O'o, active recently continued, visible on satellite imagery acquired 12/21. The episode 61g flow poses no threat to nearby communities at this time.
Source : HVO
Photo : David Ford, Archives HVO
Reventador , Ecuador :

Sunday 25 December 2016
SUMMARY OF THE VOLCANIC ACTIVITY
The volcano was maintained with high internal activity. There were no observations at the crater level due to bad weather in the area.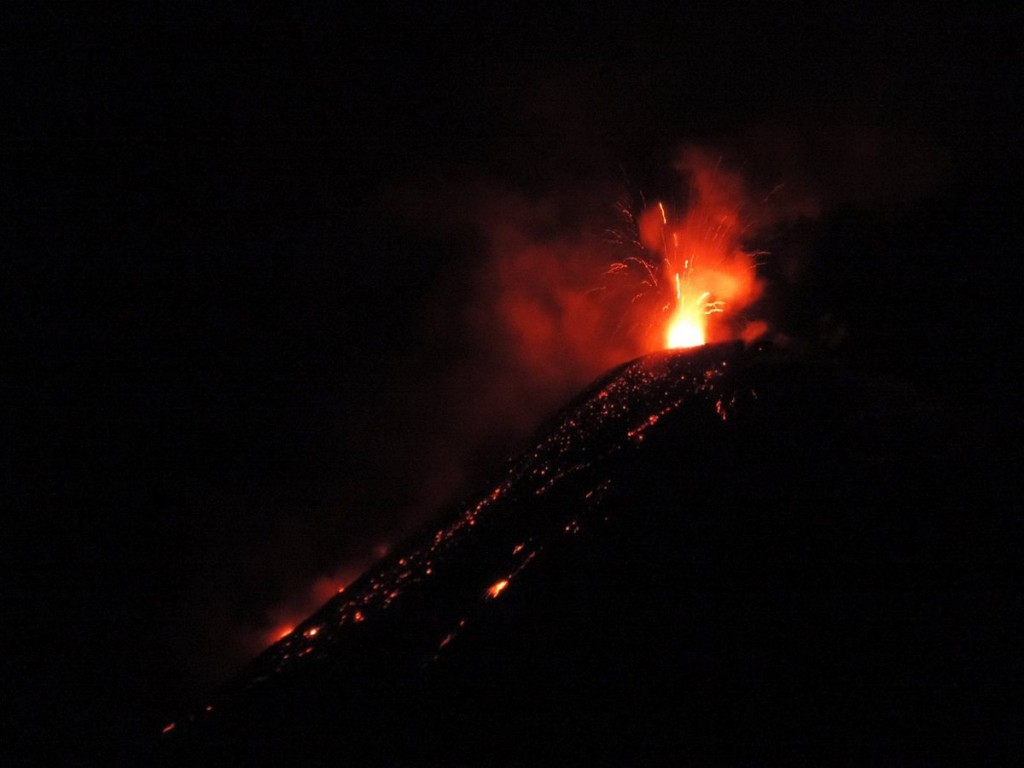 TECHNICAL AND OBSERVATIONS ANNEX
Seismicity:
Since 11:00 am (TL) yesterday until 11:00 am (TL) today, 64 explosions (EXP), 58 events long period (LP), 18 episodes of tremor of emission (TRE) and 5 episodes of tremor harmonic were recorded (TRA).
Observations:
Overall, the volcano remained covered, so no observations at the surface.
Rains and lahars:
In the evening, the rain was recorded which did not generate lahars.
GENERAL INFORMATION
The present report on a daily basis will be published at 12:00 (TL). In the event of an increase or change in the behavior of the volcano, a special report shall be issued forthwith.
Source : IGEPN
Photo : Hosteria
Turrialba , Costa Rica :
Activity Report of the Turrialba Volcano
25 December 2016
During the day, the Turrialba volcano continued its passive emission of gas and ash.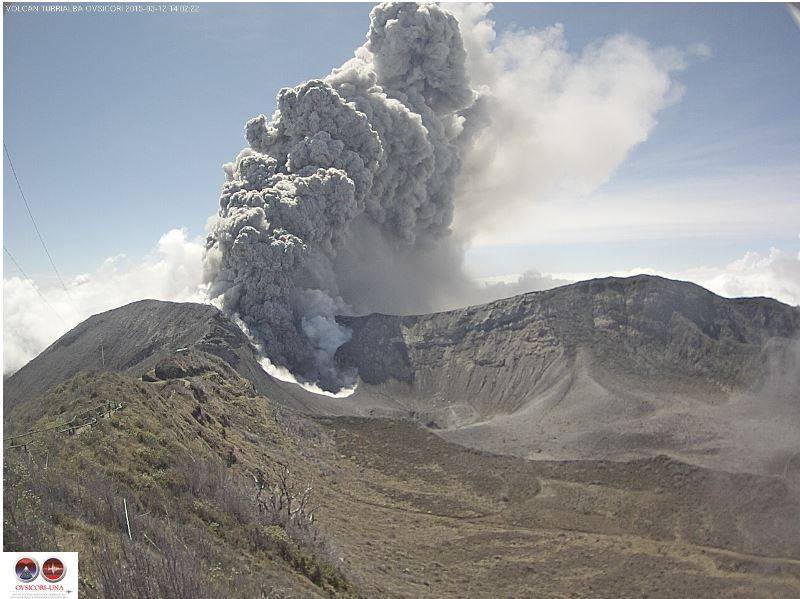 Between 2 and 4 am, it was observed an increase in the amplitude of tremor associated with eruptive activity.
At mid-morning was again a slight increase in the amplitude of the tremor, which was reflected during the day with the observation of a variable height of the plume, composed of abundant gas, aerosols and ash emission. It was not possible to estimate the height of the column because the camera located above the Irazu volcano, received ashes and was dirty.
It has been reported ash fall in Granadilla Curridabat, Piedades Santa Ana, Guadalupe, Ipís, Calle Blancos, Sabanilla, Moravia, Dulce Nombre de Coronado.
The prevailing wind direction for today was towards the northwest, according to information provided by the IMN station located on the Turrialba volcano.
Source : Ovsicori
Photo : Archive