December 23 , 2016. EN. Bogoslof , Piton de la Fournaise , Gamalama , Mauna Loa .
December 23 , 2016.
Bogoslof , Aleutians Islands, Alaska :
Current Volcano Alert Level: WATCH
Previous Volcano Alert Level: WARNING
Current Aviation Color Code: ORANGE
Previous Aviation Color Code: RED
Issued: Wednesday, December 21, 2016, 11:18 PM AKST
Source: Alaska Volcano Observatory
Notice Number:
Location: N 53 deg 55 min W 168 deg 2 min
Elevation: 492 ft (150 m)
Area: Aleutians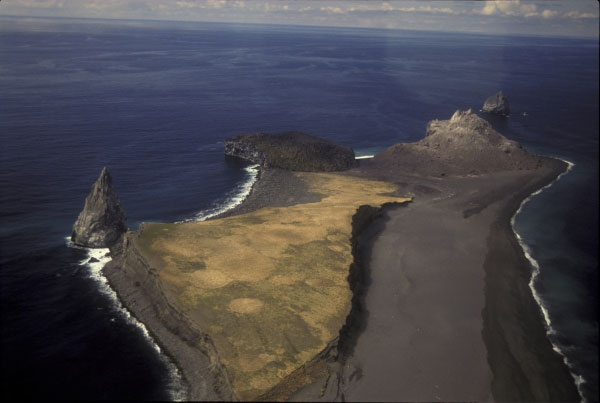 Volcanic Activity Summary:
The explosive eruption that started at about 01:10 UTC 12/22 (16:10 AKST today) was short-lived and produced an ash cloud as high as 35,000 ft asl that drifted northward. Seismic data recorded on neighboring island networks indicates that the eruption lasted about 30 minutes after which seismicity rapidly declined and remains low. No activity has been observed in recent satellite images or infrasound data. On the basis of this information, the Aviation Color Code is lowered to ORANGE and the Alert Level to WATCH.
AVO has no ground-based volcano monitoring equipment on Bogoslof volcano. We will monitor satellite images and data from distant seismic and infrasound instruments for indications of significant explosive activity.
Analysis of shoreline change and vent location from the eruption of Bogoslof volcano. The base image was collected on March 19, 2015 and the analysis was conducted on data from December 22, 2016 after the large explosive eruption on December 21, 2016. Note that the location of the vent for the eruption was underwater or near the shoreline on the NE part of Bogoslof Island. Deposits have enlarged portions of the island and are interpreted to be comprised of coarse-grained volcanic ash and blocks of lava.

53°55'38 » N 168°2'4″ W,
Summit Elevation 492 ft (150 m)
Current Volcano Alert Level: WATCH
Current Aviation Color Code: ORANGE
Following about 25 hours of relative quiescence, another short-lived eruption occurred at Bogoslof yesterday late afternoon producing a large eruption cloud that rose to 35,000 ft asl, quickly detached, and moved northeastward over the Bering Sea. The cloud-forming eruption started at around 16:10 AKST 21 Dec 2016 (01:10 UTC, 22 Dec 2016) with seismicity visible on stations located on nearby islands that lasted ~30 minutes. The eruption was also detected on several nearby infrasound arrays. Observers in Dutch Harbor reported seeing the cloud as it developed. AVO elevated the Aviation Color Code to RED and the Volcano Alert Level to WARNING at 16:32 AKST 21 Dec (02:32 UTC 22 Dec). After the eruption, seismicity abruptly declined to low levels and remained so through the evening. At 23:18 AKST (08:18 UTC 22 Dec) AVO lowered the Color Code/Alert Level to ORANGE/WATCH.
Recent satellite imagery shows that this eruption dramatically changed Bogoslof Island, and that a new, small island has formed just offshore of the northeast end of the main island. The former shore and much of the northeast side of Bogoslof Island adjacent to this island has been largely removed, and deposition of material has occurred on the west side of the island. The excavated area of the former northeast shore is likely the vent for this recent eruption, which appears to be just below sea level.
Seismicity was relatively low into the early morning hours of 22 December until 01:20 AKST (10:20 UTC) with the sudden onset of strong tremor that continued until 07:40 AKST (16:40 UTC). Although this likely was eruptive activity, no evidence of ash emission was observed in satellite images. Seismicity was low until an abrupt increase in moderate tremor began at about 11:04 AKST (21:04 UTC). This activity began to decline within the past hour. No ash emissions or elevated surface temperatures are evident in satellite images.
Source : AVO.
Photos : AVO ,  Nye, C. J.
Carte : Burton, Bill; Schneider, Dave
Piton de la Fournaise , La Réunion :
Activity Bulletin of Thursday, December 22, 2016
For a few days we have recorded a slight change in the activity of Piton de la Fournaise with:
– the resumption of inflation at the level of the summit zone at rates comparable to those recorded before the eruptions of 2015 and after the eruptions of 2016;
– a slight summit seismicity (2-3 events per day) accompanied by some deep earthquakes;
– high concentrations of CO2 in the soil at the level of the volcano deposit.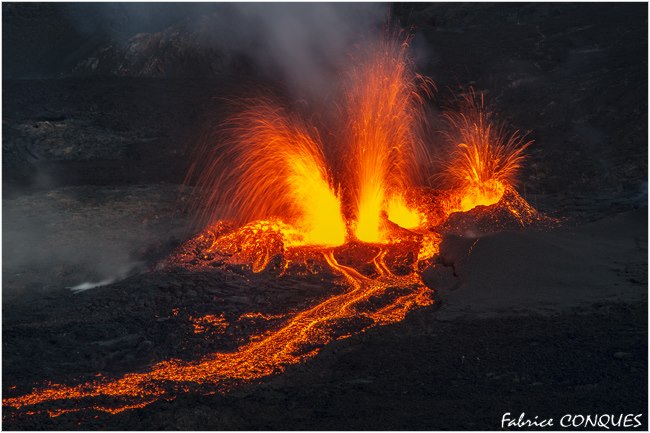 This shows that deep magma is still present and that the « Vigilance » phase remains in place.
Nevertheless, as has been observed several times this year, such phases of inflation recovery and seismicity may stop very quickly and not result in a medium-term eruption.
Source : OVPF
Photo : Fabrice Conques
Gamalama , Indonesia :
EVALUATION
The eruption of the Gamalama generally has a model in which a series of tectonic earthquake is followed by a rise of volcanic earthquakes as happened in December 2014 and July 2015. Moreover, it is also the type of eruption that does not  preceded by tectonic activity, as happened on September 8, 2015, with a « sudden magmatic impulse », characterized by the intensity of the eruption which is relatively small and is not preceded by an increase in the tremor earthquake and volcanic local tectonics, common trait of the eruptions of December 2014 and July 2015. Apparently, the eruption that took place on August 3, 2016 was included in the second type (sudden magmatic pulse).

The results of the monitoring from August 3 until November 2016 has been generally dominated by seismicity and tectonic earthquake bursts. Volcanic earthquakes (VA and Tremor) were recorded with insignificant amounts.
An increase in volcanic tremors (VA and VB) was significant from 10 to 12 December 2016. The seismic amplitude graph shows fluctuations and increase at the end of the period but this was not followed by an eruption or visual changes.
Harmonic Tremor events occurred on 18 and 19 December 2016, which were associated with an increase in the volume of magma (gas, liquid) on a shallow surface after the increase in volcanic earthquakes of 10 -12 December 2016.
It is necessary to look at the emergence of local tectonic earthquakes. Earthquakes of this type can be associated with magma migration from the depth, which increases stress / pressure on faults around the volcano and can be followed by earthquakes and volcanic eruptions. An example: the eruption of December 2014.
CONCLUSION
Based on analysis of instrumental data and potential hazards as described above until December 20, 2016, Gamalama's level of activity is still on alert Waspada (Level II).
If a larger increase in seismicity, accompanied by visual changes, occurs, G. Gamalama's level of activity can be increased depending on the level of activity and threats. To date, G. Gamalama's activity continues to be monitored and evaluated intensively in order to predict early if there is a change in activity.
Source : VSI
Mauna Loa , Hawai :
19°28'30 » N 155°36'29 » W,
Summit Elevation 13681 ft (4170 m)
Current Volcano Alert Level: ADVISORY
Current Aviation Color Code: YELLOW
Activity Summary:
Mauna Loa Volcano is not erupting. Rates of deformation and seismicity persist above long-term background levels.
Mauna Loa has been quiet over the past week. During the past week only 10 earthquakes were located, all smaller than magnitude 1.5, primarily in the upper Southwest Rift and beneath Moku'aweoweo caldera at depths less than 5 km (3 miles).
Global Positioning System (GPS) measurements continue to show deformation related to inflation of a magma reservoir beneath the summit and upper Southwest Rift Zone.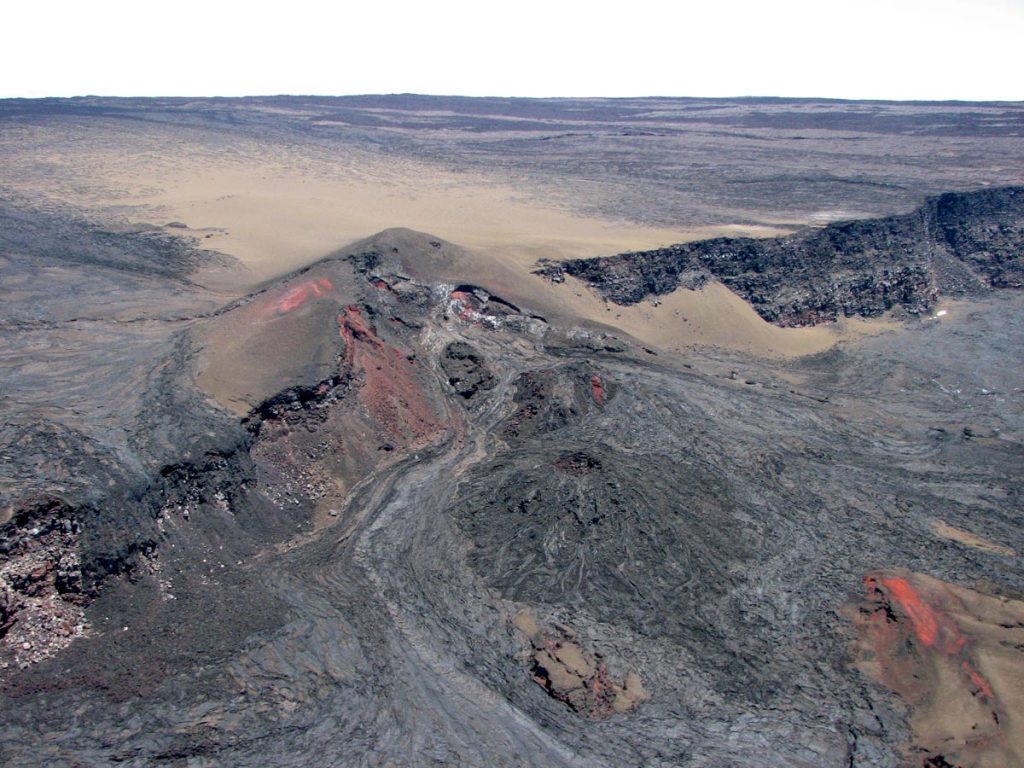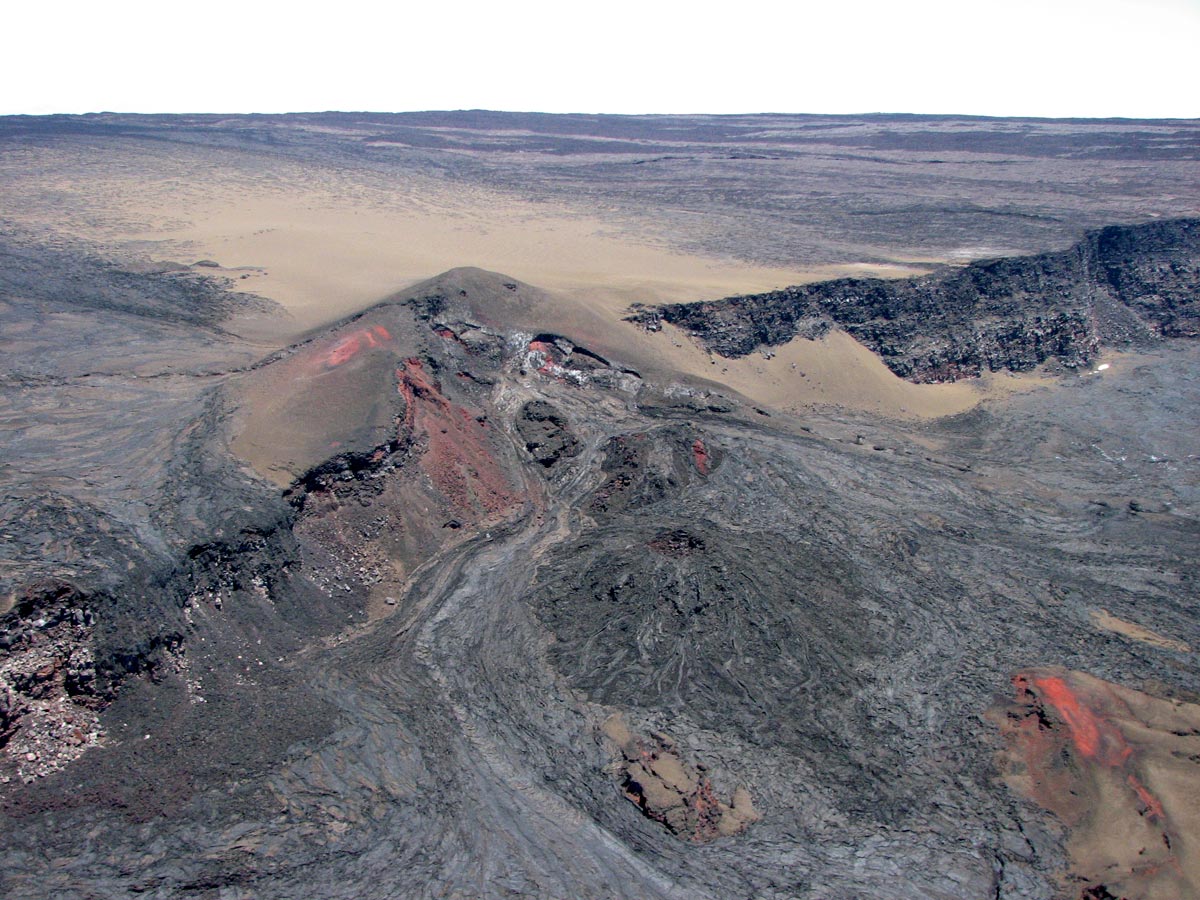 Measurements from a continuously-monitored fumarole site within the summit caldera showed no significant changes in fumarole temperatures and no significant changes in either volcanic sulfur dioxide or carbon dioxide concentrations.
Source : HVO