September 09 , 2016. EN. Kilauea , Planchon-Peteroa , Fuego , Sheveluch .
September 09 , 2016.
Kilauea , Hawai :
19°25'16 » N 155°17'13 » W,
Summit Elevation 4091 ft (1247 m)
Current Volcano Alert Level: WATCH
Current Aviation Color Code: ORANGE
Activity Summary:
Kilauea Volcano continues to erupt at its summit and from its East Rift Zone. The lava lake at Kilauea's summit dropped slightly overnight but remains high and spattering is visible from the Jaggar Museum. Summit tiltmeters show deflationary tilt beginning late yesterday. The 61g lava flow fed from Pu'u 'O'o in the East Rift Zone continues to enter the ocean at Kamokuna. The 61g flow poses no threat to nearby communities.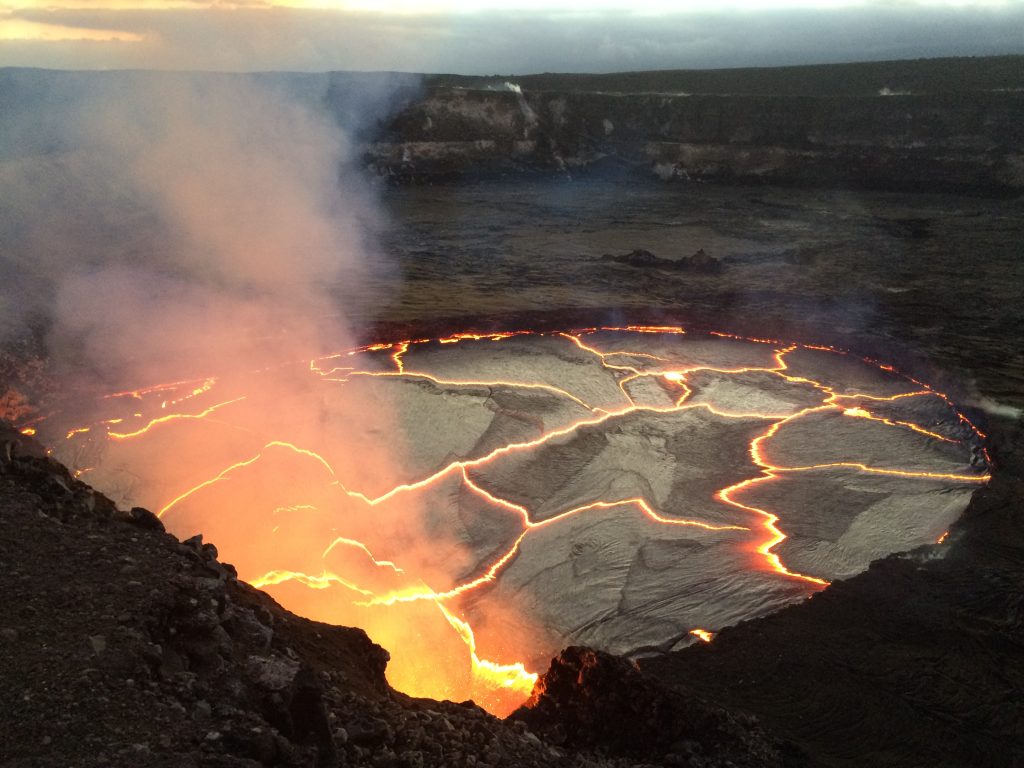 On Wednesday evening (September 7), the lava lake at Kilauea's summit reached a high level, about 8 m (26 feet) below the floor of Halema'uma'u Crater. This panorama shows the former Halema'uma'u Overlook (closed since 2008 due to volcanic hazards) at the far left. Jaggar Museum, visible on the skyline in the upper right part of the photo, is a popular destination in Hawai'i Volcanoes National Park for viewing the lava lake activity and spattering lake surface.

Summit Observations:
The lava lake within the Halema'uma'u Overlook vent remains active and at a relatively high level, with spattering easily visible from Jaggar Museum. The lake surface was 8 m (26 ft) below the adjacent floor of Halema'uma'u crater last night, but has dropped slightly since that time. This morning, the lake surface was about 20 m (66 ft) below the floor of Halema'uma'u. The drop in lake level overnight coincided with deflationary tilt recorded by summit tiltmeters beginning yesterday at about 6 pm. There were no significant changes in seismicity over the past day, while volcanic tremor amplitudes continue to fluctuate in association with lava lake activity. Average daily summit sulfur dioxide emission rates ranged from 3,100 to 6,400 metric tons/day over the past week. GPS and InSAR data continue to show long-term inflation of the summit magma reservoir complex, ongoing since 2010.
Pu'u 'O'o Observations:
At Pu'u 'O'o, webcam views suggest no significant geological changes, and no significant changes or trends in seismicity or surface deformation are noted. The sulfur dioxide emission rate from all East Rift Zone vents was about 260 metric tons/day when last measured on September 1.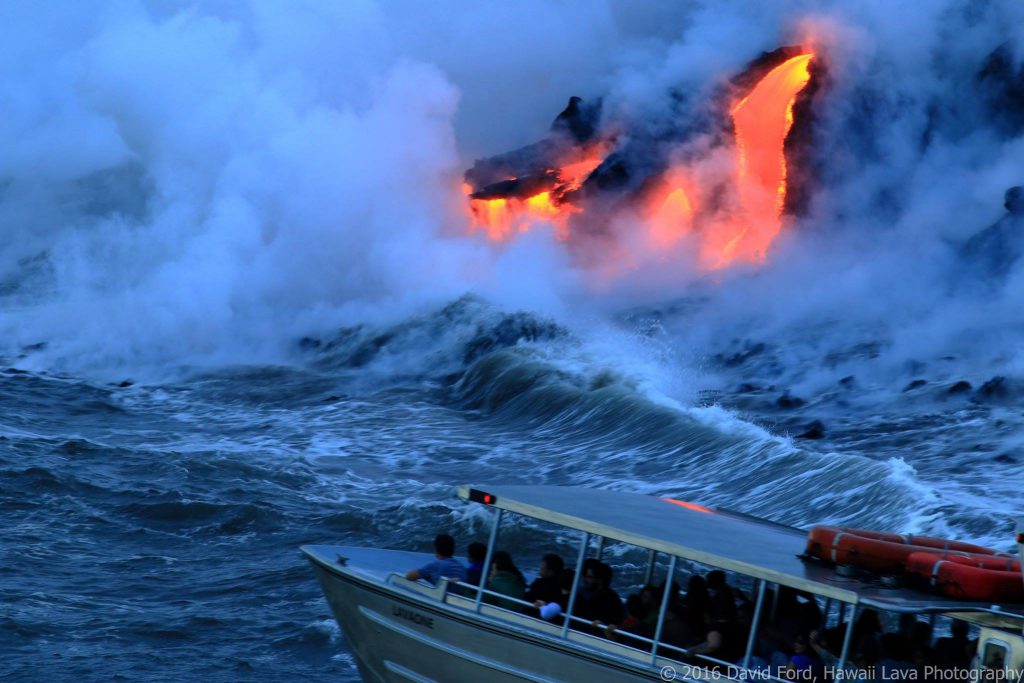 Lava Flow Observations:
The 61g lava flow, extending southeast from Pu'u 'O'o on Kilauea's south flank, continues to supply lava to the ocean near Kamokuna. Last weekend, HVO observers found that persistent noxious volcanic fumes downwind from the ocean entry area necessitated the use of respirators. On Monday (5 September), a large section of the western ocean entry delta collapsed into the ocean, triggering a small explosion.
Source : HVO
Photos : HVO , NPS / J. Ferracane /  B Duick , David Ford.
Planchon Peteroa , Chile :
Activity bulletin of the volcanic complex Planchon-Peteroa:
The level of activity of the volcano is at:
LEVEL YELLOW: changes in the behavior of volcanic activity – likely time for an eruption weeks / months.
During this period, 1,354 events related to fracturing process of rigid materials, called volcano-tectonic (VT) with a local magnitude (ML) Maximum 2.3 were recorded at depths between 2 and 8 km. The largest of these events was located 4.7 km north-northwest (WNW) of the main crater at a depth of 5.7 km. In addition eight hundred and forty-six (846) events associated with the fluid dynamics inside the volcano, known as events long period (LP) were ranked, with maximum values of reduced displacement (DRC ) of 30 cm2, being located in the main crater at a depth of less than 5 km.
IP camera images showed the presence of small, low energy fumaroles in the month, highlighting the activity of August 28 where degassing has reached a maximum height of 200 m.
Using data provided by the two (2) inclinometers, assuring the electronic measurement of the volcano surface deformationcan be observed changes in their direction, which may be related to the recent seismic activity in the complex, but to a small scale, which does not deduce that there is a direct relationship between the deformation of the surface measured with an internal activity of the volcano.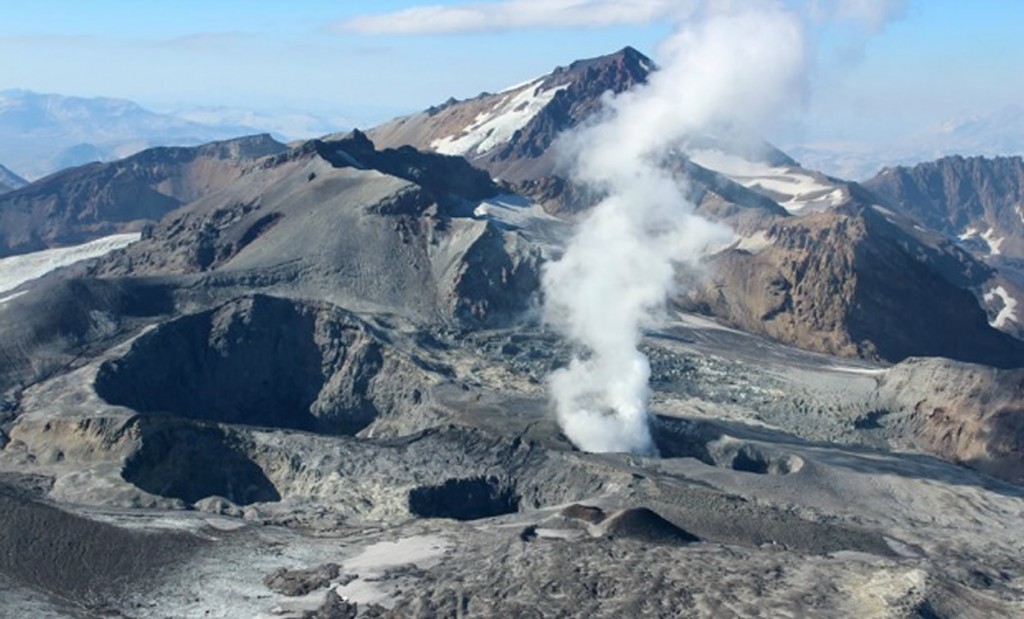 No abnormalities were reported in sulfur dioxide emissions (S02) to the atmosphere in the volcano area, according to data obtained by the group sulfur dioxide, IMO Group (http: //so2.gsfc .nasa .gov /) and NESDIS (National Environmental satellite, data and information Service, http://satepsanone.nesdis.noaa.gov).
No thermal warning was reported in the area associated with the volcano according to data released by the MODVOLC (Moderate Resolution Imaging Spectroradiometer) MODIS on its website (http://modis.higp.hawaii.edu/) and Mirova ( Middle InfraRed Observation) on its website (http://www.mirovaweb.it/), two monitoring systems that indicate significant changes in the temperature of the surface of the earth.
The foregoing indicates an activity related to magmatic system that still does not affect significantly the surface hydrothermal system but suggests the development of processes that could lead to an imbalance of two systems with a further evolution in phreatic eruptions and / or phreatomagmatic in a time horizon that can not be defined with the current data. Therefore, the volcanic alert level remains at Yellow.

Source : Sernageomin .
Fuego , Guatemala :
Near the end of the eruption.
The twelfth eruption of the Fuego volcano is complete, which was characterized with lava flows and moderate explosions accompanied by thunder, shock wave, ejecting ash columns that reached into the highest stage a height of 5000 meters. (16,404 feet) traveling at more than 10 kilometers to the west and southwest.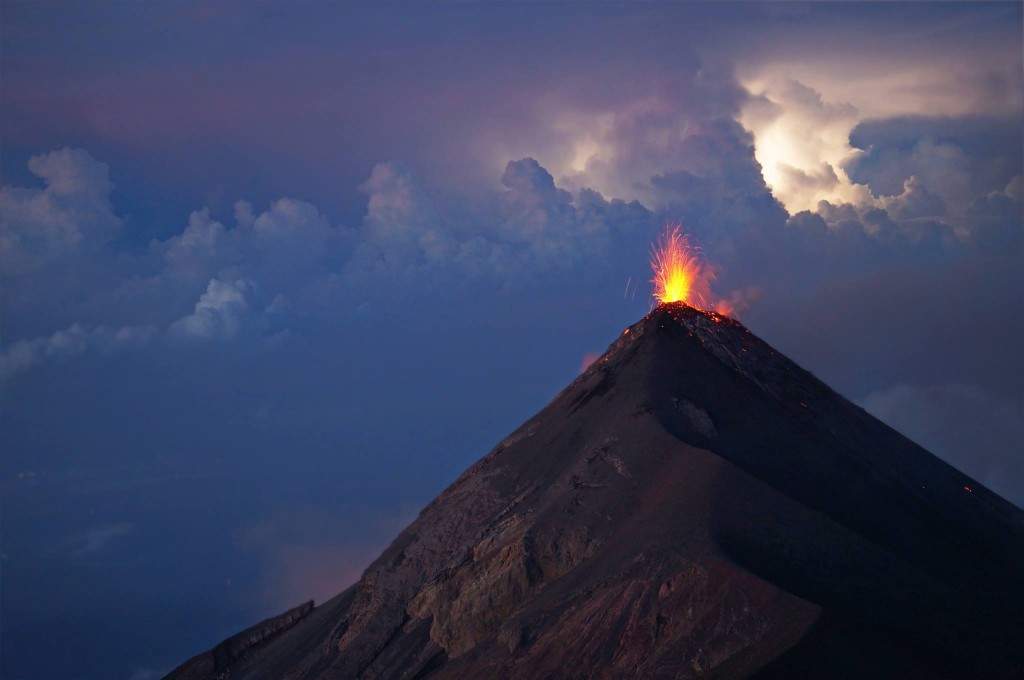 The Fuego volcano observatory reports weak fumaroles and explosions with low features and some moderate ash columns at a height of 4500 meters (14.763 feet) moving at over 8 kilometers to the West and South-West .
It maintains an incandescent source at a height of 100 meters above the crater and lava remains to the canyon of Las Lajas, which will disappear in the coming days.

Source : Insivumeh
Photo : Archive.
Sheveluch , Kamchatka :
56.653°N, 161.36°E
Elevation 3283 m
Aviation Color Code is ORANGE
Explosive-extrusive eruption of the volcano continues. Ash explosions up to 32,800 ft (10 km) a.s.l. could occur at any time. Ongoing activity could affect international and low-flying aircraft.
KVERT reported that during 26 August-2 September lava-dome extrusion onto Sheveluch's N flank was accompanied by strong fumarolic activity, dome incandescence, ash explosions, and hot avalanches. Satellite images showed a daily thermal anomaly over the dome. The Aviation Color Code remained at Orange
Source: GVP , Kamchatkan Volcanic Eruption Response Team (KVERT)
Photo : Yu. Demyanchuk, IVS FEB RAS, KVERT