September 08 , 2016. EN. Turrialba , Fuego , Klyuchevskoy , Mayon .
September 08 , 2016.
Turrialba , Costa Rica :
Volcan Turrialba in Costa Rica resumes activity with emanation of gases
6 SEPTEMBER 2016. The Turrialba Volcano in Costa Rica today posted of a new emanation of gases and water vapor, according to the Volcanological and Seismological Observatory of Costa Rica (OVSICORI). The activity of the volcano began just after 7:00 am (13:00 GMT) and was classified as a « strong emanation » by OVSICORI.
The Observatory explained that the expulsion of material reached a height of about 500 meters above the crater, located in the district of Turrialba in the province of Cartago, 37 kilometers northeast of the capital, San Jose.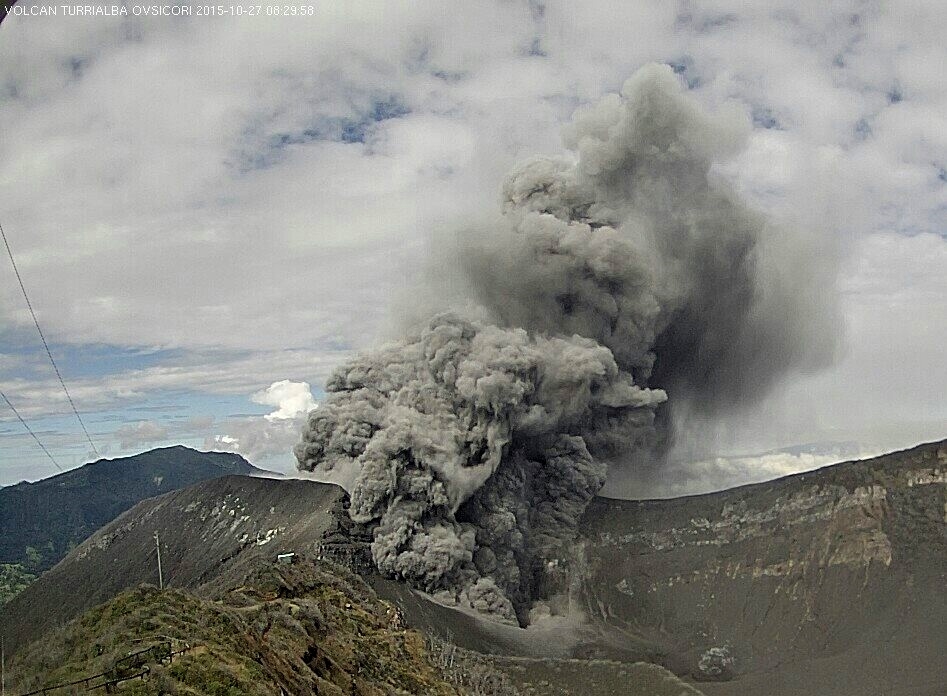 Turrialba is in a phase of intermittent activity since late 2015. However, no eruptions have been recorded since 12 August.
The last activity of the volcano was an passive emanation of gases, which continued for more than four days.
The activity from the volcano mainly affects people living on the periphery of the volcano, experiencing problems such as burning crops, contamination of water sources and oxidation of metal structures because of the fall of volcanic materials and acid rain.
The volcano ejected even significant amounts of ash on previous occasions, affecting visual, dermatological and respiratory health of people and animals.
Source :  LA ESTRELLA
Photo : archive
Fuego , Guatemala :
New Fuego volcano eruption in Guatemala
6 SEPTEMBER 2016. David de Leon, spokesman for the National Coordinator for Disaster Reduction, confirmed that the volcán de Fuego in Guatemala, erupted last night, making 22 eruptions so far in 2016.
On Tuesday night, the volcano, located 50 kilometers west of Guatemala City, erupted and, so far, has only generated weak to moderate explosions. In addition, the column of ash that has caused, moving from west to southwest, was calculated as 4,700 meters above the sea level.
De Leon says that, so far, it has not been necessary for evacuations.
The Fuego volcano of 3,763 meters high and located between the departments of Escuintla, Chimaltenango and Sacatepequez, recorded 14 eruptions in 2015.
It is one of the most active of Guatemala, as is Volcan Santiaguito, located in the western department of Quetzaltenango, and Volcan Pacaya, located in Escuintla.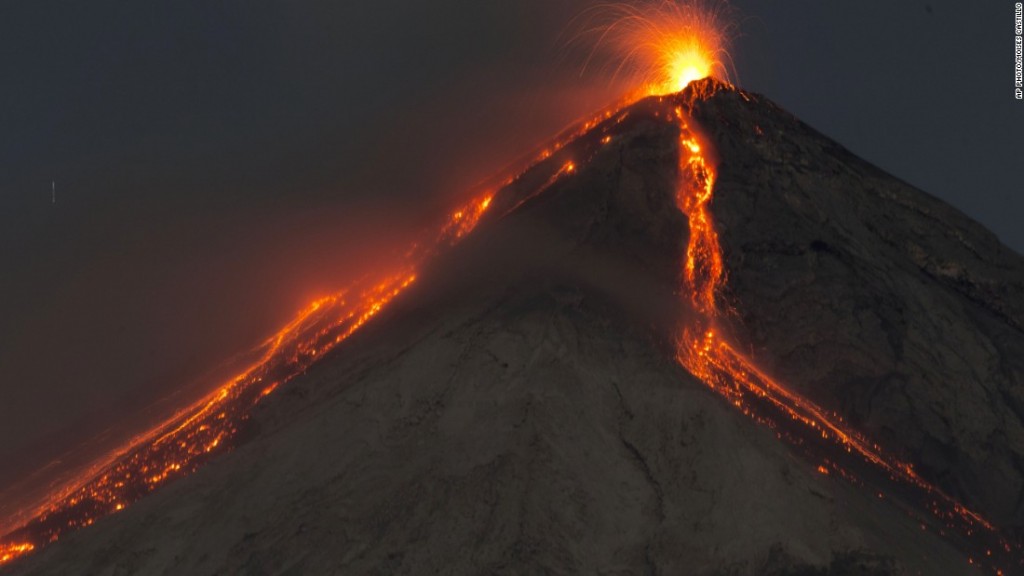 The eruption of the Fuego volcano continued moderately, observing moderate explosions, forming a column of ash 12 kilometers long, with a height of 4500 meters (14.764 feet). Lava flows persist in ravines Las Lajas and Taniluya with a length of 1,200 and 400 meters.
The sounds generated by the impact and shock waves are disappearing, it persists sounds like train locomotive but moderate.
Although the eruption is a downward trend, there is still the likelihood increases, so it is useful to continue taking the necessary precautions.
The INSIVUMEH recommends: A CONRED: keep the level deemed necessary by warning that eruption and to be aware of changes in the activity of the Fuego volcano.
At the Directorate General of Civil Aviation: Take precautions with air traffic in the area of the Fuego volcano, because there are ashes to 4500 meters which spread 12 kilometers west -South West of the complex volcanic.
Sources :  EL NACIONAL ,  Insivumeh .
Photo : M. Castillo
Klyuchevskoy , Kamchatka :
Russia's largest volcano in Far East spews ash
7 SEPTEMBER 2016. The Klyuchevskoy volcano in Russia's Far East has spewed ash twice today, the local department of Russian Academy of Sciences' Geophysical Survey said on Sept. 7.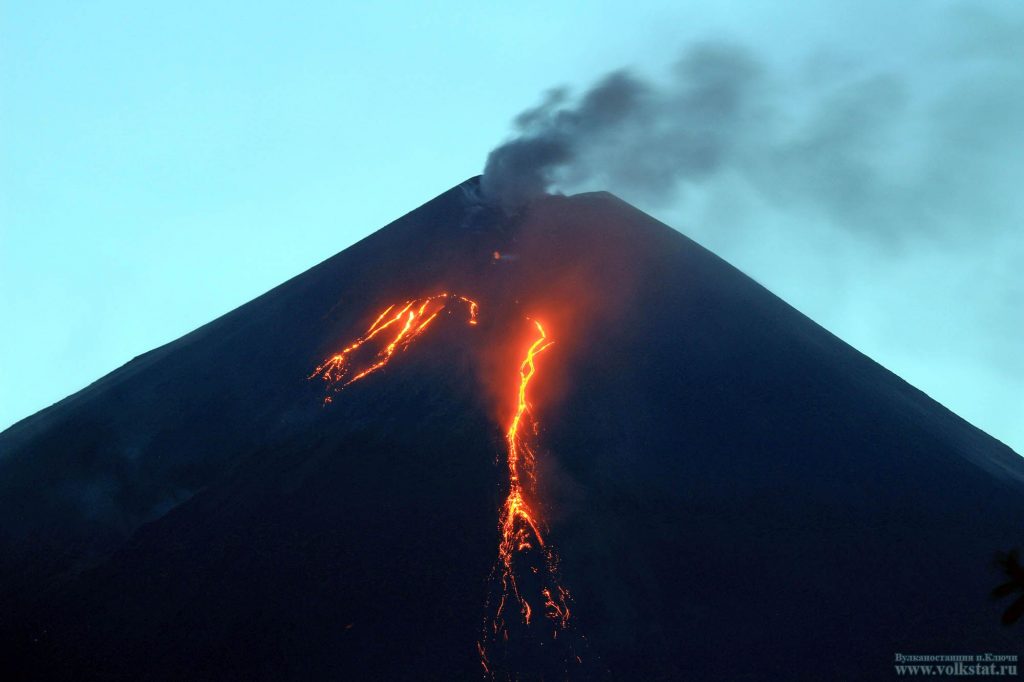 « The volcano spewed ash for the first time at 8 a.m. local time (11 p.m. Moscow time) for eight kilometers in the air, for the second time – at 08:23 a.m. local time for 11 kilometers (6.8 miles) in the air. Volcanic plume is moving eastward, its height is unknown, » a spokesman for the Geophysical Survey said.
The volcano currently continues to spew ash. Geophysicists have assigned the red danger level to the eruption. The volcano is being monitored round-the-clock with seismic stations and cameras. The Russian Emergencies Ministry said there is no threat of ash falls in local settlements.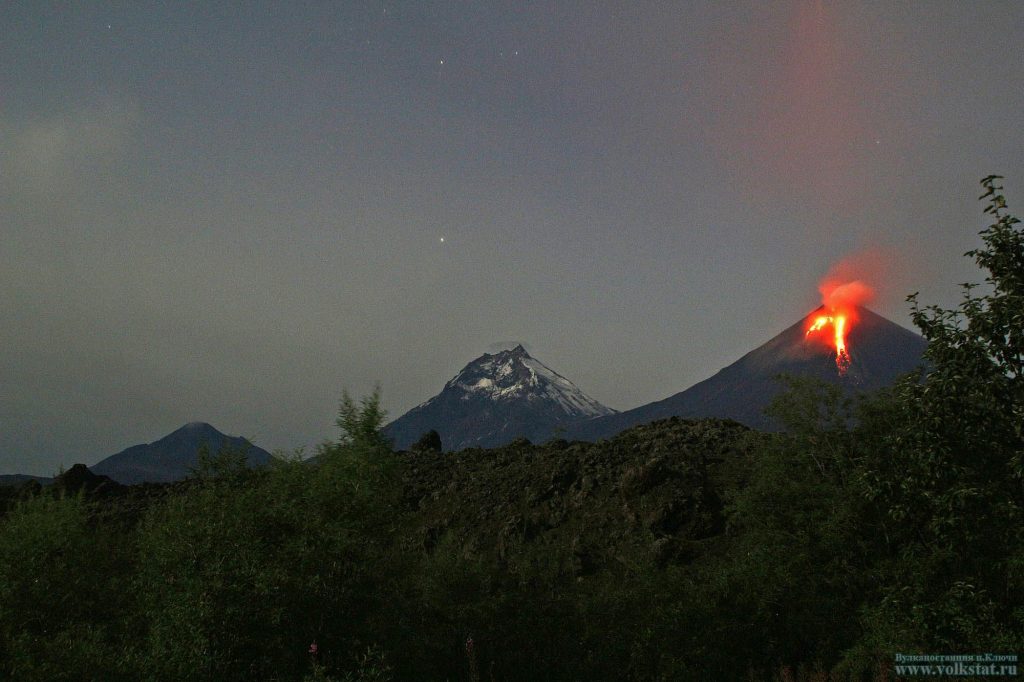 The Klyuchevskoy volcano has been erupting from April. Four lava flows are running down its slopes, and lava is constantly fountaining in its crater. The volcano is located on the territory of the Ust-Kamchatsky district. The nearest settlement is Klyuchi, it is located in 30 kilometers (18.5 miles) from the volcano's foot.
Source :  TASS
Photos : Volkstat ru.
Mayon, Philippines :
MAYON VOLCANO BULLETIN 8 September 2016 8:00 AM
This serves as a notice for the raising of the alert status of Mayon from Alert Level 0 (normal) to Alert Level 1 (abnormal).
Recently, there has been an increase in the monitored parameters of Mayon Volcano, as follows:
Gas Emission: Sulfur Dioxide emission or SO2 flux from Mayon crater based on campaign and continuous gas measurements has consistently increased beyond the baseline level of 500 tonnes/day, exceeding 1,000 tonnes/day in some days, since July 2016. SO2 flux tends to increase through time as magma degasses with increasing rates as it moves up from great depths beneath the volcano.
Ground Deformation: Continuous Global Positioning System and tilt measurements show a continuous inflationary trend since July 2016. Results of Precise leveling and electronic distance surveys on the last week of August 2016 indicate inflation of the edifice, possibly due to magma movement at depth.
Volcanic Earthquake Activity: A total of 146 earthquakes were recorded by Mayon Volcano Observatory seismic network from August 3 to August 6, which were located on the southeast side 10 km away from the volcano. This earthquake swarm likely emanated from rock-fracturing processes that may or may not be associated with magmatic activity. However, seismicity has remained below baseline in the weeks succeeding the swarm.
Other observations: Four of the 14 monitored water wells located on the southeastern side of Mayon are experiencing decrease in water discharge while one well has dried-up. Steaming activity from the crater has ranged from weak to moderate. No crater glow or banaag has been observed so far.
In view of the above, PHIVOLCS-DOST is now raising the alert status of Mayon from Alert Level 0 to Alert Level 1. This means that it is at an abnormal condition and has entered a period of unrest. The public is reminded to avoid entry into the 6-km Permanent Danger Zone or PDZ due to perennial hazards of rockfalls, avalanches, ash puffs and sudden steam-driven or phreatic eruption at the summit area which may occur without warning.
Source : Phivolcs.
Photo : Sinjin Pindeda