September 02 , 2016. EN. Misti , Stromboli , Nishinoshima , Yellowstone .
September 02, 2016.
Misti , Perou :
Volcano-tectonic monitoring:
VT type Earthquakes are the result of fracturing of the rock inside the volcano and their activity during this period increased by 6% compared to the previous period. Their average daily occurrence rate rose from 16 to 17 VT per day, that because of the appearance of a small swarm of 59VT , on August 21
Such events are located below the main crater at depths  between 0.6 km and 3 km from the peak of the volcano.
The VT event of greater magnitude of this period took place on August 22 at 19: 30 hl (local time) with a magnitude of 1.8 ML (ML = local magnitude), and was located 1.6 km under the main crater.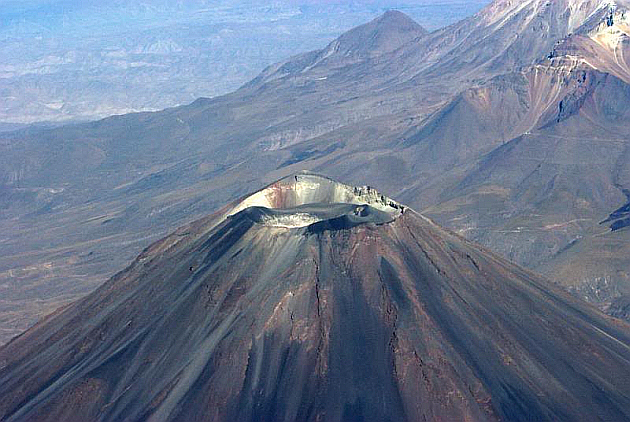 Regarding the type of LP earthquakes associated with fluid dynamics (gas and steam), they continue to show low levels of activity. Their average daily occurrence rate is less than 5 LP per day, and their energy is less than 1 MJ (MJ = megajoules).
In addition, the activity of Tremor decreased to 26% compared to the previous period.
Most activities type Tremor  took place on August 3, with eight representative cases. These events were characterized by their consistence over time (<10 minutes) and their low power (<1 MJ).
Regarding the evolution of the daily total seismic energy associated with the total activity of the Misti volcano, it was not observed wide variation and it remained low.
In short, the activity of the volcano Misti continues to show low levels (NORMAL).
This activity is associated with rock fracturing process (VT) and to a lesser extent, in events related to fluid dynamics (LP and Tremor).

Satellite Surveillance:
Thermal anomalies: The Mirova system (www.mirova.unito.it) of the University of Torino (Italy) has not detected thermal anomalies of the Misti volcano for the month of August.
Abnormalities of SO2:
The GSDM NASA–satellite system (http://so2.gsfc.nasa.gov/) « EOS Aura » has not identified gas density anomalies of SO2 (magmatic gases) for the month of 'August on the Misti volcano.
Source : IGP
Stromboli , Aeolian Islands ,Italy :
38.789°N, 15.213°E
Elevation 924 m
INGV reported that although unfavorable weather conditions often obscured views of the active vents at Stromboli during 16-22 August, some of the hourly explosions were recorded by a webcam. Explosions mainly occurred from two vents in the S part of the crater and one vent in the N part. Low-to-medium intensity explosions from the N vent ejected coarse material mixed with ash.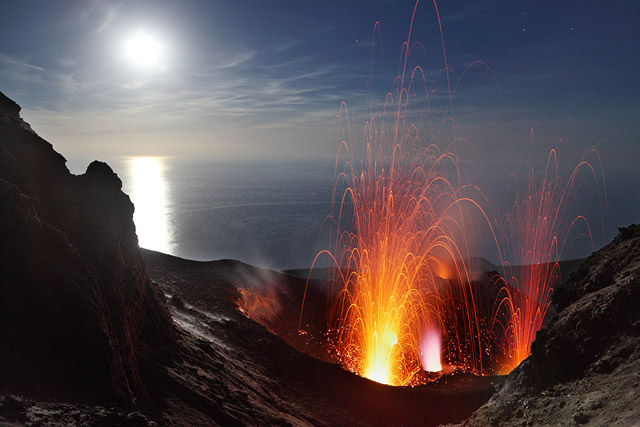 The S vents were variably active, with some explosions ejecting coarse material tens of meters above the crater rim. The report noted that the rate of explosions, geochemistry, and seismicity were all at low, normal levels for Stromboli, with the exception of an increased number and intensity of very-long-period earthquakes on 22 August.
Source: GVP , Sezione di Catania – Osservatorio Etneo (INGV)
Photo : Martin Rietze.
Nishinoshima , Japan :
27.247°N, 140.874°E
Elevation 25 m
JMA reported that no additional activity was observed after the 17 November 2015 eruption at Nishinoshima, which ejected bombs a few meters in diameter as far as 1 km from the vent, suggesting the eruption had stopped sometime in late November. Gas emissions decreased in June 2016.
High-temperature areas around the crater continued to be detected. JMA reduced the warning statement for the island, specifying hazards were less severe "around the crater" (encompassing areas within 500 m), rather than more broadly "near the crater".
Source: Japan Meteorological Agency (JMA)
Photo : Japanese coast Guard
Yellowstone, United-States :
44°25'48 » N 110°40'12 » W,
Summit Elevation 9203 ft (2805 m)
Current Volcano Alert Level: NORMAL
Current Aviation Color Code: GREEN
Seismicity
During August 2016, the University of Utah Seismograph Stations, responsible for the operation and analysis of the Yellowstone Seismic Network, reports 34 earthquakes were located in the Yellowstone National Park (YNP) region. The largest event was a micro earthquake of magnitude 2.1 on August 3, 05:47 AM MDT, located 7 miles north northwest of Lake, WY.
August seismicity did not include any notable earthquake swarms. Seismic activity is at normal background levels.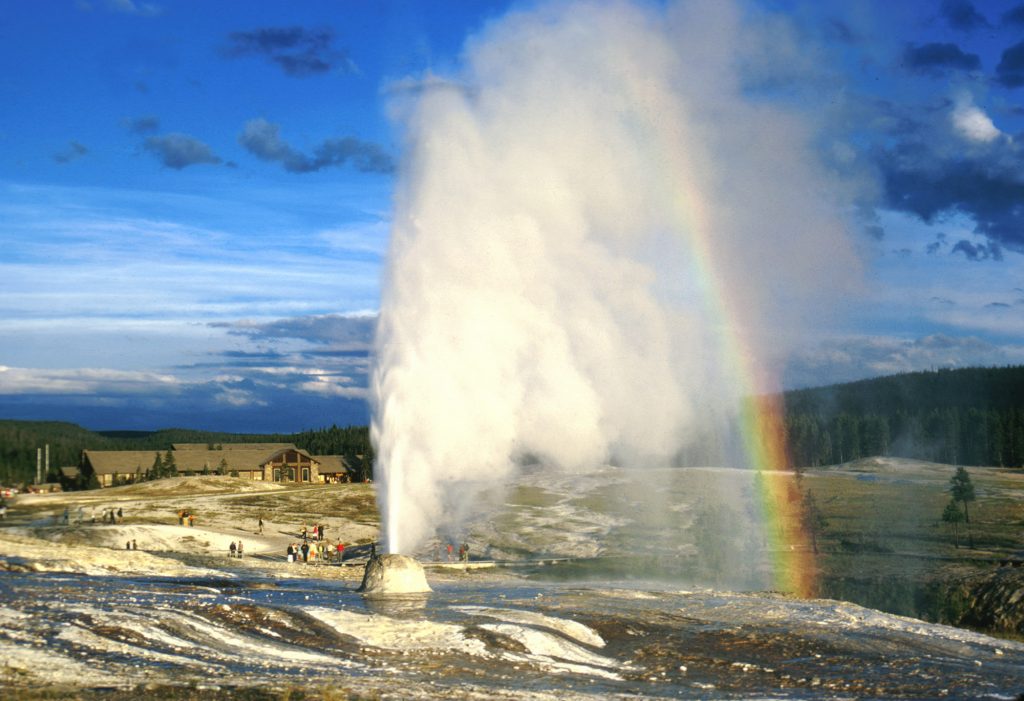 Ground deformation
Uplift at the Norris GPS station (NRWY), which began in early 2016, continues at a rate of ~5 cm/yr. Caldera GPS stations continue to record slow subsidence at a rate of ~1.5 cm/yr.
Current deformation patterns at Yellowstone remain within historical norms.
An example of GPS data can be found at http://www.unavco.org/instrumentation/networks/status/pbo/data/WLWY (click on Static Plots / Time Series)
The Yellowstone Volcano Observatory (YVO) provides long-term monitoring of volcanic and earthquake activity in the Yellowstone National Park region. Yellowstone is the site of the largest and most diverse collection of natural thermal features in the world and the first National Park. YVO is one of the five USGS Volcano Observatories that monitor volcanoes within the United States for science and public safety.
Source : YVO
Photo : wanderertips.com