July 27 , 2016. EN. Kilauea , Fuego , Popocatepetl , Soufrière Hills .
July 27 , 2016.
Kilauea , Hawai :
19°25'16 » N 155°17'13 » W,
Summit Elevation 4091 ft (1247 m)
Current Volcano Alert Level: WATCH
Current Aviation Color Code: ORANGE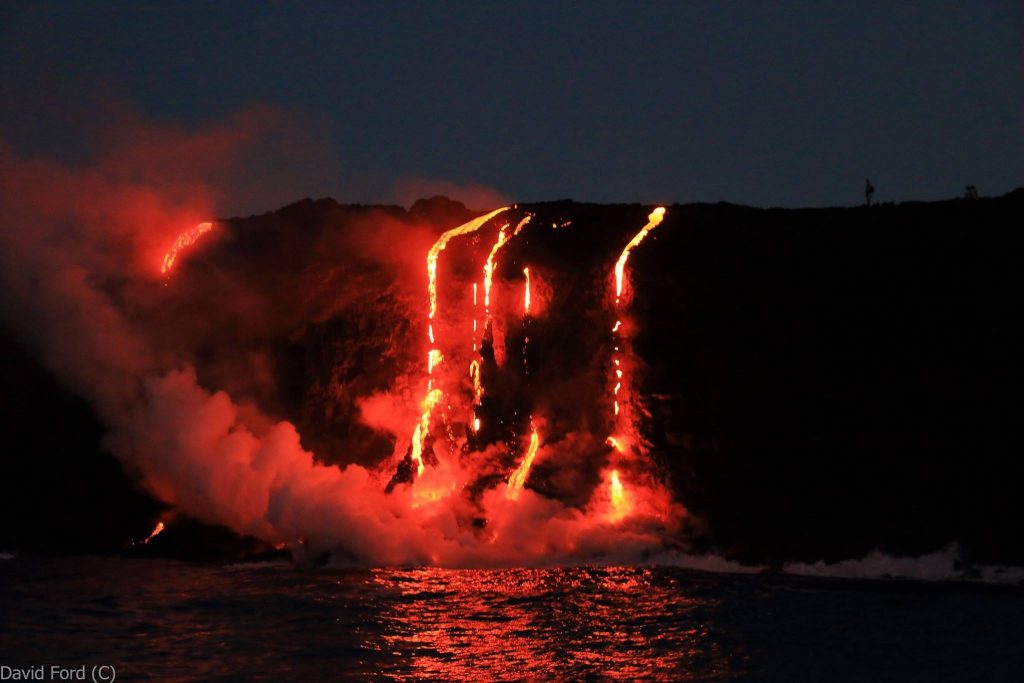 Activity Summary:
Eruptive activity continues at Kilauea Volcano's summit and East Rift Zone. The 61G lava flow extending southeast of Pu'u 'O'ō entered the ocean, as of 1:12 a.m. HST, but poses no threat to nearby communities. The lava lake at Halema'uma'u Crater continues to circulate and intermittently spatter. Seismicity and deformation rates throughout the volcano remain at background levels.
Summit Observations:
The lava lake within the Halema'uma'u Overlook crater remains active. The depth to the lake was estimated at 25.5 m (84 ft) below the crater rim, measured on Sunday. Tiltmeters at Kilauea's summit recorded flat tilt. Seismicity is within normal, background rates with tremor fluctuations associated with lava lake spattering. The summit sulfur dioxide emission rate ranged from 2,400 to 5,000 metric tons/day.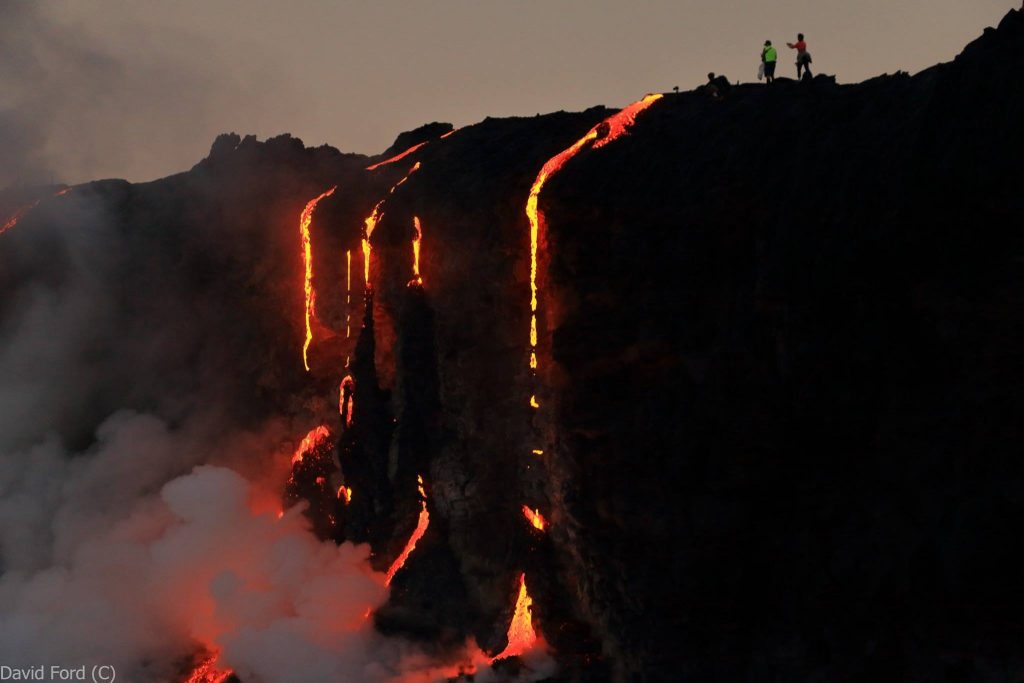 Pu'u 'O'ō Observations:
Webcam images over the past 24 hours show persistent glow at long-term sources within the crater. There were no significant changes in seismicity or tilt over the past 24 hours. The sulfur dioxide emission rate from all East Rift Zone vents on July 25 was about 280 metric tons/day.
Lava Flow Observations:
The 61G lava flow extending southeast of Pu'u 'O'ō towards the coastal plain on Kilauea's south flank remains active. The flow reached the coastal road for emergency access on July 25 at 3:20 p.m. local, and crossed it in 30 minutes. At 16h, the lava front was about 110 meters from the ocean. The 61G lava flow extending southeast of Pu'u 'O'ō entered the ocean, as of as of 1:12 a.m. HST, last night. Areas of incandescence remain visible in overnight webcam views of the active lava flow field, marking lava tube skylights and areas of active lava on the pali and along the flow as it extends towards the coast.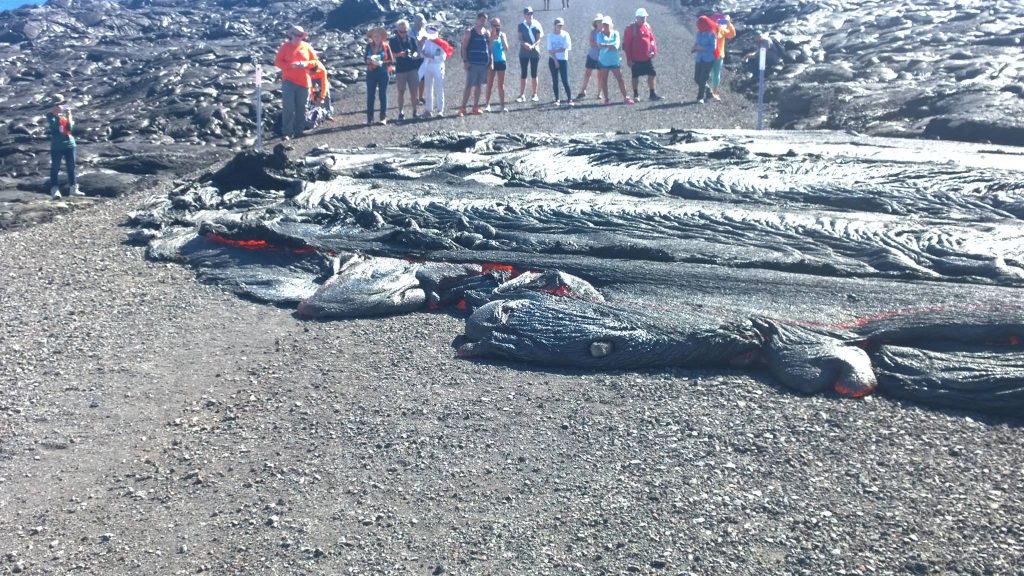 As a strong caution to visitors viewing the new ocean entry (location where lava meets the sea) for Flow 61G, there are additional significant hazards besides walking on uneven surfaces and around unstable, extremely steep sea cliffs. Venturing too close to an ocean entry exposes you to flying debris created by the explosive interaction between lava and water. Also, the new land created is unstable because it is built on unconsolidated lava fragments and sand. This loose material can easily be eroded away by surf causing the new land to become unsupported and slide into the sea. Finally, the interaction of lava with the ocean creates an acidic plume laden with fine volcanic particles that can irritate the skin, eyes, and lungs.
Source : HVO
Photos : David Ford .
Fuego , Guatemala :
Activity type : vulcanian
Morphology : composite Stratovolcano
Geographical location: 14 ° 28'54 « N Latitude; 90 ° 52'54«  W. Longitude
Altitude: 3,763msnm.
Conditions: Clear
Wind: Southeast 2 kmh
Precipitation: —- mm.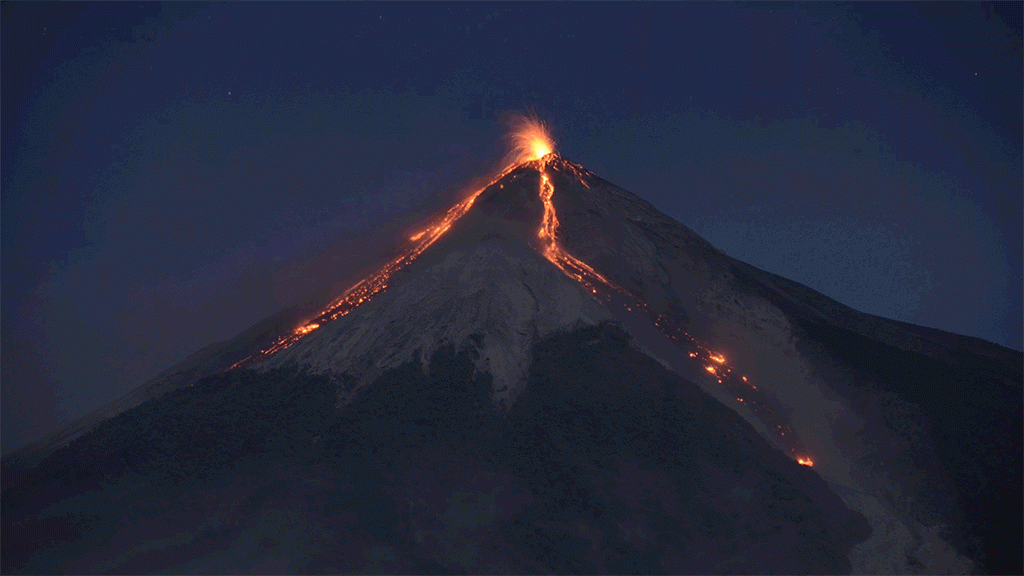 Activity:
The volcanic complex has a white degassing at a height of about 4,100 m (13.451 ft) which is dispersed in a southwest direction. 39 explosions were reported of which 30 are low and 9 moderate , emitting a gray column to a height of between 4,300 and 4,700 meters (14.108 and 15.420 ft), dispersing towards the West–Southwest on a distance of about 8 / 10 kilometers. Some of these explosions generated glowing pulses at a height of between 150 and 200 meters above the crater rim, which sometimes produces avalanches of blocks up to the edge of the vegetation.
Rumblings are reported generating shock waves and produce sounds similar to locomotive train and aircraft engines in permanence .
It was formed two lava flows, the first into the ravine of Santa Teresa with a length between 400 and 500 meters and the second in the Barranca Las Lajas with an approximate length of 200 meters.
Source : Insivumeh
Photo : Santiago.billy
Popocatepetl , Mexico :
July 26, 11:00 h (July 26, 16:00 GMT)
In the last 24 hours the seismic records of the surveillance system at Popocatépetl volcano registered 148 low-intensity exhalations. Also, were recorded two explosions, the first occurred yesterday at 11:30 am and the second occurred at 15:13 pm, respectively.
Yesterday was observed the continuous emission of steam and gas . In addition, during the night was observed incandescence over the crater, increasing with some exhalations .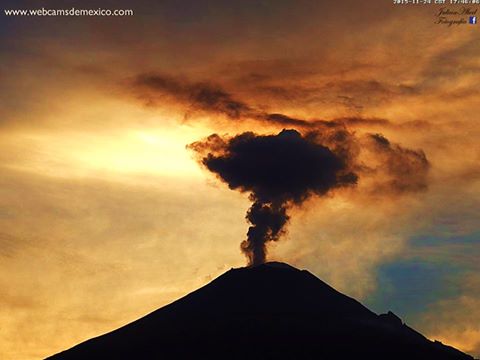 Yesterday were recorded one event of type VT, was occurred at 20:44 pm with a magnitude of 1.9.
Finally, yesterday they were recorded 36 minutes of low amplitude harmonic tremor.
At the time of this report is observed the continuous emission of steam and gas .
CENAPRED emphasizes that people SHOULD NOT go near the volcano, especially near the crater, due to the hazard caused by ballistic fragments ).
This type of activity is included within the scenarios Volcanic Traffic Light Yellow Phase 2.
Source : Cenapred
Photo : Webcamdemexico ( archives).
Soufrière Hills , Montserrat :
Weekly Report for the Period 15 to 22 July 2016
Activity at the Soufrière Hills Volcano remains low.
The seismic network recorded two volcano-tectonic earthquakes this week.
Sulphur-dioxide measurements were not possible during the reporting period.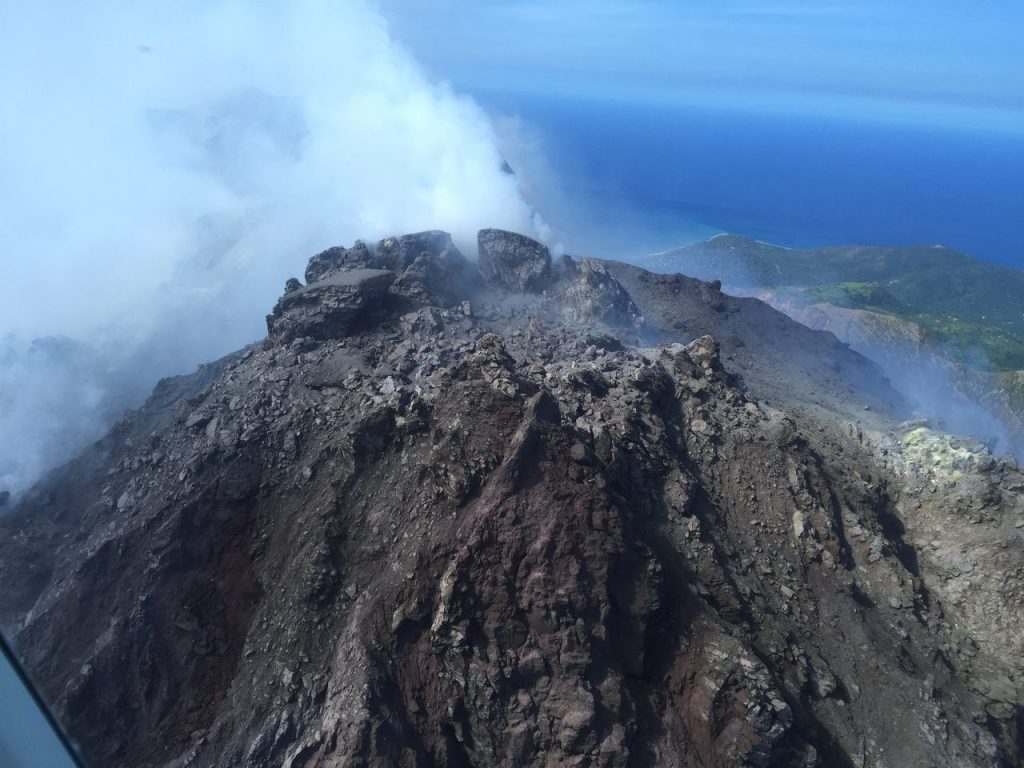 Pyroclastic flows can occur at any time without warning on any side of the volcano, including Gages from where they can travel rapidly into Plymouth. Tracks across the Belham valley are frequently destroyed or heavily modified by flash flooding or lahars, and caution should be exercised crossing the valley during and after rainfall.
Source : MVO
Photo : Steve, Caribbean Helicopters.