July 22 , 2016. EN. Etna , Popocatepetl , Nevado Del Huila , Klyuchevskoy .
July 22 , 2016.
Etna , Sicily :
The volcano is calm on the surface, but is agitated. Its internal seismic activity continues to be higher, and normal gas emissions and SO2 emissions have increased slightly recently (approx. 7,000 tons / day), which may indicate an inflow of fresh magma.

In recent hours, small ash emissions flashes from the lateral crater on the New Southeast Crater of Etna occur. Also heard rumblings in the area (information not check). Clear signals of a new magma rise within the conduit.
Also, sometimes, small puffs of ash and emissions of pulsating gas were observed in New Southeast Crater since July 10. They are likely signs of a deep explosive activity (degassing of a magma column inside the conduit). Volcanic tremor remains stable at present, with no clear trend, but that can change quickly.
Source : T Pfeiffer ( volcanodiscovery), Michele Mammino.
Photo : Michele Mammino.
Popocatepetl , Mexico :
July 21, 11:00 h (July 21, 16:00 GMT)
In the last 24 hours the monitoring system at Popocatépetl volcano registered 157 low-intensity exhalations along with emissions of steam and gas, and ocasionally small amounts of ash .
Aditionally, two volcanotectonic seisms were detected, which ocurred yesterdat at 19h13 (Mc 2.2) and 21h45  (Mc 1.8), as well as 110 minutes of low-amplitude tremor.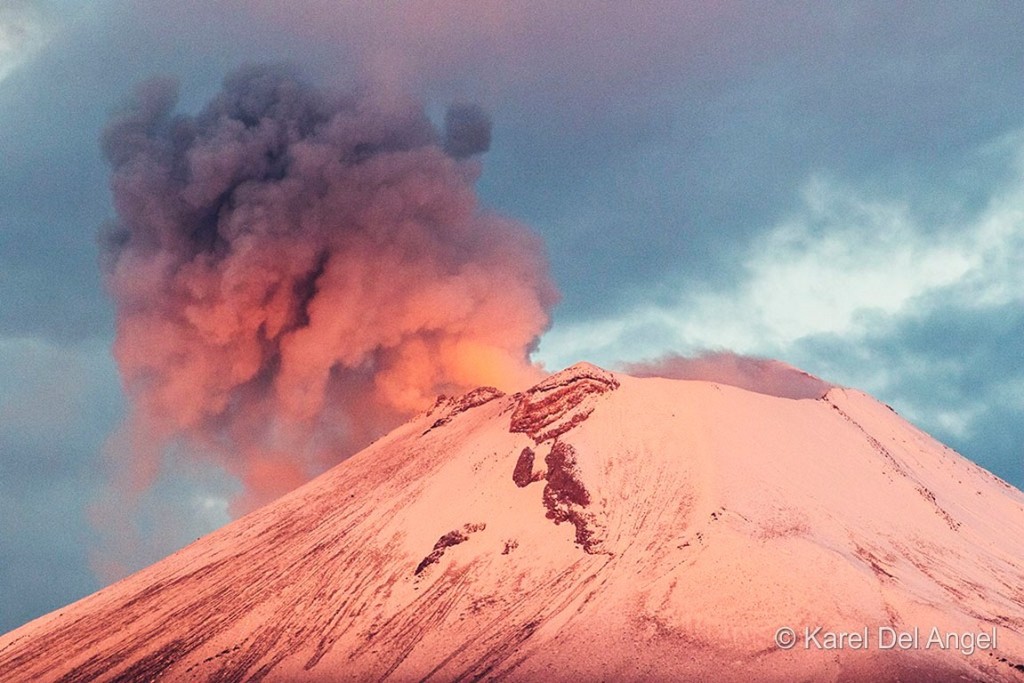 During the night, incandescence could be seen above the crater ocasionally.
At the time of this report there is no visibility towards the volcano, but earlier this morning it could be seen with a continuous plume of steam carried by the winds towards the west-northwest .
Other monitoring parameters remained unchanged.
CENAPRED emphasizes that people SHOULD NOT go near the volcano, especially near the crater, due to the hazard caused by ballistic fragments .
This type of activity is included within the scenarios Volcanic Traffic Light Yellow Phase 2.
Source : Cenapred .
Photo : Karel Del Angel
Nevado Del Huila , Colombia :
Subject: Weekly Bulletin of volcanic activity of the volcano Nevado del Huila
The level of activity of the volcano continues at:
Activity level Amarillo or (III): changes in the behavior of volcanic activity.
Analysis and evaluation of information obtained by the volcano monitoring network of Nevado del Huila, during the week between 13 and 19 July 2016 ; the Colombian Geological Service – Volcano Observatory and Seismological of Popayan reports:
During the period evaluated 114 seismic events were recorded, of which 63 were related to rock fracturing process (type VT) and 51 to fluid dynamics in volcanic conduits. Of these, 50 were classified as long-period events (type LP) and one (1) as a pulse of volcanic Tremor also at low energy (TR type).

On the images obtained by cameras from Tafxnú, Maravillas, Caloto, La Palma and Verdun, the degassing process of the volcanic system was observed. The gas emission column were characterized by white color.
On July 18, a mobile measuring of SO2 flux between the populations of Tunía and Santander de Quilichao (Cauca) was performed. The flow rate was calculated at 607t / day, with a dispersion to the northwest side of the Nevado del Huila volcano.
The basic control techniques sensors of deformation , magnetic and acoustic sensors, recorded no changes associated with volcanic activity.
Therefore, it is concluded that during the evaluation period, the volcano continued to show stable behavior.
The Colombian Geological Service continues to be alert and report timely to the changes that may occur.
Source : SGC / Popayan
Klyuchevskoy , Kamchatka :
56.06 N, 160.64 E;
Elevation 15580 ft (4750 m)
Aviation Color Code is ORANGE
Explosive-effusive eruption of the volcano continues. Ash explosions up to 19,700-26,240 ft (6-8 km) a.s.l. could occur at any time. Ongoing activity could affect international and low-flying aircraft.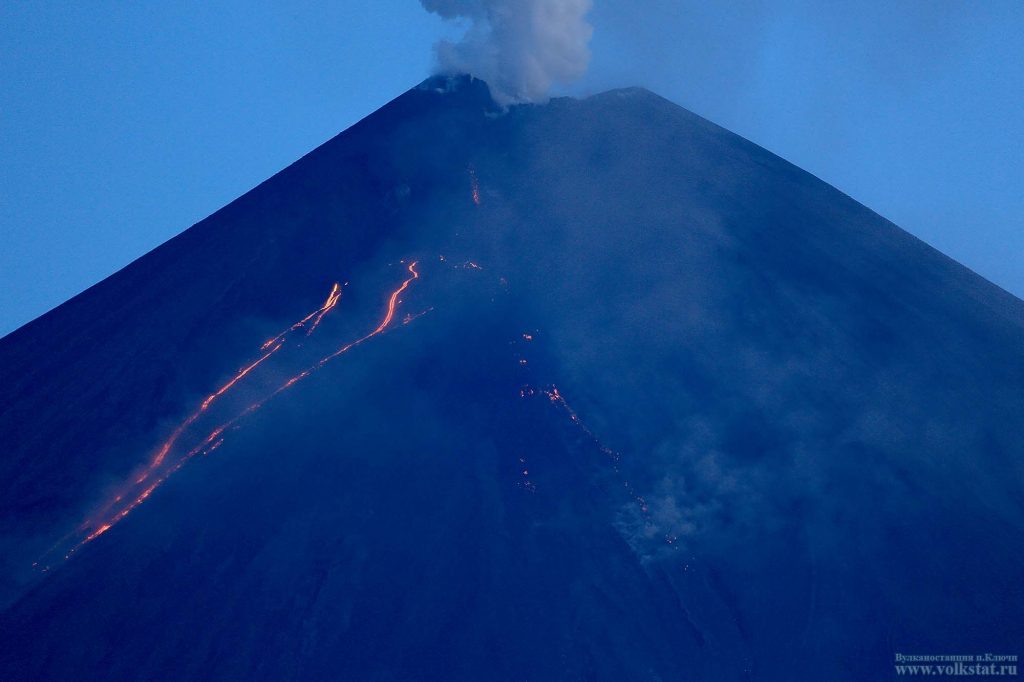 Explosive-effusive eruption of the volcano continues: there are bursts of volcanic bombs to 200-300 m above the summit crater and up to 50 m above the cinder cone into Apakhonchich chute, and strong gas-steam activity of two volcanic centers with emission of different amounts of ash, and the effusing of lava flows along Apakhonchich chute at the south-eastern flank of the volcano. According to satellite data by KVERT, a large bright thermal anomaly in the area of the volcano was observed all week, ash plumes drifted for about 267 km to the southwest and west from the volcano on 18-19 July.
Source : Kvert.
Photo : I.Borisov