July 20 , 2016. EN. Gamalama , Kilauea , Pavlof .
July 20 , 2016.
Gamalama , Indonesia :
Volcanic Activity Increases on Mount Gamalama .
20 JULY 2016. Volcanic activity on Mount Gamalama in Ternate, North Maluku Province has been reported increasing during the last two days, an official said. Head of Mount Gamalama Observation Post Darno Lamane said here on Tuesday that the post, located in Sangaji Puncak Village, North Ternate, has been recording an increased amplitude of volcanic tremors, which varied from 1.5mm to 8mm.
« It was due to activity on the surface of the Mount Gamalama crater, » Lamane said. The frequent tremors and its increasing amplitude may indicated a possible eruption on the near-conical volcano, which comprises the entire Ternate Island. On Saturday, the volcano was observed to spew a plume of smoke 200 meters into the air.
The volcano alert has been set at the level II status. The volcano observation officers will continue to maintain communications with the local authorities and residents on the status of the volcano. « Resident of Ternate are urged not to perform any activities within a 1.5km radius of the peak, » Lamane said.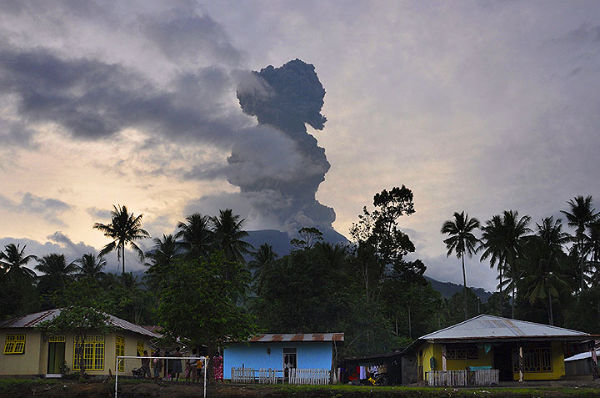 Mount Gamalama erupted in December 2014, disrupting economic activities in Ternate and forcing air authorities to close Babullah Airport for two weeks due to the thick volcanic ash. In July 2015, the volcano erupted again, spewing dark clouds of volcanic ash some 1,500 meters into the sky.
Source : Tempo
Photos : 80 Jours Voyage , Tempo.
Kilauea , Hawai :
19°25'16 » N 155°17'13 » W,
Summit Elevation 4091 ft (1247 m)
Current Volcano Alert Level: WATCH
Current Aviation Color Code: ORANGE
Activity Summary:
Eruptions continue at Kilauea Volcano's summit and East Rift Zone. The 61G lava flow extending southeast of Pu'u 'O'o towards the ocean remains active but poses no threat to nearby communities. As of early last evening, the flow tip was stalled about 820 m (0.5 miles) from the ocean. The lava lake at Halema'uma'u Crater continues to circulate, intermittently spatter, and emit a vigorous plume of volcanic gas.
.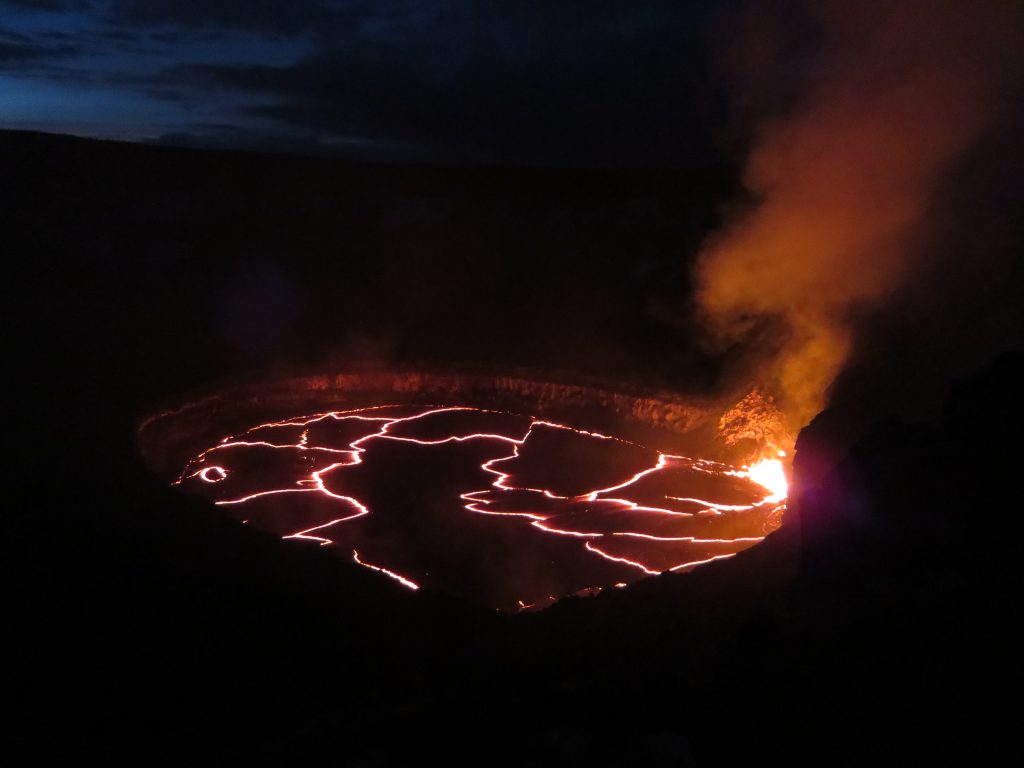 Summit Observations:
Tiltmeters at the summit of Kilauea recorded recorded slight inflationary tilt over the past day. On Monday morning, the lava lake at Halema'uma'u was 25.5 meters (84 feet) below the floor of Halema'uma'u. Based on analysis of web camera images, the level has changed little overnight. HVO seismometers continue to record typical fluctuations in seismic tremor in response to changes in the vigor of lava lake circulation and spattering. Sulfur dioxide emissions from the summit vent over the past week during good trade wind conditions ranged from 3,700 to 7,300 metric tons/day.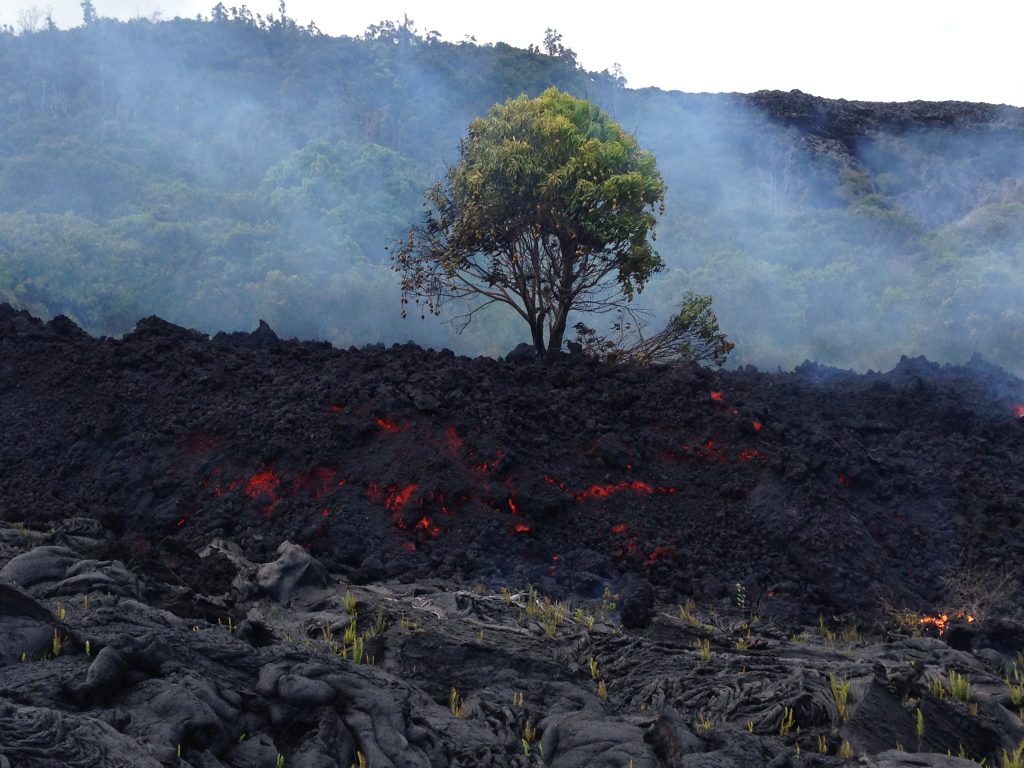 Pu'u 'O'o Observations:
HVO webcams show several persistent incandescent vents on the floor of Pu'u 'O'o crater. There were no significant changes in seismicity or tilt over the past 24 hours. The sulfur dioxide emission rate from all East Rift Zone vents on July 15 was about 270 metric tons/day.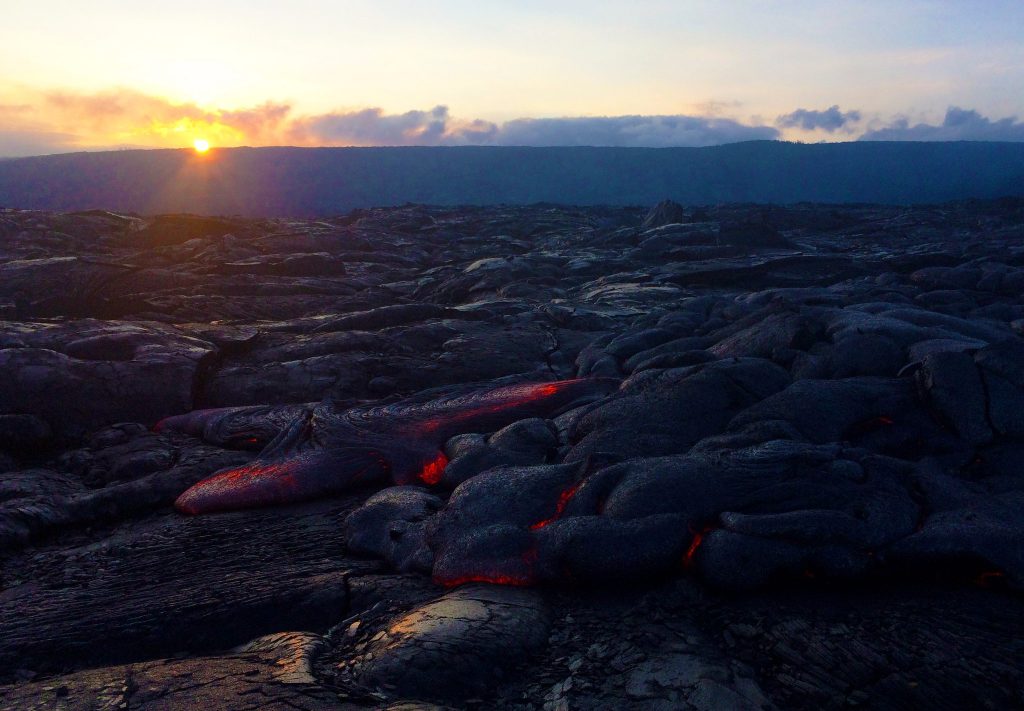 Lava Flow Observations:
The 61G lava flow extending southeast of Pu'u 'O'o towards the coastal plain on Kilauea's south flank remains active. On Monday evening, the flow tip was inactive but breakouts were active within a few hundred meters (yards) upslope. A satellite image from Saturday July 17 indicates the lava flow front was approximately 680 m (0.4 miles) from the coastal emergency road and 820 m (0.5 miles) from the ocean. Areas of incandescence remain visible in overnight webcam views of the active lava flow field, marking lava tube skylights and areas of active lava on the pali and along the flow as it extends towards the coast.
An HVO field crew will overfly the entire flow field today to evaluate activity.
*Pali :
Hawaiian term for cliff or precipice.
Source : HVO
Photos : HVO , Kilauea guides.
Pavlof , Alaska :
55°25'2″ N 161°53'37 » W,
Summit Elevation 8261 ft (2518 m)
Current Volcano Alert Level: ADVISORY
Current Aviation Color Code: YELLOW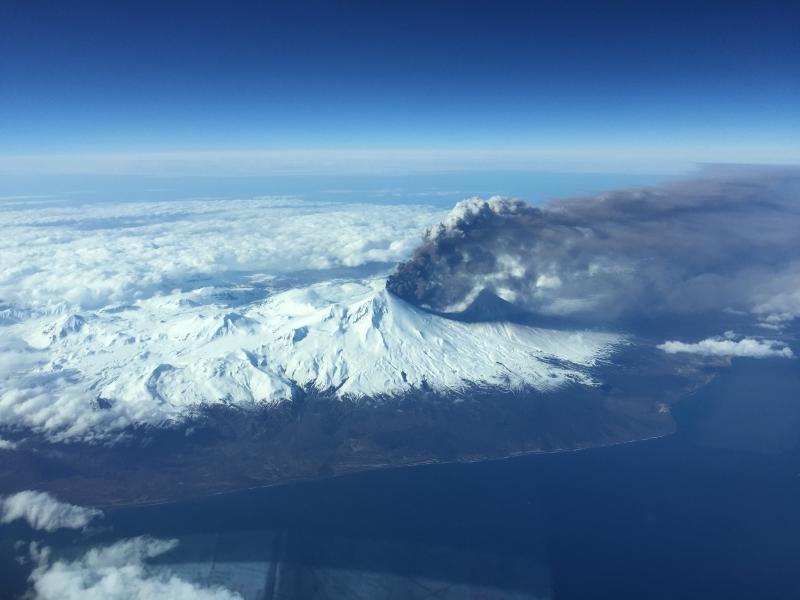 The level of seismic activity remains above background at Pavlof Volcano and with tremor pulses observed over the past 24 hours. A persistent steam plume was detected in satellite views with occasional minor ash producing explosions. Continued small, occasional ash bursts to heights of several km may be occurring through this period of elevated activity.
Source : AVO
Photo : Caporn, Robert ( Mars 2016.)