July 19 , 2016. EN. Sinabung , Sabancaya , Klyuchevskoy , Reventador .
July 19 , 2016.
Sinabung , Indonésia :
Alert level of Sinabung volcano : AWAS (the highest )
Dated July 19, 2016 6:40 p.m., an eruption occurred with a high column of ash 2,000 meters, the wind was calm. Amplitude: 49 mm, time: 101 seconds.
Activity reports of the Sinabung volcano.
July 19, 2016, from 0:00 to 6:00
I. visual:
Weather: overcast sky / cloudy, calm winds, air temperature 16-18 ° C, the volcano is shrouded in mist. A white smoke, thin, 300 meters high is noted. It has been observed lava down to 1000-1500 meters to the east–southeast.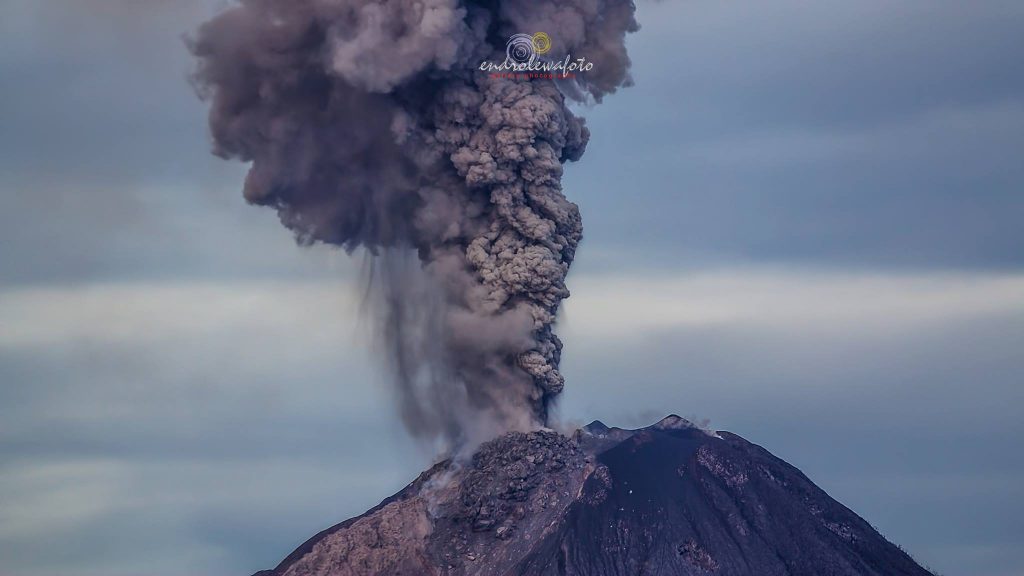 II. seismic:
23 avalanches : amplitudes: from 3 to 89 mm, length: 30 to 341 seconds.
13 earthquakes LF: : amplitudes: from 3 to 14 mm, length: 13 to 58 seconds.
1 earthquake HYB: amplitude: 7mm, Length: 9 seconds.
1 earthquake VA: amplitude: 9 mm Length: 25 seconds.
III. Activity level:
the level of activity of Sinabung volcano is at LEVEL IV (AWAS)
Recommendation:
Communities and visitors / tourists should not carry out any activities in a radius of 3 km around the top, 7 km in the South-Eastern sector, less than 6 km in the South-East sector and less than 4 km in the North.
And people who live near the rivers flowing from Mount Sinabung must stay in alert to the threat of lahars.
Source : Pvmbg Cvghm
Photo : Endro Lewa
Sabancaya , Peru :
Seismic activity:
HIB type of events (associated with hydrothermal fluid movements), continue to occur but declined, averaging 03 HIB / day, while in the previous period (June 14 to 30) it was recorded 06 HIB / day. The first week of this period shows a slight increase (1 to 4 July), which has been subsequently significantly reduced. On the other hand, energy is maintained at a low level.
LP type Earthquakes (associated with volcanic fluid passage) show an increase for the period, with an average of 29 LP / day (Report 22: 23 LP / day) for that period. The energy of LPs events shows a peak of 6 MJ, recorded on July 11. However, the energy levels are low.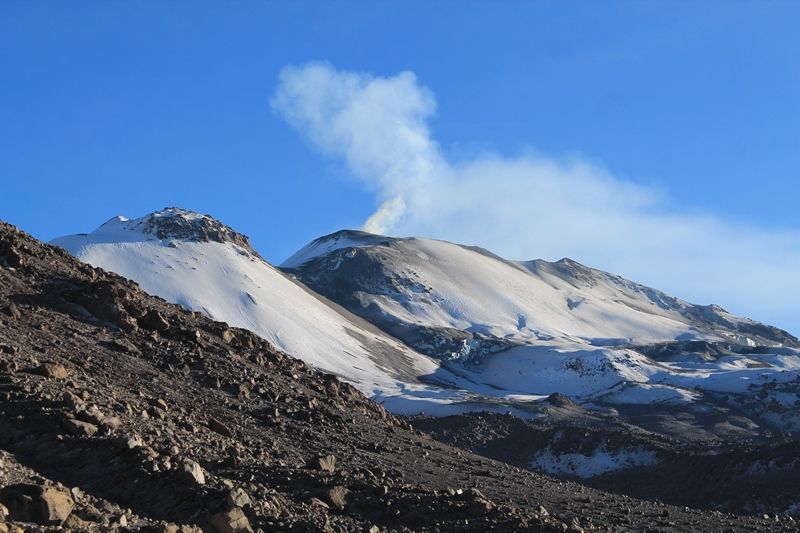 Earthquakes of types VTPS (proximal–Tectonic Volcano, located less than 6 km from the crater), maintain their low occurrence rates. During this last period, there was an average of 3 VTP / day, similar to that recorded in the previous period (June 14 to 30). The maximum magnitude was 2.9 ML (local magnitude).
Tremor type of events (TRE) experienced an increase in their average rate, rising to 24 TRE / day, while in the previous period it was registered 19 TRE / day. A large peak of 51 TRE is observed on July 15. Furthermore, energy is low.

The events volcano-tectonic Distals type (EDV) located and traced, recorded a total of 155 earthquakes. These events continue to be primarily located 9 km southeast of the city of Maca (14 km northeast of the crater of the Sabancaya). This seismic focus remains active in the area since the second week of February 2016. Of these, there were 3 events of 3.2 M, to a depth of 11 to 14 km. These events were recorded respectively on 03 and 13 July. In the case of the VTPS events (proximal , <6 km from Sabancaya) they are present in reduced number for that period. He highlighted two events of magnitude 2.9 M and 2.7 M, which were recorded on 12 and 17 June, respectively, with 10 km of depth.

SO2 anomalies: The GSDM NASA–satellite system « EOS Aura » (Http://so2.gsfc.nasa.gov/) shows no significant value in the density of SO2.
Thermal anomalies: The Mirova system (www.mirovaweb.it) has not detected thermal anomalies on the Sabancaya during this period.

Source : IGP
Klyuchevskoy , Kamchatka :
PETROPAVLOVSK-KAMCHATSKY, July 18 . The Klyuchevskoy volcano in Russia's Far Eastern Kamchatka Peninsula sent ash to the height of 6 kilometers above the sea level on Monday, a representative with the Kamchatka affiliate of the Geophysical Service of the Russian Academy of Sciences told TASS.
« The height of an ash cloud sent by the Klyuchevskoy volcano reached the height of 6 km above the sea level. The plume spread across 30 km to the south-east, » the official said.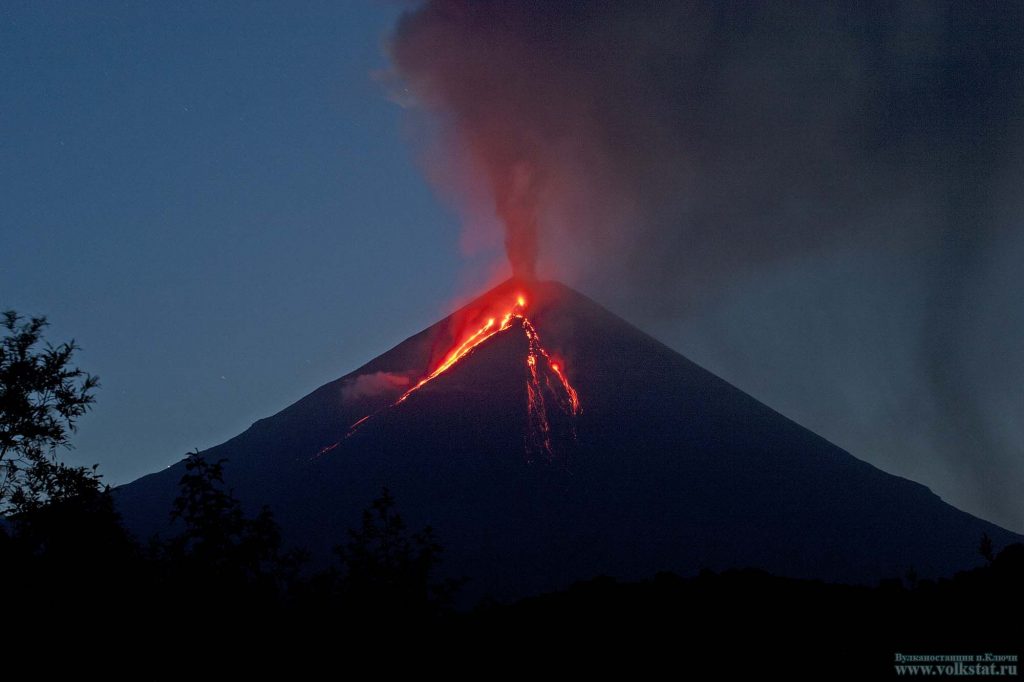 There are no settlements on the way of the ash cloud.
Earlier the local department of the Emergency Situations Ministry sent a warning to tourist companies recommending them to change the routes of tourists due to a threat of an ash shower.
There have been eruptions of the Klyuchevskoy volcano (4,750 m) since April 2016. Periodically ash clouds form on the volcano and lava flow occurred in the crater. The south-eastern slope of the volcano has a breakthrough allowing three lava flows.
Source : Tass ru.
Photo : I.Borisov
Reventador , Ecuador :

Monday, July 18, 2016
SUMMARY OF THE ACTIVITIES OF VOLCANO
The volcano is maintained with high eruptive activity.
During last night, a night glow was observed in the crater.
Today, the volcano at dawn, was observed with a light emission of gases and water vapor to the northwest. After these observations it darkened again.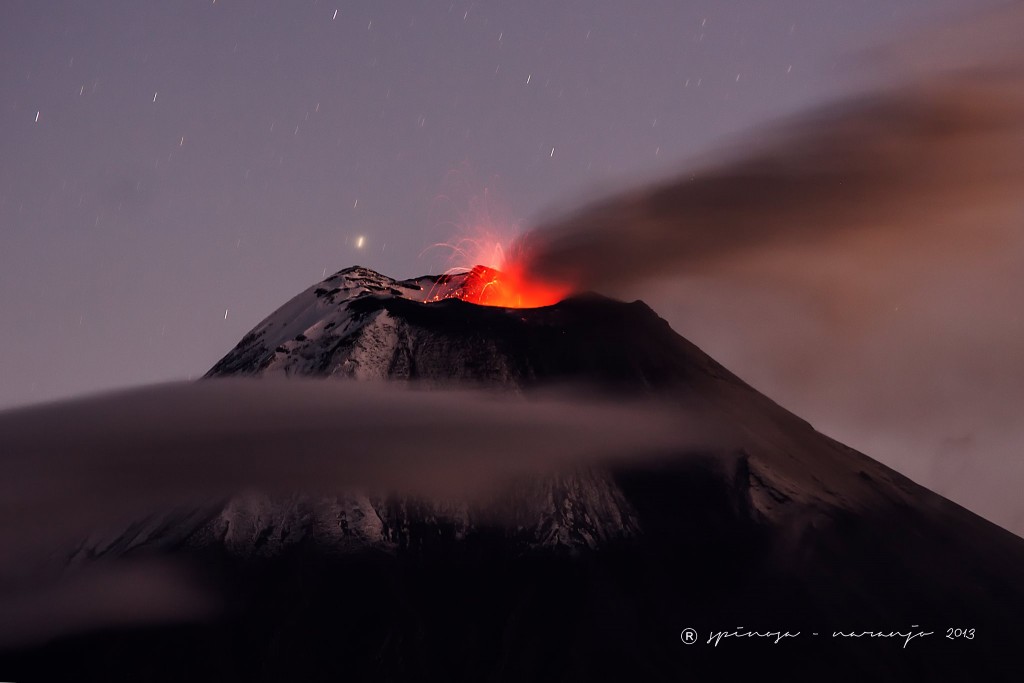 TECHNICAL AND OBSERVATIONS APPENDIX
Seismicity:
From 11:00 (TL) yesterday until 11:00 (TL) today, it was recorded 70 explosions (EXP), 45 long period events (LP) , 8 episodes of tremor emission (TRE) and two episodes of tremor harmonic (TRA).
Observations of emissions and ashes:
During last night, incandescence was observed in the crater.
Today, the volcano was clear with a light emission of gases and water vapor to the northwest. After these observations it darkened again.
Rain and lahars:
During last night it was reported that moderate rains were present, which did not generate additional lahars.
GENERAL INFORMATION
This report on a daily basis will be published at 12:00 (TL). In the case of an increase or a change in the behavior of the volcano, it will immediately issued a special report.
Source : IGEPN
Photo : José Luis Espinosa Naranjo.