July , 08 , 2016. EN. Turrialba , Momotombo , Reventador , Klyuchevskoy.
July , 08 , 2016.
Turrialba , Costa Rica :
Turrialba Volcano erupts and launches ash 1km high.
7 JULY 2016. This Thursday Turrialba Volcano started to enter eruption after several weeks of being relatively calm, according to The Volcano and Seismology Observatory of Costa Rica (OVSICORI).
Although cloudy conditions on the summit of the volcano made it hard for experts to see the eruption through cameras they'd previously placed in the crater, a webcam located on Izaru Volcano, with a view of Turrialba, was able to capture it.
The seismic point of the volcano alerted scientists that something new is taking place. A massive column of ash was launched roughly 1 km high and then dispersed to the West and Southeast.
The fall of ash has been reported in the following areas: Paraiso, Cot, Tierra Blanca, Llano Grande, Chicuá, San Rafael de Oreamuno, Coronado, Guadalupe, Ipís, Moravia, Tibás, Desamparados, San José, San Pedro, Escazú, Santa Ana, Heredia, San Isidro, Santo Domingo, San Rafael, Santa Bárbara, Barva, Alajuela, Finca Central, Finca Silvia, Finca San Bosco, Finca Echandi, and throughout other surrounding areas.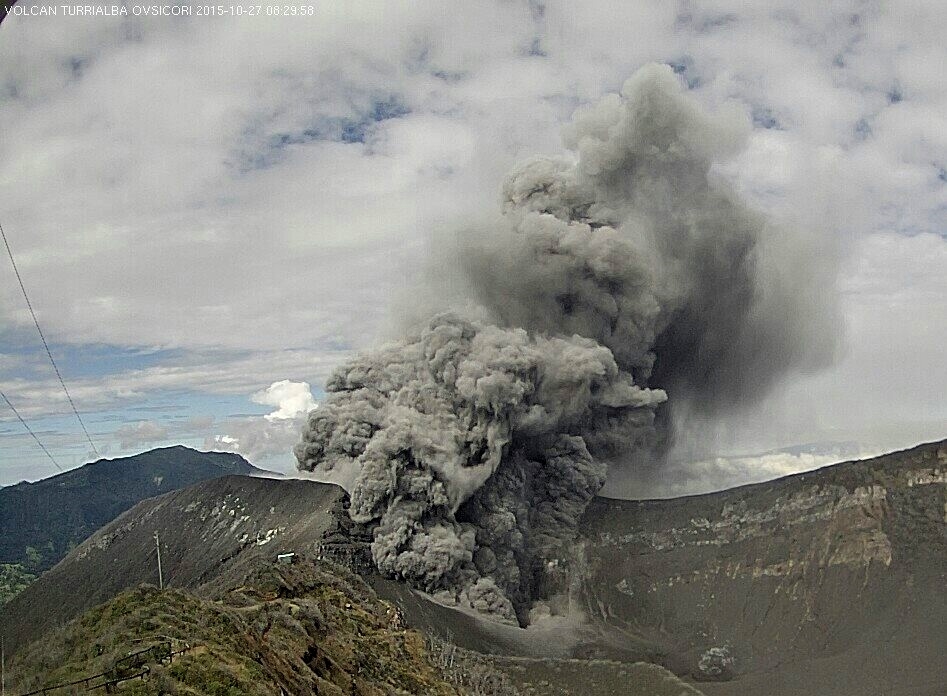 Turrialba's last erruption was on May 21st however, it is not uncommon for a volcano to seem to be dormant for a few weeks before erupting again. Turrialba is also an increasingly active volcano. Tourists used to be able to hike down into the crater but due to the increase in volcanic activity that has since been prohibited.
Source :  COSTA RICA NEWS
Momotombo , Nicaragua :
Momotombo volcano in activity
7 JULY 2016. The Momotombo volcano, located in the department of León, presented activity this week, with quakes of smaller magnitude, according to the information provided by Rosario Murillo, coordinator of the Communication and Citizenship Council of Government.
According to Murillo, the authorities are constantly monitoring the Momotombo volcano, and according to data could register new gas and ash explosions with incandescent material.
Murillo said the rest of the volcanoes in Nicaragua are in normal activity. The Momotombo volcano became active on December 1, 2015, 110 years after its last major eruption.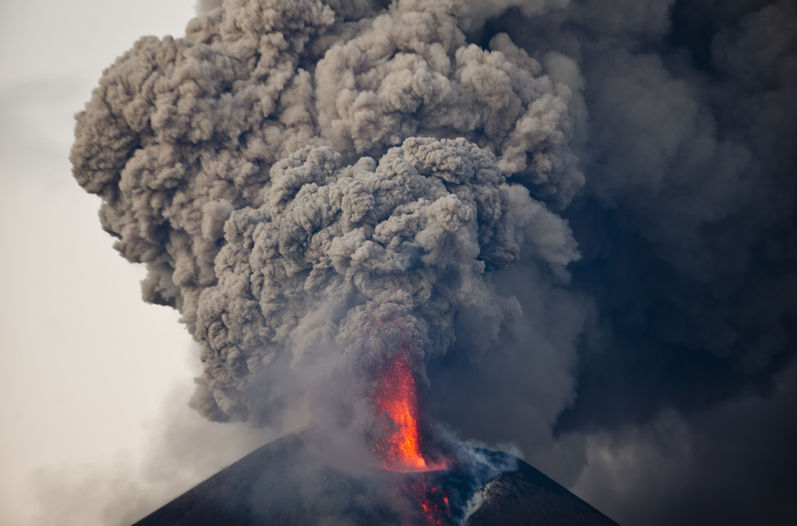 Momotombo volcano:
Around 2:38 today, an increase was recorded in the micro – seismicity of the Momotombo volcano. It was recorded 02 earthquakes near the volcano, the strongest being to magnitude 3.5 M, recorded at 8:50 today .
This type of seismic activity can be associated with the movement of magma under the volcano.
This is expected and normal for the activity of an active volcano  .
Seismic amplitude in real time RSAM of this volcano is at a low level, less than 35 units.

Source :  LA PRENSA , Ineter .
Photo : Archives ( actulatino)
Reventador , Ecuador :

Thursday, July 7, 2016
SUMMARY OF THE ACTIVITIES OF VOLCANO
The volcano maintain an high activity.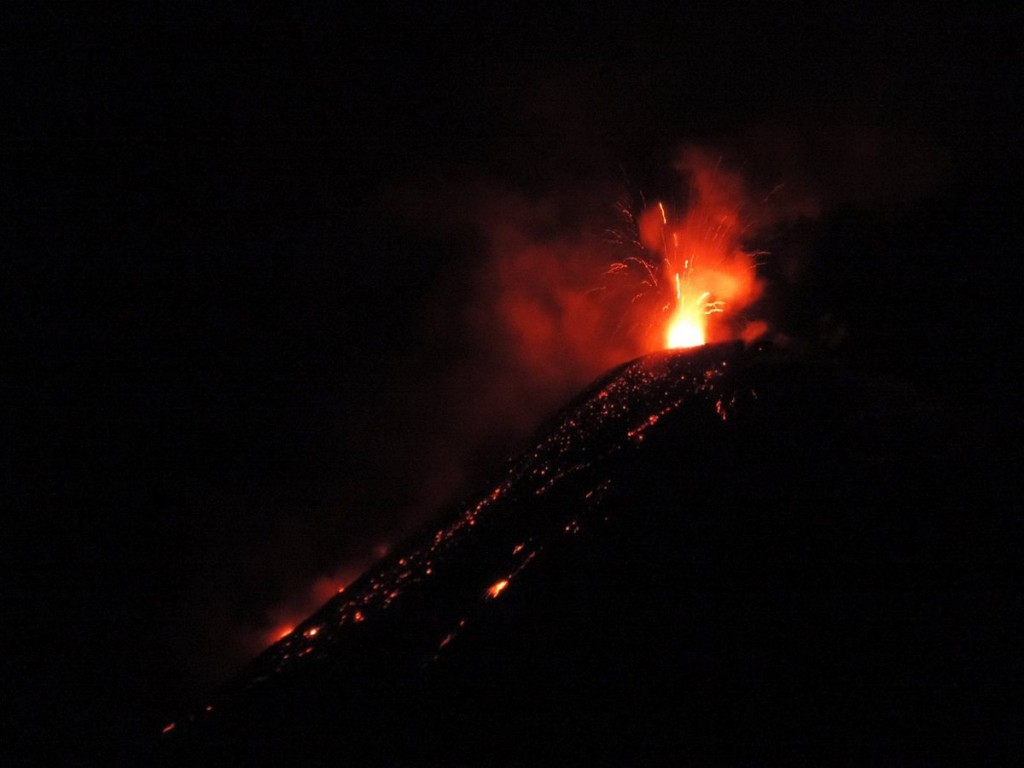 TECHNICAL AND OBSERVATIONS ANNEX
Seismicity: From 11:00 (TL) yesterday until 11:00 (TL) today, it was recorded 40 explosions (EXP), 54 long-period events (LP), 4 episodes of tremor emission (TRE) and 3 episodes of harmonic tremor  (EMR).
Observations emissions and ashes: Currently, the volcano is located in the clouds, so there is no trace of activity on the surface.
Rain and lahars: No rain report in the Volcano area.
GENERAL INFORMATION
This report on a daily basis will be published at 12:00 (TL). In the case of an increase or a change in the behavior of the volcano, it will also immediately issued a special report.
Source : IGEPN
Klyuchevskoy , Kamchatka :
56.06 N, 160.64 E;
Elevation 15580 ft (4750 m)
Aviation Color Code is ORANGE
Explosive-effusive eruption of the volcano continues. Ash explosions up to 19,700-26,240 ft (6-8 km) a.s.l. could occur at any time. Ongoing activity could affect international and low-flying aircraft.

Wall of fire: ash column up to 7.5 km a.s.l. above the summit crater of Klyuchevskoy volcano, ash column up to 7 km a.s.l. above a cinder cone into Apakhonchich's chute at the south-eastern volcanic flank, and above a lava flow front.

Explosive-effusive eruption of the volcano continues: there are bursts of volcanic bombs to 200-300 m above the summit crater and up to 50 m above the cinder cone into Apakhonchich chute, and strong gas-steam activity of two volcanic centers with emission of different amounts of ash, the effusing of lava flows along Apakhonchich chute at the south-eastern flank of the volcano.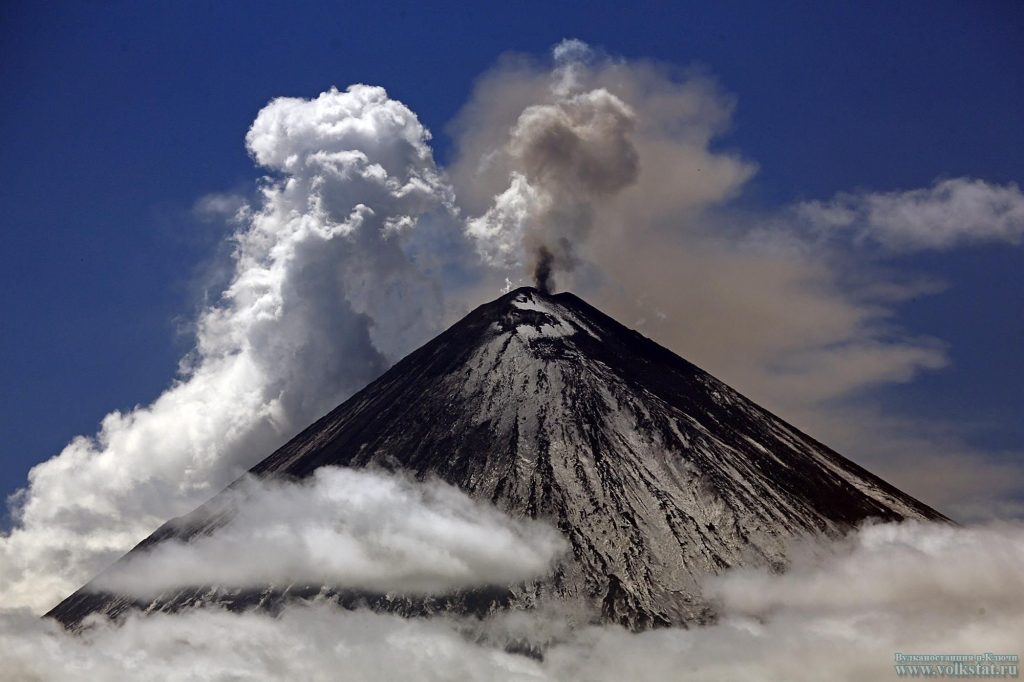 According to the video data, an intensification of the eruption was noted on 06 July: strong explosions sent ash up to 7.5 km a.s.l. According to satellite data by KVERT, a large bright thermal anomaly in the area of the volcano was observed all week, ash plumes drifted for about 350 km to the southwest, south and southeast from the volcano on 02-05 July; and dense ash plumes drifted for about 400 km to the southeast and east from the volcano on 06-07 July.
Source : Kvert
Photos : videodata of IVS FEB RAS, KVERT & Weathernews Inc., Klyuchi. IVS FEB RAS, KVERT, Volkstat . ru.