July 01 , 2016. EN. Kilauea , Turrialba , Dukono.
July 01 , 2016.
Kilauea , Hawai :
19°25'16 » N 155°17'13 » W,
Summit Elevation 4091 ft (1247 m)
Current Volcano Alert Level: WATCH
Current Aviation Color Code: ORANGE
Activity Summary:
Eruptions continue at Kilauea Volcano's summit and East Rift Zone. The lava flow to the southeast of Pu'u 'O'o continues to advance and does not pose a threat to nearby communities. The lava lake at Halema'uma'u Crater continues to circulate and spatter, and the lake level lowered several meters (yards) during the past day. Low rates of seismicity are observed across the volcano.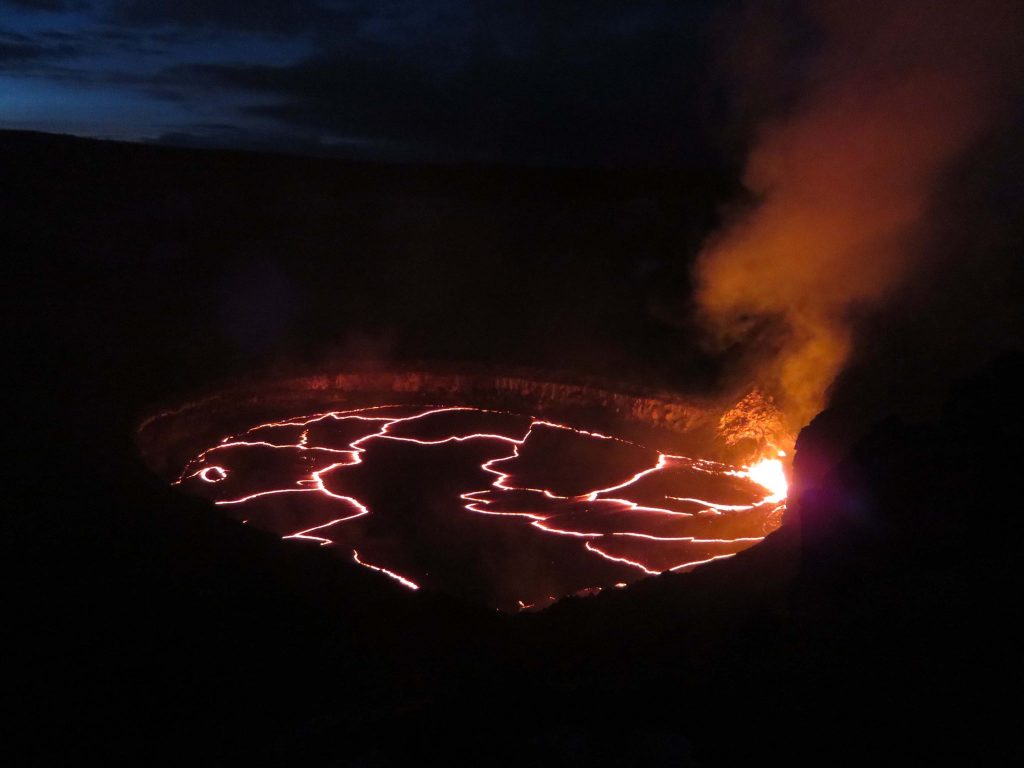 A wide view looking northeast, of the lake in Halema'uma'u Crater as seen late Monday, June 27, 2016. Jaggar Museum and HVO are beyond the left edge of the photograph. Spattering was active in the southeast portion of the lake. The lava lake dropped more than 15 m (49 feet) between the time the photo was taken and mid-day Thursday, June 30, 2016. USGS photo.

Summit Observations:
Tiltmeters at the summit continued to record a deflationary trend during the past 24 hours, and the level of the summit lava lake at Halema'uma'u lowered by about 6 m (20 ft). The lava level is about 40 m (131 ft) below the Halema'uma'u Crater floor this morning, a drop of at least 15 m (49 ft) since June 28. Low rates of seismicity in the summit caldera region are noted, with minor fluctuations in seismic tremor related to variations in lava lake circulation and spattering. Sulfur dioxide emissions from the summit vent over the past week ranged from 3,400 to 6,000 metric tons/day.
Up : Pulama Pali overflight: Multiple rivers of lava flow over Pulama Pali this morning, most of them channelized 'a'a, becoming a 10′-15′ thick flow as it reaches the coastal plain.
Down : Pulama Pali overflight: An impressive river of channelized 'a'a skirts the edge of kipuka, as it flows down Pulama Pali to the coastal plain.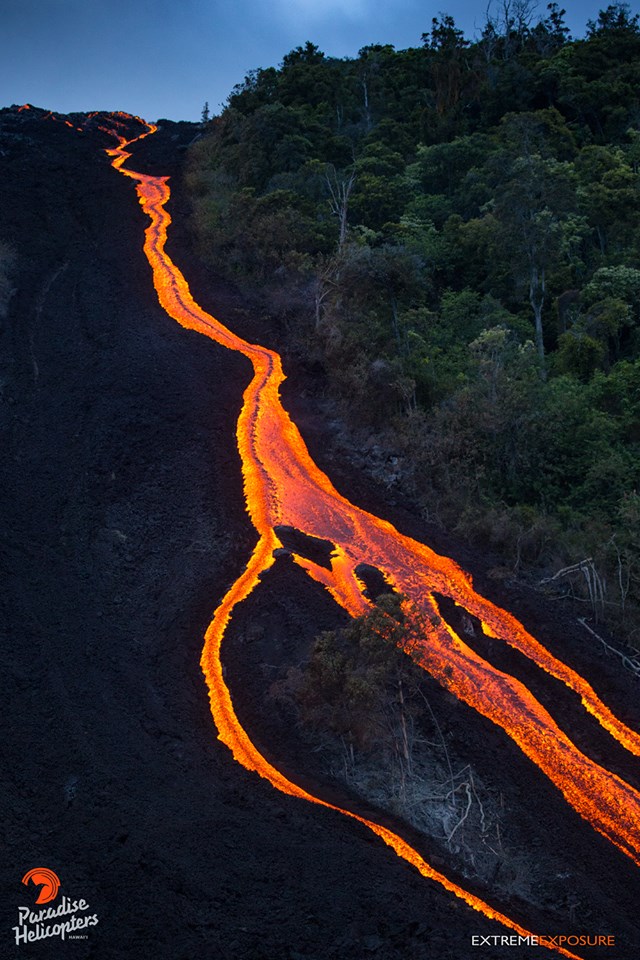 Pu'u 'O'o Observations:
HVO webcams show several incandescent vents on the floor of Pu'u 'O'o crater, as usual. There are no significant changes in seismic activity at Pu'u 'O'o. A tiltmeter on the north flank of Pu'u 'O'o has recorded very little change during the past few days, and suggests that Pu'u 'O'o has not yet responded to the deflationary trend at the summit. Sulfur dioxide emission rate from all East Rift Zone vents when last measured on June 27 was about 320 metric tons/day.
Lava Flow Observations:
The active lava flow southeast of Pu'u 'O'o continued to advance during the past day. Geologists reported yesterday afternoon that the flow reached the base of the pali along the western boundary of the abandoned Royal Gardens subdivision. The flow advanced about 0.6 km (0.4 miles) between Tuesday and Wednesday afternoon, making the flow about 7.5 km (4.7 miles) long and about 3.5 km (2.2 miles) from the ocean. Bright incandescence is visible in the overnight webcam views of the active lava flow field, marking lava tube skylights and activity near the flow front.
Smoke from burning trees and open channels of lava could easily be seen Tuesday from Kalapana as the lava flow from Kilauea's Pu'u 'O'o vent traveled down Pulama pali.
Using a satellite image taken Monday, Hawaiian Volcano Observatory said the flow was more than 3.9 miles long and was advancing down the western boundary of the abandoned Royal Gardens subdivision at about 0.2 miles per day.
Source : HVO , WEST HAWAII TODAY .
Photo : HVO , Bruce Omori.
Turrialba , Costa Rica :
June 29, 2016
At 5:23, the Turrialba volcano is in weather conditions that prevented a clear observation of the massif.

As shown on the seismogram of VTCG seismic station located at the park ranger station, the tremor who took over last night at 9:25 p.m., lasted about an hour and a half, and then came again with a calm process.
Ash falls fall in small quantities were reported in Coronado.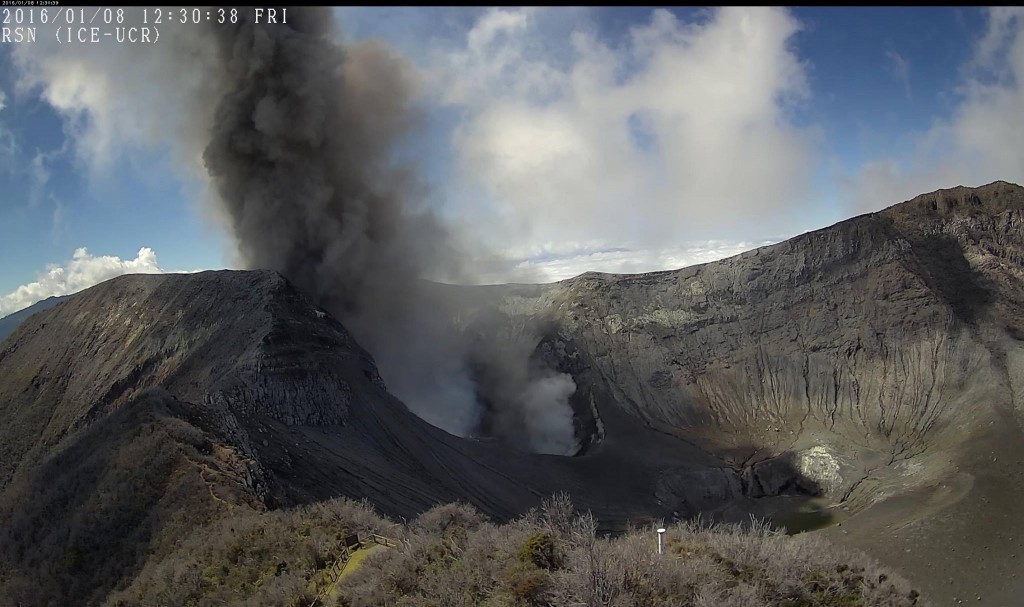 The OVSICORI remains vigilant on any new activity of the Turrialba volcano.
Definitions:
Volcanic Tremors: seismic signal of varying amplitude and continuous low frequency (0.5-5 Hz) lasting from minutes to several days or more generated by the vibrations produced by the passage of fluids (gas, water or magma) into cracks and ducts inside the volcano.
Source : Ovsicori
Dukono , Indonesia :
1.693°N, 127.894°E
Elevation 1229 m
Based on analyses of satellite imagery and wind data, the Darwin VAAC reported that during 27-29 June ash plumes from Dukono rose to an altitude of 2.1 km (7,000 ft) a.s.l. and drifted E.
Dated of June 19, 2016 at 6:22 from PPGA Dukono. Observation of a white / gray smoke 600m high from the summit, which is inclined towards the West. Tremor amplitude. 0,5-8mm, with a dominant at 3mm.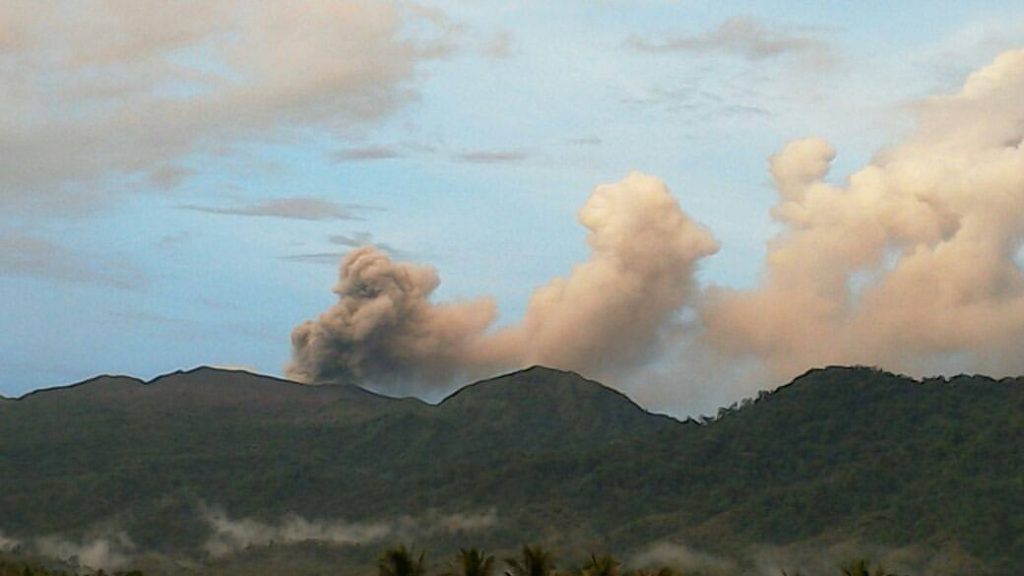 Reports from this remote volcano in northernmost Halmahera are rare, but Dukono has been one of Indonesia's most active volcanoes. More-or-less continuous explosive eruptions, sometimes accompanied by lava flows, occurred from 1933 until at least the mid-1990s, when routine observations were curtailed. During a major eruption in 1550, a lava flow filled in the strait between Halmahera and the north-flank cone of Gunung Mamuya. This complex volcano presents a broad, low profile with multiple summit peaks and overlapping craters. Malupang Wariang, 1 km SW of the summit crater complex, contains a 700 x 570 m crater that has also been active during historical time.

Source: GVP , Centre d'avis de cendres volcaniques Darwin (VAAC), PVMBG.