April 30 , 2016. EN. White Island , Cleveland , Santiaguito , Ubinas .
April 30, 2016.
White Island , New Zealand :
Volcanic Alert Bulletin WI 2016/04
10:45 am Saturday 30 April 2016; White Island Volcano
Alert Status:
Volcanic Alert Level remains Level 2
Aviation Colour Code remains Orange
Heightened volcanic unrest continues at White Island (Whakaari). During an aerial inspection on Friday the site of Wednesday's eruption was seen for the first time; a new crater has formed in the north east corner of the 1978/90 Crater Complex. Gas output is slightly elevated but well within the range of recent measurements. Preliminary analysis of the eruption deposit suggests that no or little new magma (lava) was ejected. Seismic activity remains low. The Volcanic Alert Level remains at Level 2.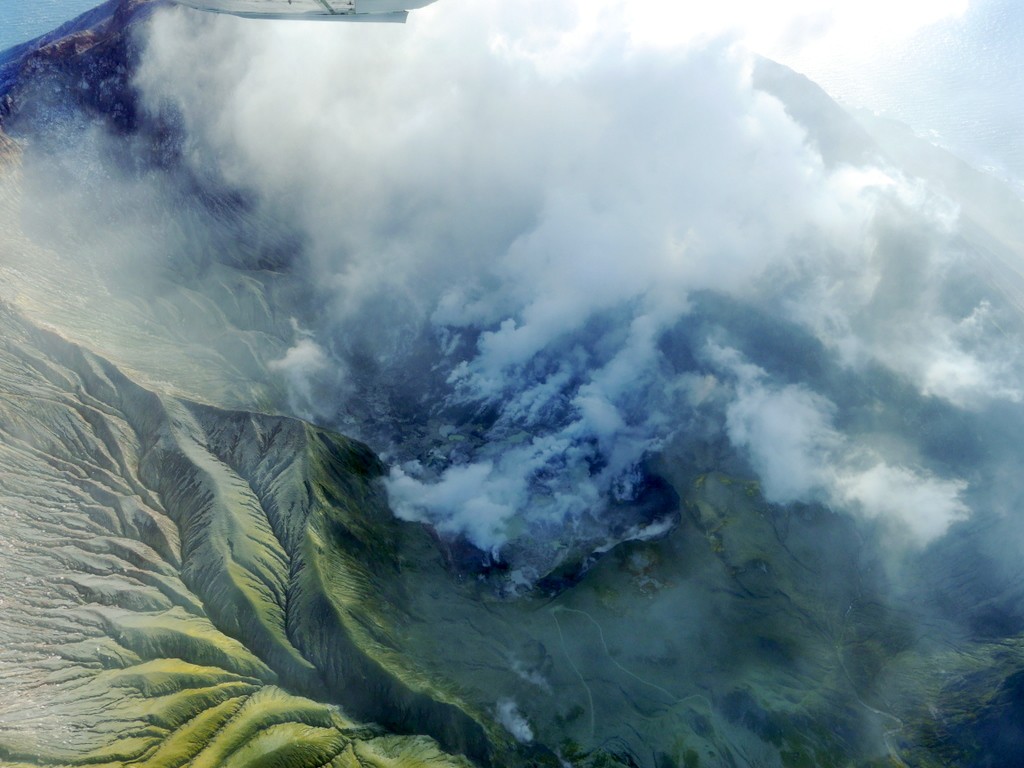 View of the 1978/90 Crater Complex, the new crater and vent is right of centre.
During an aerial inspection on Friday to measure the gas output and photograph the active crater area it was possible to confirm the location of the vent that erupted on Wednesday evening. A new crater has formed in the north-east corner of the 1978/90 Crater Complex. No vent was visible in this area before Wednesday. Significant collapse has occurred around the area and post-eruption landsliding is also present. Hot translucent gas has been emitted from the new vent.
The gas measurements confirm no significant change in the long-term gas output from the volcano. Volcano earthquake activity remains low.
Laboratory analysis of the eruption deposit collected from the web camera site on the north rim has confirmed that most of the ash is strongly hydrothermally altered old rock material. No evidence of new, juvenile magma was found. This suggests that no new lava material has been erupted and that the eruption was likely driven by steam and gas, like the eruptions in 2012 and 2013.
There is currently no indication that activity is either increasing or decreasing at White Island. The heightened state of volcanic unrest remains (Volcanic Alert Level 2). GNS Science volcanologists are continuing to monitor the volcano and further bulletins will be released as required.
Source : Geonet ,Agnes Mazot
Duty Volcanologist
Cleveland , Alaska :
AVO/USGS Volcanic Activity Notice
Current Volcano Alert Level: ADVISORY
Previous Volcano Alert Level: WATCH
Current Aviation Color Code: YELLOW
Previous Aviation Color Code: ORANGE
Issued: Friday, April 29, 2016, 11:36 AM AKDT (20160429/1936Z)
Source: Alaska Volcano Observatory
Notice Number: 2016/A8
Location: N 52 deg 49 min W 169 deg 56 min
Elevation: 5676 ft (1730 m)
Area: Aleutians Alaska
Volcanic Activity Summary: No activity has been observed at Cleveland following the April 16 explosion. Seismicity returned to low levels within an hour of the explosion, and there have been no infrasound (pressure sensor) signals detected. Recent satellite views indicate that the August 2015 lava dome is gone and has been replaced with a small cinder cone within the summit crater. Based on seismic levels remaining low since the eruption, and no observations or reports of continued eruptive activity, AVO is reducing the Aviation Color Code to YELLOW and the Volcano Alert Level to ADVISORY.
Remarks: Cleveland volcano forms the western portion of Chuginadak Island, a remote and uninhabited island in the east central Aleutians. The volcano is located about 75 km (45 mi) west of the community of Nikolski, and 1500 km (940 mi) southwest of Anchorage. The most recent significant period of eruption began in February, 2001 and produced 3 explosive events that generated ash clouds as high as 39,000 ft above sea level. The 2001 eruption also produced a lava flow and hot avalanche that reached the sea. Since then, Cleveland has been intermittently active producing small lava flows, often followed by explosions that generate small ash clouds generally below 20,000 ft above sea level. These explosions also launch debris onto the slopes of the cone producing hot pyroclastic avalanches and lahars that sometimes reach the coastline.
Source : AVO
Photo : Lyons, John
Santiaguito , Guatemala :
Guatemala April 29, 2016, 7:10 p.m..
Volcano Special Bulletin. Santiaguito volcano.
Activity type : Peléenne
Morphology: Complex dacitic domes
Geographical location: 14 ° 44 '33 « N Latitude 91 ° 34′ 13 » W Longitude
Height: 2500m.
Santiaguito volcano, which during the month of April was at its highest level of explosive activity, made a new eruption at 18:48 (local time), accompanied by columns of thick ash up to 4,500 meters. They move to the West Southwest, a distance that can reach more than 40 km, causing ash falls in San Felipe Retalhuleu, El Nuevo Palmar, Las Marias, Aldea Loma Linda, San Marcos Palajunoj ,Fincas El Faro ,La Florida Patzulin , El Patrocinio and others in this area.
These eruptions generate pyroclastic flows down from the dome of Caliente crater on the east and west sides, until the rivers of   Cabello de Angel and San Isidro, with a length of 3 km. This activity was accompanied by rumbling and shock waves.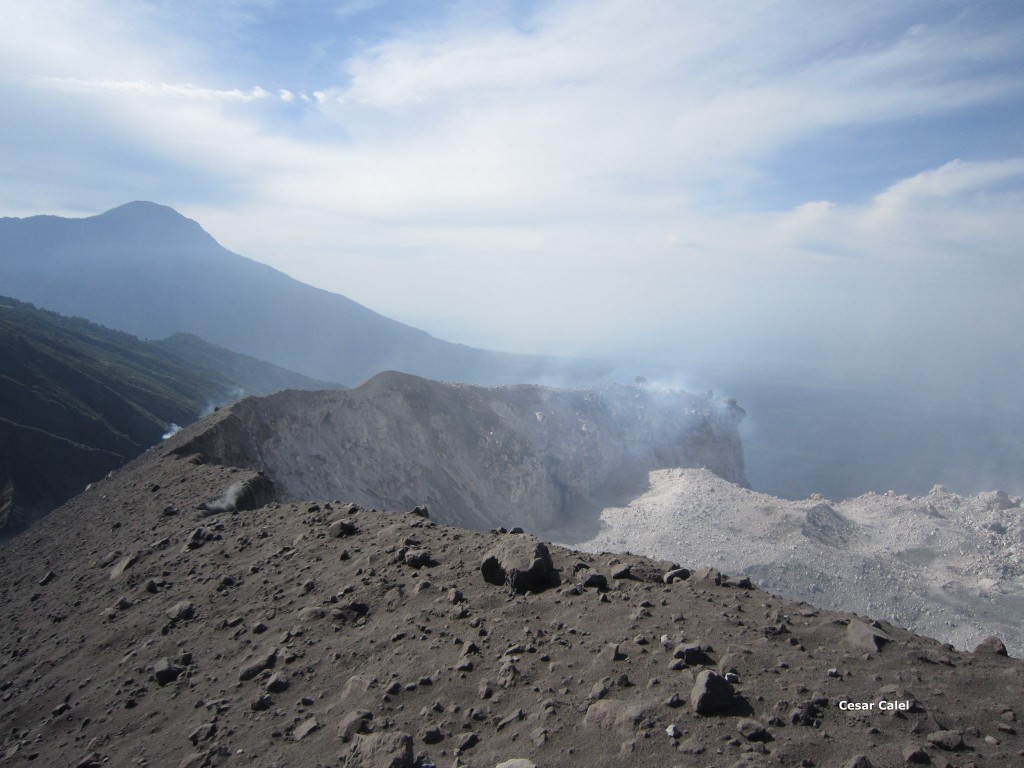 This explosive activity was the highest recorded in the past two years, from February with 6 events and in late March, it restarts with 32 eruptions until April 29.
It is necessary to mention that the recorded eruptions observed in recent days are more violent, with the expulsion of ballistic projectiles of different sizes at a distance of 3 km.
So it is possible that occur violent eruptions similar or higher than May 9, 2014.

Therefore, the INSIVUMEH recommends:
-A CONRED, taking into account that the activity of Santiaguito volcano increases in energy, with the ability to generate similar or stronger eruptions, it is necessary to take precautions deemed necessary and maintain the alert status. Especially for Loma Linda and San Marcos Palajujoj villages which are most affected by the constant ash falls that can cause breathing problems, stomach problems and affect the view of the people.
-A Directorate General of Civil Aviation, to take precautions with air traffic, as there is ash in the atmosphere over a distance of 40 kilometers to the west, the southwest perimeter of the volcano Santiaguito at the height of 4000 meters, with the possibility of being transported over long distances.
Source : Insivumeh
Photo : Cesar Calel , Jóvenes El Cordero.
Ubinas , Peru :
The crater lake that appeared in early March in the most active volcano in Peru, the Ubinas, in the Moquegua region, began to dry.
An observer from the municipality of Ubinas, Melquiades Alvarez Condori, said Thursday morning April 28, he reached the summit of the volcano and saw with surprise that the size of the lake had decreased.
He further noted that the volcano is calm for the moment, with the exhalations of steam and magmatic gases.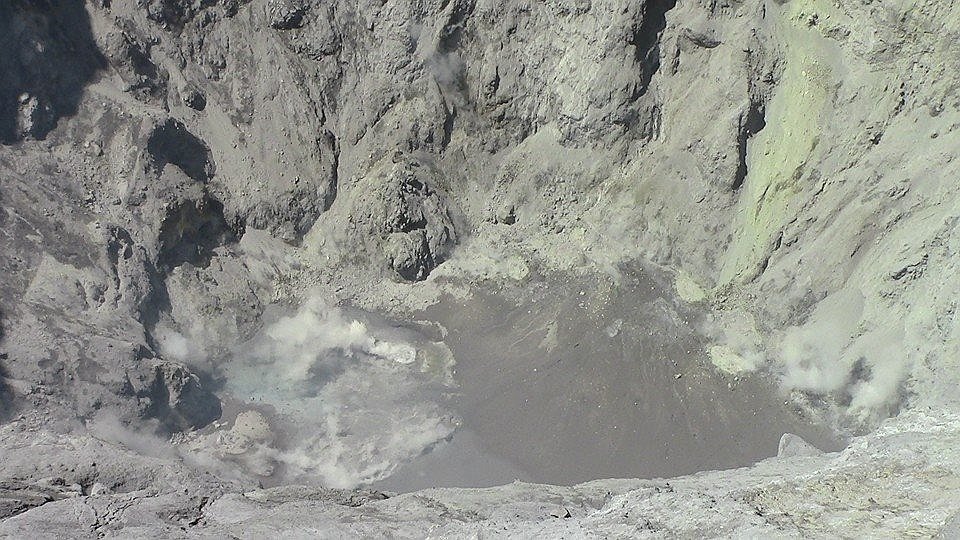 On March 11, the lake was detected. The Volcanological Observatory of Southern Andes explained that this was due to the rain and snow falling continuously.
In early April, the size of the lake began to decline. Now, it remains dry.
Note that rain and snowfall stopped in the Ubinas district, province of Sanchez Cerro.
Source :  diariocorreo.pe
Photo : Melquiades Álvarez