March 27 , 2016. EN. Fuego , Villarica , Kilauea , Cleveland .
March 27 , 2016.
Fuego , Guatemala :
MINISTRY SERVICES OF RESEARCH AND GEOPHYSICAL
BULLETIN SPECIAL Guatemala, March 26, 2016, 07h 00 (local time)
Activity type : vulcanian
Morphology : composite Stratovolcano
Geographical location: 14 ° 28'54 « North latitude 90 ° 52'54 » West longitude.
Altitude: 3,763m.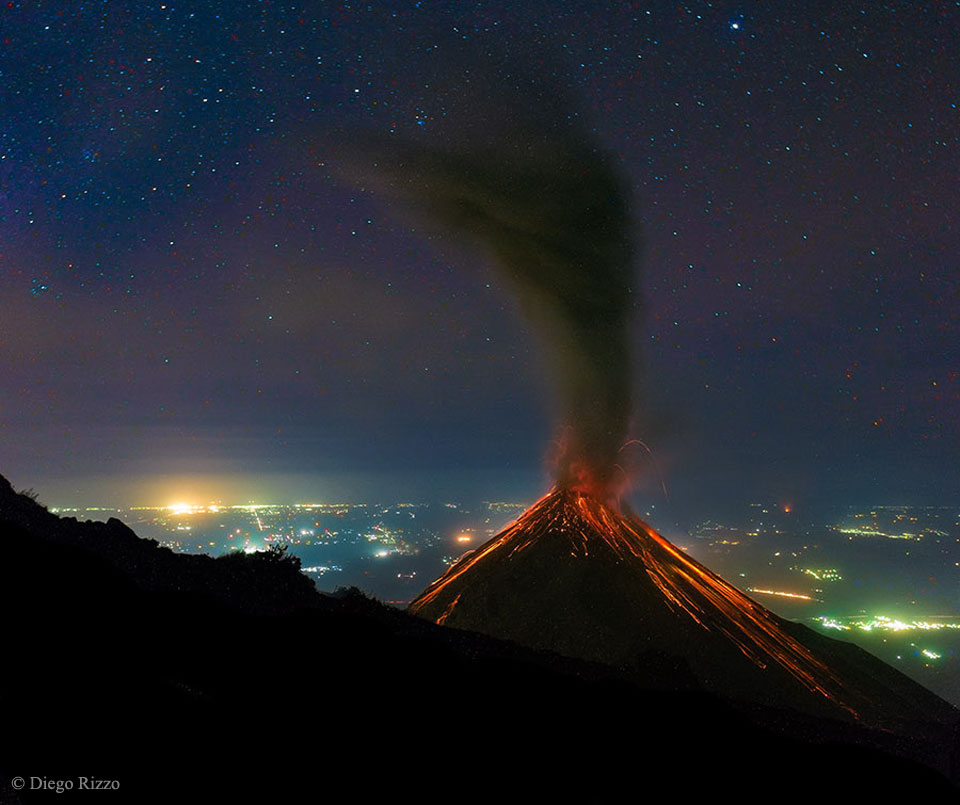 As it has been said in the latest report, the Fuego volcano during these days, has maintained a high level of activity as its seismic tremor (internal vibration), showing moderate to heavy explosions.
This new phase of eruption of Strombolian type has issued two incandescent sources of 200 to 300 meters above the crater, generating two lava flows in canyons Las Lajas ,on the east of the volcano, 1,500 meters in length and in Canyon   St. Teresa, to the west, on 800 meters. This activity is accompanied by moderate constant rumblings that resonate as the degassing of a locomotive.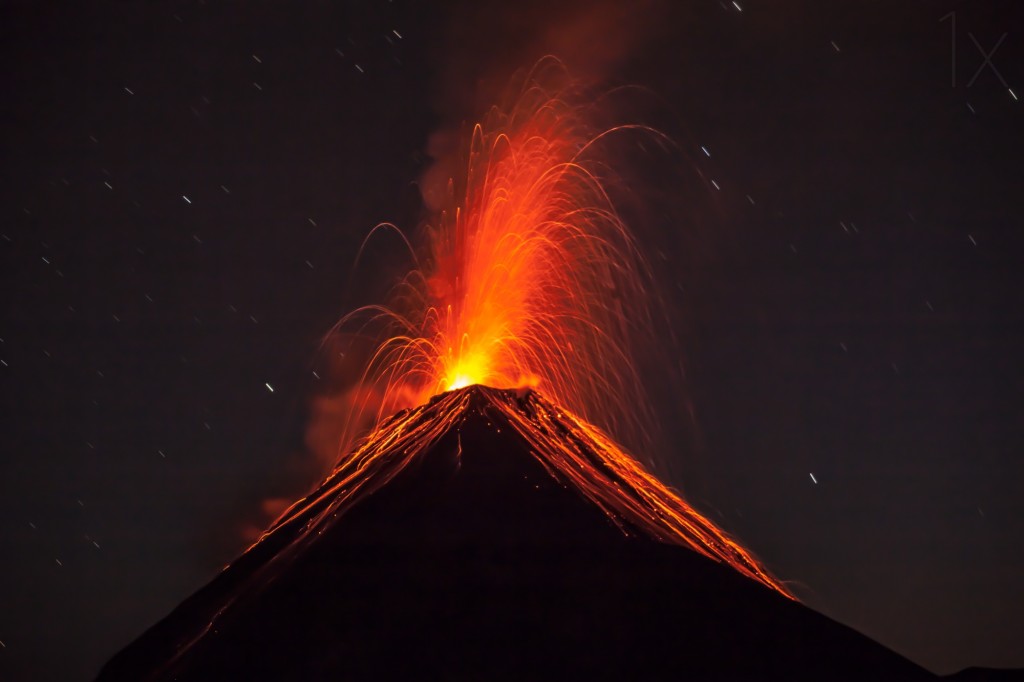 The eruption ash column rose from 4.800 to 5.000 m to the west, the southwest and the northwest, a distance of about 15 kilometers, on the villages of Morelia, Hagia Sophia, and I Panimache II, San Pedro Yepocapa and other villages on the flanks.
This eruption has the same characteristics as the previous eruptions, namely to continue to feed lava flows. However, this activity can increase into energy, with strong rumbling and generate shock waves that can be sensitive to 15 km in the volcanic area. There is also the likelihood of generating pyroclastic flows through canyons, mostly by Las Lajas, El Jute, Trinidad and emit ash. So, it is necessary not to stay in the canyons around the volcano.
This is why INSIVUMEH recommends:
At the CONRED: To implement vigilance deemed necessary by this activity and to stay alert waiting for the development of the eruption of the Fuego volcano.
The MINISTRY OF CIVIL AVIATION: Take precautions for air traffic, due to the current eruption of Fuego because there are ashes scattered over 15 kilometers on the northwest flanks, West, South-West and taking into account that there are changes in wind direction during the day.
Source : Insivumeh.
Photos : Diego Rizzo , Adrian Rohnfelder.
Villarica, Chile :
Onemi reports early warning earthquakes near the Villarrica volcano  .
26 MARCH 2016. Onemi, in its latest report on the situation of volcanoes in Chile, which it maintains for the communities of Villarrica, Pucon and Curarrehue in the region of La Araucania and Panguipulli; and an Preventive Early Warning in the region Los Rios, in force since 1 December 2015.
According to the agency, the Volcanological Observatory of Southern Andes (OVDAS) of the National Service of Geology and Mining (Sernageomin), through its Special Report Volcanic Activity (Reav) reports that on Saturday March 26, 2016 at 05: 38 hours monitoring stations installed near the Villarrica volcano, recorded two earthquakes of tectonic volcano type.
The quake higher energy was located 4.5 kilometers east of the crater, with a magnitude of 3.7 ML and a depth of 4.5 kilometers.It should be noted that there are no reports from the authorities or community in general about perceptions in nearby areas. Also, no changes are recorded in the surface activity attributable to the event.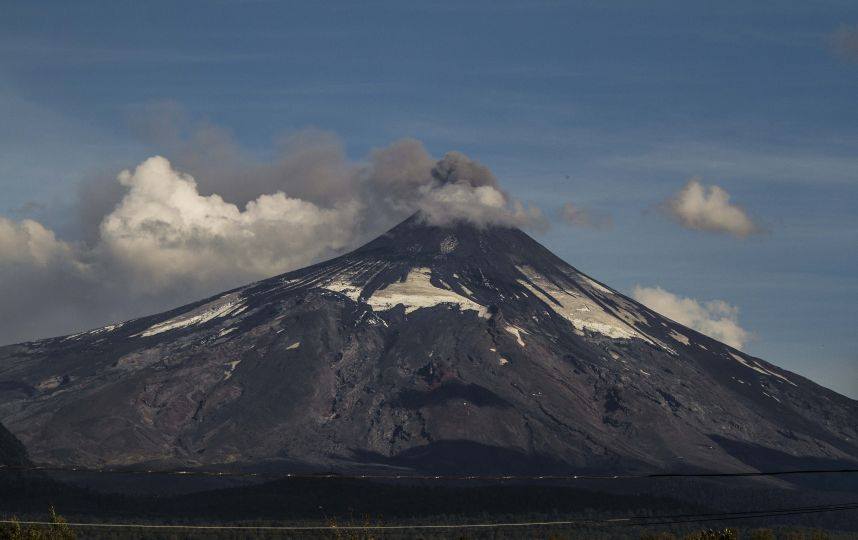 Following this background, OVDAS-SERNAGEOMIN maintains its volcanic alert level technical Green.
SERNAGEOMIN continues with ongoing monitoring of the volcanic complex and the regional directorates of ONEMI La Araucania and Los Rios, will maintain coordination with members of the Civil Protection System to alert timely and adequate response to any emergency.
The report of SERNAGEOMIN:
Special volcanic activity report (REAV))
REGIONS Araucania -Los-Rios.
March 26, 2016, 05: 38 HL
The national geological service and Mining (SERNAGEOMIN) through the Volcanological Observatory of Southern Andes (OVDAS) announces that Saturday, March 26, 2016 at 5:38 local time (08: 38 GMT), monitoring stations installed near the Villarrica volcano, recorded two (2) earthquakes associated with rock fracturing (volcano-tectonic). The most important energy earthquake was located 4.5 km to the east (E) of the crater.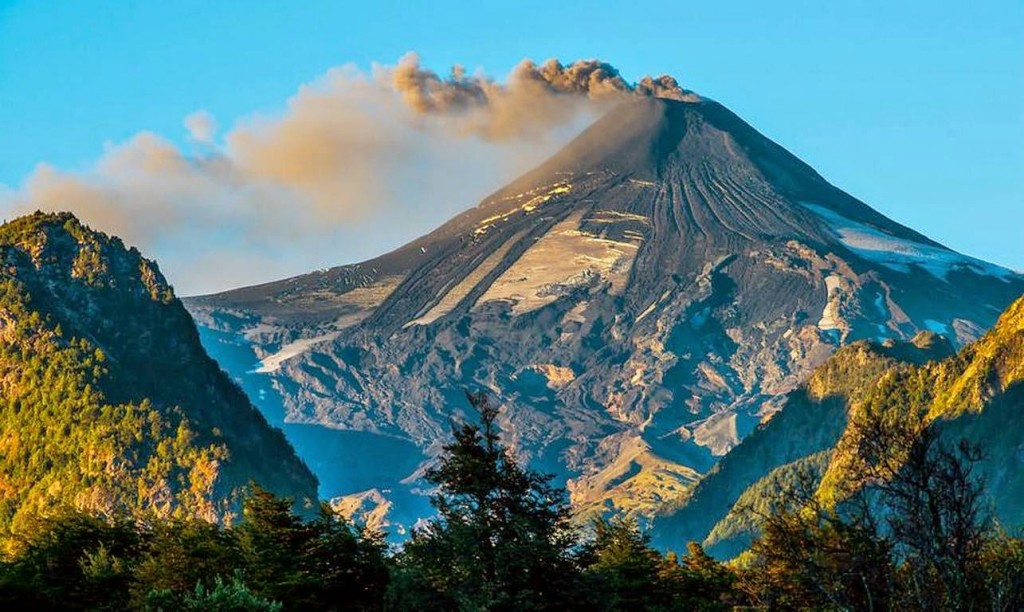 The location obtained was as follows:
ORIGIN TIME: 05: 38 hl (GMT -3)
LOCATION: 39 ° 25 '76 « South Latitude 71 ° 53′ 30 » West Longitude
DEPTH: 4,5 km
local magnitude 3.7 (ML)
OBSERVATIONS:
There are no reports of authorities and communities about their perception in neighboring areas.
No changes were recorded in the surface activity due to the event.
The level of technical volcanic alert level remains at green.
SERNAGEOMIN -OVDAS continuous online monitoring and report timely to the changes in volcanic activity in the region.
Sources : Publimetro , SERNAGEOMIN -OVDAS  .
Photos : Agence UNO
Kilauea , Hawai .
19°25'16 » N 155°17'13 » W,
Summit Elevation 4091 ft (1247 m)
Current Volcano Alert Level: WATCH
Current Aviation Color Code: ORANGE
Activity Summary:
The lava lake at Kilauea's summit remains active, as does the East Rift Zone lava flow northeast of Pu'u 'O'o. The most distal active lava is about 8 km (5 mi) from Pu'u 'O'o and does not currently pose a threat to nearby communities. Seismicity across the volcano is at background levels.
In the western portion of Pu'u 'O'o Crater, there has been a small pit for nearly a year. The pit is about 60 m (200 feet) wide, and a small circular lava pond resides beneath the overhanging west rim of this pit.

Summit Observations:
The summit began to deflate early in the day yesterday and continued to do so until early this morning, when inflation started. The level of Kilauea's summit lava lake dropped slightly in response and was about 35 m (~115 ft) below the vent rim this morning, but will likely rise again as inflation progresses. Seismic activity across the volcano continues at background levels. Fluctuations in summit tremor amplitudes are related to spattering along the edges of the lava lake. The sulfur dioxide emission rate was about 5000 metric tons/day when last measured on March 19.
Pu'u 'O'o Observations:
A small lava flow was erupted last night from a spatter cone on the northeast side of Pu'u 'O'o's crater floor. Inflation registered on the tiltmeter on the north flank of Pu'u 'O'o is associated with rainfall. The sulfur dioxide emission rate from all East Rift Zone vents was about 240 metric tons/day when last measured on March 10.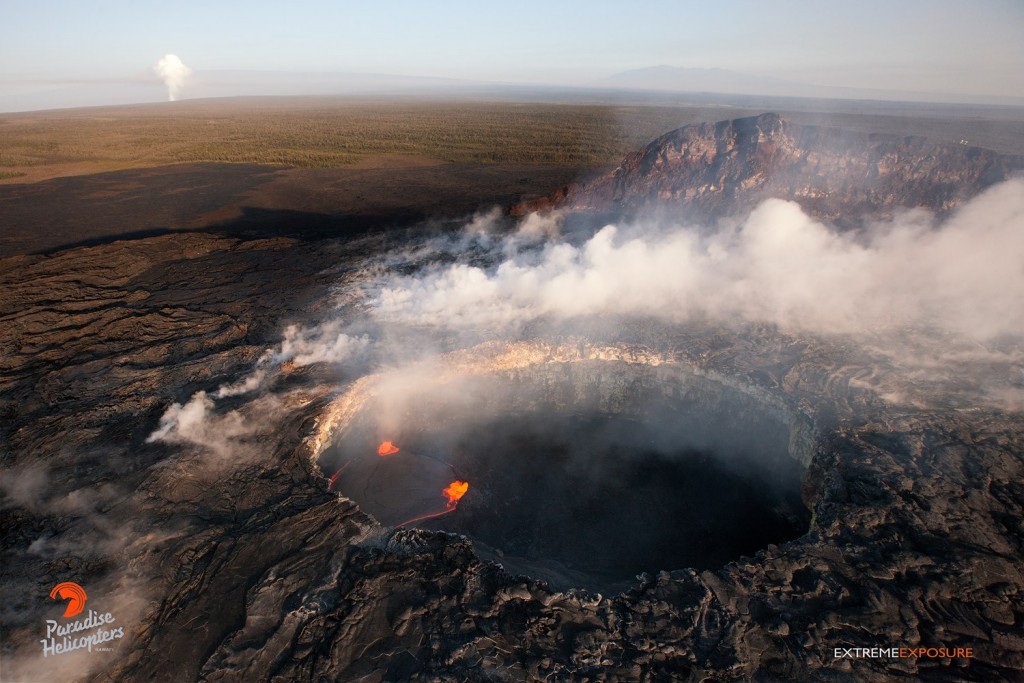 The bubbling lava pond was quite active, with the plume rising high in the sky from Halemaumau was visible in the background along with Mauna Loa and Mauna Kea.
June 27th Lava Flow Observations:
Observations yesterday found small breakouts spread over an area extending from 1.6 km (1.0 mi) to 7.6 km (4.7 mi) northeast of the vent on the flank of Pu'u 'O'o. Active lava has been scattered within this same general area for the last several months and currently poses no threat to nearby communities.
Source : HVO.
Cleveland , Alaska :
52°49'20 » N 169°56'42 » W,
Summit Elevation 5676 ft (1730 m)
Current Volcano Alert Level: ADVISORY
Current Aviation Color Code: YELLOW
Cleveland has been mostly obscured by clouds and no significant activity was observed in satellite views of the volcano over the past 24 hours. No significant activity was detected in seismic or infrasound (pressure sensor).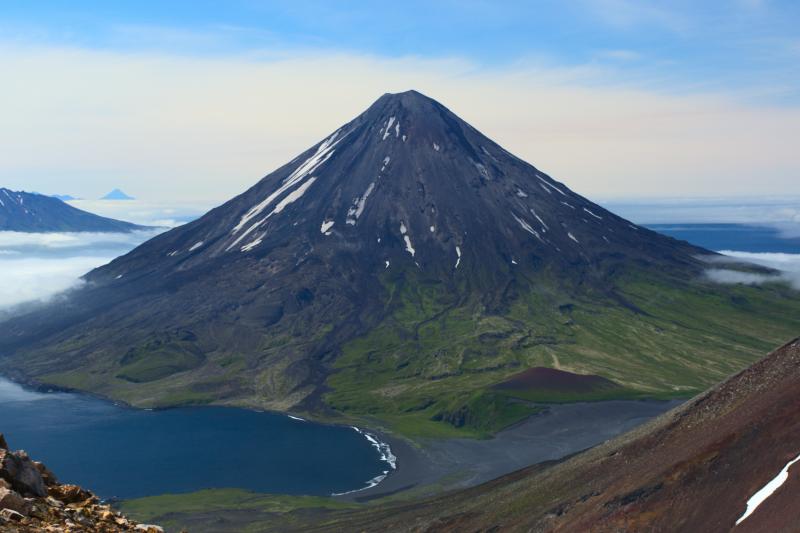 Cleveland volcano forms the western portion of Chuginadak Island, a remote and uninhabited island in the east central Aleutians. The volcano is located about 75 km (45 mi) west of the community of Nikolski, and 1500 km (940 mi) southwest of Anchorage. The most recent significant period of eruption began in February, 2001 and produced 3 explosive events that generated ash clouds as high as 39,000 ft above sea level. The 2001 eruption also produced a lava flow and hot avalanche that reached the sea. Since then, Cleveland has been intermittently active producing small lava flows, often followed by explosions that generate small ash clouds generally below 20,000 ft above sea level. These explosions also launch debris onto the slopes of the cone producing hot pyroclastic avalanches and lahars that sometimes reach the coastline.

Source : AVO
Photo : Lyons, John