March 23, 2016. EN. Reventador , Sangay , Mount St Helens , Sabancaya .
March 23, 2016.
Reventador , Ecuador :
Volcanic activity Bulletin No.08, Tuesday, March 22, 2016
SUMMARY OF THE ACTIVITIES OF THE VOLCANO
Activity remains high.
During the night, a glow was observed and a pyroclastic flow descended 1500 meters in the ravines of the Southwest flank.
In the morning, it was observed vapor emissions with a moderate load of ash to a height of 1000 meters to the west.
At this moment the volcano remains covered by thick clouds.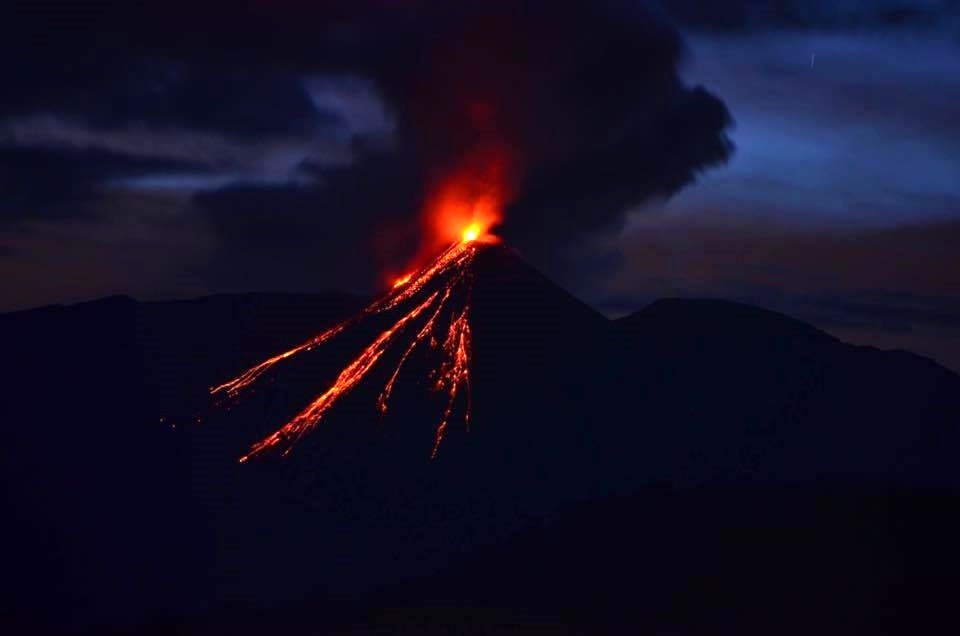 ANNEX TECHNICAL AND OBSERVATIONS:
Seismicity:
61 events long period (LP), 74 explosions (EXP), 17 episodes of tremor emission (TRE) and two episodes of harmonic tremor (TA) were recorded.
Observations emissions and ashes:
During the night, a glow was observed and a pyroclastic flow descended 1500 meters in the ravines of the Southwest flank.
In the morning, it was observed vapor emissions with a moderate load of ash to a height of 1000 meters to the west.
At this moment the volcano remains covered by thick clouds.
Rain and lahars:
No rainfall was recorded in the volcano area.
GENERAL INFORMATIONS
This report on a daily basis will be published at 12:00 (TL) if the volcano's activity level requires. In the case of an increase or a change in the behavior of the volcano, it will immediately issued a special report.
Source : IGEPN
Photo : Juan Carlos Diaz  , José Luis Espinosa Naranjo.
Sangay , Ecuador :
New constant tremor on the volcano. ( news from March 17, 2016.)
Since 5 March this year, began a new episode of activity on the Sangay volcano with the presence of sporadic seismic events, as reported in reports 1 and 2, published on 9 and 15 March, respectively.
As of March 11, an increase of explosions, with data recorded up to this afternoon, is observed. In addition, from 04:00 today, it was noticed the presence of a constant tremor, interspersed with explosions, which took its greatest intensity until 13:00 and then began to gradually decline.

Neither today nor in the previous days, the volcano could be observed, as it remained covered with clouds. However, it has not received reports or observed ash falls in the surrounding towns of the volcano or in the Riobamba region, which is the place to leeward.
Because the seismic activity there is still a clear need to keep the attention of the volcano and take precautionary measures such as the recommendation not to climb the volcano during this period.
Source : SH, EV, HY, MR
Geophysical Institute
Ecole nationale polytechnique
Photo : Leonardo Parrini.
Mount St Helens , United-Sates of America :
Small magnitude earthquakes detected at Mount St. Helens.
On March 14, 2016, the seismic network at Mount St. Helens began detecting small magnitude earthquakes at a depth of 3–4 km beneath the crater. Twelve earthquakes have been formally located and the local seismic network detected at least 100 earthquakes too small to be recorded on enough seismometers to calculate a location. Many of the earthquakes have similar seismic signatures, suggesting they are occurring in the same area as the located earthquakes. According to the Pacific Northwest Seismic Network, the largest earthquake over a four-day period was a Magnitude 0.7, an event that would not be felt even if you were standing on the surface above it.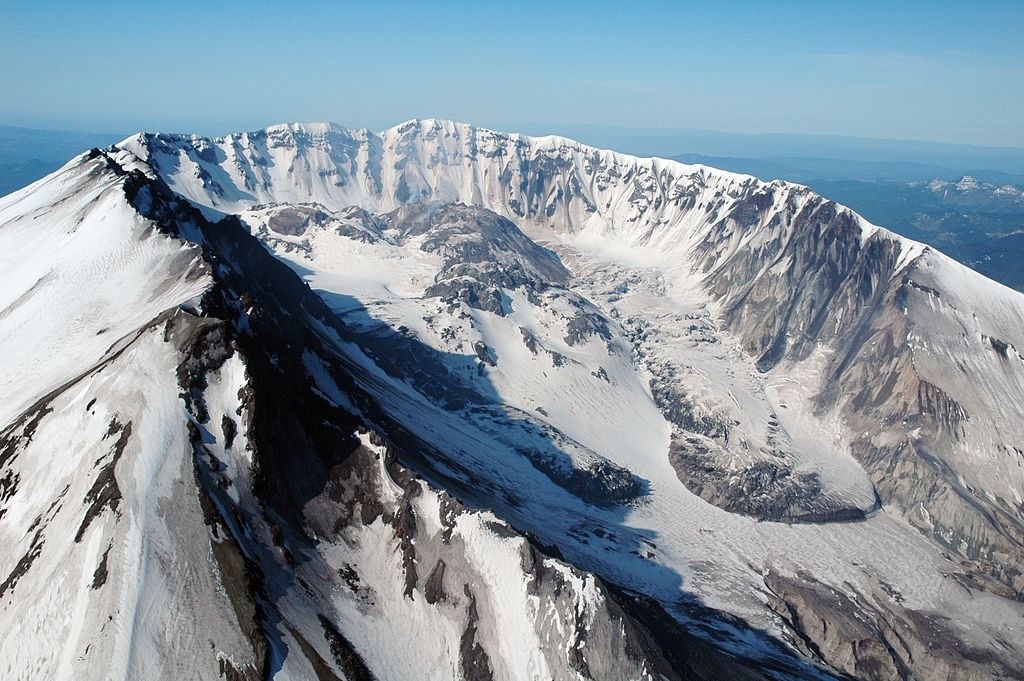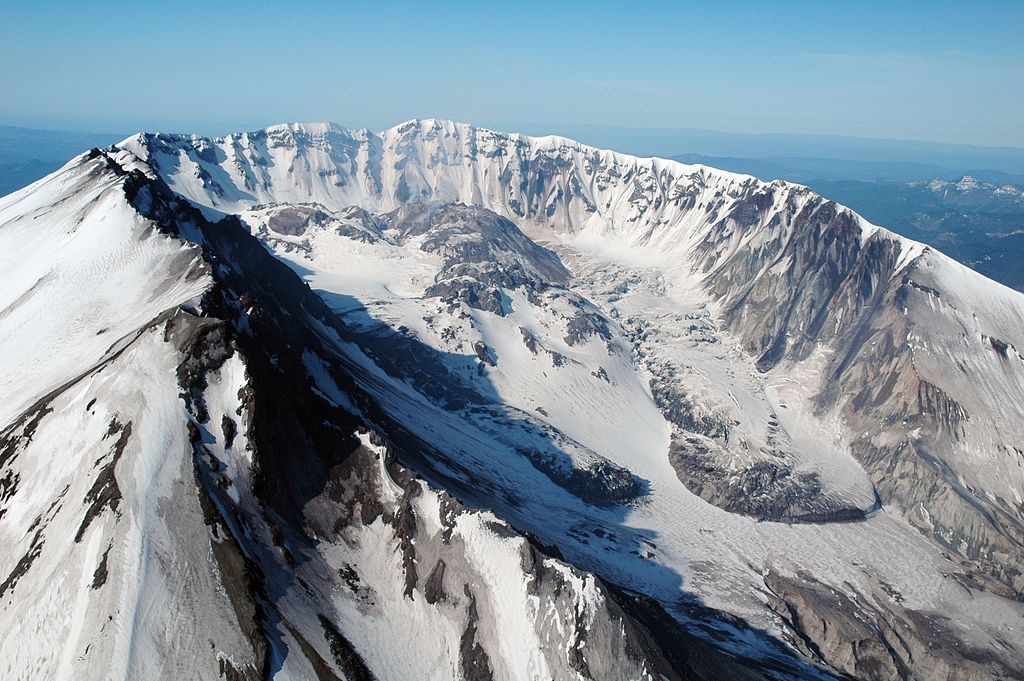 These types of volcano-tectonic earthquakes beneath Mount St. Helens are likely associated with the recharge of the volcano. After the 2004-2008 eruption, subtle inflation of the ground surface and seismicity indicate that the magma reservoir beneath Mount St. Helens is slowly re-pressurizing, as it did after the conclusion of the 1980-1986 eruption. This is to be expected and it does not indicate that the volcano is likely to erupt anytime soon. Re-pressurization of a volcano's magma reservoir is commonly observed at volcanoes that erupted recently, and recharge can continue for many years without an eruption.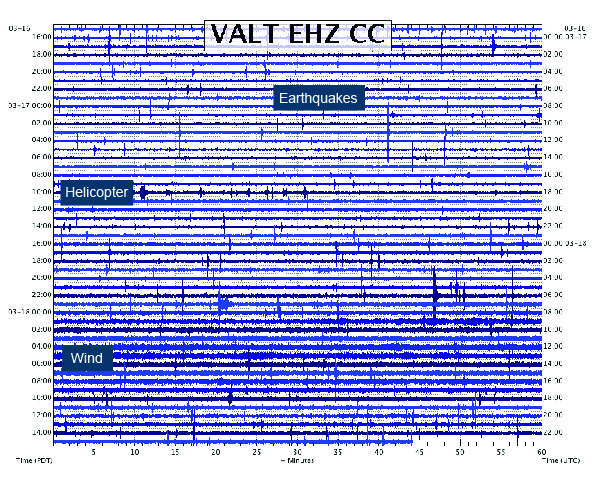 Prior to 1980, Mount St. Helens formed a conical, youthful volcano sometimes known as the Fuji-san of America. During the 1980 eruption the upper 400 m of the summit was removed by slope failure, leaving a 2 x 3.5 km horseshoe-shaped crater now partially filled by a lava dome. Mount St. Helens was formed during nine eruptive periods beginning about 40-50,000 years ago and has been the most active volcano in the Cascade Range during the Holocene. Prior to 2200 years ago, tephra, lava domes, and pyroclastic flows were erupted, forming the older St. Helens edifice, but few lava flows extended beyond the base of the volcano. The modern edifice was constructed during the last 2200 years, when the volcano produced basaltic as well as andesitic and dacitic products from summit and flank vents. Historical eruptions in the 19th century originated from the Goat Rocks area on the north flank, and were witnessed by early settlers.

Sources : CVO, GVP.
Photo : Cocomagnanville
Sabancaya , Peru :
During this period, the LP-type earthquakes (associated with a fluid passage) experienced a slight increase from a rate of 15 LP / day (Report No. 11-2016) to 18 LP / day during this week. Seismic energy shows a peak of 14.8 MJ on March 18, however, they continue to maintain low levels of energy. Regarding hybrid type events (associated with magmatic ascent), they were not recorded in this period.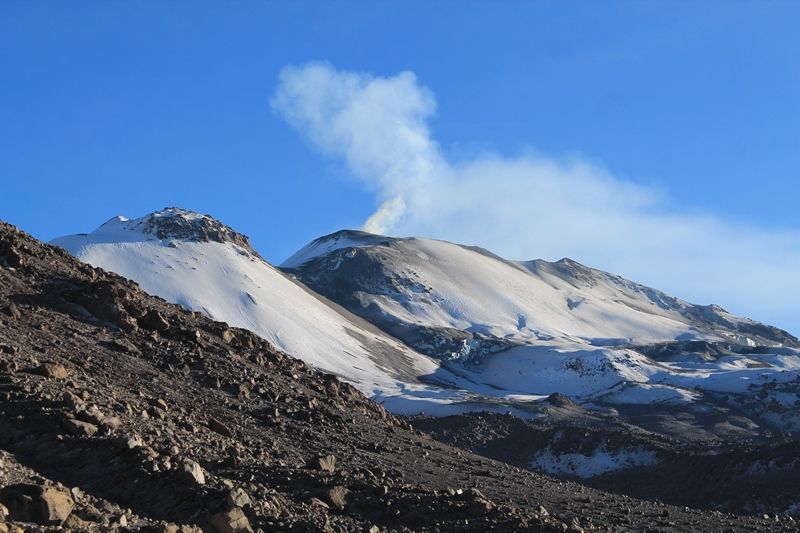 VPS type earthquakes (proximal–Tectonic Volcano, distant less than 6 km from the crater), continued to appear with a reduced size. They recorded an average of 5 VTP / day. On the other hand, the VTD events (distal Volcano–tectonic) continue to represent a significant seismicity.
Tremor type of events (TRE) recorded in this period decreased from an average of 14 TRE / day (Report No. 11-2016) to 11 TRE / day this week. Furthermore the energy is low.
During this period, it was recorded and located a total of 234 VT events. These events continue to be distributed in one area, in the Northeast, 13 km from the crater.
VTP localized events (called proximal) were presented on the decline in this period. It must be emphasized a magnitude M 2.9 event recorded on March 15 at 2:22 UTC, located 5 km northeast of the crater at a depth of 19 km.
Seismicity VTD located (distal seismicity) totaled 221 events and continued to be distributed in a single marked area, 13 km north-east of the crater. It is distinguished by 3.7 ML and 3.4 ML events. The first event was recorded on March 18 at 2:26 p.m. UTC; the second, on 15 March at 11:23 p.m. UTC, at depths of 14-15 km.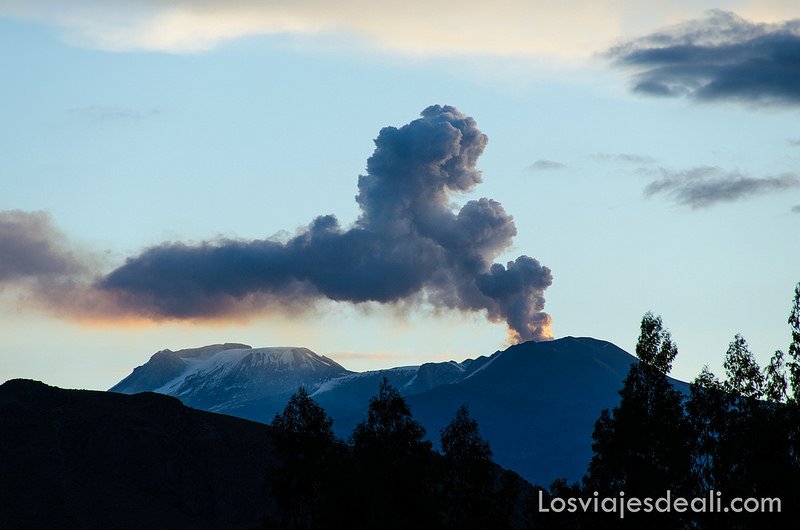 fumaroles
• Frequency: water vapor emissions were stable this week, 24 hours a day, with lower average densities.
• Color: The gas observed are whitish, which is characteristic of fumarolic emissions from the Sabancaya. Moreover, sporadic emissions of bluish tones were observed at some parts of the day.
• Height: In this period (15-21 March), fumaroles expelled by Sabancaya were recorded at heights between 200 and 1000 meters above the base of the crater, approximately. It should be noted that the nebulae in this region remained high, which prevented a complete picture of the volcano in the last week.
Satellite monitoring of the density of SO2 and thermal anomalies detected no significant anomalies in this period.
Source : IGP
Photos : IGP , Losviajesdeali