March 14 , 2016. EN. Kilauea , Tungurahua , Bulusan , Masaya .
March 14 , 2016.
Kilauea , Hawai :
19°25'16 » N 155°17'13 » W,
Summit Elevation 4091 ft (1247 m)
Current Volcano Alert Level: WATCH
Current Aviation Color Code: ORANGE
Activity Summary:
Kilauea Volcano continues to erupt at its summit and from its East Rift Zone. Scattered surface flows remain active on the 'June 27th' flow field within about 7.1 km (4.4 mi) of Pu'u 'O'o and do not currently threaten any nearby communities. Seismicity and deformation are within normal levels throughout the volcano.
Summit Observations:
Kilauea Volcano continues to host a circulating lava lake at its summit. The lake level fluctuated with periods of spattering and non-spattering during the past day. Overall, the level dropped slightly since it was last measured at 29 m (95 ft) below the vent rim on Friday, with no appreciable overall change during the past day. Summit tiltmeters recorded deflation during the last day that is typical of the start of a deflation-inflation (DI) cycle. Rates of seismicity continue at normal levels, with periods of increased tremor associated with spattering within the Overlook vent. The sulfur dioxide emission averaged about 3,300 metric tons/day during the past week.
Pu'u 'O'o Observations:
During the past day, the tiltmeter on the north flank of Pu'u 'O'o cone recorded slight inflationary, then deflationary tilt resulting in very little overall change. The apparent inflationary tilt last night may have been due to heavy rainfall, however. Seismic activity remained at background rates. The sulfur dioxide emission rate from all East Rift Zone vents was about 240 metric tons/day when it was last measured on March 10.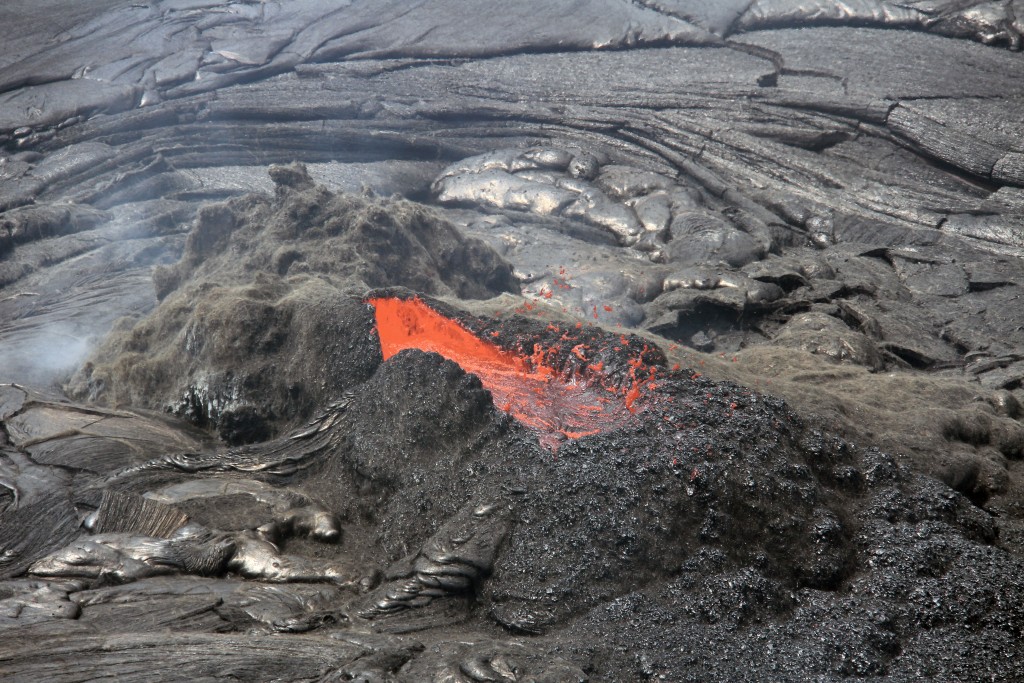 A vent in the southern portion of Puʻu ʻŌʻō Crater contained a small lava pond and was throwing spatter a short distance. The accumulated spatter has built a small cone around the opening. A thick layer of Pele's hair covers the far side of the cone.

June 27th Lava Flow Observations:
Webcam views show that scattered surface flow activity continued on the 'June 27th' flow field. Satellite images collected Thursday show that all active flows are within 7.1 km (4.4 mi) northeast of Pu'u 'O'o and do not currently threaten any nearby communities.
Source : HVO.
Photos : HVO
Tungurahua , Ecuador :
activity status of TUNGURAHUA volcano, Sunday, March 13, 2016.
SUMMARY OF THE ACTIVITIES OF THE VOLCANO
The volcanic activity is moderate to high.
It has no observations of surface activity because of cloud cover.
ANNEX and OBSERVATIONS TECHNICAL
Seismicity:
From 11:00 (TL) yesterday until 11:00 (TL) today, 7 episodes of emission Tremor (TREM), 1 small explosion (EXP), 161 long-period events (LP). were observed.
Observation of emissions and ashes:
The volcano remained cloudy, no direct observation of the crater.
Rain and lahars:
There was no rain in the volcano area.
GENERAL INFORMATIONS
If more intense rains in the volcano area occur, they can re-mobilize deposits from pyroclastic flows and generate lahars . For this reason, we recommend extreme caution when driving on roads and highways that cross the gorge through which these flows are down and in areas that have been affected by this kind of phenomenon.
Source : IGEPN
Photo : estrelladigital.es
Bulusan , Philippines :
BULUSAN VOLCANO BULLETIN 14 March 2016 8:00 A.M.
Bulusan Volcano's seismic monitoring network recorded fifteen (15) volcanic earthquakes during the past 24 hours. Weak emission of white steam plumes that rose up to 50m above the summit before drifting towards southwest was observed. Precise leveling survey results from February 23-28, 2016 indicated slight deflationary changes of the volcano's edifice relative to December 2015, consistent with ground deformation measurements from continuous GPS data since February 2016.

Alert Level 1 (abnormal) remains in effect over Bulusan Volcano. This indicates that hydrothermal processes are underway beneath the volcano that may lead to steam-driven eruptions. The local government units and the public are reminded that entry into the 4-kilometer radius Permanent Danger Zone (PDZ) is strictly prohibited due to the possibility of sudden and hazardous steam-driven or phreatic eruptions.
Source : Phivolcs
Photo : Wikipedia
Masaya , Nicaragua :
National Geographic filmed the lava lake of Masaya volcano
13 MARCH 2016. A team of scientific explorers from National Geographic, filmed a documentary of the lava lake that has formed in the Masaya volcano in Nicaragua. This has been in eruptive activity since last December, authorities said on Monday.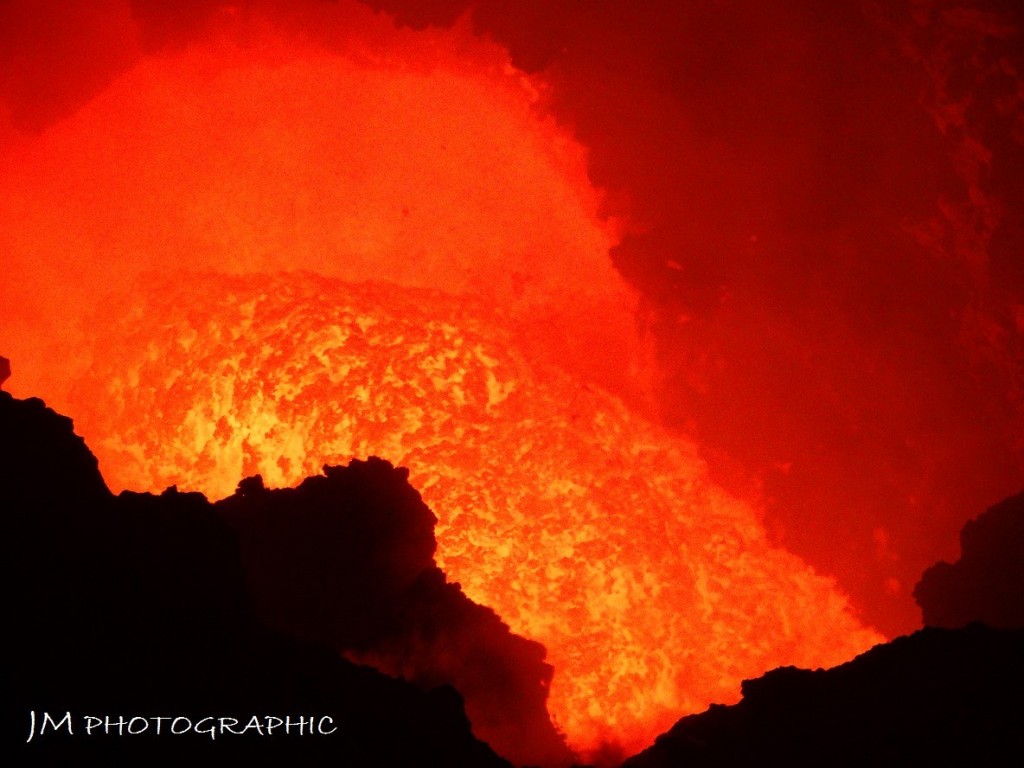 National Geographic asked permission of the Government of Nicaragua to make a documentary of the Masaya volcano, located 23 kilometers southeast of Managua, reporters were told by the coordinator of the Communication and Citizenship Council, Rosario Murillo.
A representative of National Geographic is in coordination with the Nicaraguan Institute of Territorial Studies (INETER).
According to Murillo, one of the specialists who have come to explore the Masaya volcano, has also made a scientific expedition a few years ago, descending 400 meters deep crater Marum on the island of Vanuatu and explored that strange lava lake. »
Masaya volcano crater, also known as « Santiago », has been in activity since last December. The volcano is located in the Masaya Volcano National Park, which is surrounded by a dry tropical forest growing among porous rocks of ancient eruptions.
Some 140,000 tourists visit this park every year, according to official statistics, whose main attraction is to reach the edge of the active crater. Masaya is one of seven active volcanoes in Nicaragua and since 1520 has recorded at least 18 different activities, including volcanic eruptions in 1772 and 1820, according to official information.
Sources : National Geographic,  Informador
Video : José Maria Salmeron.

Photo : José Maria Salmeron.