February 29, 2016. EN. Tungurahua , Kilauea , Momotombo , Popocatepetl.
February 29, 2016.
Tungurahua , Peru :
Tungurahua volcano ash affects crops in Ecuador .
28 FEBRUARY 2016. The Ecuadorian authorities reported that the Tungurahua volcano expelled a column of gas and ash for a second day, which reached three kilometers above the crater, affecting crops in the Andean center of Ecuador.
The Geophysical Institute (IG) said in a bulletin that activity in the volcano is moderate, in the last hours is characterized by small explosions, and continuous emission of gas and ash whose maximum height is 3 kilometers.
« Yesterday pyroclastic flows were recorded, advantageously these did not affect populated areas, nor cultivated areas, » said the director of the IG, Mario Ruiz.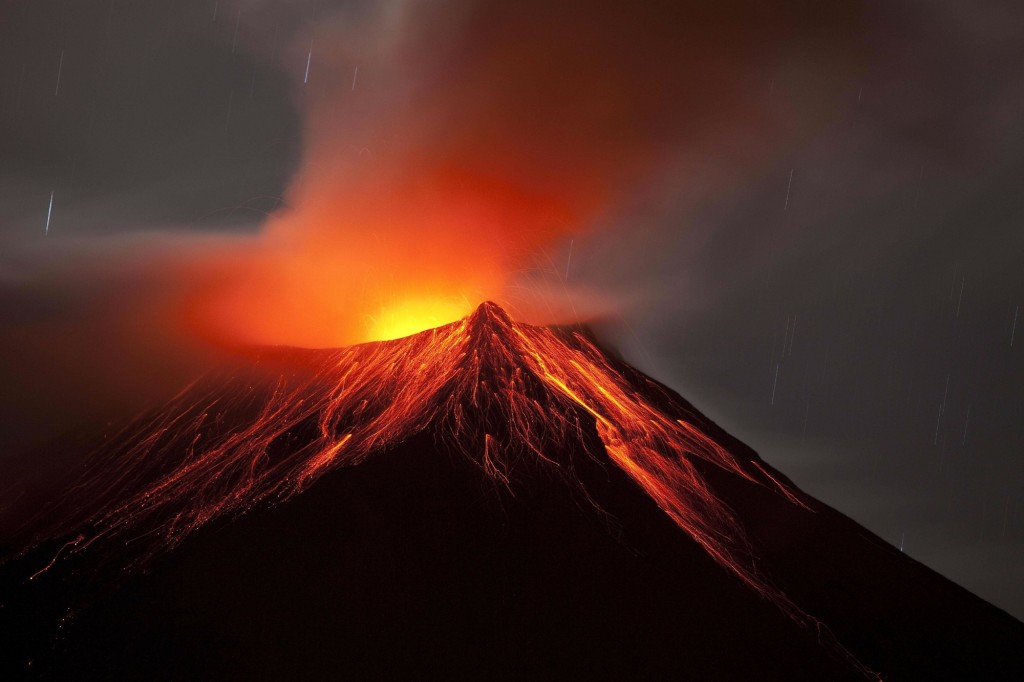 Ruiz added that the volcano is manifesting its activity with explosions with ash emissions but with a variable behavior.
For its part, the Risk Management Secretariat on Friday raised the alert yellow to orange in the areas surrounding the volcano, which at night threw incandescent rocks.
A local reported to AFP, that in Cahuají village, in the province of Chimborazo, ash covered the roofs of houses, gardens and crops.
The latest press release from IGPN.
STATE OF THE VOLCANO TUNGURAHUA No. 5 9
Sunday, February 28, 2016
SUMMARY OF THE ACTIVITIES OF THE VOLCANO.
The volcanic activity is moderate, and, in the last hours is characterized by small explosions and a continuous emission of gas, steam with a moderate to high contents of ash to a height of 2 km towards West.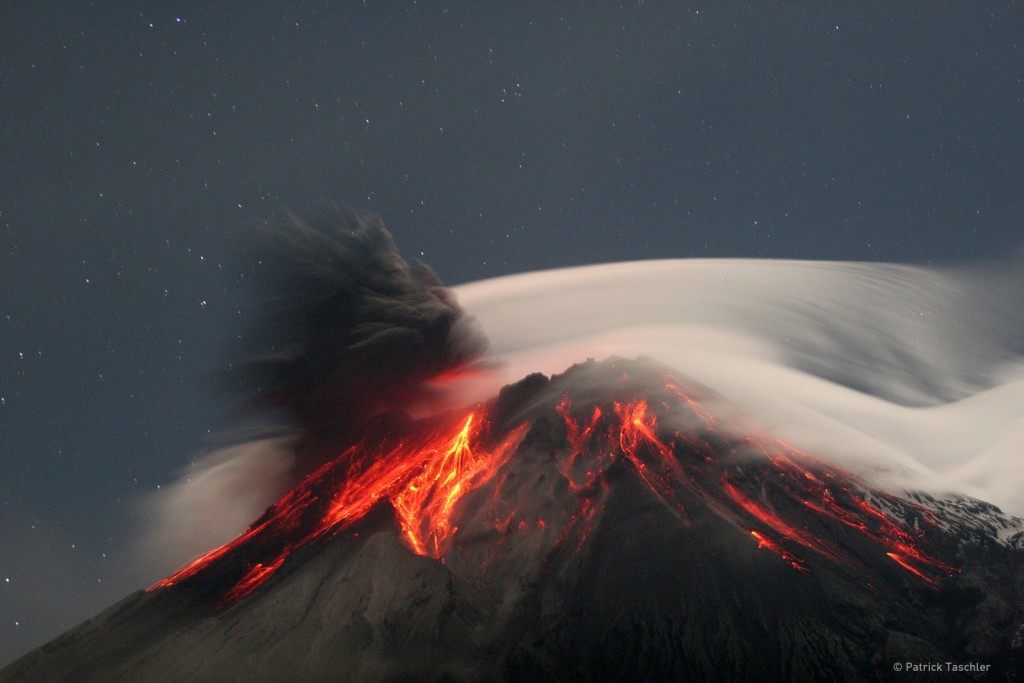 ANNEX TECHNICAL AND OBSERVATIONS.
Seismicity:
From 11:00 (TL) yesterday until 11:00 (TL) today, it was recorded 40 events long period (LP), 10 episodes of tremor emission (TREM) 5 episodes of harmonic tremor (TRA) and 11 explosions (EXP).
Observations, emissions and ashes:
An explosion at 2:13 p.m. TL was recorded yesterday, which generated a 4km column with a moderate to high ash contents that moved westward.
During the night, the volcano remained partially clear , a glow was observed with block projections on the sides of the volcano, up to 1 km below the crater, explosions generated steam emissions, gas and ash to a height of 2 km, which drifted westward.
During the morning, the volcano remained covered, but through the clouds, it was observed a continuous emission, with a moderate to high, ash contents, between 800 and 1000m snc, to the West.
A 12h30TL yesterday we reported minor ash fall on Cotaló sectors Cahuaji down, up Cahuaji, Providence, Puela, El Altar, Chazo, Pillate and La Palestina. Today, light ash falls were reported in the sector of Palitahua and El Manzano.
Rain and lahars:
No rain was recorded in the last hours.
Sources : ULTIMOS NOTICIAS , IGEPN.
Photos : Maxiscience / Patrick Taschler
Kilauea , Hawai :
19°25'16 » N 155°17'13 » W,
Summit Elevation 4091 ft (1247 m)
Current Volcano Alert Level: WATCH
Current Aviation Color Code: ORANGE
Activity Summary:
Kilauea Volcano continues to erupt at its summit and from its East Rift Zone. Scattered surface flows remain active on the 'June 27th' flow field within about 6.0 km (4 mi) of Pu'u'O'o and do not currently threaten any nearby communities. Seismicity and deformation are within normal levels throughout the volcano.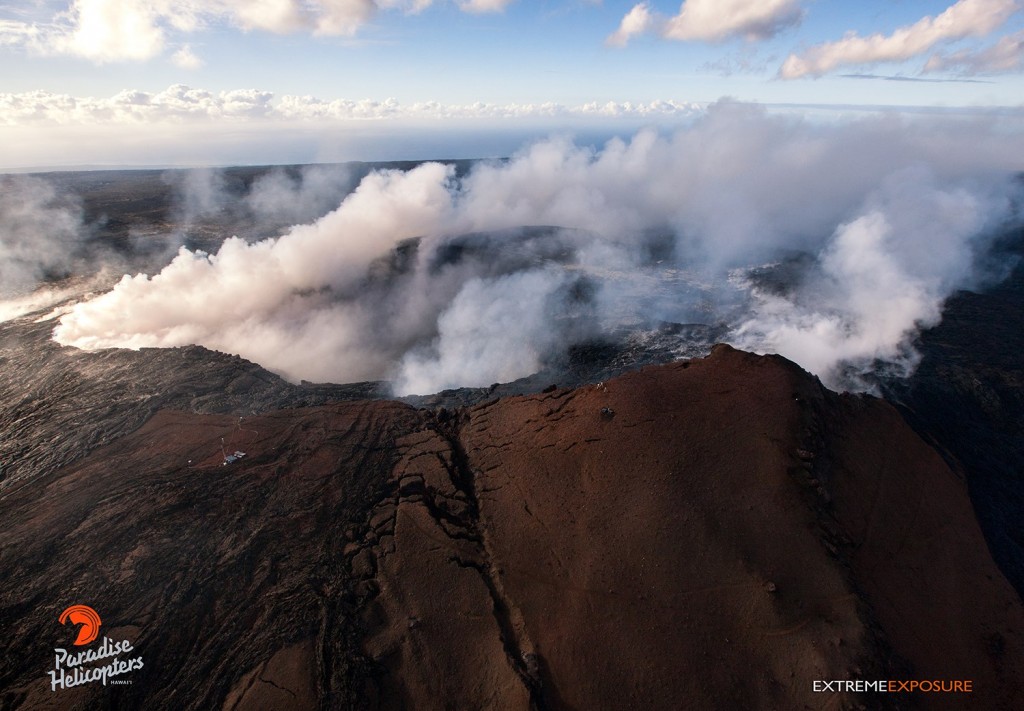 Summit Observations:
Kilauea Volcano continues to host a lava lake at its summit, with a current height of approximately 30 m (100 ft) below the rim of the Overlook crater. Inflationary tilt continues this morning at the summit of the volcano. Rates of seismicity continue at normal levels, with periods of increased tremor associated with spattering within the Overlook vent. Webcam views show typical circulation patterns at the surface of the lava lake. The sulfur dioxide emission rate was around 3,000 metric tons/day when it was last measured on February 25.
Pu'u'O'o Observations:
Webcam images show no significant changes to the incandescent vents within the Pu'u'O'o crater. Inflationary tilt continues at Pu'u'O'o this morning, and seismic activity is at background rates. The sulfur dioxide emission rate from all East Rift Zone vents was about 300 metric tons/day when it was last measured on February 16, 2016.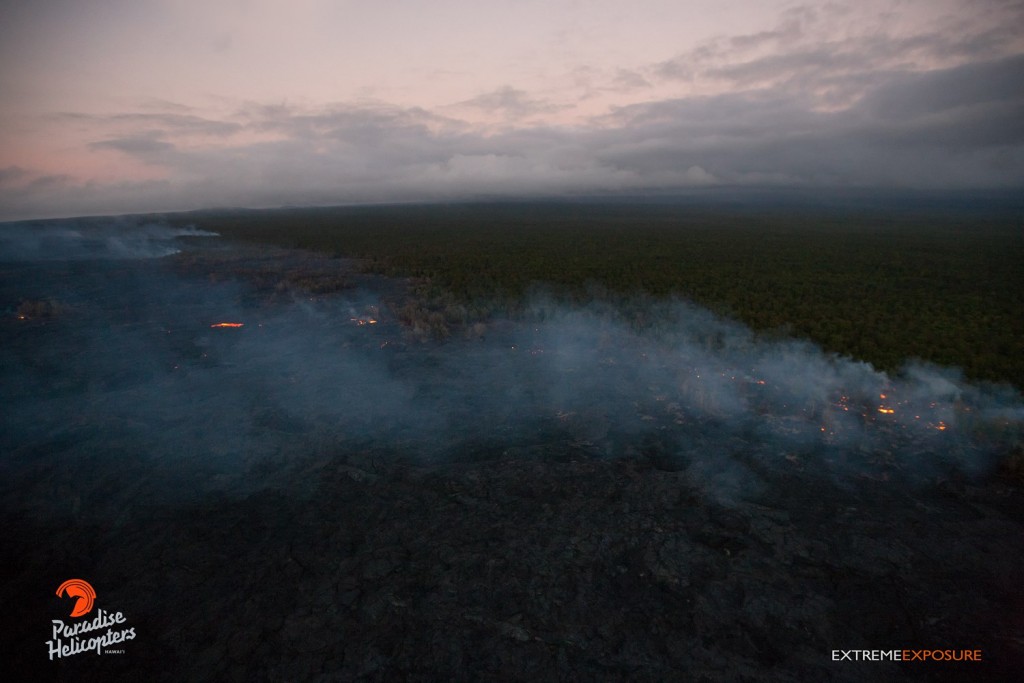 June 27th Lava Flow Observations:
Webcam views show scattered surface flow activity continues on the 'June 27th' flow field. All active flows are within about 6 km (4 mi) northeast of Pu'u'O'o and do not currently threaten any nearby communities.
 Source : HVO.
Photos : Bruce Omori .
Momotombo, Nicaragua .
Strong explosion in the Momotombo volcano, Nicaragua .
28 FEBRUARY 2016. A strong eruption of Momotombo volcano was felt in western Nicaragua on Saturday night February 27th.
Inhabitants of the departments of Leon and Chinandega reported a strong explosion and the cameras from the Nicaraguan Institute of Territorial Studies (INETER) captured an image of the Momotombo volcano ejecting incandescent material at 9:01 pm.
On the social networks, Facebook users and other users from the city of Leon, are reported to have of felt a rumble, which could have of be caused by a shock wave from an eruption of volcano, according to the Seismological Network of Nicaragua.
Ashfall
The community of Momotombo and in La Paz Centro, at 9:40 pm, ashfall was reported.
At the same time, through official media, Rosario Murillo, First Lady of Nicaragua and coordinator of the Communication and Citizenship Council, recommended to remain calm and reminded that these natural phenomena can not be guessed.
Source :   LA PRENSA
Popocatepetl , Mexico .
February 28, 11:00 h (February 28, 17:00 GMT)
In the last 24 hours the seismic records of the surveillance system at Popocatépetl volcano registered on the one hand, 28 low-intensity exhalations along with emissions of steam, gas and some times small amounts of ash .
On the other hand, yesterday at 15:55 h took place a volcanotectonic event of 1.5 magnitud, this event was located on the northeast sector.
During some lapses of the night, glow was observed over the crater, increasing at the time of some exhalations .
During most of the time covered by this report it has not had visibility to the crater of Popocatepetl due to cloudy in the area.
CENAPRED emphasizes that people SHOULD NOT go near the volcano, especially near the crater, due to the hazard caused by ballistic fragments .
This type of activity is included within the scenarios Volcanic Traffic Light Yellow Phase 2.
Source : Cenapred .
Photo : Luis Garcia.