January 13 , 2016. EN. Momotombo , Telica , Bromo , Egon .
January 13 , 2016.
Momotombo, Nicaragua :
A new explosion occurred on January 12 on the Momotombo volcano.
This one took place at 12:02 noon and was similar to those that took place in early December 2015.
According to the authorities of the Nicaraguan Institute of Territorial Studies (INETER), the process of explosion and ash emissions that began in December 2015 on the volcano presents no danger to the surrounding communities.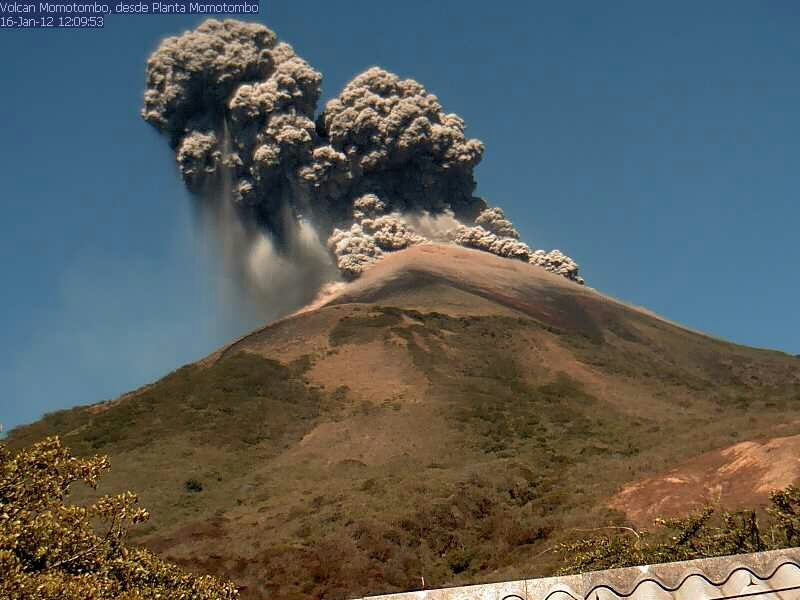 According to Rosario Murillo, coordinator of the first lady and the Communication and Citizenship Council, the ash column reached about 3,000 meters high, and was also sent off stones and incandescent material.
On December 1, 2015, the Momotombo volcano entered a new eruptive phase, after 110 years of calm since its last activity.
For about 4,500 years, the Momotombo recorded relatively few eruptive and seismic activity, according to data from INETER.
Source : La Prensa
Photo : Ineter
Telica, Nicaragua :
 
During the weekend, the volcano has maintained a low micro-seismicity, with a predominance of seismic signals that are associated with small gas explosions, which increased emissions of gases from the volcano crater without currently represent the greatest danger to the population.
At 4:26 on Sunday occurred an earthquake near the Telica, magnitude M 2.2 at a depth of 2.8 kilometers.
Telica, one of Nicaragua's most active volcanoes, has erupted frequently since the beginning of the Spanish era. This volcano group consists of several interlocking cones and vents with a general NW alignment. Sixteenth-century eruptions were reported at symmetrical Santa Clara volcano at the SW end of the group. However, its eroded and breached crater has been covered by forests throughout historical time, and these eruptions may have originated from Telica, whose upper slopes in contrast are unvegetated. The steep-sided cone of 1061-m-high Telica is truncated by a 700-m-wide double crater; the southern crater, the source of recent eruptions, is 120 m deep. El Liston, immediately SE of Telica, has several nested craters. The fumaroles and boiling mudpots of Hervideros de San Jacinto, SE of Telica, form a prominent geothermal area frequented by tourists, and geothermal exploration has occurred nearby.
Source : Ineter
Photo : El Mondo
Bromo, Indonésie :
The Bromo eruption is reported to have resulted in spews of volcanic ash to a height of more than 4,000 meters above sea levels on Tuesday, January 12.
The Bromo Volcano Observation Post (PGA) in Cemoro Lawang hamlet, Probolinggo, said that smoke and volcanic ash erupted from the crater with strong pressure up to 1,800 meters above the summit crater, or 4,129 meters above sea level.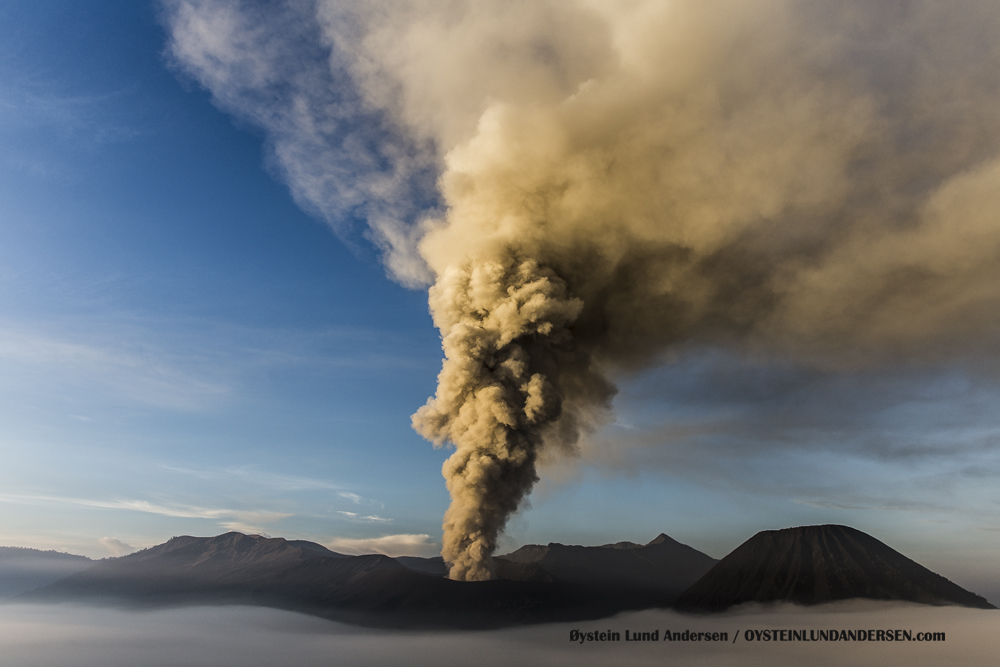 From Tuesday past midnight until morning, three eruption quakes occurred with duration between 9.44s to 17.89s and a maximum amplitude of 35-36 millimeters. Rumbles continued to be heard from the crater, while vague firelight can be seen from the active crater.
According to the observation post, from this morning until 12.00 pm, four eruption quakes occurred with durations between 10.69 and 14.72s with a maximum amplitude of 25-35 millimeters.
The current status of Bromo's activity still remains at level III or Siaga.
Source : Tempo .co
Photo : Oystein Lund Andersen
Egon, Indonesie :
Authorities have raised the alert for a volcano in eastern Indonesia and told hundreds of residents to evacuate following increased activity.
Mount Egon in East Nusa Tenggara province had rumbled since Tuesday morning as its magma pressure increased, said Sutopo Nugroho, spokesman for the National Disaster Management Agency on Wednesday.
About 600 residents living in a village near the peak have been advised to evacuate, as the exclusion zone has been extended from 1.5 kilometres to 3 kilometres, he said.
The alert was raised to the second-highest level.
The 1703-metre volcano last erupted in 2008, forcing more than 10,000 people to flee.
Visually, no visible change in the color and height of the smoke emitted by the volcano Egon, not always seen because of the fog. However, a thin white smoke was still visible rising from 25 meters, generated by the energy under the mountains of Egon, which tends to fluctuate.
Seismicity is still dominated by volcanic earthquake (VA), harmonic tremors, and emission earthquakes. After a rise in the level of activity on December 15, 2015, the number of seismic events of Egon tended to decrease. But these days , it shows a considerable increase in RSAM activity after the earthquake felt at 9:36:08 p.m..
Generally, the type of eruption of Mount Egon is phreatic. This type of eruption may occur if the interaction between the magma comes into contact with water under the surface (hydrothermal) which leads to changes in the liquid phase from vapor, producing changes in volume (pressure), which can destabilize the cap of rocks near the surface of the crater. The symptoms currently observed are identical to the   symptoms of increased seismic activity before the eruption of Mount Egon on April 15, 2008, which lasted a relatively short time. Although it can be established when the eruption of Mount Egon will occur, anticipatory efforts and disaster mitigation efforts need to be improved.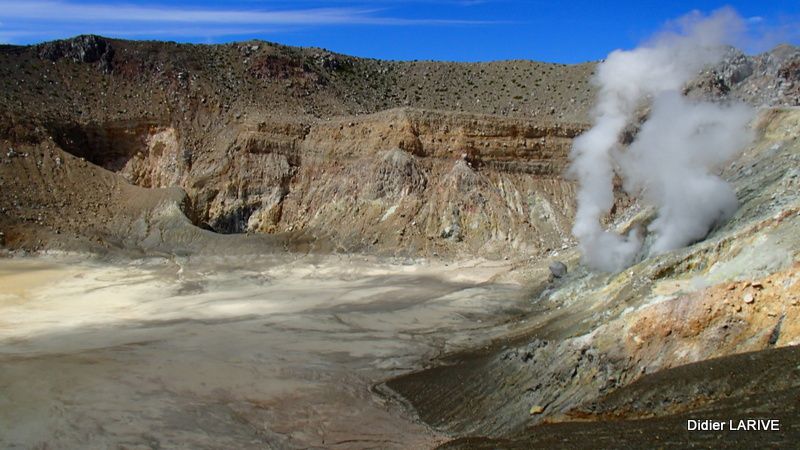 Based on the analysis of seismic observation data, the nature / type of eruption of Gunun Egon, and potential dangers , from January 13, 2016 at 18:00 The level of activity of Egon  is raised from level II  (Waspada) to level III (Siaga).
If there is a decrease / increase in volcanic activity of Egon significantly, the activity level can be lowered / raised in accordance with the level of threat.
Source : Tempo. co , Vsi .
Photos : Projet Gaia , Didier Larive .