December 28, 2015. EN. Sinabung , Kanlaon , Karymsky .
December 28, 2015.
Sinabung, Indonésia :
Victims of the eruption of Mount Sinabung, Tanah Karo, North Sumatra (North Sumatra), are still wary of subsequent eruption of volcanoes that erupted from since Christmas December 25, 2015.
« The eruption of Mount Sinabung back occurred when residents were conducting worship at Christmas yesterday, » said one refugee, Josua Sembiring (38) to SP in the post evacuation in Tiganderket, Sunday (27/12).
Sembiring said the eruption of Mount Sinabung was issued early summer. This condition makes the people there and then leaving the village to anticipate the threat of aftershocks of the mountain.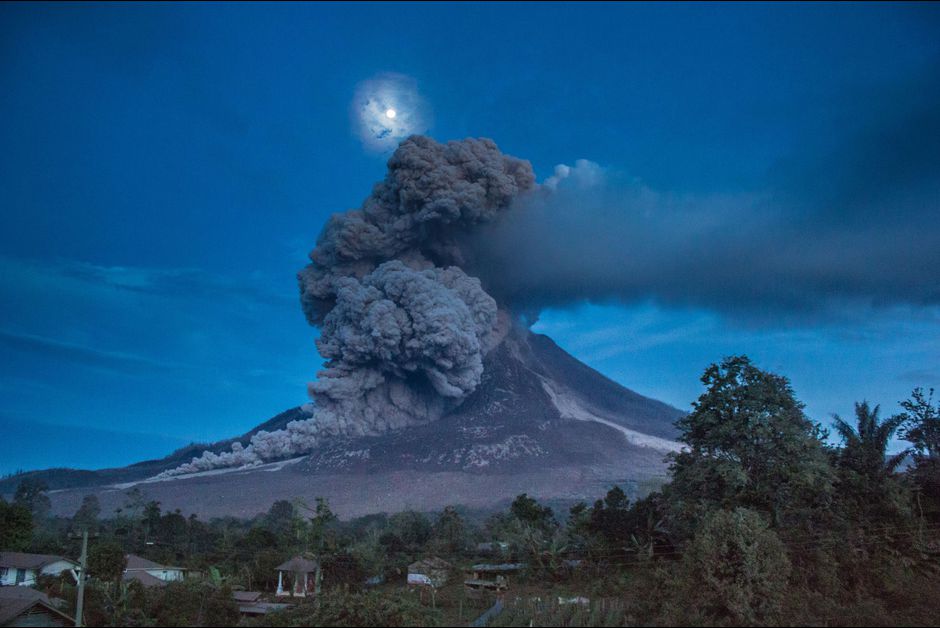 « Mount Sinabung has erupted more than six times since Christmas until now, however, the eruption will not be able to stop people when praying in the birth of Christ, » he said.
Elisa Tarin (41), other refugees added, people have become accustomed in the face of the threat of eruption of volcanoes that erupted since the year 2010.
« If you hear the sounds of animals such as birds, dogs and other animals speak noisily, it can be ascertained that the eruption of the volcano will again. At that time, we had to evacuate before the eruption occurred, » he explained.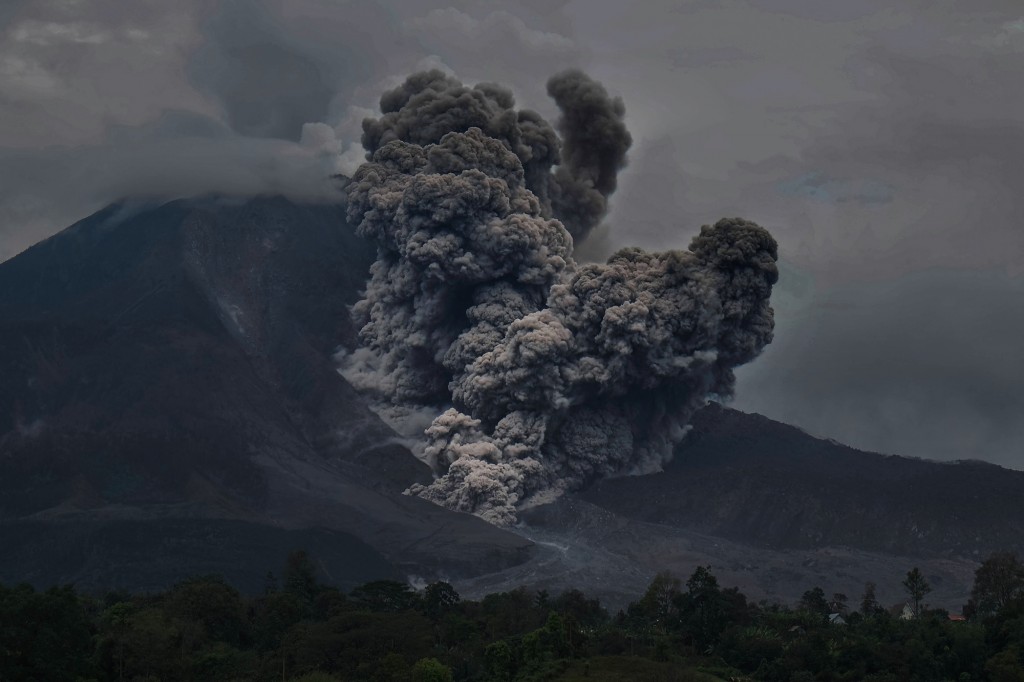 According to him, the volcanic eruption back detrimental to society. You see, the agricultural land managed by the eruption of Mount Sinaung citizens pascaberhentinya it. Agricultural land was returned to crop failure.
« The losses suffered by the majority of citizens live on these farms, totaled billions of rupiah. We expect government help to give attention to this disaster, » he said.
Based on data from Sinabung Volcano Monitoring Post, the first eruption around one four o'clock pm, then continued on at 05:45 pm. Column height of 700 meters to the Southwest.
The third eruption at 8:02 pm by forming a column as high as 1,000 meters, then at around 08:55 the eruption of Sinabung eastward to an altitude of 1,500 meters to the South column.
Toward midnight, Sinabung eruption with tall columns form 1,500 meters to the Southeast. Mount Sinabung eruption was predicted to be longer.
Source : Beritasatu.
Photos : Tibt Nangin
Kanlaon, Philippines :
KANLAON VOLCANO ADVISORY 27 December 2015 4:00 PM
At around 1:29 PM, an ash eruption occurred from the active crater of Kanlaon Volcano that lasted 5 minutes based on seismic records. The event was accompanied by a rumbling sound heard in Brgy. Cabagnaan, La Castellana, Sitio Guintubdan, Brgy. Ara-al and Brgy. Yubo, La Carlota City. From the southeastern side of the volcano, the eruption plume was observed through cloud cover to have reached 1000m above the active crater, although it may have lofted as high as 4500m above the summit based on pilot reports. Traces of light ashfall were reported in Sitio Guintubdan, Brgy. Ara-al, and Brgy. La Granja, La Carlota City and reached as far as the Municipality of Pontevedra, Negros Occidental.
Alert Level 1 status remains in effect over Kanlaon Volcano, which means that it is at an abnormal condition and is in a period of current unrest. The local government units and the public are reminded that entry into the 4-kilometer radius Permanent Danger Zone (PDZ) is strictly prohibited due to the further possibilities of sudden and hazardous steam-driven or phreatic eruptions. Civil aviation authorities must also advise pilots to avoid flying close to the volcano's summit as airborne ash from a sudden eruption can be hazardous to aircraft. DOST-PHIVOLCS is closely monitoring Kanlaon Volcano's activity and any new development will be relayed to all concerned.
Source : DOST-PHIVOLCS
Photo : Jash Pacana
Karymsky

,

Kamchatka

:
54.049°N, 159.443°E
Elevation 1513 m
KVERT reported that moderate explosive activity at Karymsky continued during 11-18 December. Satellite images detected a thermal anomaly on 14 December. The Aviation Color Code remained at Orange.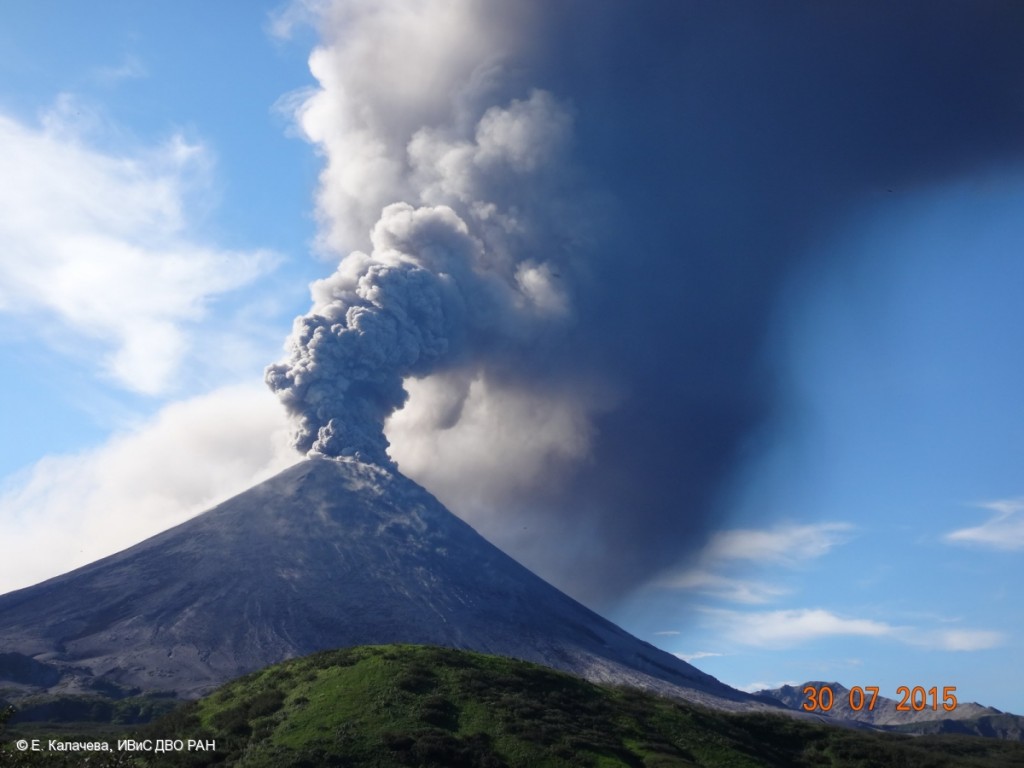 Karymsky, the most active volcano of Kamchatka's eastern volcanic zone, is a symmetrical stratovolcano constructed within a 5-km-wide caldera that formed during the early Holocene. The caldera cuts the south side of the Pleistocene Dvor volcano and is located outside the north margin of the large mid-Pleistocene Polovinka caldera, which contains the smaller Akademia Nauk and Odnoboky calderas. Most seismicity preceding Karymsky eruptions originated beneath Akademia Nauk caldera, located immediately south. The caldera enclosing Karymsky formed about 7600-7700 radiocarbon years ago; construction of the stratovolcano began about 2000 years later. The latest eruptive period began about 500 years ago, following a 2300-year quiescence. Much of the cone is mantled by lava flows less than 200 years old. Historical eruptions have been vulcanian or vulcanian-strombolian with moderate explosive activity and occasional lava flows from the summit crater.

Source:  KVERT , GVP.
Photo : E. Kalacheva, IVS FEB RAS