November 30, 2015. EN. Kanlaon , Kilauea, Fuego .
November 30, 2015.
Kanlaon, Philippines :
 BULLETIN 30 November 2015 8:00 AM
Kanlaon Volcano's seismic monitoring network recorded eleven (11) volcanic earthquakes during the past 24 hours. Weak to moderate emission of white steam plumes that rose up to 50m high above the summit crater before drifting to the southwest was observed.
Alert Level 1 status now currently prevails over Kanlaon Volcano, which means that it is at an abnormal condition and is in a period of current unrest. The local government units and the public are reminded that entry into the 4-kilometer radius Permanent Danger Zone (PDZ) is strictly prohibited due to the further possibilities of sudden and hazardous steam-driven or phreatic eruptions. Civil aviation authorities must also advise pilots to avoid flying close to the volcano's summit as airborne ash from a sudden eruption can be hazardous to aircraft. DOST-PHIVOLCS is closely monitoring Kanlaon Volcano's activity and any new development will be relayed to all concerned.
Source : DOST–PHIVOLCS
Photo : Phildigita
Kilauea, Hawai :
19°25'16 » N 155°17'13 » W,
Summit Elevation 4091 ft (1247 m)
Current Volcano Alert Level: WATCH
Current Aviation Color Code: ORANGE
Activity Summary:
Eruptions continue at the summit of Kilauea Volcano and its East Rift Zone. Scattered surface flows persist in the 'June 27th' flow field; all are within 6.1 km (4 mi) of Pu'u 'O'o and do not threaten nearby communities. Seismicity and deformation rates are within normal levels throughout the volcano.
Summit Observations:
Kilauea Volcano continues to host a lava lake at its summit; with a current height of 50 m (165 ft) below the rim of the Overlook crater. Minor inflationary tilt continued throughout yesterday, consistent with the inflation segment of a DI event. Seismicity is at normal, background rates. Episodes of tremor are associated with periods of spattering within the Overlook vent. Summit sulfur dioxide emission rates averaged around 4,000 metric tons/day for the past week.
Pu'u 'O'o Observations:
Thermal webcam images show no significant change in Pu'u 'O'o crater; material erupted last week is still warm, but cooling. Gentle deflationary tilt continued throughout the past day. Seismic activity remains quiet. The sulfur dioxide emission rate from all East Rift Zone vents was about 460 metric tons/day when measurements were last possible on November 5, 2015.

June 27th Lava Flow Observations:
Scattered breakouts continue to be visible in the 'June 27th' flow field. Surface flows are northeast of Pu'u 'O'o and within 6.1 km (4 mi) of the vent. There is no lava flow threat to nearby communities.
Source : HVO
Photo : Bruce Omori
Fuego, Guatemala :
The Fuego volcano, located about 50 km southwest of the capital of Guatemala, on Sunday increased its eruptive activity and ash fall rumblings surrounding area, the Institute of Volcanology reported.
« The Fuego volcano is in a phase of high activity. In the course of Sunday morning largest increase is observed, being the beginning of a new eruption, » the institution said in a special bulletin.
The incandescent source reaches 250-300 m above the crater, feeding lava flows reaching 1,800 and 2,000 meters, he said. Also, the company said that this eruption phase « is accompanied by moderate to strong explosions, causing booms and shock waves ».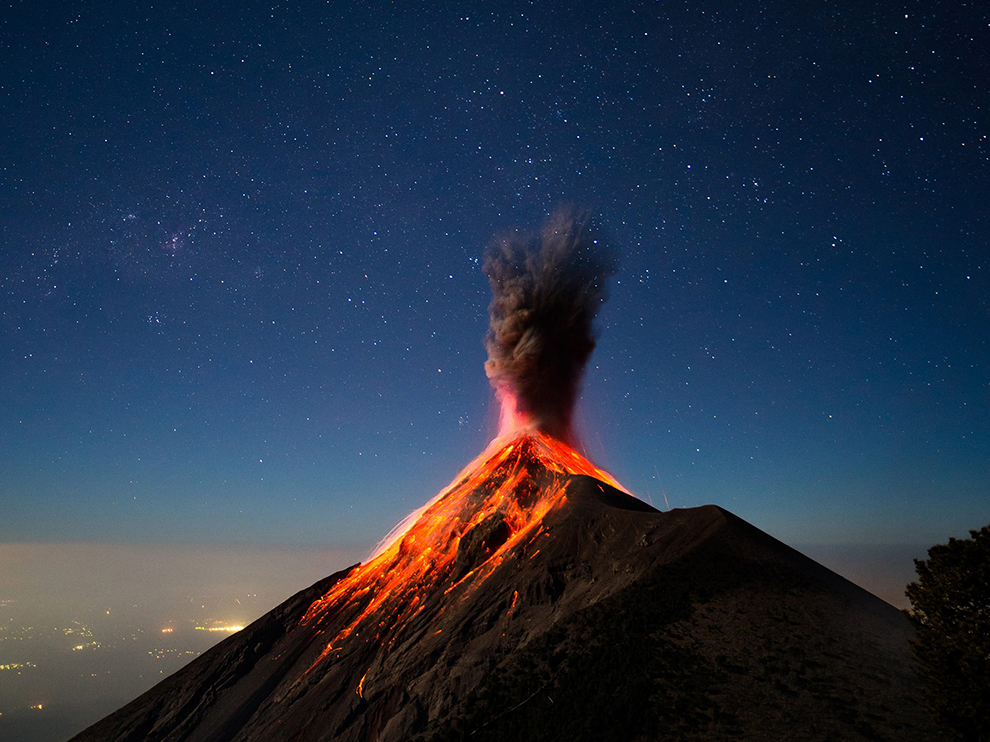 The product ash plumes from explosions reaching 4.800 meters above sea level traveling at 15 kilometers west and southwest. The institute warned that this new eruption phase power may increase in the coming hours and already ashfall on five villages located on the slopes of the colossus, of 3.763 meters of altitude, located between the departments of Chimaltenango, Escuintla it reported and Sacatepequez (southwest).
The Institute of Volcanology civil protection recommended aa implement the state of yellow alert phase 2 and be aware of the evolution of the activity, the Directorate of Aeronautics and take precautions to air traffic as ash exists at 4,800 meters above sea level .
Source : La Prensa .
Photo :  Andrew Shepard.