November 21, 2015. EN. Nishinoshima, Shishaldin, Cotopaxi .
November 21, 2015.
Nishinoshima, Japan :
The volcanic island continues to lose in size, 2.67 km² in September to 2.63 km² to 17 November.

Situation of the eruption
Presence of explosive eruption with a frequency of one hour and intense infrasound , with explosions in the crater of pyroclastic cone. Ash plumes were released by the eruption, amounting to about 500 ~ 1000m
The dispersion of emissions reached the sea and has made so far towards the southwest of Nishinoshima.
An area at the bottom of the slope north of the pyroclastic cone formed two depressions.
The Hornito with fumaroles , who was north , has completely disappeared.
A lava flow was formed in the southern slope of the pyroclastic cone (see picture)
In addition, there is no lava flow that reaches the coast, significant changes of the coast plotting were observed.
The coast of Nishinoshima surrounded by a pale yellow-green discoloration of the water over a width of about 200 ~ 300m.
The volcanic activity will continue his pursuit on the island of Nishinoshima.
It was recalled because there is a risk of the eruption of Nishinoshima affecting the surrounding waters (from the island center with a radius of 4 km), a necessary vigilance warning for continuing navigation of the ships near the island.
Source : kaiho.mlit.go.jp, Sherine France.
Shishaldin

,  Alaska :

54°45'19 » N 163°58'16 » W,
Summit Elevation 9373 ft (2857 m)
Current Volcano Alert Level: ADVISORY
Current Aviation Color Code: YELLOW
AVO downgraded the status of Shishaldin Volcano from aviation color code ORANGE to YELLOW and from volcano alert level WATCH to ADVISORY today. No anomalous activity at Shishaldin has been observed in satellite data since weakly elevated surface temperatures were detected on October 16. Low-amplitude seismic tremor continues but is not considered to be indicative of an active eruption.
Shishaldin, with degassing plume, as viewed during gas and water geochemistry fieldwork as part of the August 2015 GeoPrisms/DCO/AVO Central Aleutian field excursion.


AVO will continue to monitor Shishaldin with satellite, seismic and infrasound (pressure sensor) data.
Source : AVO.
Photo : Werner, Cindy
Cotopaxi, Ecuador :
The internal activity remains moderate.
Yesterday afternoon, emissions with low ash content and a maximum height of 1500 meters above the crater were recorded. During the hours of the night and during the early hours of the morning, the emissions did not exceed 500 meters above the crater.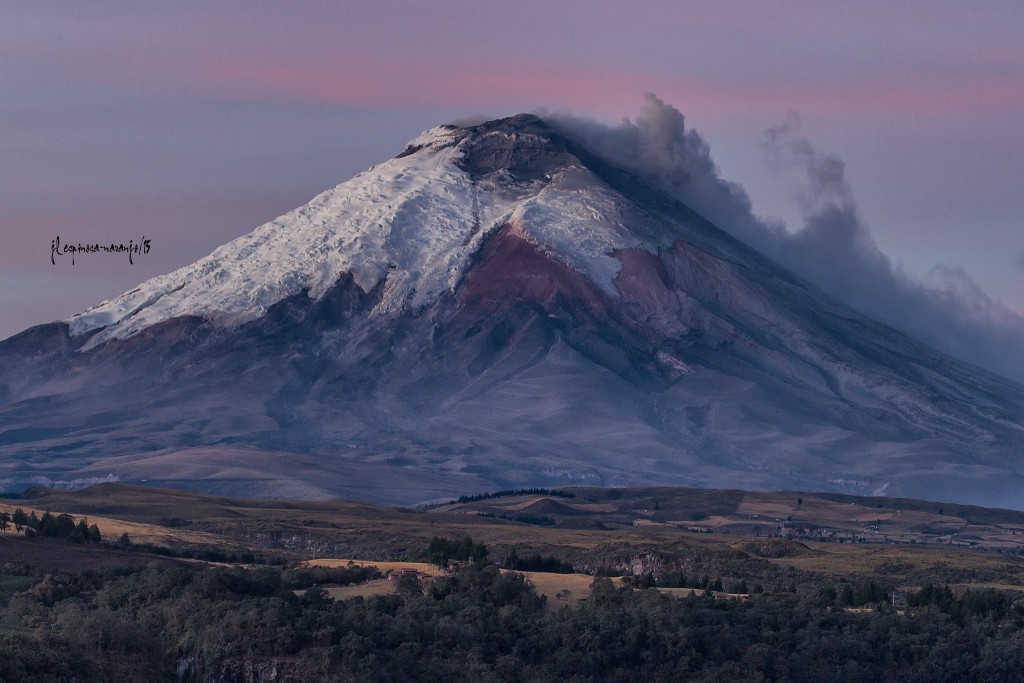 Technical and annexes observations:
Seismicity:
From 13:00 (TL) yesterday at 13 h00 (TL) today, it was recorded 123 volcano-tectonic events (VT), 4 hybrid events (HB), 8 long-period events (LP), 11 episodes of tremor emission (TE) and 11 explosions (exp).
Observations, emissions and ashes:
Yesterday afternoon, emissions of  gas and vapor with a low ash content  to the west, with a maximum height of 1500 meters above the crater were recorded. In the evening hours, with thermal camera , emissions continuous of vapor and gas not exceeding 500 meters above the crater and and moving towards west are recorded. Early this morning, small water vapor emissions with heights varying between 300 and 500 meters above the crater, in a southwesterly direction were recorded. Since then, the volcano is in the clouds.
Gas:
The sulfur dioxide emission value is 1316 tonnes / day with 94 valid measurements.
Rains:
Rain showers that did not cause lahars were recorded.
Source : IGEPN.
Photo : José Luis Espinosa Naranjo.