November 19, 2015. EN. Bárðarbunga , Karangetang, Sabancaya .
November 19, 2015.
Bárðarbunga

, Iceland  :
Increased seismic activity in and around Bárðarbunga volcano in the past two weeks will be discussed today at a meeting of scientists from the Civil Protection in Iceland, Vísir reports. They will compare notes and discuss possible reasons for recent increase in activity.
According to the Icelandic Met Office, tremors have increased in this area lately, with two of them measuring more than 3.0 on the Richter scale, one last week of 3.1 and the other Monday, measuring 3.2 . The area is monitored 24 hours a day.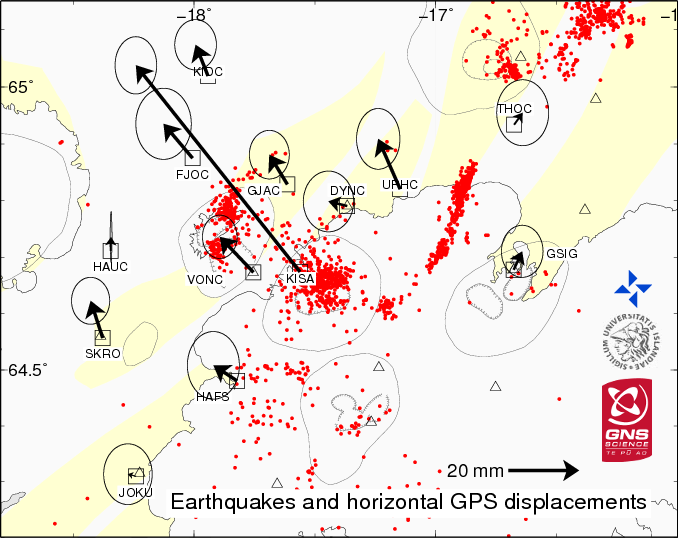 Update:
Scientists at the meeting concluded that the increased tension in the area can be explained by an accumulation of magma under the caldera, which they say is not unusual following a large eruption, RÚV reports.
Kverkfjöll, left, Bárðarbunga to the right.
According to Kristín Jónsdóttir, geophysicist, there is no reason to expect anything to happen in Bárðarbunga right now, but 24-hour monitoring continues. "This, of course, is a beast we don't know very well," she said. "We've never before followed an eruption there with modern monitoring. So, of course we're on the alert and a group of scientists will meet soon to go over all available information."
Source : icelandreview.com
Photos : IMO, livefromiceland.is.
Karangetang

,

 

Siau Island

, Indonésia:
2.78°N, 125.4°E
Elevation 1784 m
Based on observations conducted at the Karangetang Volcano Observation Post in the village of Salili, PVMBG reported during 4-11 November that activity remained stable. The lava dome was incandescent at night. Incandescent avalanches from lava-flow fronts traveled as far as 1.5 km E down the Batuawang and Kahetang drainages.
 Seismicity decreased, but continued to be dominated by avalanche signals. The Alert Level remained at 3 (on a scale of 1-4); visitors and residents were warned not to approach Karangetang within a 4-km radius.

Source: Pusat Vulkanologi dan Mitigasi Bencana Geologi , GVP.
Photo : Aris Yanto / Exploredesa.com
Sabancaya, Peru :
The LP type of seismicity (associated with the passage of fluids) in the analysis of this week presented an average rate of 17 LP / day. In addition, the LP seismic energy remains at low levels.
The number of hybrid-type events (associated with the rise of magma material) shows low values, and recording a HIB / day in the period. In addition, the hybrid energy show low levels.
Seismic Events VTPS or « proximal volcano-tectonic » (very close to the volcano, less than 6 km), showed significant values ​​in both size and number. During this period, it was recorded 11 VTPS / day. In addition, the maximum magnitude earthquake generated by a VTP was 2.9 M (local magnitude).
Type of tremor events have decreased slightly to 12 November, with 9 episodes Tremor recorded daily. Their number and energy have declined steadily during this period.
The fumerolics emissions of Sabancaya continue to occur continuously, 24 hours a day, with medium to high densities during this period.
Their coloring is mainly, as in recent months, whitish (water vapor). Because of the abundant clouds in the region over the past week, it was not easy to distinguish the expulsion of bluish gas (magmatic gases).
Between November 10 and 16, the height of emissions did not show great variations. These were maintained between 200 and 900 meters above the crater, approximately.

Source : IGP Perou .
Photo : IGP