November 13, 2015. EN. Etna, Colima, Cotopaxi, Bromo .
November 13, 2015.
Etna, Sicilia :
Another episode of elevated volcanic tremor amplitude and increase in emissions from the New Southeast Crater of Etna (NCSE) took place. It was not as strong as the previous episode, there a few days, but similar to the 8-9 November.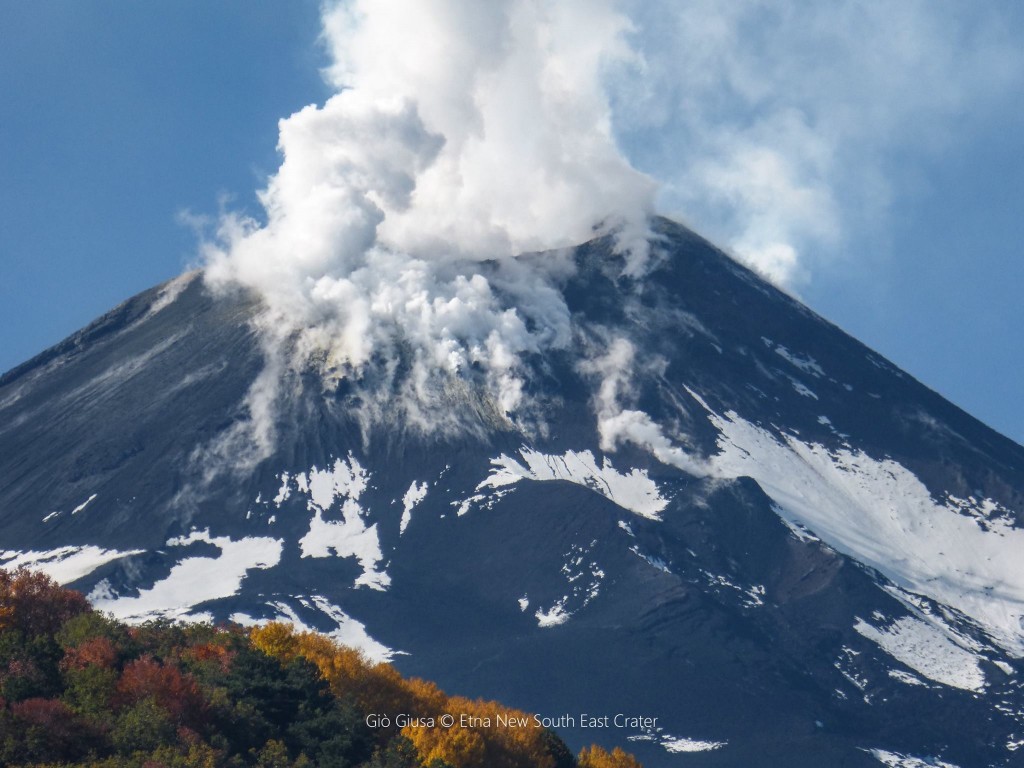 There was an impressive increase in the outgassing from the New Southeast Crater's accompanied by a rise in the volcanic tremor amplitude on November 12, 2015. Since at least four times before since the beginning of this month, these signs clearly indicate that Etna is trying to reconnect with stronger activity. But so far it does not happen much. Except the continuation of the emission of a small, dark plume from the Voragine, where a slight strombolian activity continues inside the crater.
Source : B Behncke
Photo : Gio Giusa ( tutti i diritti riservati © all rights reserved )
Colima, Mexico :
19.514°N, 103.62°W
Elevation 3850 m
Based on satellite images, wind data, and notices from Colima Towers and the Mexico City MWO, the Washington VAAC reported that during 4-7 and 9 November ash plumes from Colima rose to altitudes of 4.9-6 km (16,000-20,000 ft) a.s.l. and drifted 13-24 km N, NW, W, SW, and S. On 10 November emissions released about every two hours rose to an altitude of 5.7 (19,000 ft) a.s.l. and drifted SW and WSW.

On November 12, an emission of ash rose to 1500m in a sky with few clouds and moved to the north–northwest of the volcano.
Source: Washington Volcanic Ash Advisory Center (VAAC), GVP
Photo : Hernando Rivera
Cotopaxi, Ecuador :
Emission with a moderate charge of ash on Cotopaxi volcano
The Geophysical Institute of the National Polytechnic reported today, November 12, 2015 at 3:20 p.m. (TL), a signal of tremor associated with an emission with a moderate load of ash to the northwest, which has was recorded to reach a height of 1500 meters above the crater.

Ash falls in areas surrounding the volcano could occur.
The Geophysical Institute of the National Polytechnic School keeps an eye on the evolution of the volcanic system.
Source : Institut de géophysique ,École polytechnique nationale de Quito
Photo : volcan Cotopaxi/facebook
Bromo, Indonésia :
Indonesian authorities have advised visitors to steer clear of Mount Bromo in East Java, following an escalation in volcanic activity there.
Akhmad Subhan, an official at the Center for Volcanology and Geological Disaster Mitigation (PVMBG), said on Friday that officials had recorded a higher frequency of volcanic earthquakes at the site, as well as an increase in the volume of the smoke and ash plume coming from the crater.
"Everyone can see easily that more smoke is coming out of Mount Bromo, as high as 100 to 150 meters and heading southwest," he said.
Ayu Dewi Utari, the head of the Bromo Tengger Semeru National Park, said the alert for the volcano had been raised from level 1 to level 2 on the government's four-point scale.
"Visitors are not allowed to get to the crater and we suggest they keep a safe distance of at least one kilometer from [the crater]," she said as quoted by Tempo.
Ayu said park officials had put up warning signs in the area and instructed tour guides and rented SUV drivers to not approach the crater.


Bromo, rising to an elevation of 2,329 meters, is popular with visitors for its hiking and driving trails as well as scenic beauty.
The increase in volcanic activity there is the latest in a series of volcanic disturbances around Indonesia this year. A series of eruptions at Mount Rinjani in Lombok last week forced the closure of airports in Bali and Lombok because of the threat posed by volcanic ash to aircraft engines. The eruption on Mount Raung in East Java in late June and early July also prompted the closure of Bali's Ngurah Rai, the country's second-busiest airport.
Bromo's last major eruption, in January 2011, forced some international airlines to cancel flights to Bali.
Source : Jakartaglobe.
Photo : G Vitton