November 10, 2015. EN. Copahue , White-Island , Bulusan .
November 10, 2015.
Copahue , Chile :
Based on the analysis of information collected by the monitoring equipment and by monitoring volcanoes, the National Geology and Mining Service (SERNAGEOMIN) -Observatorio Volcanológico South Los Andes (OVDAS), announces:
During this period, 474 seismic events , including three hundred and forty (340) who were classified as volcano-tectonic (VT) associated with fracturing rocks events were recorded.
Similarly, 134 events were recorded associated with fluid dynamics inside the volcano , thirty-three of which (33) were identified as the long period earthquakes (LP) and one hundred (101) very long events period (VLP).
Concerning VT seismicity, they were located primarily on two sources, the first under the volcano, and the second on its northeast quadrant (NE). The maximum local magnitude (ML) was M3,6 (REAV 02DE October 21: 35hl) on the second mentioned spot.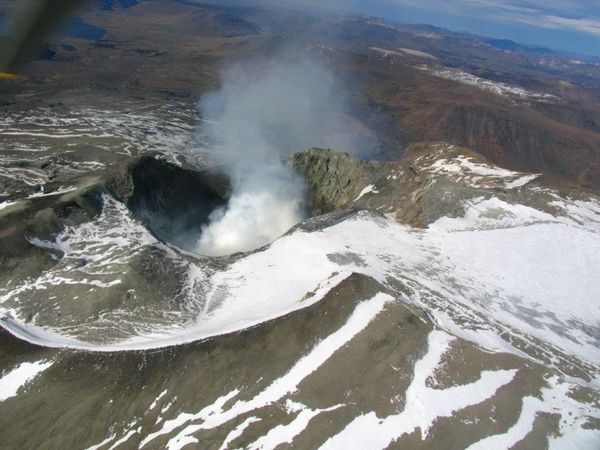 – Regarding the seismic LP and VLP, it reached a maximum of 1.3 M local magnitude (ML) and reduced movement (DRS) of 99,3cm2 maximum. These events associated with fluid dynamics were mainly located under the volcano, with epicentral distances of less than 3.5 km.
– On October 24, a swarm of seismic events associated with rock fracturing (VT) was recorded. These events were mainly located northeast (NE) of the crater Agrio, an epicentral distance of 11 km and an associated depth of 8 km. The total number of recorded events was 41 in a time interval of 1 hour and 15 minutes, from 10:15 to 11:30 HL.
Concerning the surface activity, when weather conditions have allowed, IP cameras installed near the volcano recorded the recurring presence and sometimes continuous gas emission and ash from the active crater (El Agrio) . These emissions are characterized mostly by their gray color, showing the presence of particulate matter.
Finally, the column reached a maximum height of 850 m above the crater on October 30 at 7:58 p.m. HL. Due to satellite pictures the ash cloud was observed up to 60 km from the El Agrio crater with preferential directions Southeast (SE) and East-South- East (ESE).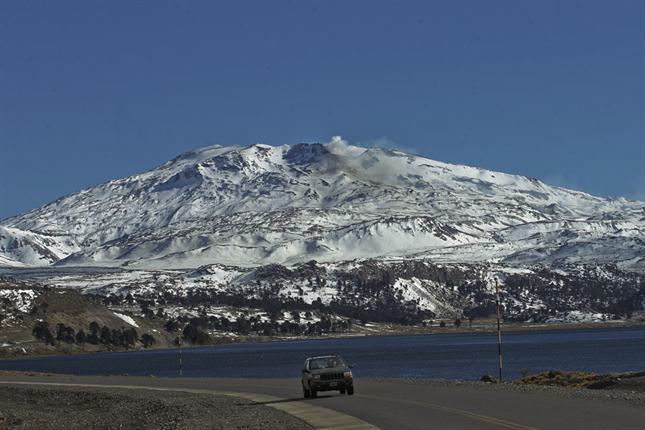 According to the data obtained from the three (3) GNSS positions, which measure the deformation of the volcano, no significant variations in the horizontal position (<0.1 cm / month) are observed. With regard to the vertical component, it is recorded by the station nearest to the crater, a variation of 0.17 cm lifting / month. Although this value does not exceed the speed measured throughout the year, this also indicates that the inflation process indicated previously remains active.
Sulfur dioxide (SO2) recorded on the Copahue volcano, by equipment DOAS (Differential Optical Absorption Spectrometry) Twins Station, installed at 5 km to the east-northeast (ENE) of the active crater, have presented a monthly average of 692 ± 105 t / day and a maximum value of 2676 t / day, registered on 30 October.
The increase in observed values ​​of the degassing suggest changes in volcanic system.
Source : Sernageomin.
Photos : Alto Valle Valle Medio, La Nacion.
White Island

,

New Zealand

:
VOLCANIC ALERT BULLETIN: White Island Volcano
Monday 2 November 2015, 2pm
Volcanic Alert Level: Level 1 (no change)
Aviation Colour Code: Green (no change)
Recent routine monitoring of White Island (Whakaari) suggests a slight decrease in the level of volcanic unrest. In October GNS scientists had measured an increase in the amount of volcanic gas emitted at White island. The increase of emitted gas also coincided with the presence of volcanic tremor. The level of volcanic gas and tremor has declined slightly over the last week. This indicates a lower level of unrest at White Island.
GNS volcanologists who visited the Island last week measured a small drop in the temperature of the hottest fumarole (170 to 162 ºC). There was no change in the lake temperature (54 ºC). The water level of the Crater Lake was falling but no change was noticed on this visit. The DOAS SO2 gas spectrometers ranged 350 to 520 tons per day of gas during the last week.
The Volcanic Alert Level remains at Level 1 (minor volcanic unrest). The changes we are seeing presently are common for the island. Activity may continue to increase or die away. Typical volcanic unrest hazards like hot ground and gas remain. A range of activity can occur under these conditions with little or no useful warning.
Source : Brad Scott , Duty volcanologue
Photo :  leschroniquesderorschach.
 Bulusan, Philippines :
BULUSAN VOLCANO BULLETIN 09 November 2015 8:00 A.M.
Bulusan Volcano's seismic monitoring network recorded thirteen (13) volcanic earthquakes during the past 24 hours. Steaming activity could not be observed due to thick rain clouds covering the summit. Precise leveling survey results from September 1-6, 2015 indicated slight inflationary changes of the volcano's edifice relative to July 2015, although ground deformation measurements from GPS data indicated a slight deflationary trend since August 2015.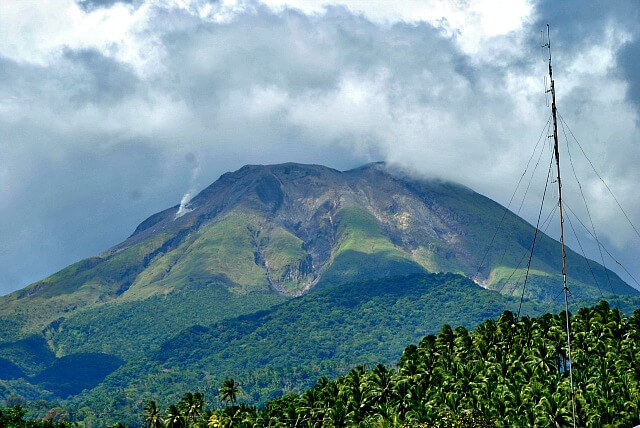 Alert Level 1 (abnormal) remains in effect over Bulusan Volcano. This indicates that hydrothermal processes are underway beneath the volcano that may lead to steam-driven eruptions. The local government units and the public are reminded that entry to the 4-kilometer radius Permanent Danger Zone (PDZ) is strictly prohibited due to the possibility of sudden and hazardous steam-driven or phreatic eruptions. Civil aviation authorities must also advise pilots to avoid flying close to the volcano's summit as ash from any sudden phreatic eruption can be hazardous to aircraft.
Source : DOST-PHIVOLCS

Photo : beautyofcebu.com.