October 24 , 2015. EN. Kilauea, Yasur, Santiaguito .
October 24 , 2015.
Kilauea, Hawai :
Kilauea section move 1.2 inches in 'slow earthquake'
Scientists say a section of Kilauea volcano's south flank moved about 1.2 inches toward the sea in a phenomenon known as a "slow earthquake" last week. The Hawaiian Volcano Observatory said the "slow earthquake" began on Oct. 14 and triggered a small swarm of regular earthquakes, including a magnitude 3.9 earthquake at 8:41 p.m. on Oct. 15, centered about 10 miles south of Fern Acres.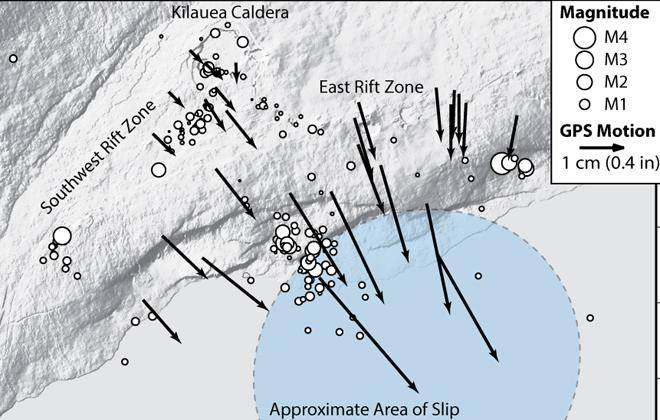 This graphic illustrates last week's « slow earthquake. » Earthquakes recorded last week are shown in white circles. The arrows incited the amount of motion recorded. The light blue circle shows the approximate area at about 6 miles below the surface that slipped. HVO.
Three earthquakes of magnitude 2.6 were also recorded on Oct. 15, the first at 12:09 a.m., about 4 miles north-northeast of Pahala. The other earthquakes hit about 12 miles southwest of Leilani Estates at 8:43 p.m. and at 9 p.m. Another magnitude 2.8 earthquake shook the area at 7:55 p.m.
In a Volcano Watch article released today, observatory scientists concluded that the earthquakes were connected to the slippage detected by a tiltmeter near Kaena Point on Hawaii island. The movement took about 2 to 3 days. If it had happened rapidly, the movement of the earth would have generated an earthquake of around magnitude 6, scientists said.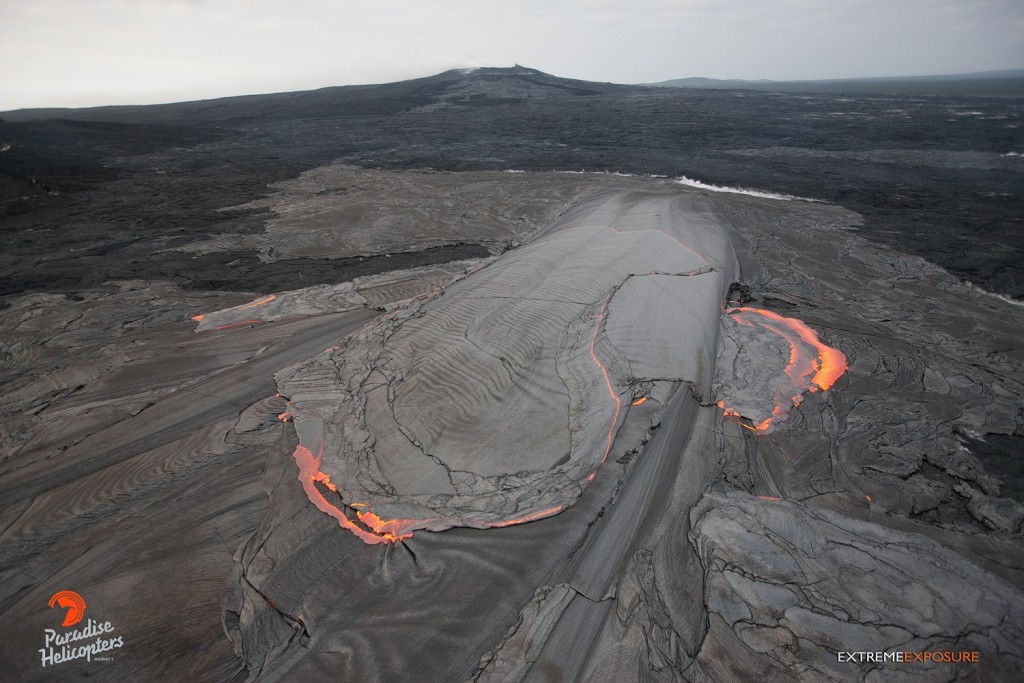 A view of the cooled crust of a huge new breakout, approximately 1 1/2 miles northeast of Pu'u 'O'o crater. The lightest colored portion of the flow is approximately 40 yards wide, and while the overall width of the flow from edge to edge (slightly darker) is over 100 yards wide.
The volcano scientists said the slow earthquake also coincided with an increase in seismic activity within Kilauea's rift zones. It's not clear why that happens or what the relationship is with a slow earthquake and volcanic activity, scientists said. Researchers are busy studying the phenomena.Slow earthquakes happen about every 26 months on Kilauea, usually on the south flank, the observatory said. The last slow earthquake happened on May 28, 2012, so scientists were expecting another slow earthquake and placed instruments on the volcano to record the phenomena.
Source : HVO,  staradvertiser.com/

Yasur

,

Ile de

Tanna

,

Vanuatu:
19°32'0"S 169°26'30"E
Summit 1184ft (361m)
Current Vanuatu Volcano Alert Level: Level 1
The Alert Level for Tanna Volcano is still maintained at Level 1.
This means that the Yasur activity shows signs of unrest and strong explosions can occur at times. The danger remains on areas around the volcanic crater. Volcanic gas and ashes can also affect villages expose to trade winds.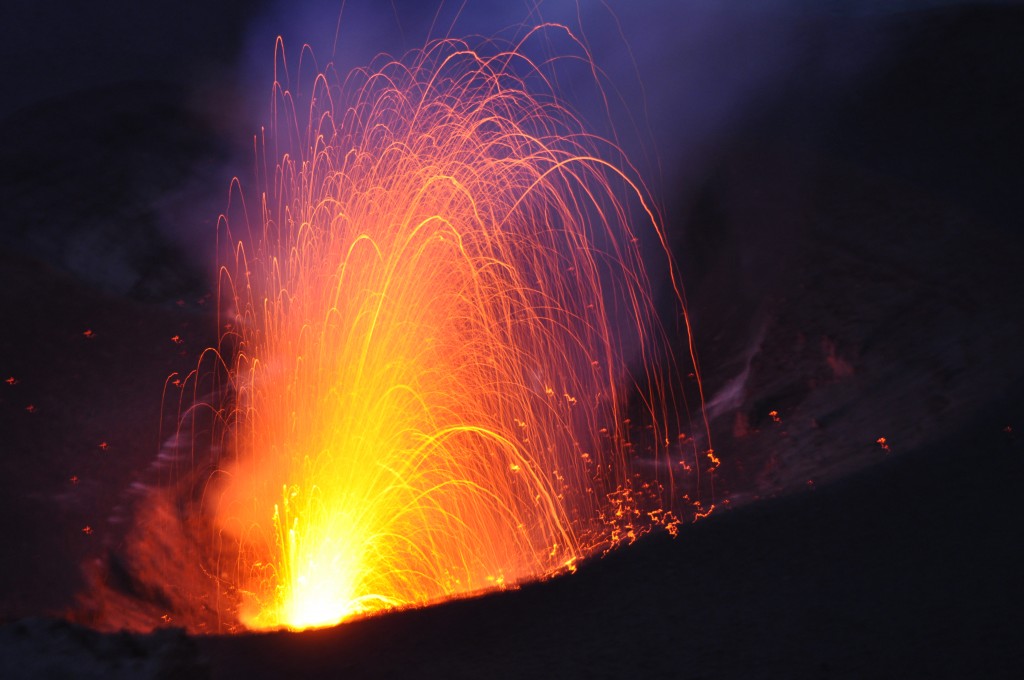 This is a reminder to all visitors to observe this volcano away from the crater rim to avoid volcanic projectiles, gas, ashes and any other volcano activity related incidents.
All communities, villages, visitors and travel agencies have to seriously consider this information.
The Department of Meteorology and Geohazards will continue to closely monitor this volcano activity. More information will be provided accordingly when necessary.
Source : Geohazard
Santiaguito, Guatemala :
Special Volcanological Bulletin , Guatemala October 21, 2015, 14:00 (GMT)
Santiaguito volcano lahars.
Activity type : Peléenne
Morphology: dacitic domes Complex.
Geographical location: Latitude 14 ° 44'33 N ̋; Longitude 91 ° 34'13 W. ̋
Height: 2,500 meters.
The constant rainfall in the country, are currently generating lahars moderate in the tributaries of the river Nima I and San Isidro.
Regarding the  Nima I river, it is possible to describe it as a moderate lahar. This lahar transports semi-dense material with particles ranging from « fines » to blocks having a diameter of 1.5 meters, the flow appears heat, generating production of steam all the way to a height of about 75 meters. The channel through which passes these materials is 18 meters wide and 1.5 meters deep.
Regarding the Rio San Isidro, it is classified as a moderate to high lahar  , which transports particles and blocks of about 1.5 meters in diameter and a hot flow.
The rains are continuing and generate floods from rivers that flow  to the South Coast , mainly affecting the river Samalá .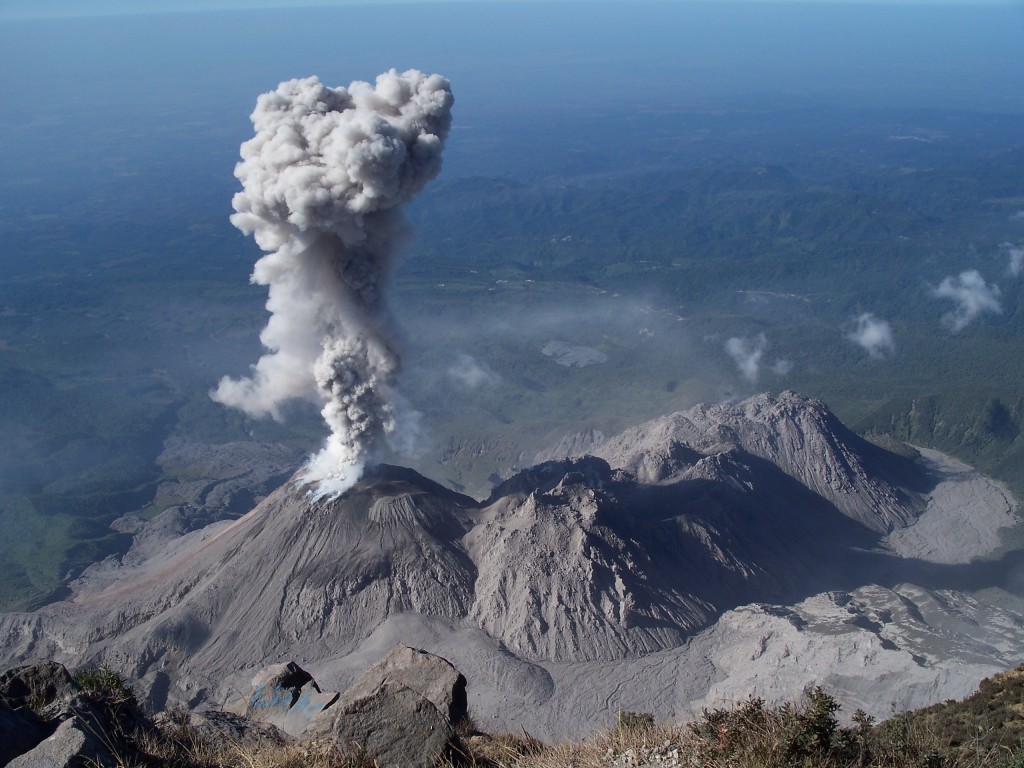 This is why the INSIVUMEH recommends:
At the CONRED: Take precautions to places where vehicles cross the Rio Samalá.
At general management of road infrastructure, to monitor particularly the bridge Castillo Armas, to avoid damage.
Source : INSIVUMEH
Photo : Summitpost