October 06 , 2015. English. Sheveluch, Piton de la Fournaise, Tungurahua .
06/10/2015.
Sheveluch, Kamchatka :
56.64 N, 161.32 E;
Elevation 10768 ft (3283 m),
the dome elevation ~8200 ft (2500 m)
Aviation Color Code is ORANGE
Strong explosive event occurred at Sheveluch volcano on 2159 UTC on October 03, and continues. Explosions send ash up to 6.5 km a.s.l. Ash plume drift to the south-east of the volcano.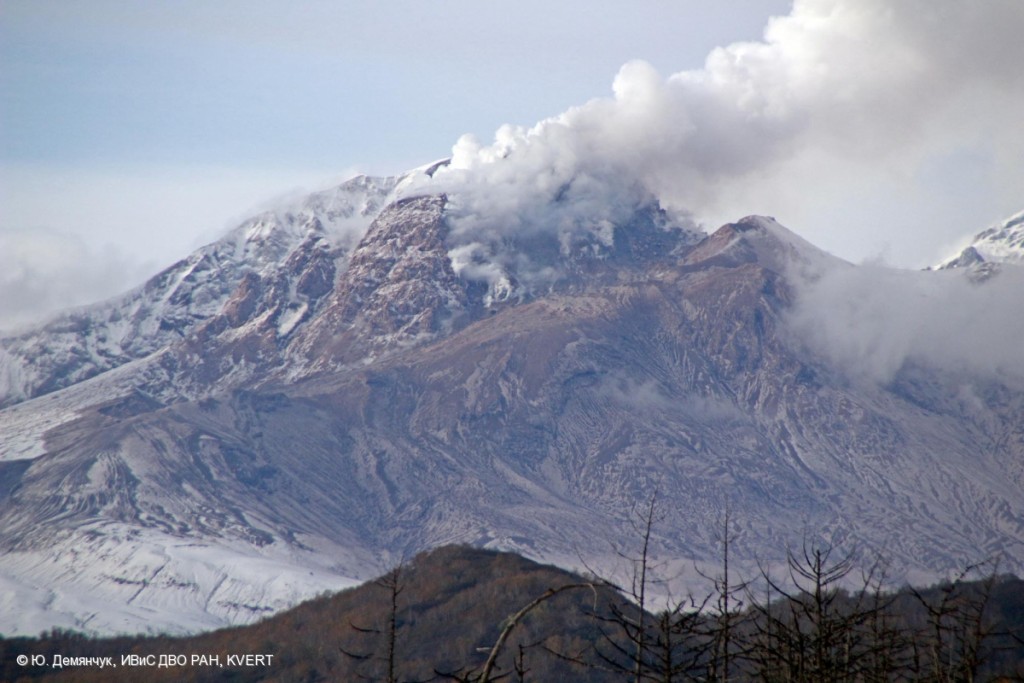 Strong fumarole activity of the lava dome Molodoy Sheveluch volcano on October 04, 2015.
Explosive-extrusive eruption of the volcano continues. Ash explosions up to 32,800 ft (10 km) a.s.l. could occur at any time. Ongoing activity could affect international and low-flying aircraft.
Distance of ash plume/cloud of the volcano: 6 mi (10 km)
Direction of drift of ash plume/cloud of the volcano: SE
Source : KVERT
Photo : Date: 4/10/2015 , Yu. Demyanchuk. IVS FEB RAS, KVERT.
Piton de la Fournaise, La Réunion :
The current eruption continues.
On the morning of Tuesday, October 6 (8:00 to the forty fourth day of eruption) the eruption is ongoing. This morning the weather on the site seems to continue its slow improvement: no rain and light fog (at 7:00).
The level of activity is comparable to that recorded in previous days (see detailed on newsletter of October 2).

The news continues to be good and are confirmed by the live webcam available at 19:30
• The  eruption continue  , seismic activity progresses (see Saturday's information). We clearly see the very active eruptive cone and lava rivers in the foreground
• The weather is getting better little by little and even seems correct tonight. It should improve significantly starting Tuesday …
– Seismic activity evolves slowly rising. The evolution measured on the three closest stations varies from + 10-15% in intensity.
Source :
OVPF, Fournaise Info .
Photo : Frédéric Leveneur .
Tungurahua, Equateur :
October 5th, 2015
SUMMARY OF THE ACTIVITIES OF THE VOLCANO
The activity of the volcano is considered to be moderate – high. In the area of Manzano, fine ash falls were reported and it was heard an explosion. Fine ash fall are also reported in Cahuají.
During the last hours, the volcano remained cloudy and therefore not observable.
Light rains in the region that have not generated lahars are recorded.
Technical and related observations.

Seismicity:
6 events long period (LP), 1 explosion (EX) and 2 episodes of tremor emission (TE) were recorded.
Observations of emissions and ash:
During the last hours, the volcano remained covered, and for this reason, it was not possible to observe its surface activity.
In the area of Manzano, is reported hearing an explosion.
In Cahuají area and Manzano fine ash falls have been reported.
Rains and lahars:
Today, the rains are recorded in the volcano area without generating lahars.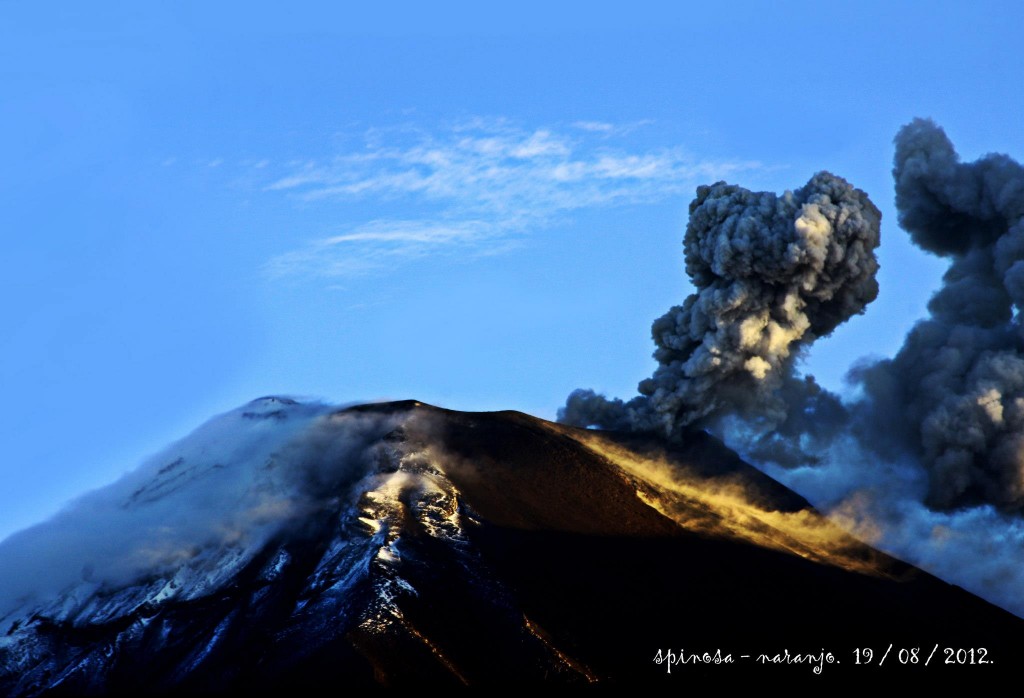 GENERAL INFORMATIONS
If they appear with more intensity, rainfall in the Volcano area can re-mobilize deposits produced by pyroclastic flows and generate lahars .
For this reason, we recommend extreme caution when driving on roads and highways that cross the gorge through which the flows pass and regions that, in times past, were affected by this phenomenon.
This daily report will be published at 12:00 (TL). In the case of an increase or change in the behavior of the volcano, it will be immediately issued a special report.
Source : IGEPN
Photo : José Luis Espinosa Naranjo. ( 2012)