September 05, 2015 , English . Piton de la Fournaise, Cotopaxi, Cleveland .
September 05, 2015
Piton de la Fournaise, La Réunion :
Activity Bulletin Friday, September 4th, 2015 at 09:00 (Local Time)
The eruption that began on August 24 continues.
The pedestrian recognition performed yesterday (September 3) shows that the phenomenon is still very active on the site. There is always observed numerous projections and castings continue to thicken the lava field about 2 km long.
Many ephemeral mouths are periodically visible all along the tunnel that holds the flow for the first 50 to 100m.
The RSAM reflecting the seismic energy of the event is experiencing a new rise for about 24 hours.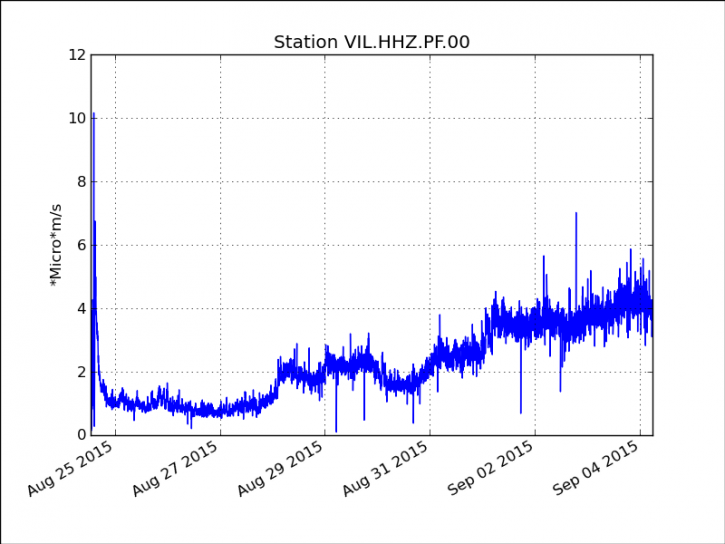 Tremor recorded from the onset of rash to 09h45 the 04/09 (local time) (© OVPF / IPGP)
The flow rate and the gas stream are constant.
Source : OVPF
Photo : Johan Lauret
Cotopaxi , Ecuador :
The recordings of seismic tremor signal type remains on the instruments, and emissions of steam and gas with low concentrations of ash continue. Emissions have varied in direction, they are being directed to the Southeast and West. Several teams of experts from the Institute of Geophysics conduct studies on the gravity of the volcano and the collection of samples of ash.

Technical annex and observations:
Seismicity: Since 0600 (TL) and until 18:00 (TL), were registred : One long period type event (LP),  31 episodes of tremor emission (TE)  , 5 events volcano – tectonic type (VT ) and 2  earthquakes  VLP type   .
Observations, emissions and ash: During the morning hours, the volcano was clear, gas and steam emissions were observed with low concentrations of ash. The emissions reached a height of 2 km above the crater, heading southwest and west of the volcano. In the afternoon, emissions have persisted and reached a height of 1.3 km above the crater. So far, there is no ash falls reports.
Gas: From 7:00 to 5:00 p.m. yesterday, the SO2 concentration was 8,000 t / d.
Rain: No rain was recorded in the volcano area.
Source : IGEPN
Photo : IGEPN
Cleveland

, Alaska:
52°49'20 » N 169°56'42 » W,
Summit Elevation 5676 ft (1730 m)
Current Volcano Alert Level: WATCH
Current Aviation Color Code: ORANGE
Elevated surface temperatures were observed in satellite images on one day over the past week. Web camera views were cloudy. A small swarm of earthquakes occurred at Cleveland on August 29, but has subsided considerably in the past few days. Owing to the small number of telemetered seismometers on Cleveland, the locations and magnitudes of the earthquakes could not be determined precisely. However, the largest earthquake in the swarm was estimated to have an approximate magnitude of 1.5. Such earthquake swarms are common in volcanic areas and may represent a shallow magma intrusion beneath the volcano.
Source : AVO
Photo : Pavel Izbekhov, AVO/UAFGI.