August 09, 2015. English . Cleveland, Misti, Raung .
August 09, 2015.
Cleveland

,

Île

Chuginadak

, Alaska :
52.825°N, 169.944°W
Summit Elevation 5676 ft (1730 m)
Current Volcano Alert Level: WATCH
Current Aviation Color Code: ORANGE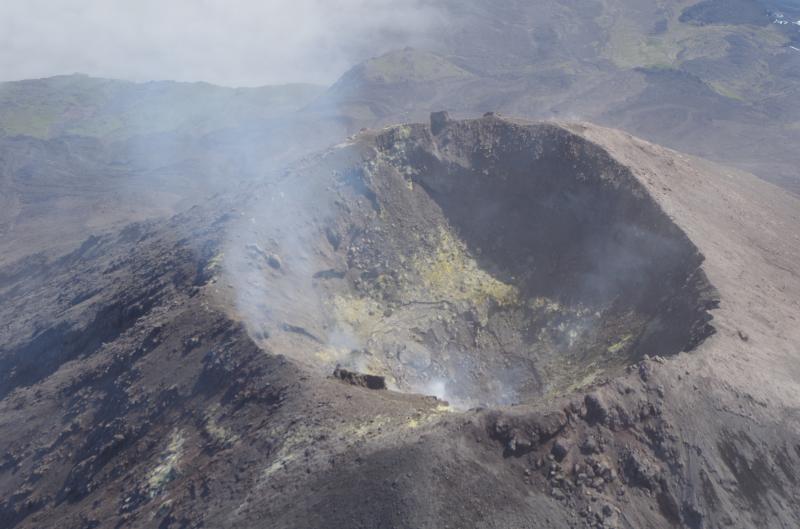 AVO reported that during 29 July-4 August satellite images detected strongly elevated surface temperatures at Cleveland's summit consistent with growth of a new lava dome. A field crew working in the area on 1 August reported frequent rockfalls on the volcano. A weak infrasound signal was much smaller than the explosion detected on 21 July; the signal may have been related to gas emissions, also consistent with lava-dome effusion. A very small gas plume was visible in webcam images during 2-3 August, and steam emissions were observed on 4 August.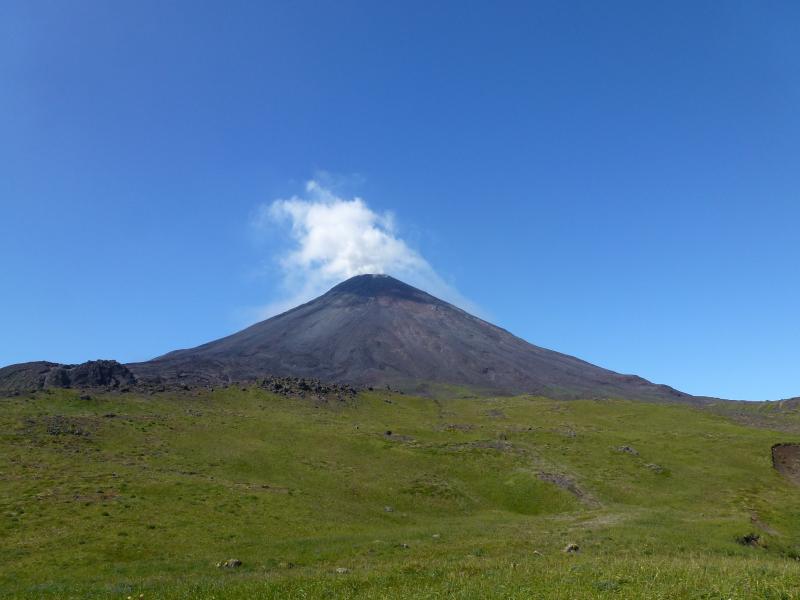 Low-level unrest continues at Cleveland. Slightly elevated surface temperatures at the summit of the volcano were observed occasionally in satellite data over the past week. Occasional clear web camera views of the volcano showed only a small steam plume at the summit. On Tuesday, August 4 a field crew working in the area reported that a small amount of lava covered the crater floor. The surface temperatures of the solidified lava measured by the field crew were in the range of 550-600 Celsius (1000-1100 Fahrenheit), which is consistent with cooling lava. Minor ash and gas emissions also were observed. A small explosion occurred on Thursday, August 6 at 22:03   (08/07/15 06:03 UTC). No ash cloud was observed from this explosion, in satellite or web camera images or by observers. Observations of diffuse ash emissions and small explosions indicate that eruptive activity is still occurring. Further explosions could occur without warning.
Source: Observatoire volcanologique de US Geological Survey de l'Alaska (AVO)
Photos : Lyons, John ,  Izbekov, Pavel.
Misti, Perou :
The volcanic activity is low.
Between 16 and 31 July 2015, earthquakes VT type (or fracture), showed a slight increase in their rate of occurrence, from 33 to 39 events / day. There were two short appearances of seismic swarms of VT type events. Seismicity has no values above M 2.3 ml. The largest recorded VT event in this period took place on July 22, with a magnitude of M 2.3 ml.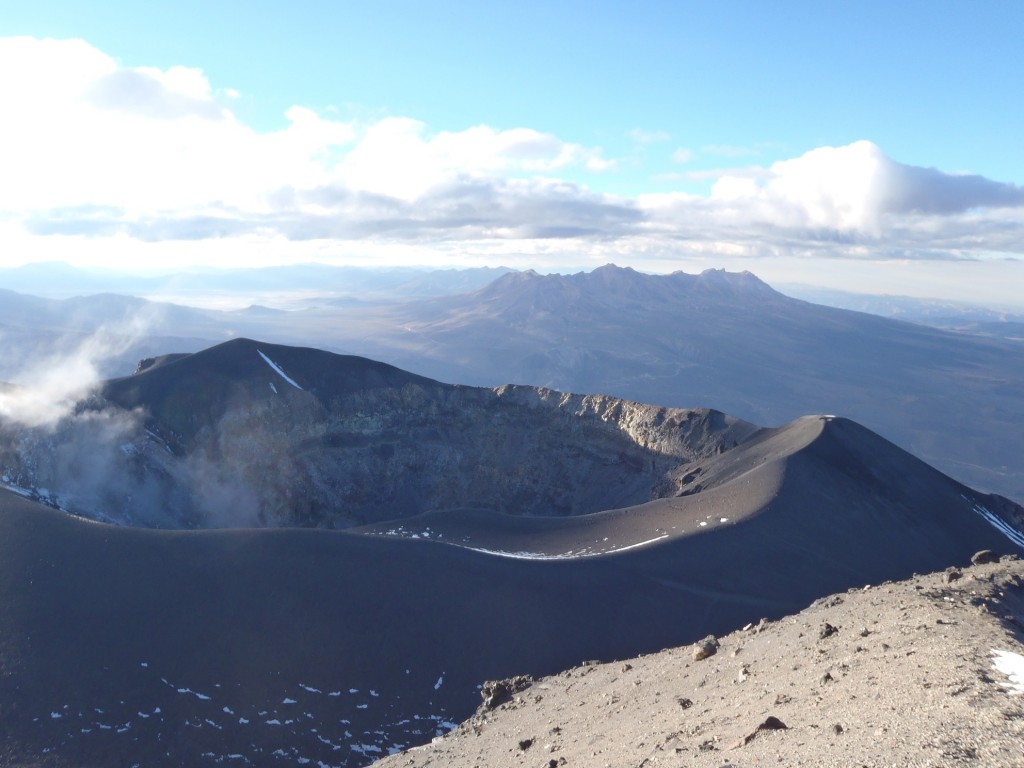 Earthquakes LP type , associated with the passage of fluids (gas and steam) under the Misti volcano remain low with an occurrence rate of 7 LP / day. The tremor activity still shows a low level and energy declined. During this period, the energy curve showed no increase but a weak (<5 MJ) is maintained. The energy and activity of VT events and LP remains low. It was not detected thermal anomalies, or high density values for SO2 on the Misti volcano.
Source : IGP
Photo : camptocamp.org
Raung

,

Indonésie

:
8.125°S, 114.042°E
Elevation 3332 m
On 4 August BNPB reported that during the previous three days the Strombolian eruption at Raung increased in intensity. Ash fell in Sempu, Songgon, Glenmore, Gambiran, and Banyuwangi. On 4 August dense blackish gray ash plumes rose 800 m and drifted SE. Based on satellite-image and wind data, the Darwin VAAC reported that during 29 July-4 August multiple ash plumes rose to altitudes of 4.3-4.9 km (14,000-16,000 ft) a.s.l. and drifted as far as 240 km in multiple directions. The Alert Level remained at 3 (on a scale of 1-4), and the public was reminded not to approach the crater within a 3-km radius.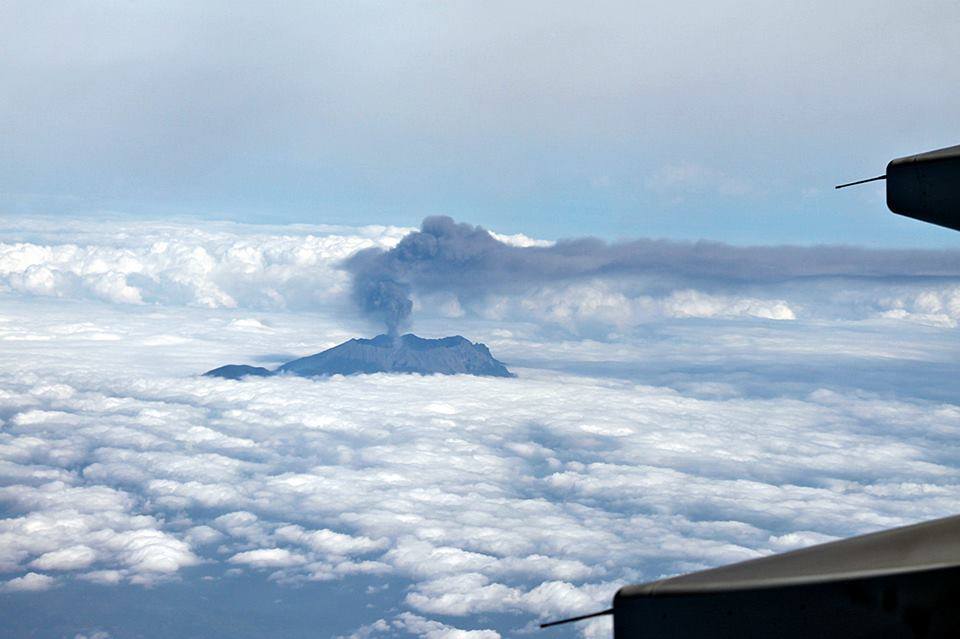 Intense ash emissions of Gunung Raung, combined with northwest winds caused a new closure of the international airport in Denpasar / Bali this August 7th.
Ash cloud was moving at 5,000 meters above sea level on 500 km towards SE Friday morning.
Virgin Australia and Jetstar have suspended their flights since Friday.

Sources: GVP , Badan Nacional Penanggulangan Bencana (BNPB), Centre d'avis de cendres volcaniques Darwin (VAAC), Blog Bernard Duick.

Photo : L K Adam