July 28, 2015. English. Meakandake , Kilauea, Reventador .
July 28, 2015.
Meakandake , Japon :
On Mount Meakan, minor volcanics earthquakes under the crater Nakamachineshiri in Hokkaido, are increasing.
The alert level is level 1:
Akan is a 13 x 24 km caldera located immediately SW of Kussharo caldera. The elongated, irregular outline of the caldera rim reflects its incremental formation during major explosive eruptions from the early to mid-Pleistocene. Growth of four post-caldera stratovolcanoes, three at the SW end of the caldera and the other at the NE side, has restricted the size of the caldera lake.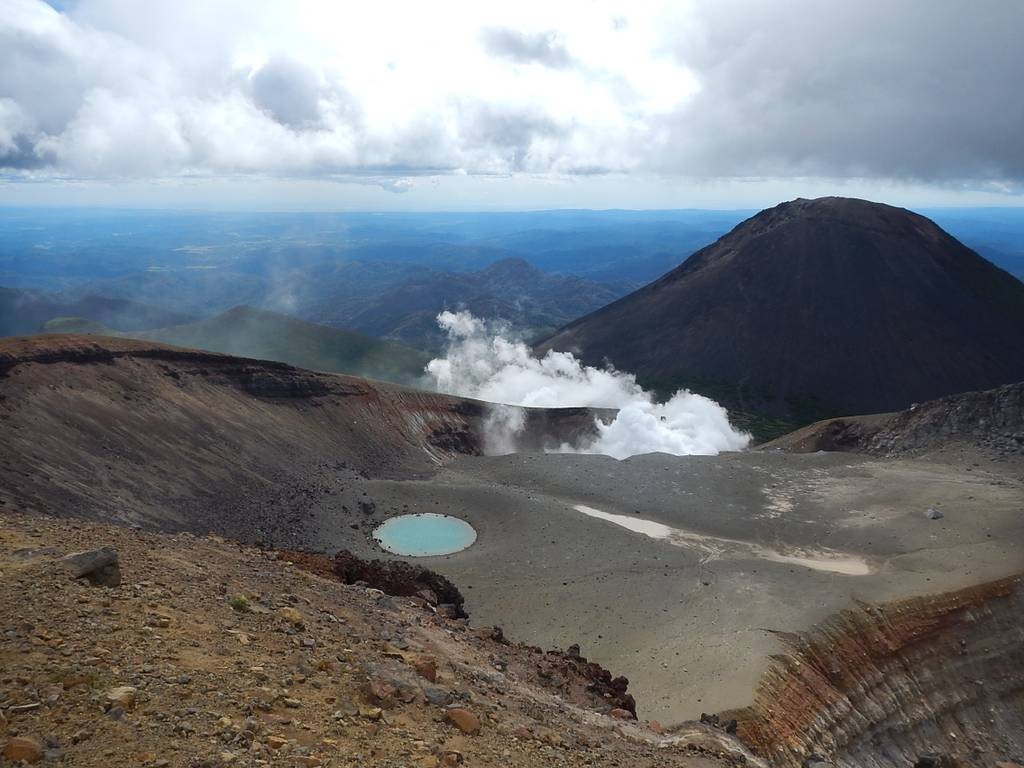 Conical Oakandake volcano was frequently active during the Holocene. The 1-km-wide Nakamachineshiri crater of Meakandake volcano was formed during a major pumice-and-scoria eruption about 13,500 years ago. Of the Holocene volcanoes of the Akan volcanic complex, only the Meakandake group, east of Lake Akan, has been historically active, producing mild phreatic eruptions since the beginning of the 19th century. Meakandake is composed of nine overlapping cones. The main cone of Meakandake proper has a triple crater at its summit. Historical eruptions at Meakandake have consisted of minor phreatic explosions, but four major magmatic eruptions including pyroclastic flows have occurred during the Holocene.
Source : JMA, GVP, Sherine France.
Photo : geolocation
Kilauea, Hawai :
19 ° 25'16 « N 155 ° 17'13 » W,
Summit Elevation 4091 ft (1247 m)
Current Volcano Alert Level: WATCH
Current Aviation Color Code: ORANGE
Activity Summary:
Deflation began yesterday at Kilauea's summit, and the lava lake level dropped slightly. The East Rift Zone lava flow remains active northeast of Pu'u 'O'o, but has not advanced significantly and poses no threat to nearby communities. Low levels of seismic activity continue across the volcano.
The summit lava lake today was at a relatively low level, about 65 meters (210 feet) below the Overlook crater rim, associated with summit deflation. Spattering was active along the lake margins. This photograph shows overflows from April and May (dark lava in bottom portion of photograph) covering the floor of Halema'uma'u Crater.

Summit Observations:
Deflation began yesterday at Kilauea's summit and continues this morning, and the lava lake level dropped slightly over the past day. Spattering was also common in the lake over the past day, with brief fluctuations in lava level. Seismicity continues at a low background level, with several small earthquakes beneath the summit and Southwest Rift Zone, and scattered across the volcano's south flank. Summit sulfur dioxide emission rates ranged from 2,900 to 6,100 metric tons/day for the week ending July 21.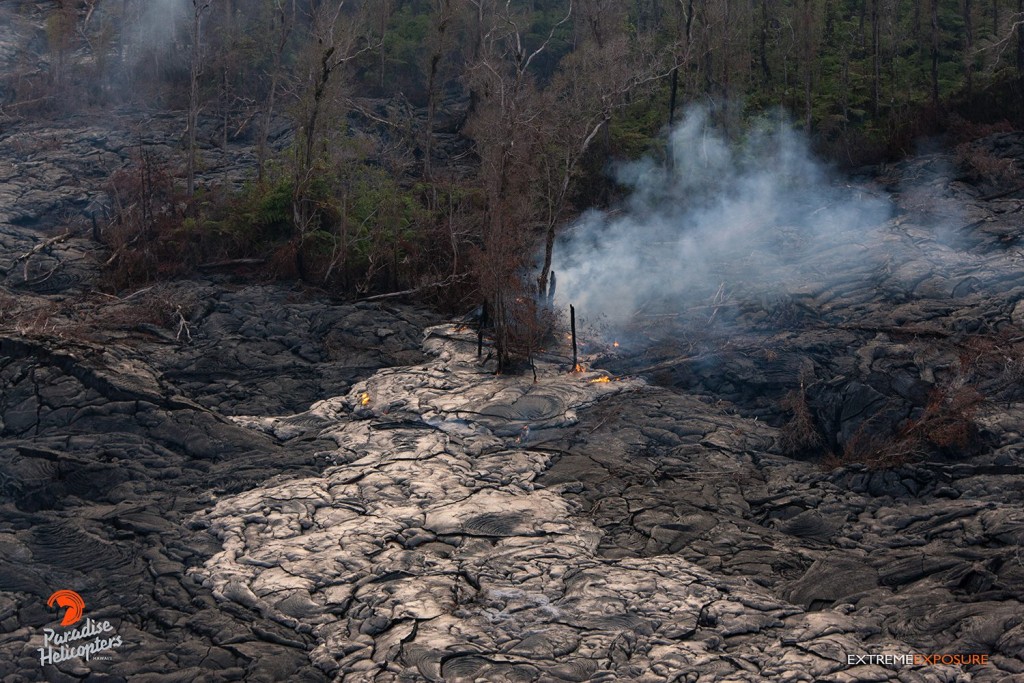 A lava lobe extends over an old lava flow, and begins to consume the trees along the edge of the forest.

Pu'u 'O'o Observations:
There was no obvious change in activity at Pu'u 'O'o , which hosts several incandescent, outgassing crater vents. Low levels of background seismicity continue. The sulfur dioxide emission rate from all East Rift Zone vents was about 400 tonnes/day when measurements were last possible on July 17, 2015.
'June 27th Lava Flow' Observations:
Webcam views show continued activity on the flow field. Active breakouts were scattered across a broad area extending from about 4 to 8 km (2.5–5 mi) northeast of Pu'u 'O'o. The most distant breakouts are evident by the smoke plumes produced where they are creeping into the forest along the edge of the flow field.
Source : HVO.
Photo : Bruce Omori.
Reventador, Equateur :
SUMMARY OF
VOLCANO
ACTIVITY
Internal activity
remains high
.
No
comments
because the volcano
has remained
cloudy
all the time.



ANNEX

TECHNICAL AND

OBSERVATIONS




seismicity

:


50 events

of

long period

(

LP)  ,

9 episodes

of

tremor

harmonic, 

1

episodes

of

emission

tremor

 

and 36

explosions

were recorded

.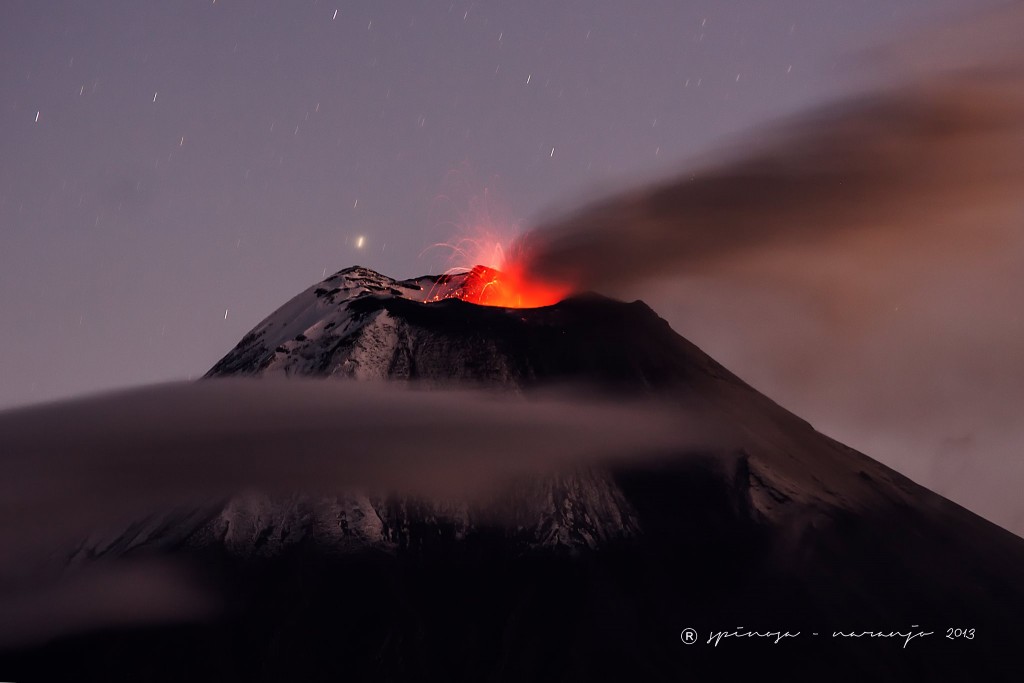 Observations, emissions and ash :
The volcano was cloudy so we did not have observations of surface activity.
Rains and lahars:
In the morning moderate rain which did not generate lahares were observed.
Source : IGEPN
Photo : José Luis Espinosa Naranjo