July 23, 2015. English. Nevado del Ruiz, Sabancaya, Raung .
July 23, 2015.
Nevado del Ruiz, Colombie :

Volcano's activity level of Nevado del Ruiz:
Level Yellow  or (III): changes in the behavior of volcanic activity.
Regarding the monitoring of the activity of the Nevado del Ruiz volcano, SERVICIO Geologico COLOMBIANO through the OBSERVATORIO VULCANOLÓGICO Y SISMOLÓGICO OF MANIZALES, reports that:
During the last week, different monitoring parameters show that the volcanic system remains unstable. Seismicity was mainly associated with fluid dynamics in volcanic conduits. This activity is mainly located in the crater, east and south of it and was characterized by recording of multiple episodes of volcanic tremors, which are associated with the movement of fluids and gases and emissions of ash in the atmosphere.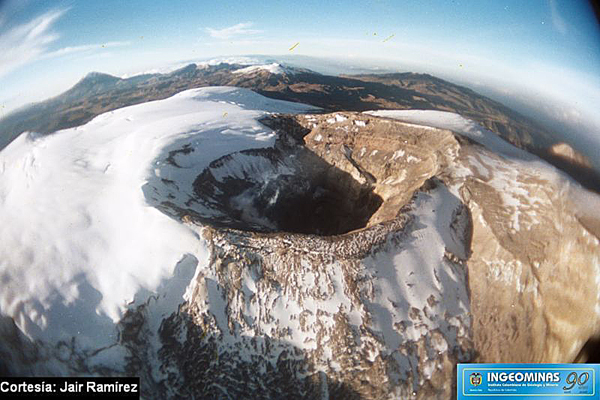 In addition, continued recording of seismic activity associated with the fracturing of the rock in the volcanic structure. Earthquakes are located mainly in the south-west and to a lesser extent, in the southeast and northeast, at depths between 1.5 and 5 km. The maximum magnitude recorded during the week was 1.5 ML (local magnitude), corresponding to an earthquake in the southwest of Arenas crater, which took place on July 20 at 21:48 (local time) a depth of 3.40 km.  Volcanic deformation continue to show some changes.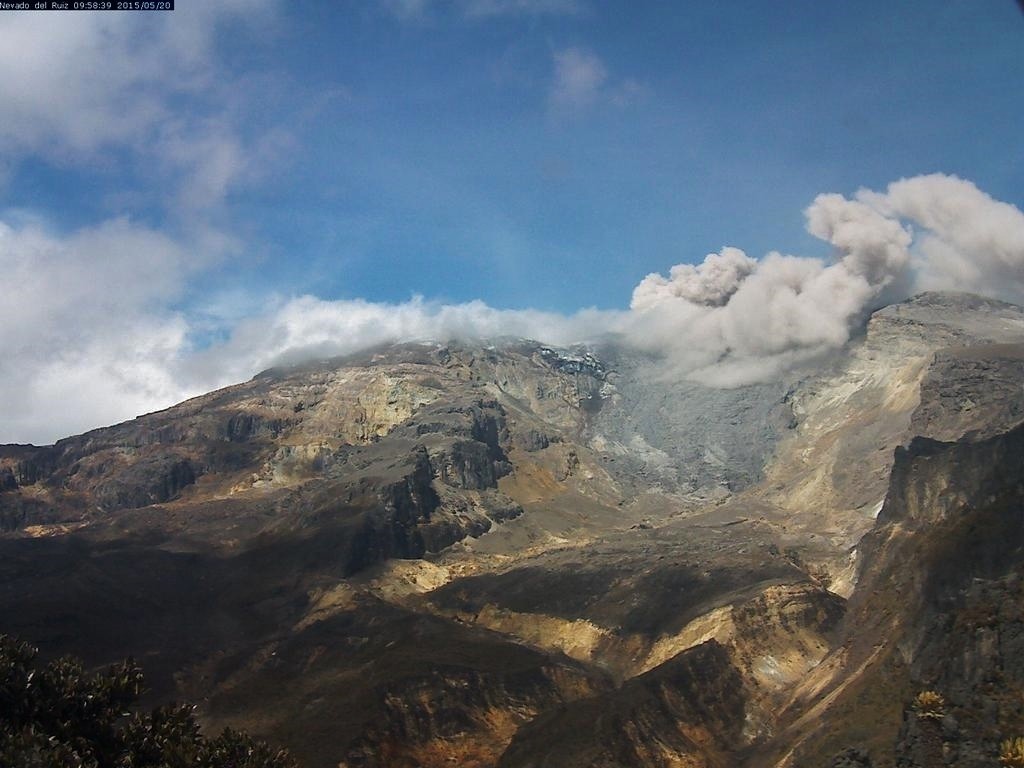 The volcano continues to emit into the atmosphere of significant amounts of water vapor and gases, including sulfur dioxide (SO2). The gas and steam column reached a maximum height of 700 meters above the summit of the volcano, and sometimes is observed with shades of gray because of the presence of volcanic ash. The direction of the dispersion of the column was in harmony with the wind regime, which remained mainly north-west sector of the volcanic edifice.
Source : SGC
Photos : Jair Ramirez / INGEOMINAS.
Sabancaya, Perou :
The number of LP events observed, (associated with the passage of fluids) increased during this period, with an average of 47 LP / day (Reporting Nº28-2015: LP 34 / day). The seismic energy values generated by these events is low. The number of hybrid-type events (HIB: associated with the rise of magmatic material) remained similar to the average for the previous period, with 6 HIB / day. The daily energy was peaking on July 14 with 127 MJ.
The number of earthquakes VTP or « proximal volcano-tectonic » (located at a distance of less than 6 km from the crater) had an average of 36 VT / day and a peak energy of 153 MJ on July 20.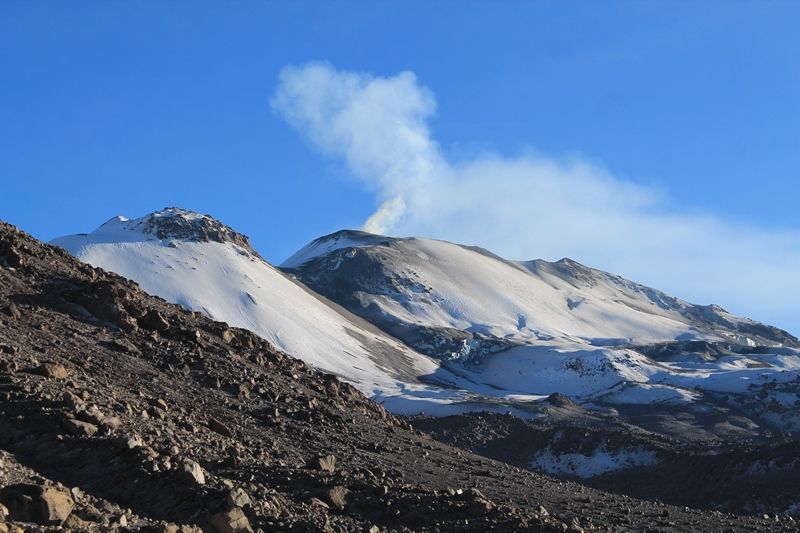 Seismicity type VT or volcano-tectonic increased slightly during this period, from an average of 61 VT / day (Report No. 28-2015) to 72 VT / day during this period. Tremor type of seismicity rate continues to be low during this period and kept the values observed in the previous period. We recorded an average of 2 tremors / day.
The seismicity of  VT type   is distributed in dispersed order in the east and northeast of the volcano area, without a specified focus; however, it is possible to distinguish a slight concentration in an area of the crater located in the north of the volcano. An important event of M 3.2 ml (local magnitude) at 7 km to the North-East was held on July 17 at 16h57 UTC and was recorded. It is important to mention the recording of 02 proximal events (VTP), of magnitude between M2,0 and M2,7 within 3 km from the crater. It was recorded 63 VT with magnitudes between M1,7 and M3,2 and depths between 0 and 10 km.
Fumarolic activity  :
Sabancaya continued to produce steadily fumaroles, 24 hours a day. It should be emphasized that these fumaroles showed a low to medium density. During this period (14-20 July) there was clearly water vapor emission and magmatic gas. Bluish gas were assessed at different times of the day, and this behavior is most striking at this stage of the analysis. The maximum height observed in the last week was 1,600 meters above the base of the crater.
Source : GVP
Photo : 80 Jours Voyages , B Bernard.
Raung , Indonésie:
8.125 ° S, 114,042 ° E

Elevation 3332 m
Based on PVMBG information, and satellite-image and pilot observations, the Darwin VAAC reported that during 15-21 July ash multiple ash plumes from Raung rose to varying altitudes of 3.7-6.1 km (12,000-20,000 ft) a.s.l. and drifted as far as 340 km in multiple directions.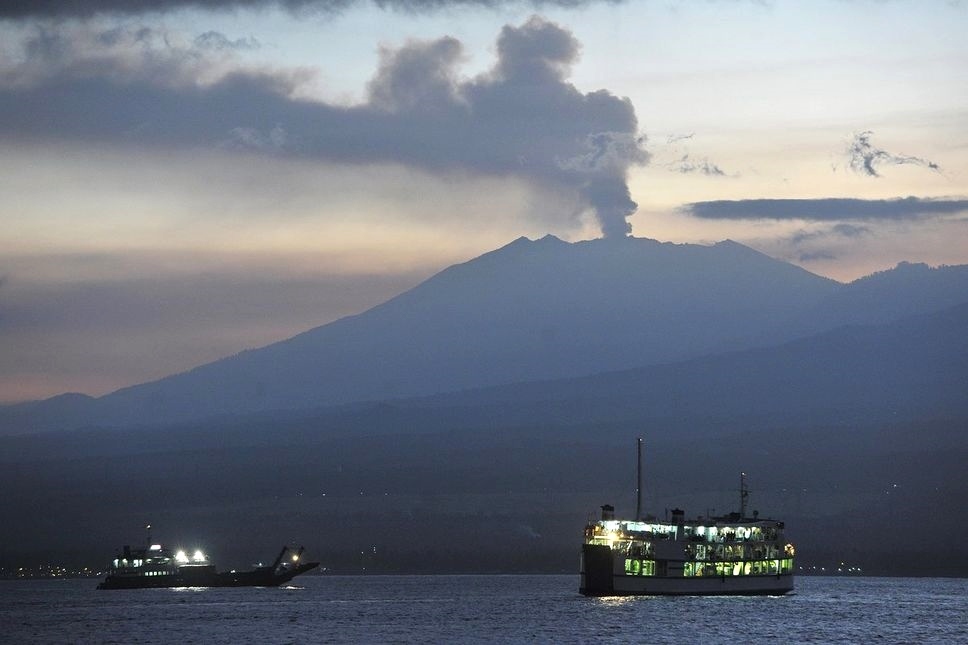 On 16 July BNPB reported that a dense gray-to-black ash plume rose as high as 2 km above Raung's crater rim and drifted WNW. Incandescent lava at the summit was visible and tremor was continuous. Roaring and thumping sounds were reported by residents. Ashfall was reported in areas downwind, including Cumedak (19 km W) and Sumberjambe (13 km NW). According to a news article, the Juanda International Airport in Surabaya reopened on 17 July after on-and-off closures the previous week.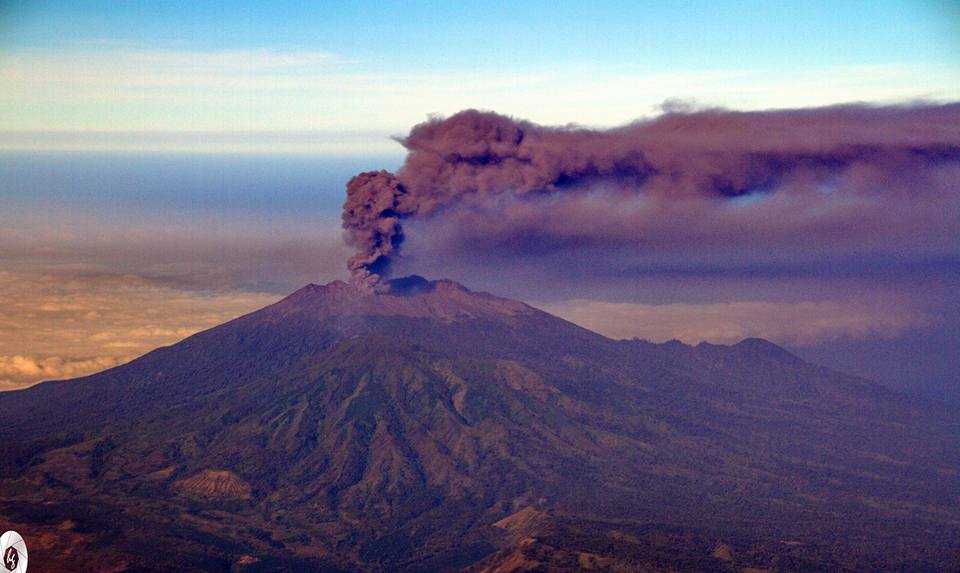 BNPB noted that the eruption continued on 18 July with ash plumes rising as high as 1.5 km and drifting N. Tremor continued, although the amplitude had declined during the previous week. The Alert Level remained at 3 (on a scale of 1-4), and the public was reminded not to approach the crater within a 3-km radius.
Sources: Badan Nacional Penanggulangan Bencana (BNPB), Volcanic Ash Advisory Centre Darwin (VAAC), CH-aviation, GVP

Photos : Reuters, Hendra Gunawan .